Lex Fridman
David Sinclair: Extending the Human Lifespan Beyond 100 Years | Lex Fridman Podcast #189
Insights on Longevity and Aging.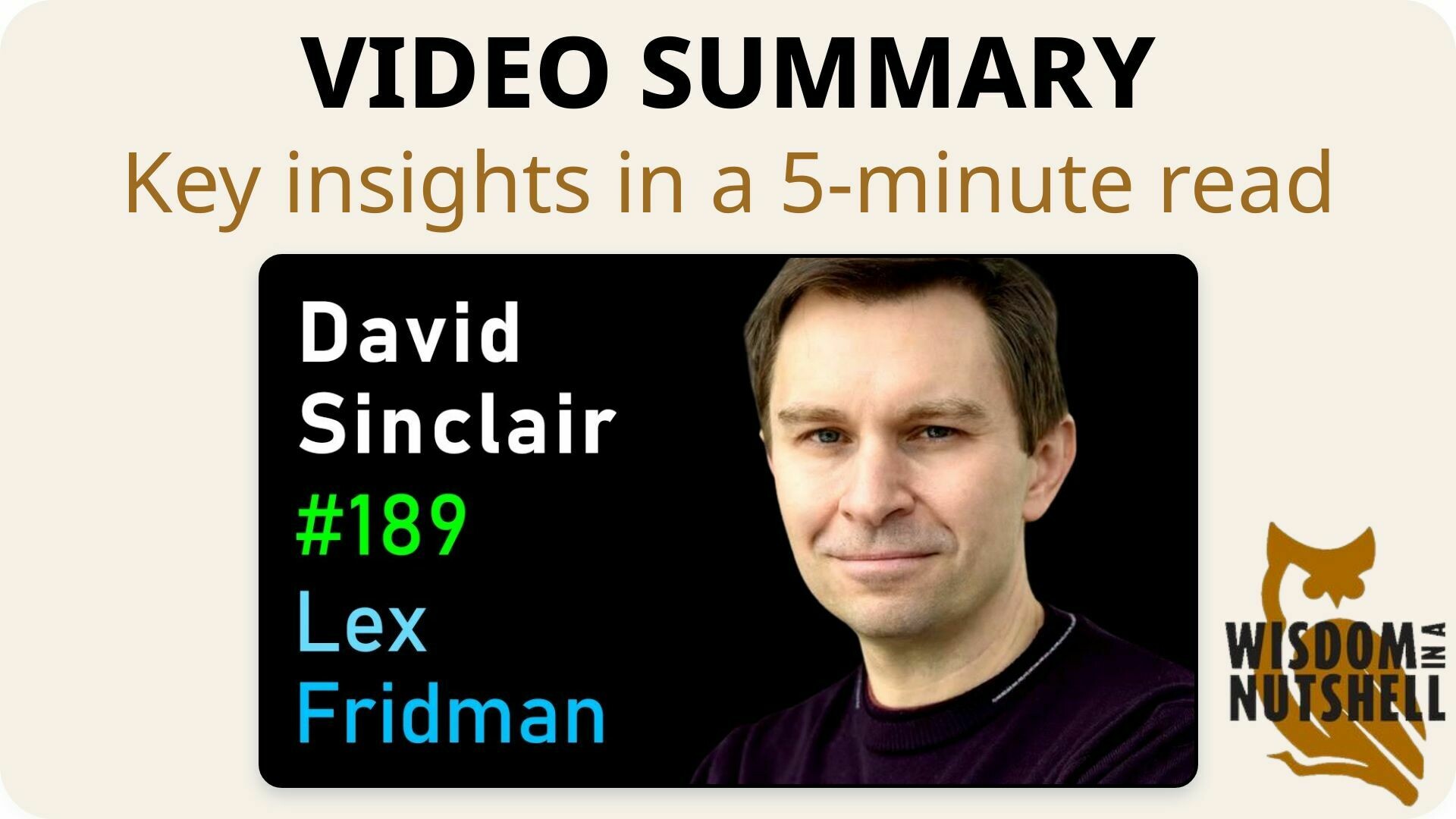 🌰 Wisdom in a Nutshell
Essential insights distilled from the video.
---
---
📚 Introduction
In this blog post, we will explore the fascinating topics of longevity, aging, and the future of healthcare. We will delve into the science behind aging and the potential for extending human lifespan. Additionally, we will discuss the importance of healthy habits, such as diet and exercise, in promoting longevity. Finally, we will reflect on the significance of mortality and the pursuit of a fulfilling life. Get ready to uncover insights that can potentially transform the way we approach aging and living a longer, healthier life.
---
🔍 Wisdom Unpacked
Delving deeper into the key ideas.
1. Engineering longevity involves understanding human and robot minds, reprogramming biology, and societal impact.
The conversation revolves around the idea of turning age into an engineering problem and solving it, envisioning a world where billions of people can live much longer and healthier lives. This involves understanding the human mind and the robot mind, as well as the psychological and philosophical implications of living longer. The discussion also touches on the impact of longevity research on society and the need to reprogram biology.
Dive Deeper: Source Material
---
2. Balancing childlike wonder and grown-up responsibilities is key.
The tension between being a child and growing up is a common experience, especially for scientists. It's important to maintain a sense of wonder and curiosity, like a child, while also fulfilling responsibilities as a grown-up. This balance is crucial in personal and professional life. The influence of a grandmother, who taught the value of staying young and innocent, and the belief in making humanity the best it can be, can have a profound impact on one's life and work.
Dive Deeper: Source Material
---
3. Future healthcare involves data collection and analysis for personalized recommendations.
The future of healthcare involves the collection and analysis of vast amounts of data about the human body, using technologies like wearables and AI. This data can be used to predict and prevent illnesses, improve longevity, and understand the aging process. The goal is to create a world where individuals can easily access and understand their health data, similar to how they track their fitness progress. This would allow for personalized recommendations and a better understanding of how one is doing compared to others. However, data security is crucial to protect sensitive healthcare data. The future of healthcare is promising, with the potential to save billions of dollars and improve the quality of life.
Dive Deeper: Source Material
This summary was generated from the following video segments. Dive deeper into the source material with direct links to specific video segments and their transcriptions.
| Segment | Video Link | Transcript Link |
| --- | --- | --- |
| Bringing people back to life | 🎥 | 📄 |
| Wearables and tracking health data | 🎥 | 📄 |
| AI in biology | 🎥 | 📄 |
| Health data | 🎥 | 📄 |
| Data | 🎥 | 📄 |
---
4. Resetting the epigenome can slow down aging and restore cell function.
Aging is a complex process driven by the loss of information and the accumulation of noise in the body, leading to the X-differentiation of cells. This loss can be attributed to the dysregulation of the epigenome, which is the reader of the genetic information. To combat this, researchers have been exploring ways to slow down the loss of information and restore the backup copy in the body, known as the observer. This backup copy is believed to be the key to resetting the epigenome and polishing away the scratches. Genetic engineering can be used to slow down the aging process by resetting the age of cells without causing tumors. This research has shown promising results in restoring vision in blind mice and improving their ability to learn. However, the use of viruses to deliver the genes allows for precise control. The engineering aspect of the brain is challenging, as it involves understanding which genes are switched on and off. Technologies like George Church's lab can help look at the genes switched on and off in situ. Resetting the epigenome can restore the function of nerve cells. While immortality through genetic information is not achievable, we could potentially reset the body hundreds of times and live for thousands of years.
Dive Deeper: Source Material
---
5. Fasting, plant-based diets, exercise, sleep, and brain health are key to longevity.
Fasting, especially skipping meals, can slow down aging and activate longevity genes. It's recommended to work up to fasting gradually and compensate with drinks. The timing of when you eat is more important than what you eat for longevity, with plant-based diets being generally better. Avoiding sugary foods and substituting them with alternatives can promote health. Exercise, particularly cycling, and aerobic exercise can have a significant impact on long-term health. Brown noise can help improve focus and remove distractions. Sleep is crucial for longevity, with disrupting the sleep-wake cycle leading to premature aging. Power naps can be beneficial for stress reduction and happiness. The quality of sleep is more important than the quantity. Genetics can play a role in sleep patterns. Stress negatively affects longevity, and it is important to work on mental well-being. Manipulating the brain, specifically the hypothalamus, can extend lifespan. Prioritize brain health before tackling other aspects of longevity.
Dive Deeper: Source Material
---
6. Healthy habits and technology can extend human lifespan beyond 100 years.
The average human lifespan can be increased by 14 years through healthy habits like a balanced diet, avoiding obesity, and stress management, potentially reaching an average age of 94. However, with advancements in technology and lifestyle changes, it's possible to extend this lifespan beyond 100 years. There is no known maximum limit to human lifespan, as seen in organisms like whales and trees that can live for thousands of years. Living a long time requires understanding the importance of taking care of our bodies and learning from other organisms that have achieved longevity.
Dive Deeper: Source Material
---
7. Confronting mortality gives life meaning and joy.
The knowledge of our own mortality can be both a curse and a blessing, as it gives meaning to our lives. It is natural for us to avoid thinking about death, but it is important to confront this reality and prioritize our health. Even if we were immortal, we would still find joy in each moment. Enjoying life requires a positive mindset and focusing on the beauty of nature. Being mortal requires extra effort, but it is possible to derive the same amount of joy.
Dive Deeper: Source Material
---
---
💡 Actionable Wisdom
Transformative tips to apply and remember.
To promote longevity in daily life, incorporate healthy habits such as intermittent fasting, regular exercise, and prioritizing quality sleep. Maintain a positive mindset and focus on the present moment to derive joy from life. Take inspiration from nature and prioritize self-care to ensure a fulfilling and meaningful life.
---
📽️ Source & Acknowledgment
This post summarizes Lex Fridman's YouTube video titled "David Sinclair: Extending the Human Lifespan Beyond 100 Years | Lex Fridman Podcast #189". All credit goes to the original creator. Wisdom In a Nutshell aims to provide you with key insights from top self-improvement videos, fostering personal growth. We strongly encourage you to watch the full video for a deeper understanding and to support the creator.
---