Lex Fridman
David Wolpe: Judaism | Lex Fridman Podcast #270
Exploring the Essence of Life and Religion.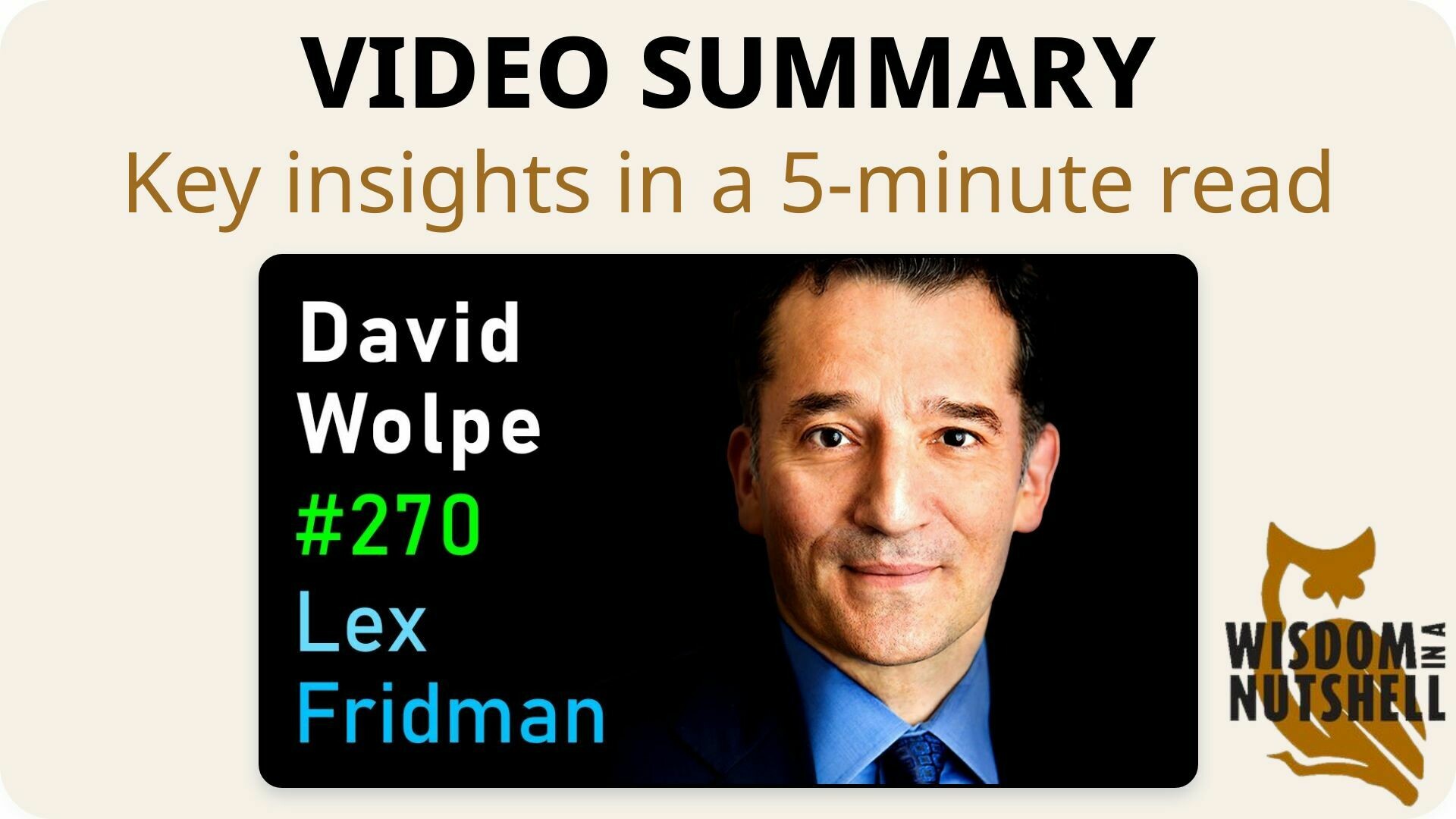 🌰 Wisdom in a Nutshell
Essential insights distilled from the video.
---
---
📚 Introduction
In this blog post, we delve into the profound insights shared in a series of conversations about life, religion, and the human experience. From the importance of understanding and respecting human nature to the complex concepts of consciousness and free will, we uncover wisdom that can guide us on our personal growth journey. Join us as we explore the essence of life and the role of religion in shaping our understanding of the world.
---
🔍 Wisdom Unpacked
Delving deeper into the key ideas.
1. Understanding human nature and fostering empathy are key to personal growth and conflict resolution.
The essence of this conversation revolves around the importance of understanding and respecting human nature, regardless of differences. It emphasizes the role of religion in fostering empathy and creating a sense of community. The speaker shares their personal experiences, including facing opposition for performing same-sex marriages and addressing controversial situations. They highlight the need for constructive anger and empathy in personal relationships and in resolving complex issues like the Israel-Palestine conflict. The conversation also touches on the impact of social media on our lives and the importance of using it wisely.
Dive Deeper: Source Material
---
2. Judaism emphasizes humility, ongoing conversation, and universal connection.
Judaism, a tradition spanning thousands of years, emphasizes the unknowability of God, highlighting the distance between God and humans. It encourages humility in our relationship with God, recognizing that we cannot comprehend everything. The Torah, considered a holy book, is a product of human beings inspired by God and is part of an ongoing conversation. The Exodus, the central story of Judaism, is a myth that delivers wisdom and guidance, not about historical accuracy. The concept of chosenness is not about being better, but about having a specific mission. All three religions share the belief that every human being is in the image of God, emphasizing the universal nature of these traditions.
Dive Deeper: Source Material
---
3. Religion is seen as intellectually indefensible, yet appreciated as a tradition.
The views on religion among Christopher Hitchens, Sam Harris, and Eric Weinstein are diverse, with a common thread of appreciation for religious traditions. Hitchens and Harris are passionate about arguing against religion, seeing it as intellectually indefensible. However, they also believe in living a religious life as if God exists. Weinstein, like Jordan Peterson, has a similar approach, believing in God but not necessarily in a literal sense. He sees faith as a glue that holds traditions together, and traditions that are demanding or counter-cultural tend to fall apart. Holidays like Thanksgiving can be a chance to renew resentments with family members.
Dive Deeper: Source Material
---
4. Understanding the human condition and the role of religion in society is crucial for progress.
The human condition is complex, with a tendency to form tribes and blame the identifiable other for problems. This is evident in the Holocaust, where Jews were seen as both superhuman and subhuman, with a myth that they killed God. The absence of religion in Western society has led to a lack of a clear counter to nihilism, resulting in a loss of meaning and purpose in life. Technology, like AI, can be seen as a form of religious excitement, as it offers a reason to preserve and grow. However, it's important to recognize the impulse to create that comes from a creator God. The idea of humans being able to do everything God can do is a joke that highlights the tension between religion and science. Belief in God may be slowly disappearing, but it's important to recognize the impulse to create that comes from a creator God.
Dive Deeper: Source Material
---
5. Consciousness, free will, and mortality are complex concepts.
The concept of consciousness and free will is complex, with the latter requiring a spiritual component. Consciousness, while inexplicable, is a fundamental aspect of human life, and suffering is a part of it. Our mortality is often avoided, but religion provides a confrontation with it. The idea of eternity is intriguing but difficult to comprehend. The concept of free will is an illusion, and we are like a current in a river or a glass of water. The idea of every human being as an image of God expresses a deep truth about human life. Personalization and shared experiences play a role in forming a connection with a robot. The question of when robots exhibit behaviors that evoke a sense of suffering is a complex one.
Dive Deeper: Source Material
---
6. Life's essence lies in soul growth through love and self-discovery.
The essence of life is to grow in soul through love and the treatment of others. This is emphasized by monotheistic religions like Judaism, which take the soul and its significance seriously. It's important to be patient and open to new possibilities, and not just rely on social media for information. Reading books and developing your own internal metric of what matters is crucial. The meaning of life is not just about finding meaning, but also about combating the destructiveness of nihilism. The story of Hugo Grinn, who grew up in Auschwitz, highlights the importance of hope and the meaning of life.
Dive Deeper: Source Material
---
---
💡 Actionable Wisdom
Transformative tips to apply and remember.
Take the time to understand and respect the complexities of human nature, both within yourself and in others. Engage in conversations about religion and the meaning of life, exploring different perspectives and challenging your own beliefs. Seek wisdom from ancient traditions and develop your own internal metric of what matters. Embrace love and compassion as guiding principles in your interactions with others, and nurture your soul through personal growth and self-reflection.
---
📽️ Source & Acknowledgment
This post summarizes Lex Fridman's YouTube video titled "David Wolpe: Judaism | Lex Fridman Podcast #270". All credit goes to the original creator. Wisdom In a Nutshell aims to provide you with key insights from top self-improvement videos, fostering personal growth. We strongly encourage you to watch the full video for a deeper understanding and to support the creator.
---