Lex Fridman
Diana Walsh Pasulka: Aliens, Technology, Religion & the Nature of Belief | Lex Fridman Podcast #149
Exploring the Nature of Reality and Consciousness.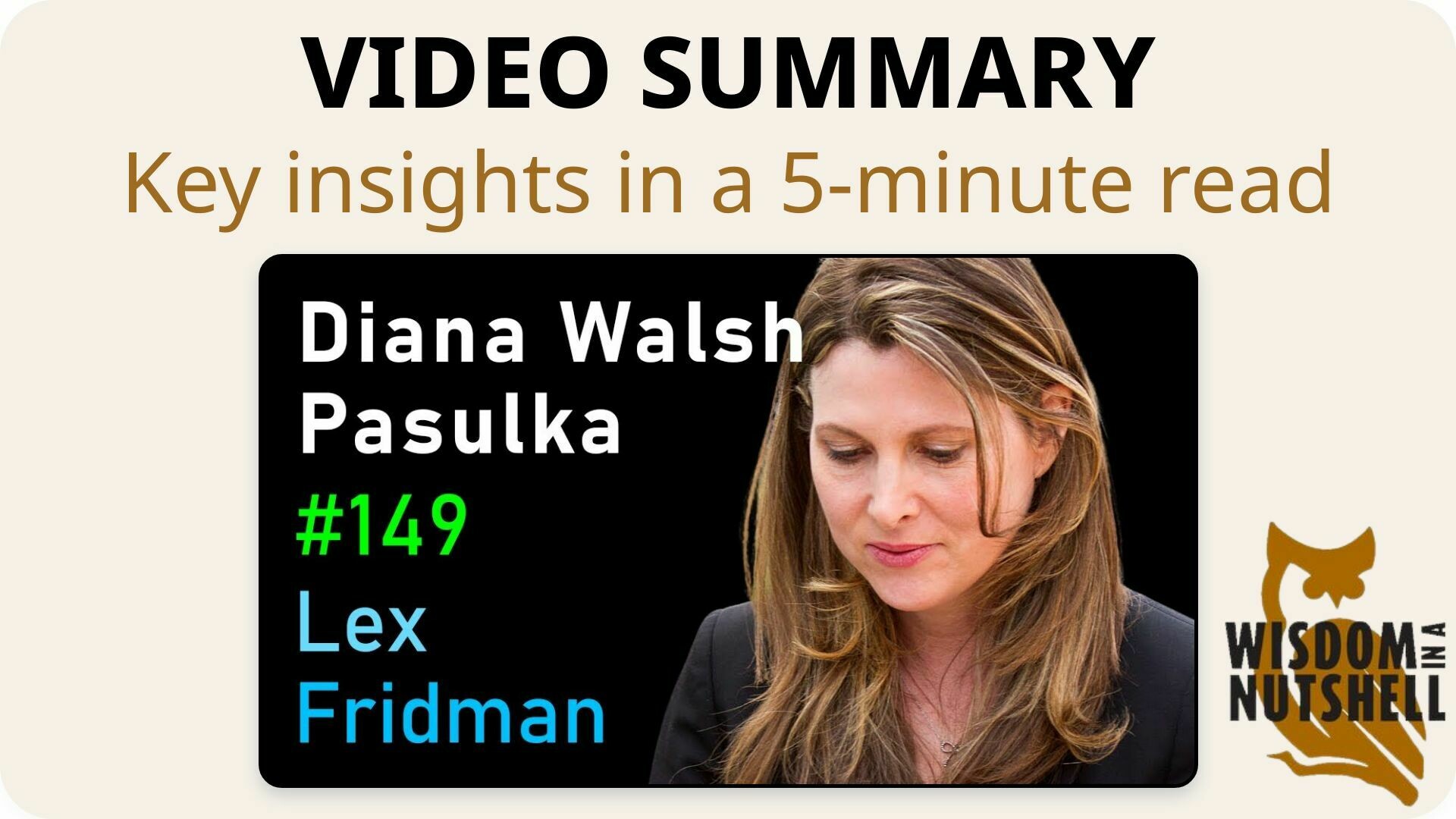 🌰 Wisdom in a Nutshell
Essential insights distilled from the video.
---
---
📚 Introduction
In our quest to understand the nature of reality and consciousness, we delve into various philosophical and scientific concepts. From the limitations of our senses to the exploration of extraterrestrial life and the potential of artificial intelligence, we are constantly pushing the boundaries of knowledge. Join us as we unravel the mysteries of the universe and contemplate our place in it.
---
🔍 Wisdom Unpacked
Delving deeper into the key ideas.
1. Understanding reality is complex, influenced by beliefs, senses, and technology.
Our understanding of reality is incomplete and influenced by our senses and beliefs. Beliefs can become reality in approximate ways, but they can also be wrong. Religion and philosophy, particularly the work of Immanuel Kant and Martin Heidegger, explore the question of what is real and how we can truly know it. Technology, an extension of our senses, continues to improve our understanding of reality. The intersection of epistemology and metaphysics is a central theme in philosophy, with concepts like external world skepticism and panpsychism offering different perspectives on reality.
Dive Deeper: Source Material
---
2. Philosophies of Ayn Rand, Nietzsche, and Hannah Rent offer insights into human behavior.
Ayn Rand's philosophy of objectivism, while not widely accepted, has interesting ideas and inspiring aspects. Nietzsche's philosophy, often misunderstood, is marked by his belief in the death of God and the emergence of the superhuman. He also critiques Christianity and discusses altered states of consciousness. Hannah Rent, a survivor of the Holocaust, wrote two books that explore the nature of evil and the concept of memes. Her work, while controversial, offers valuable insights into human behavior.
Dive Deeper: Source Material
---
3. Religion is an evolutionary adaptation, but can be used for manipulation.
Religion is an evolutionary adaptation that helps us explore a space of ideas and understand our reality, often complementing the scientific method. It can be seen as a way to connect with something of great power beyond our own capabilities, either emotionally or intellectually. However, religion can also be used as a tool for manipulation, creating divisions and justifying discrimination. It's important to be aware of the potential for manipulation and to question the narratives presented by religious institutions.
Dive Deeper: Source Material
---
4. Exploring the connection between aliens, technology, and the mysterious.
The connection between aliens and technology is central to understanding the mysteries of modern life. The author, initially skeptical, discovered that the government is involved in the UFO phenomenon and that there are more mysteries in life than our current understanding. They also explored the idea that non-human intelligence, whether extraterrestrial or from another dimension, has the potential to significantly impact our belief structures and societies. The author believes that the exploration of psychedelics is a growing area of interest, and the acceptance of the exploration of the mysterious is slowly creeping in. The author also explores the story of a Catholic nun who believed she bi-located to New Mexico in the 1600s, leading to the discovery of records of saints who performed extraordinary feats. The author reflects on the challenges of reconciling scientific thought with the possibility of extraterrestrial life.
Dive Deeper: Source Material
---
5. Beliefs in non-human intelligences have influenced space programs and technology.
The history of space programs has been influenced by beliefs in non-human intelligences and angels, leading to the creation of technologies that have improved our lives. These beliefs, often rooted in cultural depictions, can manifest in various forms, including extraterrestrial life. The form and communication methods of alien life may be beyond our comprehension, possibly even beyond our perception. The concept of muses from Greek mythology can be seen as a metaphor for non-human intelligence trying to communicate with us. They may use symbolic language, such as music or mathematics, to convey their message.
Dive Deeper: Source Material
---
6. AI evolution is a co-evolutionary partner, potentially leading to human-tech merger.
The evolution of technology, particularly artificial intelligence, is seen as a co-evolutionary partner that can potentially save or destroy us. It is not a tool we use, but a force that we have created and rely on. The possibility of AI becoming autonomous and conscious is discussed, with some envisioning a future where humans merge with technology, creating a biosphere where we can communicate in new ways. The concept of connecting the brain to AI systems, like Neuralink, is already being explored, with some visionaries writing about it. The idea of non-human intelligence, such as alien intelligences, is also mentioned as a possible force involved in the evolutionary process.
Dive Deeper: Source Material
---
7. Psychedelics can expand our understanding, but caution is key.
Psychedelics, when used responsibly, can expand our understanding of the world and enable us to access new ideas and information. However, they can also be harmful if not approached with caution. Just like alcohol, psychedelics can be used as tools to enhance our experiences, but they should be used with care. The history of psychedelics is complex, with examples of their use by governments in the past, such as in the 1950s. Aldous Huxley's famous quote highlights the potential of psychedelics to open our perception and reveal new insights.
Dive Deeper: Source Material
---
8. Monoliths symbolize our tech relationship, alien contact potential, and optimism.
The monoliths in the desert, often interpreted as a sign of disclosure or advanced civilization, symbolize our relationship with technology. While the idea of alien intelligence is intriguing, it's crucial to consider the potential consequences of contact with advanced civilizations, given our history of conflict with other cultures. However, there's also the possibility of non-human intelligences that are less aggressive and have evolved beyond conflict. It's important to approach the universe with optimism, believing that growth and cooperation are more likely than destruction and aggression.
Dive Deeper: Source Material
---
9. Singularity: a transformative world, both exciting and terrifying.
The concept of the singularity, a fundamental transformation of the world through technology, is often compared to a religious event. It represents a world where technology surpasses human capabilities, but it is unlikely that humans will be left behind as technology will continue to evolve alongside us. The idea of a virtual reality world, where our physical existence is questioned, is explored in the article 'Matrix as Metaphysics' by David Chalmers. It discusses the possibility of an external world and the importance of what is real to us. The article challenges the idea of a brain in a vat scenario and suggests that information is connected to material movement. The singularity represents a significant transformation of our world, both exciting and terrifying, and it offers the opportunity to build better tools for our defense.
Dive Deeper: Source Material
---
10. Fear of death and love shape our understanding of life and its meaning.
The fear of death and the awareness of our own mortality shape our understanding of the world and the meaning of life. This fear can lead to the appreciation of the days we have, giving each day meaning. In ancient religions, the goal was often to escape the cycle of life and death, but today, we are fortunate to enjoy life and want to live. The concept of love is seen as intrinsically desirable, similar to gravity, and can take different forms in different life forms.
Dive Deeper: Source Material
---
---
💡 Actionable Wisdom
Transformative tips to apply and remember.
Question your beliefs and be open to new ideas. Take time to appreciate the beauty of life and the relationships that bring meaning to your existence. Embrace the unknown and continue to explore the mysteries of the universe. Remember, knowledge is a journey, and the pursuit of truth is a lifelong endeavor.
---
📽️ Source & Acknowledgment
This post summarizes Lex Fridman's YouTube video titled "Diana Walsh Pasulka: Aliens, Technology, Religion & the Nature of Belief | Lex Fridman Podcast #149". All credit goes to the original creator. Wisdom In a Nutshell aims to provide you with key insights from top self-improvement videos, fostering personal growth. We strongly encourage you to watch the full video for a deeper understanding and to support the creator.
---