Lex Fridman
Douglas Murray: Racism, Marxism, and the War on the West | Lex Fridman Podcast #296
Insights from Various Topics.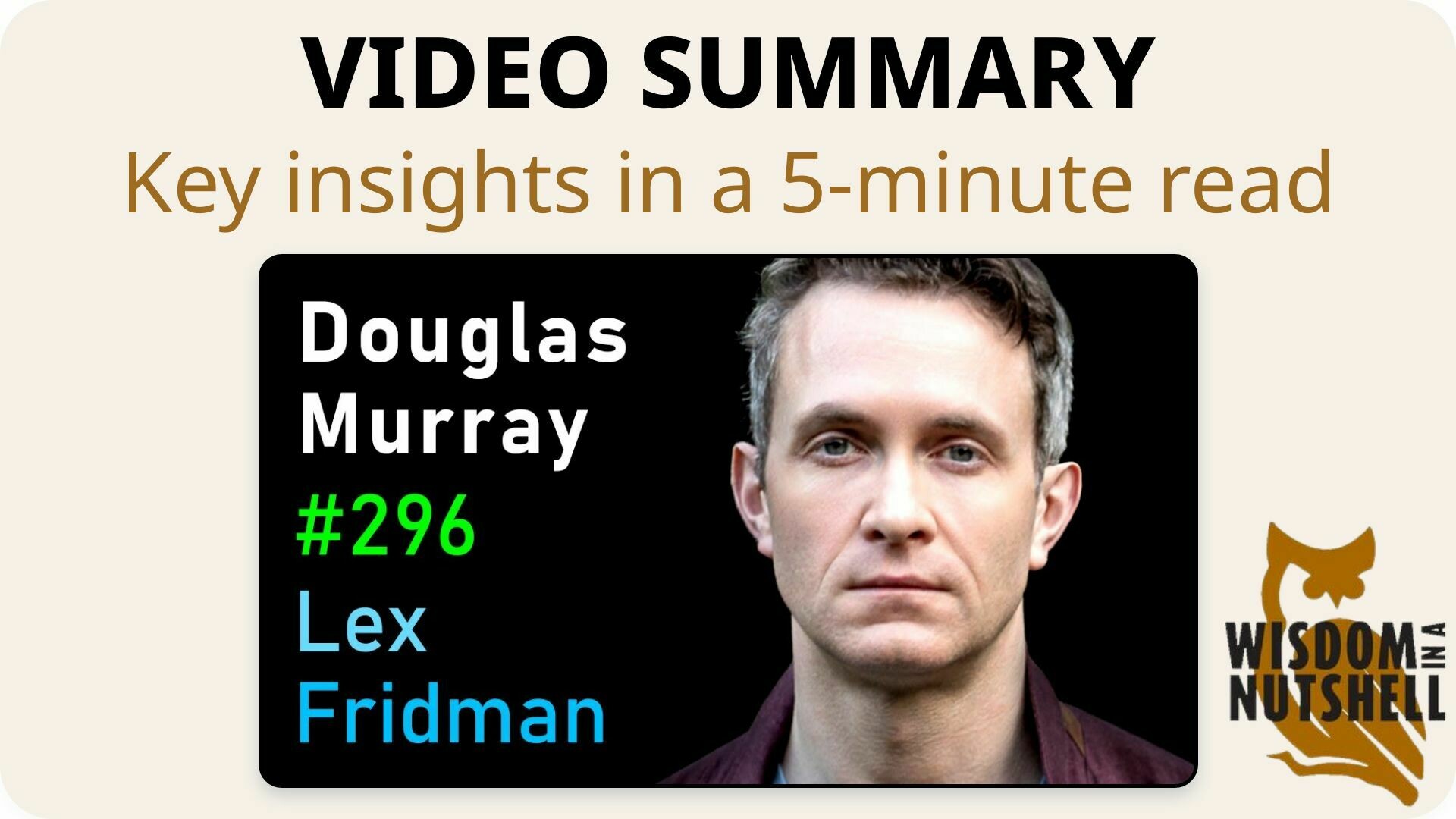 🌰 Wisdom in a Nutshell
Essential insights distilled from the video.
---
---
📚 Introduction
This blog post explores a variety of topics, including the importance of preserving Western civilization, the history of slavery and racism, the power of resentment and gratitude, critical race theory, the legacy of historical figures, the essence of personal growth, the Trump presidency, and the future of the United States. Each topic provides unique insights and perspectives that can help us navigate the complexities of our world and foster a deeper understanding of ourselves and others.
---
🔍 Wisdom Unpacked
Delving deeper into the key ideas.
1. Western civilization's evolution and cultural preservation are crucial.
The Western civilization is a unique tradition, characterized by a combination of Athens and Jerusalem, rule of law, democracy, and a ravenous interest in the rest of the world. It is known for its self-criticism and ability to address problems through peaceful means. The West has evolved over time, leading to the abolition of slavery and the advancement of human rights. However, some individuals are intentionally erasing our cultural heritage, influenced by Marxism, to challenge traditional values. It is crucial to recognize the importance of preserving the cultural values of Western civilization.
Dive Deeper: Source Material
---
2. Slavery reveals human nature and the need for moral discourse.
The history of slavery highlights the darker aspects of human nature, where people can subjugate others if they believe it is sanctioned by a higher power. Slavery often involves subjugating those perceived as different or subjugated. The debate about the relatedness of different races made it easier to enslave people. However, the question of our shared humanity was eventually resolved, making it a moral question. Today, we need to incorporate these lessons into our policy and social discourse.
Dive Deeper: Source Material
---
3. Racism is complex, requiring nuanced understanding and approach.
The concept of racism and its impact on society is complex and multifaceted. It's important to recognize that historical events, such as slavery and the Holocaust, should be incorporated into our policies and treatments of each other, but it's a complex moral question. Reparations, for example, are no longer about a wealth transfer but a transfer from those who resemble wrongdoers to those who resemble the wronged. Black underachievement in America is a multi-dimensional issue, and racism is only one factor. It's also important to recognize that there is a term limit on blaming historical events for current problems. The argument in America is that there is deep institutional racism against African Americans rooted in slavery, but it's difficult to quantify the extent of this racism. It's crucial to understand that no one's experience can be fully understood by another person, and that white people can also experience racism. However, it's challenging to determine the sincerity of claims made by individuals. It's important to approach these situations with caution and not judge others based on their racial or other characteristics.
Dive Deeper: Source Material
---
4. Resentment can be destructive; gratitude is the antidote.
Resentment, a common human emotion, can be both understandable and destructive. It can arise from personal experiences and societal injustices, but it can also consume a person's life and prevent fulfillment. Gratitude is seen as the antidote to resentment, both at the individual and societal levels. It's important to recognize that resentment can cross all boundaries, including racial and socioeconomic ones. The destructive nature of resentment is highlighted in literature, and the era of deconstruction, which involves taking things apart without putting them back together, has been highly destructive. It's crucial to interrogate and question societal issues, but also to recognize the limitations of deconstruction and the need to start creating again.
Dive Deeper: Source Material
---
5. Critical race theory is a cautious approach to understanding racism.
Critical race theory, an activist philosophy, aims to change the law by examining history through the lens of race and racism. However, it's important to be cautious and aware of the potential for evil to come from various directions, rather than just associating it with a specific group or appearance. Racism, including anti-Semitism, is the belief that other people are inferior based on their racial background. It's important to recognize and condemn racism in all its forms. The pursuit of power and justice can lead to violence and breaking rules. It's crucial to avoid turning happy people into unhappy people and not confuse the healthy with the sick.
Dive Deeper: Source Material
---
6. Understanding historical figures' complex legacies is key.
The legacy of historical figures like Stalin and Churchill is complex, with both positive and negative aspects. It's crucial to understand their contributions and criticisms, rather than judging them solely based on specific views. The lessons of the 20th century, including the dangers of fascism and communism, should be learned from and not repeated. The perception of unfair distribution of benefits in capitalism should be addressed, but not by adopting Marxism. The Museum of Stalin's birthplace in Georgia provides a balanced perspective on his legacy, acknowledging both his achievements and atrocities.
Dive Deeper: Source Material
---
7. Personal growth lies in independent thinking, humility, reading, and love.
The essence of personal growth lies in independent thinking, humility, and a love for reading. Reading the best books can expose you to new ideas, expand your perspective, and help you discover your own voice and identity. It's important to not overrate the significance of the unreal world and to store your sense of self-worth in close friends and family. Being aware of your limitations and not letting ego and friction deviate from the truth is crucial. Recognizing the importance of humility and admiring those who excel in areas you don't can help maintain a balanced perspective. It's also important to greet both triumph and disaster with the same mindset. Discovering one's sexuality and the role of love in the human condition can be challenging, but it can also be a source of meaning and fulfillment. Love, especially sexual love with another person, can provide a glimpse of the divine. It is important to recognize that love is not limited to one definition and can take many forms.
Dive Deeper: Source Material
---
8. Trump presidency marked by unique communication, conflicts, and ongoing conflict.
The Trump presidency was marked by a unique communication style that captivated his base, but lacked effective governance. Despite his achievements, he made mistakes and his willingness to fight led to conflicts. The 2020 election was fractious, with tensions escalating, but there is no sufficient evidence to justify the claim that Trump won. The January 6 events were dangerous but not an insurrection or coup attempt. The ongoing conflict in the West may still lead to further unrest.
Dive Deeper: Source Material
---
9. Finding common ground and a reasonable attitude towards the past can bring hope for the future.
The future of the United States is uncertain due to escalating tensions, but finding common ground and agreeing on certain aspects can bring hope for a turnaround. Gratitude is a valuable practice that can unite people. In couples therapy, finding common ground is crucial. The war on American history and Western history is a challenge as it's difficult to agree on the past. It's important to have public heroes who are agreed upon. The country needs to find a reasonable attitude towards the past. Social media has contributed to division, but it's important to learn how to navigate it without losing our sanity.
Dive Deeper: Source Material
---
---
💡 Actionable Wisdom
Transformative tips to apply and remember.
Embrace independent thinking, practice gratitude, and approach societal issues with an open mind. Recognize the complexity of history and the importance of learning from it. Foster personal growth through reading and self-reflection. Seek common ground and engage in respectful dialogue to bridge divides. Preserve your sanity by navigating social media responsibly.
---
📽️ Source & Acknowledgment
This post summarizes Lex Fridman's YouTube video titled "Douglas Murray: Racism, Marxism, and the War on the West | Lex Fridman Podcast #296". All credit goes to the original creator. Wisdom In a Nutshell aims to provide you with key insights from top self-improvement videos, fostering personal growth. We strongly encourage you to watch the full video for a deeper understanding and to support the creator.
---