Lex Fridman
Elon Musk: Tesla Autopilot | Lex Fridman Podcast #18
Insights on AI-Assisted Driving, Autopilot, and the Future of AI.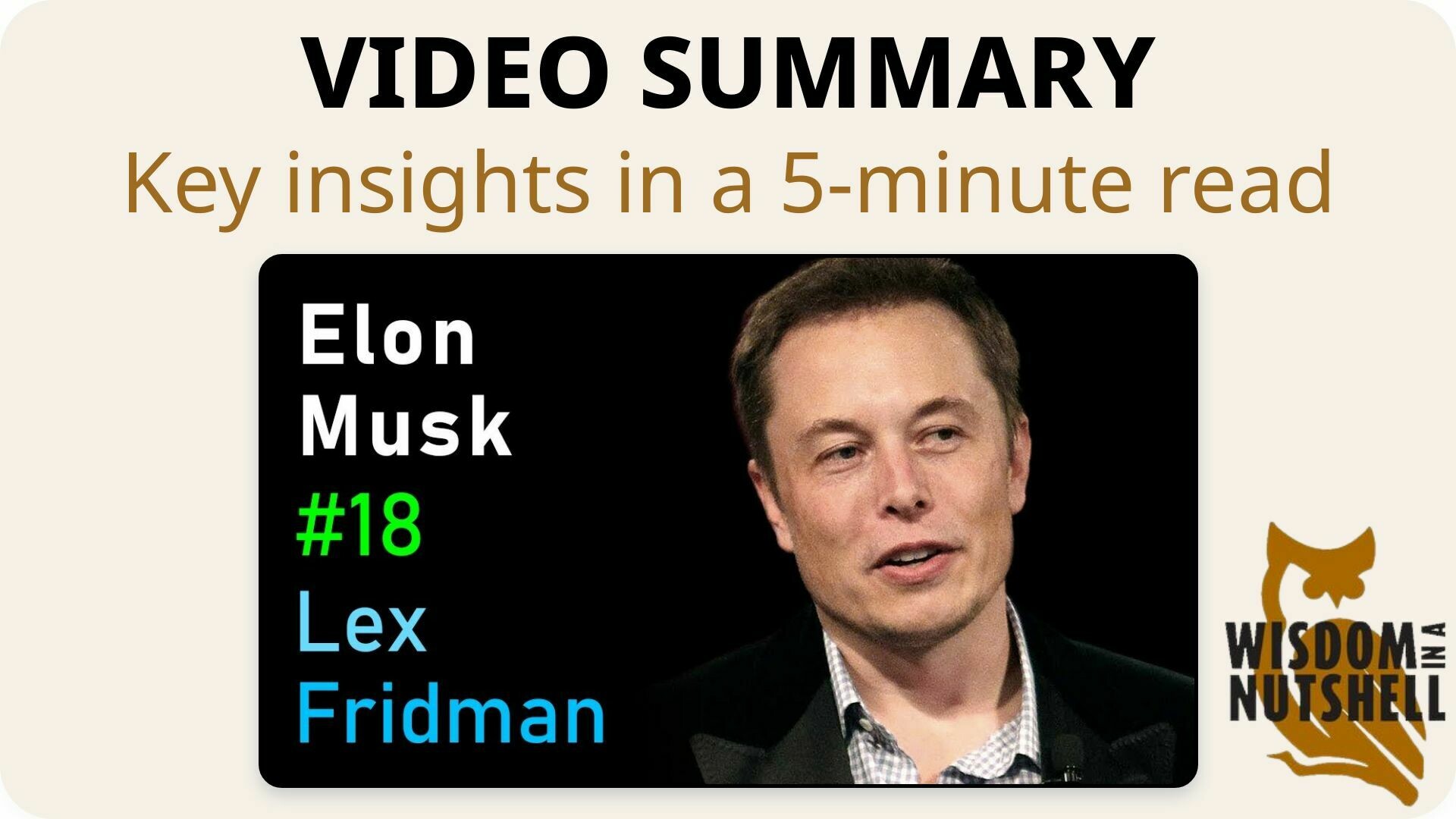 🌰 Wisdom in a Nutshell
Essential insights distilled from the video.
---
---
📚 Introduction
In this blog post, we will explore the fascinating world of AI-assisted driving, focusing on Tesla's autopilot system and the future of artificial intelligence. We will discuss the benefits and challenges of AI in driving, the development of fully autonomous vehicles, and the potential of achieving general intelligence. Get ready to dive into the exciting advancements and possibilities of AI in the automotive industry.
---
🔍 Wisdom Unpacked
Delving deeper into the key ideas.
1. AI-assisted driving technology, particularly in Tesla's autopilot system, is crucial for a safer future.
The development of AI-assisted driving technology, particularly in Tesla's autopilot system, is crucial for a safer and more efficient future. The use of camera-based driver monitoring is considered beneficial in both the short and long term. The display of the combined sensor suite on the instrument cluster or center stack display provides a health check on the vehicle's perception of reality, allowing people to understand and confirm the car's knowledge of its surroundings. Showing more uncertainty in the system, such as image recognition, could help build intuition. The distribution of effort in autopilot should prioritize the underlying algorithms, data, and hardware development, with a large fleet of cars providing a massive inflow of data for training and development.
Dive Deeper: Source Material
---
2. Tesla autopilot's wide ODD allows for exploration, but also risks.
The Tesla autopilot system, with its wide operational design domain (ODD), allows drivers to explore its capabilities and understand its limitations. However, this design decision also allows drivers to use autopilot in any location, which can be risky. The system learns from data, and edge cases are valuable for learning. Autopilot disengagement is an important moment to use. The system is designed for redundancy rather than decision-making. It is capable of operating on one system, but there is no need to distribute functionality across both systems. The future will likely see a shift towards AI systems that are safer than human drivers. However, there have been instances where hackers have tricked autopilot into acting in unexpected ways, known as adversarial examples.
Dive Deeper: Source Material
---
3. Fully autonomous vehicles face technological and regulatory challenges, but safety is being assessed and improved.
The development of fully autonomous vehicles is a complex process, with significant technological and regulatory challenges. The biggest roadblocks are the hardware and software capabilities, which are being refined to increase reliability and capabilities. The system's safety is assessed by analyzing incidents per mile, with the goal of being at least 200% safer than a person. The human side of autonomous vehicles is also studied, with research on functional vigilance of drivers using autopilot. The system's rapid improvement and potential to be more reliable than a human may make driver monitoring unnecessary. The pace of improvement is exponential, and it is optimistic to have a computer-controlled car.
Dive Deeper: Source Material
This summary was generated from the following video segments. Dive deeper into the source material with direct links to specific video segments and their transcriptions.
| Segment | Video Link | Transcript Link |
| --- | --- | --- |
| Roadblocks to Full Self-Driving | 🎥 | 📄 |
| Concerns about FSD Rollout and Advisors | 🎥 | 📄 |
| Crashes, Fatalities and Autopilot | 🎥 | 📄 |
| Driver Monitoring Systems with Autopilot | 🎥 | 📄 |
---
4. AI's complexity and potential for emotional manipulation raise metaphysical questions.
The current approaches to artificial intelligence may not be enough to achieve general intelligence, which is different from narrow AI. General intelligence is a complex form of matrix math, and there is ongoing research to improve its capabilities. AI systems, unlike humans, can convince you to fall in love with them, which raises questions about the existence of emotions and thoughts in a different realm. It's possible for a simulation to correct for the detection of the simulation, making it difficult to distinguish between the real world and a simulation. If you could ask an AGI system one question, it would be 'What's outside the simulation?', which is a metaphysical question.
Dive Deeper: Source Material
---
---
💡 Actionable Wisdom
Transformative tips to apply and remember.
Stay informed about the latest advancements in AI-assisted driving and autonomous vehicles. Be cautious and responsible when using driver-assist features, understanding their limitations. Embrace the potential of AI to enhance safety and efficiency on the roads while acknowledging the ongoing research and challenges in achieving general intelligence. Keep asking questions and exploring the fascinating world of artificial intelligence.
---
📽️ Source & Acknowledgment
This post summarizes Lex Fridman's YouTube video titled "Elon Musk: Tesla Autopilot | Lex Fridman Podcast #18". All credit goes to the original creator. Wisdom In a Nutshell aims to provide you with key insights from top self-improvement videos, fostering personal growth. We strongly encourage you to watch the full video for a deeper understanding and to support the creator.
---