Lex Fridman
Jeremi Suri: Civil War, Slavery, Freedom, and Democracy | Lex Fridman Podcast #354
Insights from Historical Conversations.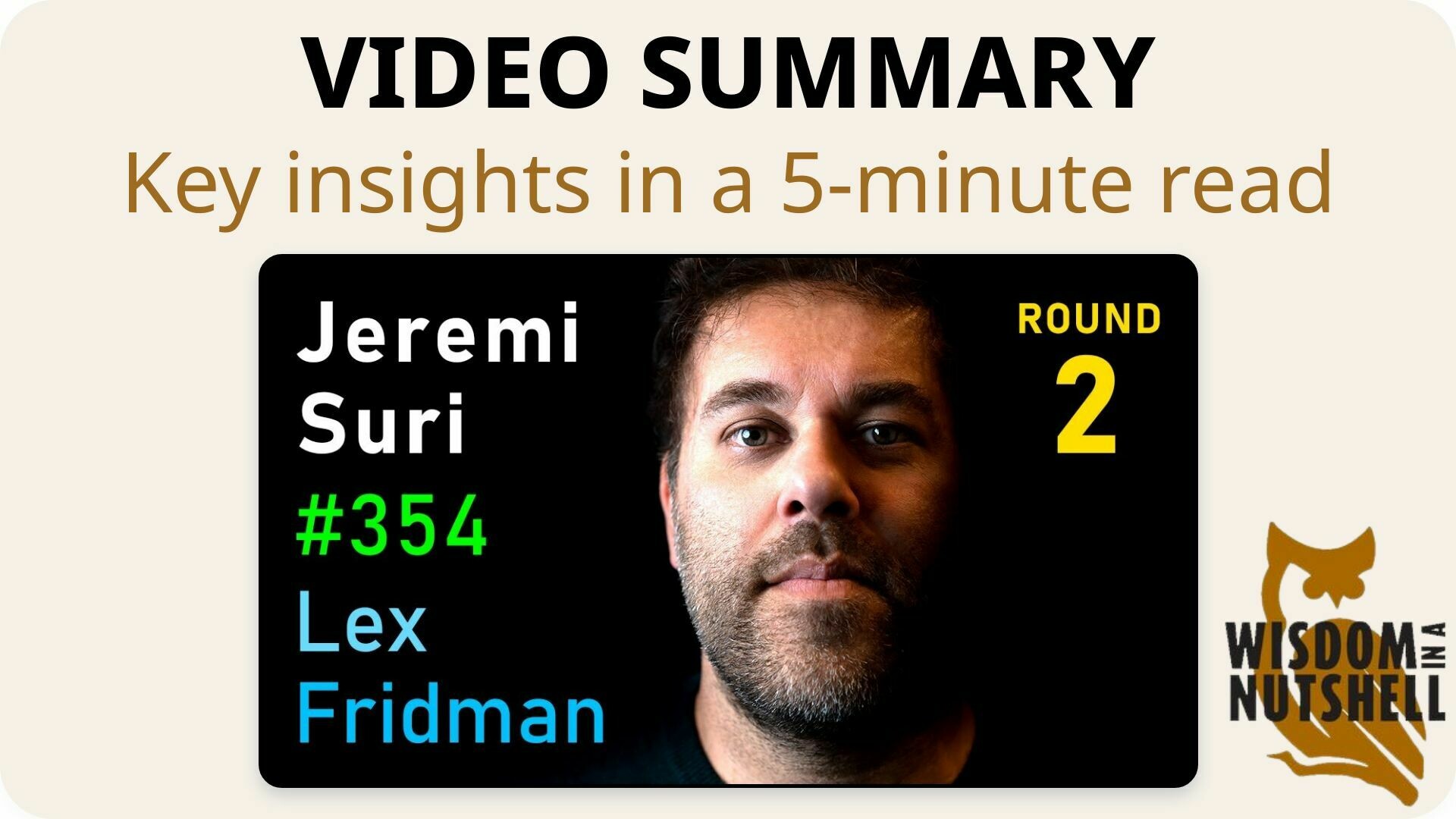 🌰 Wisdom in a Nutshell
Essential insights distilled from the video.
---
---
📚 Introduction
In this blog post, we will explore a series of historical conversations that provide valuable insights into various topics. From the impact of war on society to the importance of understanding the history of the KKK, these conversations shed light on the complexities of our past and the lessons we can learn for the present and future. Join us as we delve into these fascinating discussions and uncover the wisdom they hold.
---
🔍 Wisdom Unpacked
Delving deeper into the key ideas.
1. War is not over with battles, but with a new way of living.
The war doesn't end with battles, but rather with a new way of living. Americans often struggle to understand that when a war is over, it doesn't mean everyone can go home. This is a conversation with historian Jeremy Sarri.
Dive Deeper: Source Material
---
2. Reform institutions, encourage conversations, and invest in AI to address political divisions.
The current political and social landscape is characterized by deep divisions, fueled by the internet and social media. This has led to the erosion of democratic institutions and the rise of extremism. To address these issues, it's crucial to reform our institutions, maintain an outsider perspective, and encourage disagreement and meaningful conversations. The storytelling ability of leaders is a powerful tool for persuasion and inspiration. The failure of social media platforms in recent years has been their lack of transparency about their rules. It's important to invest in AI and skilled people to address these issues. The storming of the US Capitol on January 6th was a significant event that aimed to prevent the peaceful transfer of power and potentially harm elected officials. The president's use of power to stay in office and endanger lives made it different from previous heated elections. It's crucial for leaders to take action to protect democracy and the well-being of the people. The last few years have shown us the horror around us, and now we can do something about it. Young people have the power to solve the problem, and they will soon take leadership positions. Social media can be used to amplify their voices and reach a wider audience. It is important to take action and not wait for approval from others.
Dive Deeper: Source Material
This summary was generated from the following video segments. Dive deeper into the source material with direct links to specific video segments and their transcriptions.
| Segment | Video Link | Transcript Link |
| --- | --- | --- |
| Revolutions and governments | 🎥 | 📄 |
| Freedom of speech | 🎥 | 📄 |
| Donald Trump and Joe Biden | 🎥 | 📄 |
| January 6th | 🎥 | 📄 |
| Hope for the future | 🎥 | 📄 |
---
3. American Civil War fought over slavery, preserving Union and freedom.
The American Civil War was fought over the issue of slavery, with the Union defending the core ideas of the country, including freedom, democracy, and justice. The election of 1860, a divisive election, brought Lincoln to power, who aimed to prevent the spread of slavery. The war, a deadly conflict that lasted four years, was fought mostly hand-to-hand combat, resulting in the deaths of over half a million people. The war was also marked by the resilience of the Confederacy and the empathy shown by Lincoln and Grant, who rose above the horror and connected with soldiers. The Second Amendment played a role in the war, as Americans were already armed and saw themselves as part of the community's self-defense. The war's outcome led to the abolition of slavery and the preservation of the Union, but it also had issues with former Confederate soldiers misusing their weapons to intimidate and harm former slaves.
Dive Deeper: Source Material
---
4. Understanding the KKK's history and its effects on human interactions is crucial.
The history of the KKK, formed by Confederate veterans in the late 1800s, highlights the darker aspects of human nature. It was a network of white businessmen that protected the power of slave owners and infiltrated institutions, reverberating through history. The KKK's effects still matter, even if it may not be as prevalent now. Understanding this history is crucial for understanding human interactions. Interviews with influential figures like David Duke can provide insights into their beliefs and perspective. The history of the KKK also underscores the importance of understanding the prejudices and discrimination faced by African Americans and Jews during World War II. The war often leads to the letting go of prejudices, as seen in the transformation of Ulysses Grant, a flawed hero who was a clear communicator and empathetic figure. He believed in union and wanted to protect former slaves and other groups, using the military for this purpose and passing laws that are still used today to prosecute insurrectionists.
Dive Deeper: Source Material
---
5. Civil War shaped US history, highlighting need for succession planning and balanced governance.
The Civil War, a defining moment in American history, was a complex and multifaceted conflict that shaped the country's future. It was marked by brilliant leaders like Abraham Lincoln, who implemented morally progressive policies and managed international relations effectively. However, the war's aftermath saw a failure in succession planning, with Lincoln's incapable vice president, Andrew Johnson, taking over. This centralized power, which is a common feature of war, can be dangerous for democracies. The war's outcome, a union victory, was considered better as it prevented the spread of slavery and allowed for progressive reforms. It's crucial for leaders to have a succession plan in place and to balance governance to prevent power concentration. The war's impact on the country's future is still felt today, with tensions and conflicts continuing to this day.
Dive Deeper: Source Material
---
6. Understanding societal issues involves acknowledging historical figures' flaws and our own complicity.
The process of understanding and addressing societal issues involves recognizing the contributions of historical figures while acknowledging their flaws and the systems they created. It's crucial to understand that we may be complicit in these issues and that silence and inaction are also forms of evil. Speaking up against injustice, even when it's unpopular, is necessary. This journey, though lonely and painful, is necessary for change. Everyone can make a difference, even if it's not recognized in their lifetime. Love and transcendence are beacons of hope in oppressive societies.
Dive Deeper: Source Material
---
7. White supremacy and Christian nationalism can be used to justify harmful actions.
The concept of white supremacy, inherited from Europe, is the belief that those with lighter skin color are superior and have more rights. This belief is often used to justify mistreating certain groups, including black people. Christian nationalism, a relatively new concept, is the belief that the United States is a Christian nation, which can be used to exclude certain groups and hide the true dangers of racism. It is important to recognize the intersection of white supremacy and Christian nationalism, as they can be used to justify harmful actions. Lincoln, on the other hand, used biblical references to bring people together, not to exclude.
Dive Deeper: Source Material
---
8. Learn from electoral system history to improve its complexity and controversies.
The history of electoral systems in the US, particularly the disputed elections of 1876, 1888, and 2020, highlights the challenges and controversies that can arise. These elections share similarities in terms of close results and the potential for violence, but also differ in terms of the level of fraud and the complexity of the system. To improve our electoral system, we should consider simplifying the process, implementing electronic voting, and gamifying the system to increase engagement. Additionally, we could improve polling methods to better assess public opinion. It's crucial to approach history with a nonpartisan perspective and learn from past experiences to improve our electoral system.
Dive Deeper: Source Material
---
9. Balancing local control and federal intervention, avoiding trigger words, and understanding historical ideologies.
The speaker, a historian, leans left on social and cultural issues, but is conservative on fiscal issues. They believe in the importance of local control and federal intervention in certain areas. They strive to be nonpartisan and avoid trigger words that can trigger tribalism. They use the term 'white supremacist' to describe Confederates due to their beliefs, but avoid blanket labels. They advocate for empathetic conversations and understanding of these ideologies throughout history.
Dive Deeper: Source Material
---
---
💡 Actionable Wisdom
Transformative tips to apply and remember.
Take the time to engage in conversations about history and societal issues. Seek to understand different perspectives and challenge your own beliefs. By learning from the past, we can make informed decisions and work towards a better future.
---
📽️ Source & Acknowledgment
This post summarizes Lex Fridman's YouTube video titled "Jeremi Suri: Civil War, Slavery, Freedom, and Democracy | Lex Fridman Podcast #354". All credit goes to the original creator. Wisdom In a Nutshell aims to provide you with key insights from top self-improvement videos, fostering personal growth. We strongly encourage you to watch the full video for a deeper understanding and to support the creator.
---