Lex Fridman
Jeremi Suri: History of American Power | Lex Fridman Podcast #180
Insights from Various Leaders and the Evolution of the Presidency.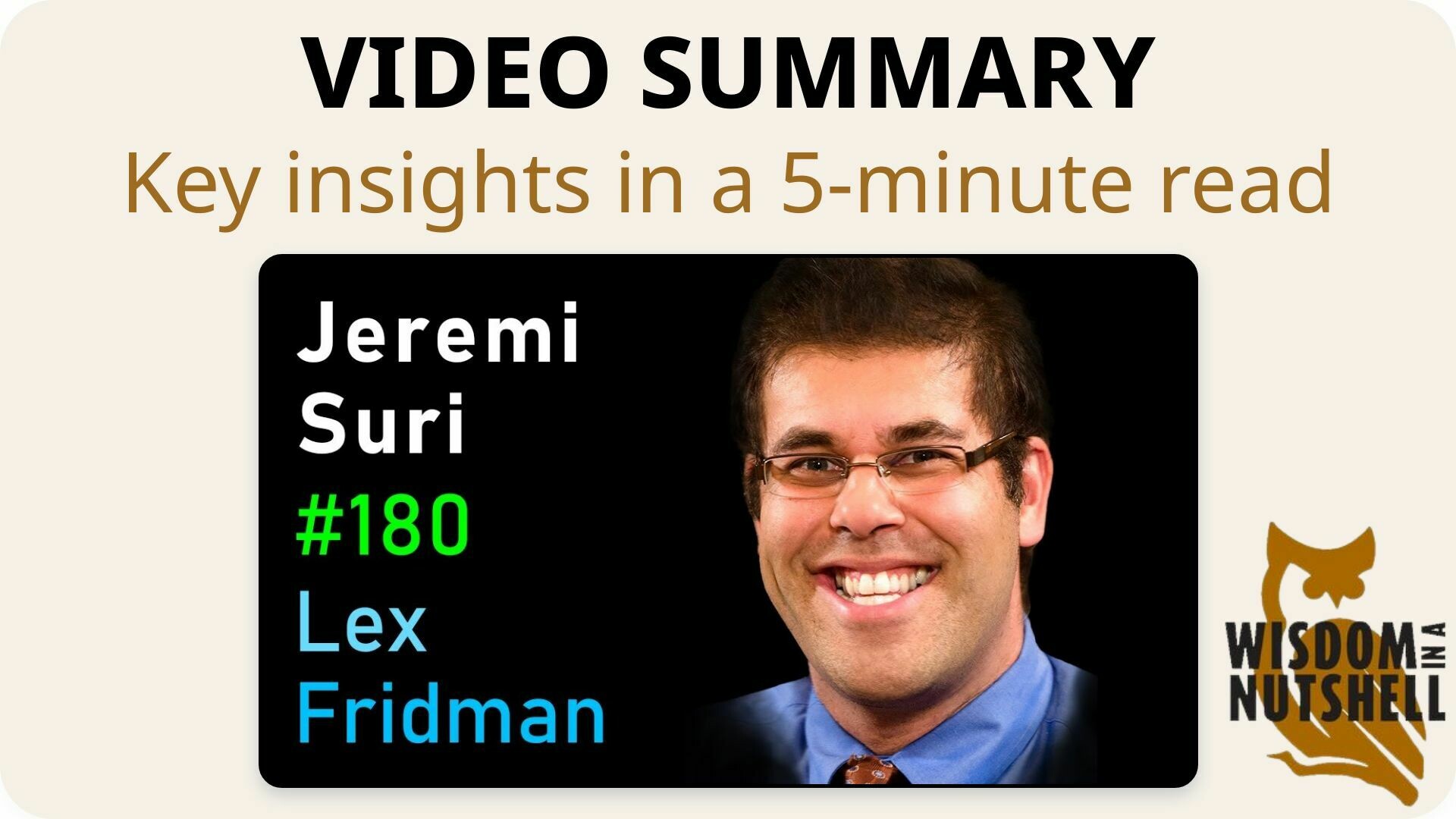 🌰 Wisdom in a Nutshell
Essential insights distilled from the video.
---
---
📚 Introduction
The role of the presidency has evolved over time, and understanding the qualities and experiences of past leaders can provide valuable insights. From the power and challenges of the presidency to the importance of asking the right questions and embracing chaos, there are many lessons to be learned. Additionally, the belief that power corrupts and the impact of great leaders on society are explored. This blog post delves into these topics and more, offering a deeper understanding of leadership and the presidency.
---
🔍 Wisdom Unpacked
Delving deeper into the key ideas.
1. Effective presidency requires historical understanding, persuasion, and strategic planning.
The presidency has evolved significantly since Lincoln's time, with presidents now having immense power and constant scrutiny. However, this power can be used for good or ill, and it's crucial for presidents to invest in reforms and strategic planning. Understanding history is key to making informed decisions, as it provides insights into human nature and the evolution of society. The ability to connect with individuals in private conversations, tell stories, and understand the biggest problems in someone's life are essential qualities for effective leaders. The presidency is not just about public speaking and charisma, but about mastering persuasion, coercion, and listening. Presidents should not hinder progress, but rather inform and guide it.
Dive Deeper: Source Material
---
2. Presidents reflect society, need to ask questions, and embrace diversity.
The role of a president is not just about knowledge, but also about asking the right questions to gather information. They rely on a team of experts to provide information and suggest questions. It's crucial for leaders to be willing to ask difficult questions, even if they may be uncomfortable. The political system and electoral process can influence the likelihood of great leaders emerging. Hiring people of integrity who can ask the right questions and pass on important information is key. Presidents are mirrors of our world, reflecting both the good and the bad. It's important to embrace the chaos and diversity of America, including the corruption, beauty, and innovation. However, we often put our presidents on a pedestal, creating fake politicians. Authenticity and chaos are unique qualities of some presidents, like Donald Trump.
Dive Deeper: Source Material
---
3. Power corrupts, but self-awareness and sophistication can mitigate its effects.
The belief that power corrupts is exemplified by George Washington's decision to relinquish power, recognizing that his respected status as a disinterested statesman was his most valuable currency for power. This self-awareness and sophistication are qualities that many other leaders have also embodied. The popular support for Vladimir Putin in Russia is not fully manipulated, and he has the opportunity to relinquish power and be viewed as a great leader in Russian history, similar to George Washington. The trappings of power are seductive and corrupting, making it difficult for Putin to give up his billions of dollars. It is important for CEOs and leaders to move on to new roles and not stay in one place for too long. The American system of government has built-in cycles, which contribute to its effectiveness and longevity. However, it is crucial to be attentive and ensure that the experiment of democracy continues.
Dive Deeper: Source Material
---
4. Effective leadership is about empathy, authentic connection, and inspiring a common mission.
Franklin Roosevelt's leadership was characterized by empathy, authentic connection with people, and the ability to create a sense of common mission. He understood the power of words and used them effectively to inspire and elevate people. Despite challenges, he could have done more to save lives, especially during the war. Great leaders, like FDR, have the ability to understand and express emotions, find the right words to inspire, and create a sense of excitement and possibility. Leadership is about understanding and expressing emotions, finding the right words to inspire and elevate people, and creating a common mission.
Dive Deeper: Source Material
---
5. Kissinger's real politic approach prioritizes power over ideals, leading to self-defeat.
Henry Kissinger, a German Jewish immigrant, rose to power in the US, becoming a major figure in foreign policy. His experiences, including his father's loss of power and his own trauma, shaped his obsession with gaining power. He built a network of intellectuals at Harvard and played a key role in opening relations with China. Kissinger's real politic approach, which prioritizes the interests of powerful countries over less powerful ones, involves building webs of connection with allies and leveraging resources to control the power of adversaries. He also uses military force to further access to resources. Kissinger's approach, while effective, can be self-defeating as the pursuit of power can lead to undermining the things you care about. The corrupting nature of power can make it difficult to hold power for long without being driven by the interests of power rather than ideals.
Dive Deeper: Source Material
---
6. Understanding the Cold War and its impact on individual rights is crucial.
The Cold War, a conflict between capitalism and communism, is ancient history to many, but its lessons are crucial to understand. It was not just about two countries with nuclear weapons, but about two different ways of life. The United States played a key role in defending liberal capitalism, but there are criticisms of the resources spent and the opportunity costs. The concept of communism is not well understood, and the United States has a history of social democracy, compatible with capitalism. The debate around gun control is not just about freedom but also about the value of individual rights. The Constitution's reference to the right to bear arms refers to the ability to defend oneself, not to harm others. It's important to have a conversation about what citizens need to feel safe and defend themselves, while considering the potential negative effects of gun ownership.
Dive Deeper: Source Material
---
7. Rapid technological advancements and the importance of language and authenticity.
The rapid technological advancements of the last 20-30 years, particularly in the fields of virtual worlds, biotechnology, and artificial intelligence, will be remembered as significant achievements. However, the politicization of these advancements has overshadowed their brilliance. The pandemic served as a catalyst for further innovations, including vaccines, which will be seen as an outstanding accomplishment. The age will also be remembered for the incredible levels of innovation, particularly in the fields of artificial intelligence and space exploration. The importance of language in understanding a culture and its history is highlighted, as is the need to pursue passions and excellence in a chosen profession. The lessons of treating everyone with respect, regardless of social status, and the value of authenticity are also emphasized.
Dive Deeper: Source Material
This summary was generated from the following video segments. Dive deeper into the source material with direct links to specific video segments and their transcriptions.
| Segment | Video Link | Transcript Link |
| --- | --- | --- |
| Vaccines and the future of the human species | 🎥 | 📄 |
| Book recommendations | 🎥 | 📄 |
| Learning another language | 🎥 | 📄 |
| Advice for young people | 🎥 | 📄 |
| Grandmother | 🎥 | 📄 |
---
---
💡 Actionable Wisdom
Transformative tips to apply and remember.
Embrace the chaos and diversity of life, recognizing that it is through these challenges that growth and innovation occur. Ask the right questions, even if they may be uncomfortable, to gather valuable information and make informed decisions. Treat everyone with respect and authenticity, understanding the power of connection and empathy in leadership.
---
📽️ Source & Acknowledgment
This post summarizes Lex Fridman's YouTube video titled "Jeremi Suri: History of American Power | Lex Fridman Podcast #180". All credit goes to the original creator. Wisdom In a Nutshell aims to provide you with key insights from top self-improvement videos, fostering personal growth. We strongly encourage you to watch the full video for a deeper understanding and to support the creator.
---