Lex Fridman
Jim Gates: Supersymmetry, String Theory and Proving Einstein Right | Lex Fridman Podcast #60
Exploring the Fascinating World of Physics and Mathematics.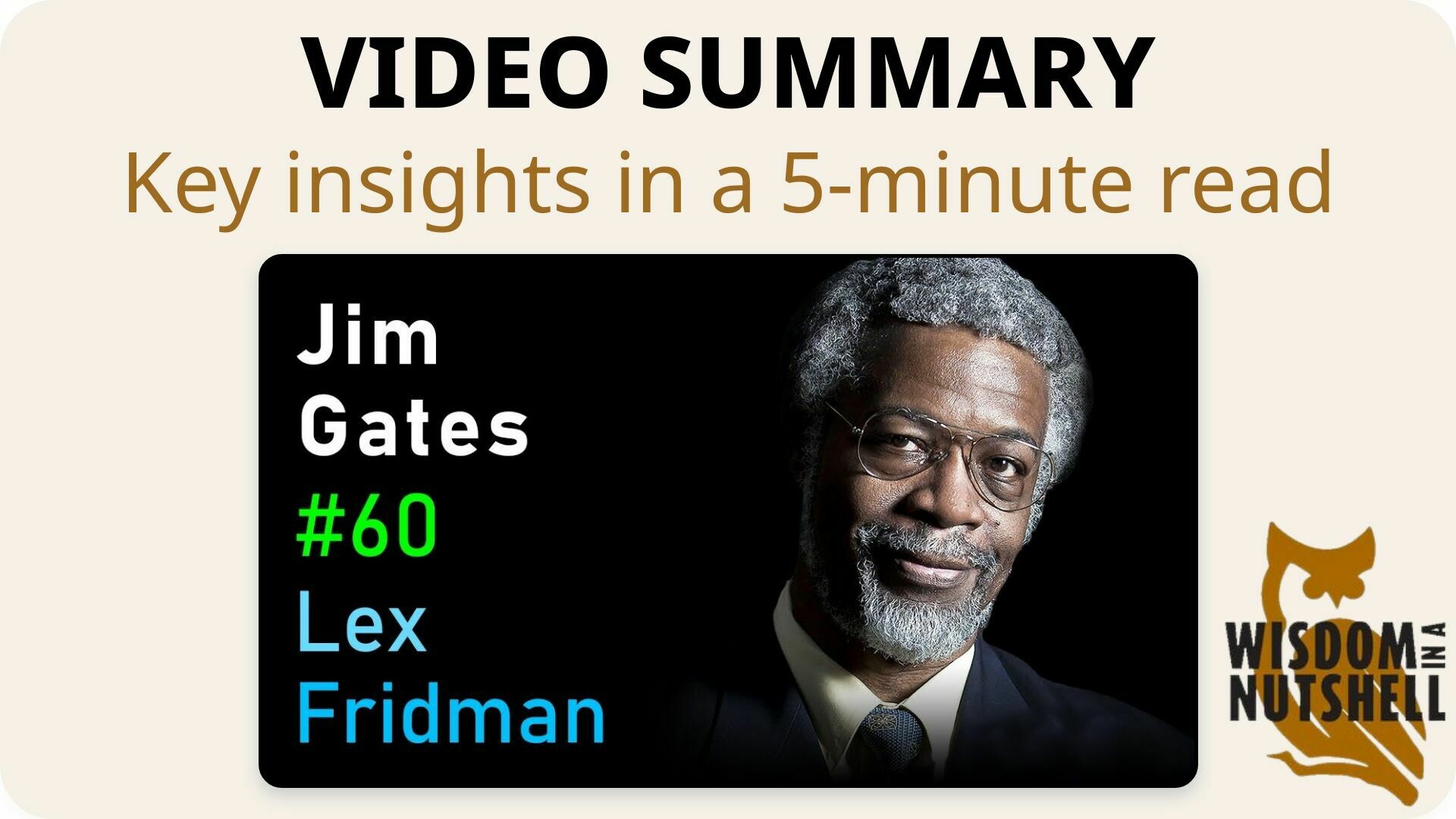 🌰 Wisdom in a Nutshell
Essential insights distilled from the video.
---
---
📚 Introduction
Physics and mathematics are interconnected fields that offer profound insights into the nature of the universe. In this blog post, we will delve into various topics, including supersymmetry, the pursuit of science, the possibility of intelligent life, the process of creativity, the fundamental particles of the universe, the study of mathematical concepts, string theory, and the theory of general relativity. Each topic provides a unique perspective and sheds light on the mysteries of our existence. Join us on this journey of exploration and discovery.
---
🔍 Wisdom Unpacked
Delving deeper into the key ideas.
1. Supersymmetry: a mathematical palette for physics, exploring force ordering and gravity.
Supersymmetry, a concept in physics, proposes the existence of force carriers that behave like electrons, filling in empty quadrants of a mathematical pie chart and creating a balanced pie. This idea, which is closer to string theory than other ideas, predicts that gravity bends light twice as much as Newton's theory, a prediction that can be experimentally validated. The concept of supersymmetry, which is a mathematical palette that physicists can use to construct variations on the theme of light, is a remarkable and significant advancement in physics. It is a fascinating area of research that explores the mystery of the ordering of forces in nature, with gravity being the weakest. The interplay between mathematics and physics is beautiful, with symmetry being a powerful concept that aligns with incredible mathematics.
Dive Deeper: Source Material
---
2. Science and technology advancements require caution, presidential support, and personal growth.
The pursuit of science and technology, particularly in the field of physics, is a calling that can lead to significant contributions. The cost of war and the potential for devastating technologies to fall into the wrong hands highlight the need for caution and the development of technologies that can prevent their use. The Breakthrough Prize, a prestigious award in the field of science, can inspire and influence the next generation of scientists. The role of a president in understanding and supporting scientific advancements is crucial. The inevitability of death should be acknowledged, and the time we have should be used to make the world a better place. The universe can provide opportunities for personal growth and the pursuit of dreams.
Dive Deeper: Source Material
This summary was generated from the following video segments. Dive deeper into the source material with direct links to specific video segments and their transcriptions.
| Segment | Video Link | Transcript Link |
| --- | --- | --- |
| Leaving our Solar System | 🎥 | 📄 |
| Traveling to Mars | 🎥 | 📄 |
| War | 🎥 | 📄 |
| Caltech days: interacting with Richard Feynman | 🎥 | 📄 |
| Advising President Obama in Technology | 🎥 | 📄 |
| Mortality | 🎥 | 📄 |
| Meaning of life | 🎥 | 📄 |
| Best choice in life | 🎥 | 📄 |
---
3. Intelligent life elsewhere, AI consciousness, and the future of humanity.
The possibility of intelligent life existing elsewhere in the universe is intriguing, with the discovery of thousands of planets, including Earth-like ones, suggesting that we are not alone. The laws of physics are universal, allowing for the existence of weirder life forms. The human mind, which compresses information, may be compressible, but it is uncertain if other structures in the universe can produce consciousness. Artificial intelligence, if it develops consciousness, can be exported to metal and electronic hardware, allowing for quick travel to Mars. The idea of artificial intelligence replacing humans is both exciting and scary, as it is connected to creativity and the irrational parts of our head and dreaming.
Dive Deeper: Source Material
---
4. Creativity in supersymmetry involves suffering-triggered dreaming and subconscious insights.
The process of creativity, particularly in the field of supersymmetry, involves two modes. The first is the standard way of working, where information is accumulated and synthesized. The second, more powerful mode, involves dreaming and is triggered by suffering and the mind's struggle to solve problems. This second mode is like the first stage of a thermonuclear weapon, where emotional pressure leads to big thoughts. The subconscious can be harnessed to do mathematics, as the speaker personally experienced when they had a dream that helped them understand integral calculus.
Dive Deeper: Source Material
---
5. Understanding the universe involves understanding matter and force carriers.
The universe is composed of two types of particles: matter and force carriers. Matter includes electrons, quarks, and leptons, while force carriers include photons, gravitons, gluons, and W bosons. These particles are known through both mathematics and experiments, with the accuracy of these ideas known to be at least one part in a billion. Understanding the difference between bosons and fermions is crucial for understanding the universe. The Higgs boson, a recently discovered particle, is a carrier of the force of gravity, while the graviton, a hypothesized carrier of the force of gravity, is still not experimentally verified. Spacetime, as described by Einstein, can be thought of as a rubber surface that can oscillate and create waves, which are known as gravitons and carry energy and quanta.
Dive Deeper: Source Material
---
6. Mathematical concepts, represented by simple graphs, are essential for reliable information transmission.
The study of mathematical concepts, often referred to as objects, has led to a deeper understanding of their connection to reality. These concepts, represented by simple graphs, have a unique property that is essential for reliable information transmission in physics. This property is similar to error-correcting codes in genetics, which are believed to have evolved over time. The origin and significance of these codes are still a mystery, with speculation about evolutionary forces acting on the physics of the universe. The study of these concepts has also revealed that equations can be represented in alternative languages, providing an alternative way to solve mathematical problems.
Dive Deeper: Source Material
---
7. String theory, a powerful mathematical framework, awaits observation-based validation.
String theory, a mathematical construct, describes particles as shrinking balls or spaghetti, leading to the concept of holography, which enhances the power of mathematics. String theory is a broad and deep development that will likely require a confluence of observations to become widely accepted, with expected signatures in the cosmic microwave background and astro-physical structures. However, it may take several decades for these observations to be born out. The concept of extra dimensions in string theory is not as strange as it may seem, and the story of Einstein's journey to prove his theory is fascinating, with moments of struggle and luck. Understanding the human side of science is important for young people and the public.
Dive Deeper: Source Material
This summary was generated from the following video segments. Dive deeper into the source material with direct links to specific video segments and their transcriptions.
| Segment | Video Link | Transcript Link |
| --- | --- | --- |
| String Theory | 🎥 | 📄 |
| Open Challenges | 🎥 | 📄 |
| Particles | 🎥 | 📄 |
| Extra dimensions for string theory | 🎥 | 📄 |
| Looking forward: What lessons can we apply from the past? | 🎥 | 📄 |
---
8. General relativity's radical ideas and observational support challenge conventional understanding.
The theory of general relativity, developed by Einstein, aimed to explain the phenomenon of gravity, addressing the limitations of Newton's theory. It was a radical idea that challenged the conventional understanding of gravity and its travel. The mathematical concepts used in general relativity were not created by Newton, but were a result of Einstein's work. The theory was not widely accepted initially, but its observational support eventually led to its acceptance. The story of general relativity provides lessons for the future of strength theory, highlighting the importance of radical ideas and observational evidence in scientific progress.
Dive Deeper: Source Material
---
---
💡 Actionable Wisdom
Transformative tips to apply and remember.
Embrace the interplay between physics and mathematics in your daily life. Seek to understand the fundamental principles that govern the universe and apply them to solve problems creatively. Cultivate a mindset of curiosity and exploration, allowing yourself to dream and envision new possibilities. By doing so, you can tap into the power of the subconscious and unlock your full potential.
---
📽️ Source & Acknowledgment
This post summarizes Lex Fridman's YouTube video titled "Jim Gates: Supersymmetry, String Theory and Proving Einstein Right | Lex Fridman Podcast #60". All credit goes to the original creator. Wisdom In a Nutshell aims to provide you with key insights from top self-improvement videos, fostering personal growth. We strongly encourage you to watch the full video for a deeper understanding and to support the creator.
---