Lex Fridman
Jim Keller: The Future of Computing, AI, Life, and Consciousness | Lex Fridman Podcast #162
Insights from Various Topics.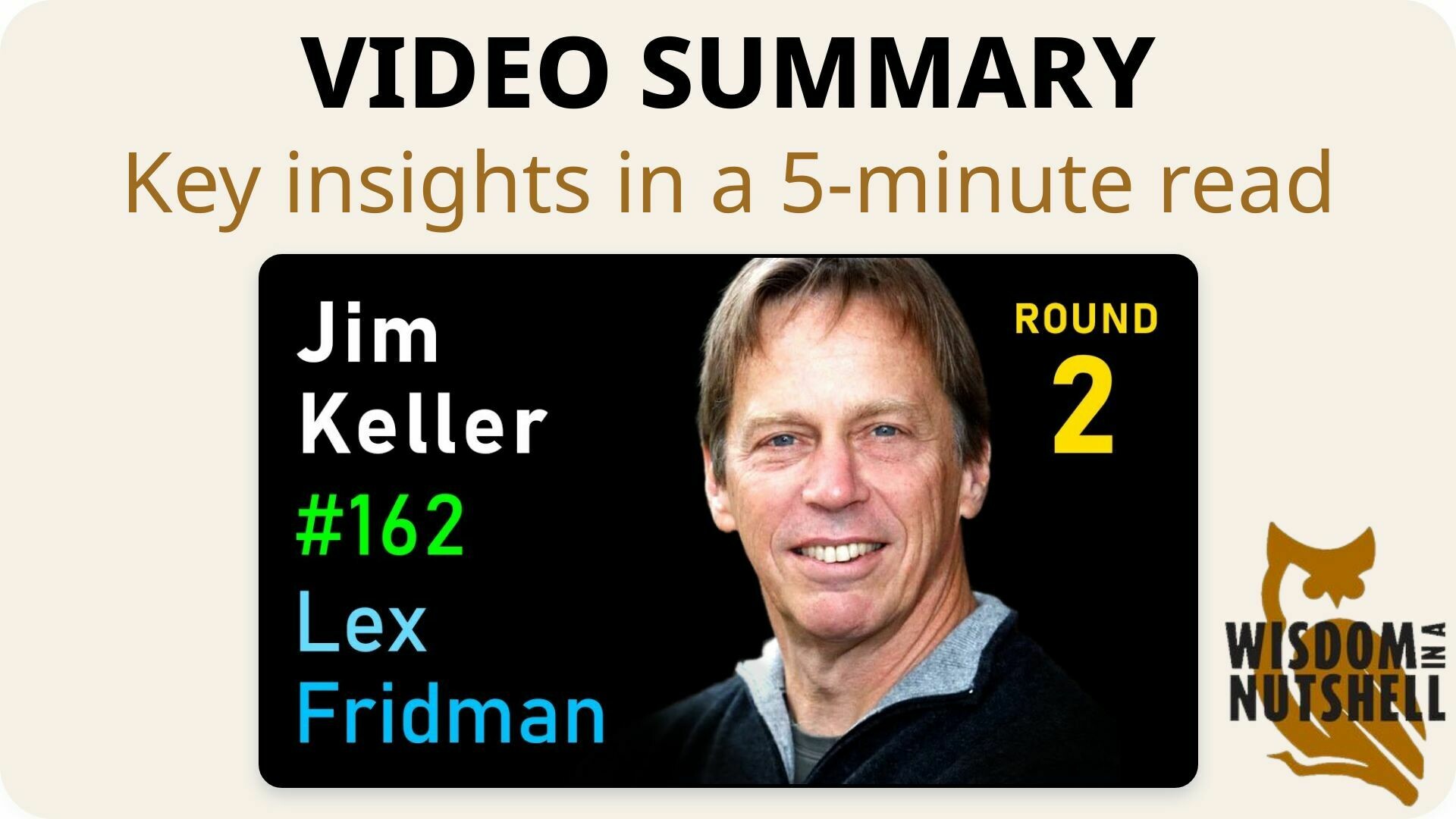 🌰 Wisdom in a Nutshell
Essential insights distilled from the video.
---
---
📚 Introduction
In this blog post, we will explore a variety of topics and extract key insights from each. From the process of engineering to the future of computing, from successful leadership to the essence of a fulfilling life, and from the power of the human brain to the recent GameStop incident, there is much wisdom to be gained. Let's dive in and uncover these valuable insights.
---
🔍 Wisdom Unpacked
Delving deeper into the key ideas.
1. Balancing planning and execution in engineering and design leads to harmonious systems.
The process of engineering, particularly in computer design, involves the practical application of known methods and the pursuit of discovering unknown problems. It involves the reduction of known methods and the improvement of existing systems. The key is to find flaws and reduce ideas to practice. The creative process in computer engineering involves two approaches: the perfect approach and the get-it-done approach. The perfect approach involves planning and scheduling, while the get-it-done approach involves generating and executing ideas quickly. The key is to find a balance between these two approaches. The design of systems should be modular, with well-thought-out abstraction layers, to allow for innovation and improvement in different layers without affecting the overall system. The complexity of systems is increasing, and the modularity of design is important to create harmonious and interesting systems. However, there may be a limit to the complexity of beautiful systems we can build.
Dive Deeper: Source Material
---
2. Software success is often linked to simplicity and accessibility, while processor success is influenced by innovation, customization, and adaptability.
The success of software like JavaScript and PHP can be attributed to their simplicity and accessibility, which led to innovation and adaptation to changing needs. In the processor space, Intel's aggressive adoption and improvement of ideas from others, along with their focus on custom high-end processor designs, contributed to their success. However, their slow adoption of synthesis in processor design and their focus on their own CAD tools and process, influenced by the PC and Microsoft software, limited their success in the mobile market. The long-term winner in the instruction set space is uncertain, with factors like performance limits, usability, and design quality playing a role. Open-source instruction sets like RISC-V offer flexibility but may lead to random changes.
Dive Deeper: Source Material
---
3. Successful leadership involves pivoting, continuous improvement, and supportive environments.
The essence of successful leadership lies in the ability to pivot, as exemplified by Steve Jobs and Elon Musk. Steve Jobs was a visionary who believed in the power of ideas and their execution. He surrounded himself with a small team and focused on making things happen. Elon Musk, on the other hand, is more engineering-centric, with a love for details and craftsmanship. He also believes in the importance of praise and care for motivation. The standard for productivity is a graph with chaos at zero and complete order at the other end. To overcome this, there needs to be a counter force. Growing up, supportive parents can influence a child's approach to work, fostering a mindset of continuous improvement. Chris Ladner, a brilliant thinker and educator, has created platforms for others to succeed. His work on LLVM, Swift, and TensorFlow has simplified the complexity of the software stack, allowing independent work on different levels.
Dive Deeper: Source Material
---
4. AI computing systems like Grace Call Processor offer promising future for AI applications.
The future of computing is inefficiency, as scaling costs money but provides financial value. The idea of turning everything into computing surfaces, known as Computronium, is discussed. While it is possible to add computers to everything, the ultimate goal is to simulate the universe. Computers will become ubiquitous, even in inanimate objects like hedgehogs. While computers may become smarter than humans, they still lack the ability to understand complex emotions and concepts like love and mortality. The Grace Call Processor is a high-performance AI computing system that outperforms NVIDIA's Tesla T4 system. It is designed for PyTorch, a popular deep learning framework. The processor can execute PyTorch code directly without the need for extensive optimization. It uses a graph compiler to convert PyTorch code into a graph and then schedules kernels for data manipulation and movement. The goal is to scale from 100 milliwatts to a megawatt and support a wide range of AI problems. The processor is built for power efficiency and can handle conditional graphs and sparsity. It is a promising technology for AI applications in the future.
Dive Deeper: Source Material
This summary was generated from the following video segments. Dive deeper into the source material with direct links to specific video segments and their transcriptions.
| Segment | Video Link | Transcript Link |
| --- | --- | --- |
| Moore's law | 🎥 | 📄 |
| Hardware for deep learning | 🎥 | 📄 |
| Making neural networks fast at scale | 🎥 | 📄 |
| How GPUs work | 🎥 | 📄 |
| Tesla Autopilot, NVIDIA, and Mobileye | 🎥 | 📄 |
| Andrej Karpathy and Software 2.0 | 🎥 | 📄 |
| Tesla Dojo | 🎥 | 📄 |
---
5. Physics by data is beyond our comprehension, possibly limiting hierarchy steps.
Physics has evolved through three generations: reasoning, equations, and data. The current generation, physics by data, is not explainable and may be beyond our comprehension. It is possible that there is a limit to the number of hierarchy steps, but it is unclear why. The next generation of physics may be beyond our comprehension.
Dive Deeper: Source Material
---
6. Human brain, a powerful tool for problem-solving and consciousness, can be expanded with computing power.
The human brain, despite its limitations, is a powerful tool for problem-solving and consciousness. It operates like a graph, with neurons connected to each other, and is a parallel processor with 10 billion neurons. However, it produces a serial thought process. The brain is plastic and can be expanded with computing power, potentially allowing for the manifestation of thoughts into action. The concept of consciousness is a mysterious phenomenon that is both post-hoc and reflective, and it is a single threaded process. The essence of intelligent beings may be the ideas themselves, which use our minds to evolve. The existence of intelligent alien civilizations is unknown, and their technology and AI bots may be different from ours.
Dive Deeper: Source Material
---
7. Understanding and managing emotions, cultivating love, and finding personal interests are key to a fulfilling life.
The essence of a fulfilling life lies in understanding and managing our emotions, particularly fear and embarrassment. It's crucial to differentiate between different types of love and to cultivate all aspects of love. The ability to create infinite fun may not be as enjoyable as it seems, as it can lead to desensitization and a loss of meaning. Dreams can be a way to detach from reality and experience vivid worlds, and actively dreaming can be a useful way to have fun and work on problems. Preparing yourself before sleep by focusing on important concerns and interesting topics can direct your dreams. The brain's ability to think deeply about the world may contribute to the severity of withdrawal symptoms. Pandemics have the potential to significantly impact human populations, and it's important to be aware of the potential risks and long-term impacts of benzodiazepines. Finding enjoyment in life can be a journey, and it's important to have a balance between work and personal time. Meditation and physical activities can help understand oneself and manage emotions. Upbringing and past experiences can shape our perspectives and fears. It's crucial to face and overcome fears, as death is inevitable. For young people, it's important to get to know yourself and find something you're genuinely interested in. Don't waste your time on boring or bland activities. Don't let older people dictate your choices. Just because someone is old doesn't mean they stop thinking. Be conscious of falling into group thinking and repeating what everyone else says. It may seem safe, but it can lead to a boring and unhappy life.
Dive Deeper: Source Material
This summary was generated from the following video segments. Dive deeper into the source material with direct links to specific video segments and their transcriptions.
| Segment | Video Link | Transcript Link |
| --- | --- | --- |
| Infinite fun and the Culture Series by Iain Banks | 🎥 | 📄 |
| Dreams | 🎥 | 📄 |
| Jordan Peterson | 🎥 | 📄 |
| Viruses | 🎥 | 📄 |
| Advice for young people | 🎥 | 📄 |
| Human condition | 🎥 | 📄 |
| Fear is a cage | 🎥 | 📄 |
| Love | 🎥 | 📄 |
---
8. Distributed efforts can challenge elite powers in financial systems.
The recent GameStop and Wall Street bets incident showcases the power of a large number of people working together in a distributed way to challenge the elite hedge funds and centralized powers. This incident raises questions about the trust and transparency in the financial system, with the insiders often winning due to their tools and incentives. The crowd's ability to plan the next attack is uncertain, but it is possible that there are a large number of games to play and they can be agile about it. The system is complex and can be relatively unrestricted, leading to tail events and crashes.
Dive Deeper: Source Material
---
---
💡 Actionable Wisdom
Transformative tips to apply and remember.
Take the time to understand and manage your emotions, cultivate different types of love, and find a balance between work and personal time. Face your fears and pursue genuine interests. Be conscious of group thinking and make independent choices. In the financial realm, question the trust and transparency of the system and consider the power of collective action. Embrace the complexity of life and be agile in navigating its challenges.
---
📽️ Source & Acknowledgment
This post summarizes Lex Fridman's YouTube video titled "Jim Keller: The Future of Computing, AI, Life, and Consciousness | Lex Fridman Podcast #162". All credit goes to the original creator. Wisdom In a Nutshell aims to provide you with key insights from top self-improvement videos, fostering personal growth. We strongly encourage you to watch the full video for a deeper understanding and to support the creator.
---