Lex Fridman
Jocko Willink: War, Leadership, and Discipline | Lex Fridman Podcast #197
Lessons from Jack O'Willink: Discipline, Leadership, and Personal Growth.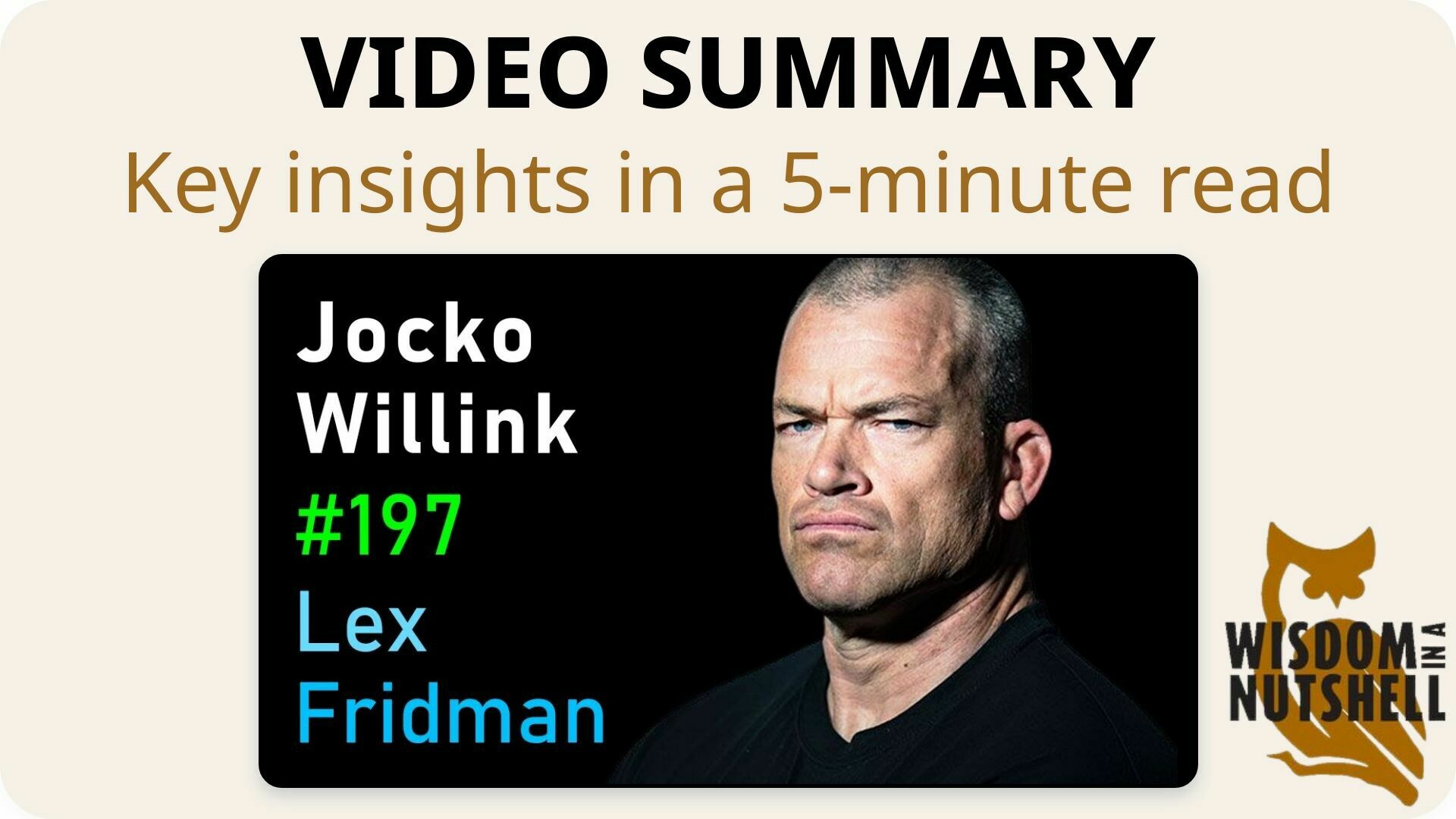 🌰 Wisdom in a Nutshell
Essential insights distilled from the video.
---
---
📚 Introduction
In this blog post, we will explore the insights and wisdom shared by Jack O'Willink, a retired U.S. Navy SEAL, on various topics including discipline, leadership, personal growth, and the use of autonomous weapons in warfare. Jack's experiences and perspectives provide valuable lessons that can be applied to our own lives and decision-making processes.
---
🔍 Wisdom Unpacked
Delving deeper into the key ideas.
1. Discipline and freedom are key to leadership and personal growth.
Jack O'Willink, a retired U.S. Navy SEAL, highlights the significance of discipline and freedom in leadership and military tactics. He also emphasizes the formation of close bonds through shared experiences, such as war. These principles can be applied to various aspects of life, including personal growth and relationships.
Dive Deeper: Source Material
---
2. War bonds soldiers, trauma shapes nations, and struggle fosters growth.
The trauma of war creates strong bonds between soldiers due to their shared reliance on each other for survival. This shared suffering, often resulting in heavy civilian casualties, is a common thread for entire nations. The concept of a 'just war' is complex and depends on various factors. Struggle, whether in war or personal growth, brings out the best and worst in people, leading to personal growth. The hardest aspect of war is losing people close to you, making mistakes doesn't make it worse, but the loss is what hurts the most.
Dive Deeper: Source Material
---
3. Autonomous weapons raise ethical concerns, needing balance with human values.
The use of autonomous weapons in warfare raises ethical concerns, as it can lead to unintended consequences and potential misuse. The US's plans to incorporate more autonomy and artificial intelligence into their weapon systems, following China's lead, highlight the need for protocols to prevent machines from going too far and ensure they align with human values. It's crucial to consider the long-term effects of war, such as suffering and dehumanization on a large scale. Leaders should acknowledge and learn from their mistakes, and avoid war whenever possible. The use of machines for precision targeting can have potential benefits, but it's important to balance these with ethical considerations.
Dive Deeper: Source Material
---
4. Contemplating death enhances life appreciation, and love of country should be balanced.
Contemplating death can enhance the appreciation of life's finiteness, making us grateful for the opportunities we have. In high-pressure situations like combat, the focus is on tactics, strategy, and the mission, with mortality not a part of the calculation. The love of country can be inspiring and unifying, but it can also lead to negative consequences if manipulated by charismatic leaders. It's crucial to strike a balance and not let it become extreme.
Dive Deeper: Source Material
---
5. Effective leadership involves balancing styles, trusting team, and fostering a strong culture.
Effective leadership involves balancing different styles, such as being a dictator and a listener, and trusting your team to make decisions. It's crucial to understand when to lose your temper and when to maintain control, and to have a balance of different components in a team. A great leader is someone who puts others above themselves, lifts everyone up, and gets the best out of each individual. They delegate tasks, trust subordinate leadership, and focus on strategic decisions. However, they also stay aware of competitors and market trends, and establish a strong culture that rewards creativity and encourages continuous improvement. As a leader, it's important to understand when to lose your temper and when to maintain control, and to have a balance of different components in a team.
Dive Deeper: Source Material
This summary was generated from the following video segments. Dive deeper into the source material with direct links to specific video segments and their transcriptions.
| Segment | Video Link | Transcript Link |
| --- | --- | --- |
| What makes a great leader? | 🎥 | 📄 |
| Elon Musk - a leadership case study | 🎥 | 📄 |
| Steve Jobs - a leadership case study | 🎥 | 📄 |
| Sundar Pichai - a leadership case study | 🎥 | 📄 |
---
6. Balance confidence with humility for growth and progress.
The key to success lies in balancing confidence with humility. While confidence is necessary for leadership, it should be accompanied by a willingness to admit mistakes and improve. This self-critical mindset, as exemplified by Jamie, a successful podcast producer, leads to growth and progress. It's important to look for this humility when hiring for a startup or company, as it fosters a culture of continuous learning and improvement.
Dive Deeper: Source Material
---
7. Discipline, Jiu Jitsu, and a balanced diet are key to a productive day.
The key to a productive day is discipline, starting with waking up early and engaging in a workout, followed by a healthy diet and focused work. Jiu Jitsu, a martial art that emphasizes submission, is a transformative journey that teaches valuable lessons about humility, combat tactics, and strategy. It's important to maintain discipline, stay focused, and prioritize activities like reading and writing. The diet should be balanced, with a focus on protein, and grazing throughout the day is recommended. Jiu Jitsu is a good starting point for self-defense, teaching how to escape from grabs and get away from someone on the ground. It's important to train in all martial arts for a well-rounded skillset.
Dive Deeper: Source Material
---
---
💡 Actionable Wisdom
Transformative tips to apply and remember.
Take a moment each day to contemplate the importance of discipline in your life. Identify areas where you can improve your self-discipline and commit to making small changes. Whether it's waking up earlier, maintaining a healthy diet, or staying focused on your goals, practicing discipline will lead to personal growth and success.
---
📽️ Source & Acknowledgment
This post summarizes Lex Fridman's YouTube video titled "Jocko Willink: War, Leadership, and Discipline | Lex Fridman Podcast #197". All credit goes to the original creator. Wisdom In a Nutshell aims to provide you with key insights from top self-improvement videos, fostering personal growth. We strongly encourage you to watch the full video for a deeper understanding and to support the creator.
---