Lex Fridman
Joe Rogan: Comedy, Controversy, Aliens, UFOs, Putin, CIA, and Freedom | Lex Fridman Podcast #300
Insights from Various Topics: Leadership, Art, Social Media, Government, Comedy, Personal Experiences, and Relationships.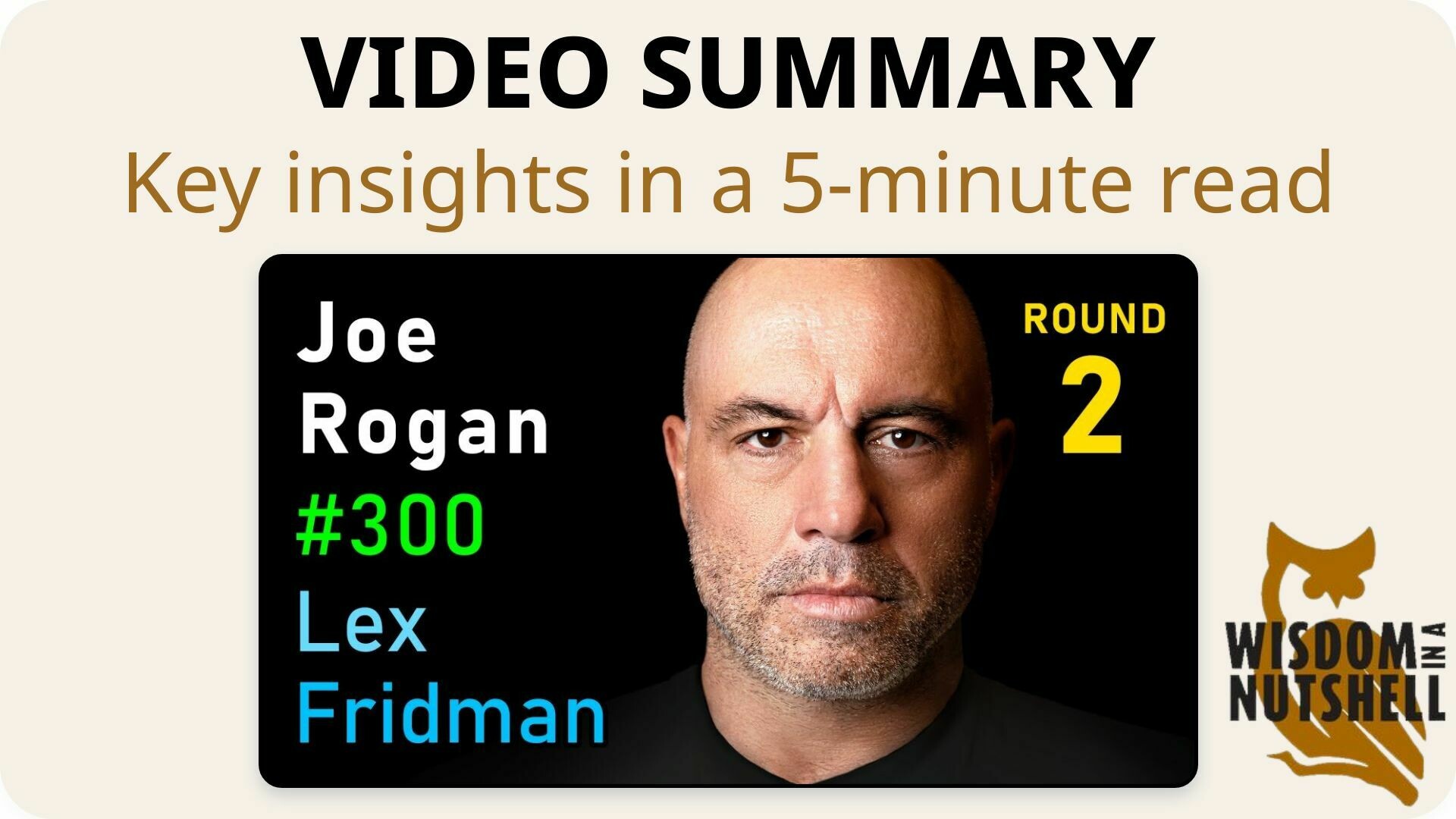 🌰 Wisdom in a Nutshell
Essential insights distilled from the video.
---
---
📚 Introduction
In this blog post, we will explore a variety of topics and extract insightful wisdom from each. From leadership and art to social media and personal growth, there is something for everyone to learn. Let's dive in and uncover the valuable lessons hidden within these discussions.
---
🔍 Wisdom Unpacked
Delving deeper into the key ideas.
1. Understanding leadership impact and preventing corruption is crucial.
The speaker expresses gratitude for the opportunity to interview Joe Rogan, a friend who has inspired them to be a better person. They highlight the importance of understanding the impact of leadership on a country, citing the example of Putin's leadership in Russia. They suggest that laws should be in place to prevent corruption and ensure democracy. They also mention the rumors of Putin's illness and the need to understand his perspective on his health and leadership.
Dive Deeper: Source Material
---
2. Life is art, with style, discipline, and kindness as key elements.
Style, discipline, and kindness are all forms of art that can be applied to various aspects of life. The way we approach challenges, love, and even mundane tasks like opening a can of sardines can be seen as art. It's beautiful to witness someone who is truly disciplined and maximizes their potential. The way people live their lives can inspire others, and we can learn from the best aspects of how others navigate through trials and tribulations.
Dive Deeper: Source Material
---
3. Overcome social media challenges with empathy, focus on positivity, and pursue physical challenges.
The challenges of social media criticism and the impact of political divisions can be overcome by understanding that criticism is not a reflection of your identity, and by focusing on positive influences. It's crucial to approach these challenges with empathy and a genuine desire to understand. Personal growth can be achieved by channeling energy into something you genuinely enjoy, and by pursuing difficult tasks that challenge you mentally and physically. Physical challenges not only benefit you physically, but also mentally and emotionally. They can be a form of meditation and a way to face your own mortality. It's important to take your physical well-being seriously and find activities that you enjoy.
Dive Deeper: Source Material
---
4. Government secrecy and manipulation raise questions about UFOs and alien life.
The government's secrecy and manipulation of information, as seen in the KGB and FSB, raises questions about the presence of undercover agents in platforms like podcasts. It's crucial to be aware of our own biases and desires when evaluating information. The possibility of alien life existing in the universe is high, and the concept of infinity suggests that there may be multiple universes with alien civilizations. The existence of alternative forms of transportation, such as harnessing wormholes, is fascinating. The story of Bob Lazar, who claims to have worked on a top secret government test site and back engineered UFOs, is intriguing and consistent. The government's open discussion of UFOs may be a smokescreen to distract from the true nature of these technologies.
Dive Deeper: Source Material
---
5. Comedy is about being funny, not socially conscious; trust is built through shared challenges and camaraderie.
Comedy, a challenging art form, is about being funny, not about promoting socially conscious comedy or virtue signaling. It's a unique perspective on life that can be developed through introspection and examining why you're not funny. The most difficult style of comedy is non sequiturs, where jokes don't lead into each other. The key to success is to be funny, and the most important show in comedy is Kill Tony, which establishes that being funny is the ultimate goal. Time is a key factor in building trust, and comedians can be trustworthy, especially those who have been in the industry for a long time. Fame can be isolating, so it's important to maintain connections with others. Ignore those who only want to use you for their own gain. Camaraderie between real comics is precious. It's about making each other laugh and enjoying the process. Being humbled through experiences like Jiu Jitsu can help you identify genuine people who have emerged stronger.
Dive Deeper: Source Material
---
6. Childhood experiences shape personality and behavior, influencing independent thinking.
The speaker's childhood experiences, including their parents' divorce and a fight with a cousin, influenced their personality and behavior. They believe that their subconscious was shaped by these events, leading to a more independent and self-sufficient mindset. They also mention Carl Jung's concept of the shadow, suggesting that we often project our own flaws onto others. The speaker believes they have examined their unconscious and don't have any dark shit left. They attribute their success in martial arts and comedy to their independent thinking and the need to pursue these paths due to their struggles in normal jobs and school.
Dive Deeper: Source Material
---
7. Attract a great partner by being kind, humorous, and sharing values.
To attract a great partner, it's crucial to be someone others would want to be in a relationship with. Avoid negative traits like bickering, jealousy, lying, cruelty, and lack of humor. Instead, focus on being kind and having a sense of humor. It's important to find someone who shares your values and is genuinely kind. Being with someone who makes excuses, is lazy, or is spiteful is not ideal. Having a good tribe of positive, healthy, friendly, and generous people is valuable. Surround yourself with people who inspire you to do better and be better.
Dive Deeper: Source Material
---
---
💡 Actionable Wisdom
Transformative tips to apply and remember.
Surround yourself with positive influences, pursue challenging tasks that bring you joy, and prioritize your physical well-being. Take time to understand different perspectives and be aware of your own biases. Embrace the art of comedy and find humor in everyday life. Reflect on your past experiences and how they have shaped you. Be someone others would want to be in a relationship with and cultivate a supportive tribe of inspiring individuals.
---
📽️ Source & Acknowledgment
This post summarizes Lex Fridman's YouTube video titled "Joe Rogan: Comedy, Controversy, Aliens, UFOs, Putin, CIA, and Freedom | Lex Fridman Podcast #300". All credit goes to the original creator. Wisdom In a Nutshell aims to provide you with key insights from top self-improvement videos, fostering personal growth. We strongly encourage you to watch the full video for a deeper understanding and to support the creator.
---