Lex Fridman
John Danaher: The Path to Mastery in Jiu Jitsu, Grappling, Judo, and MMA | Lex Fridman Podcast #182
Insights from Martial Arts and Combat Sports.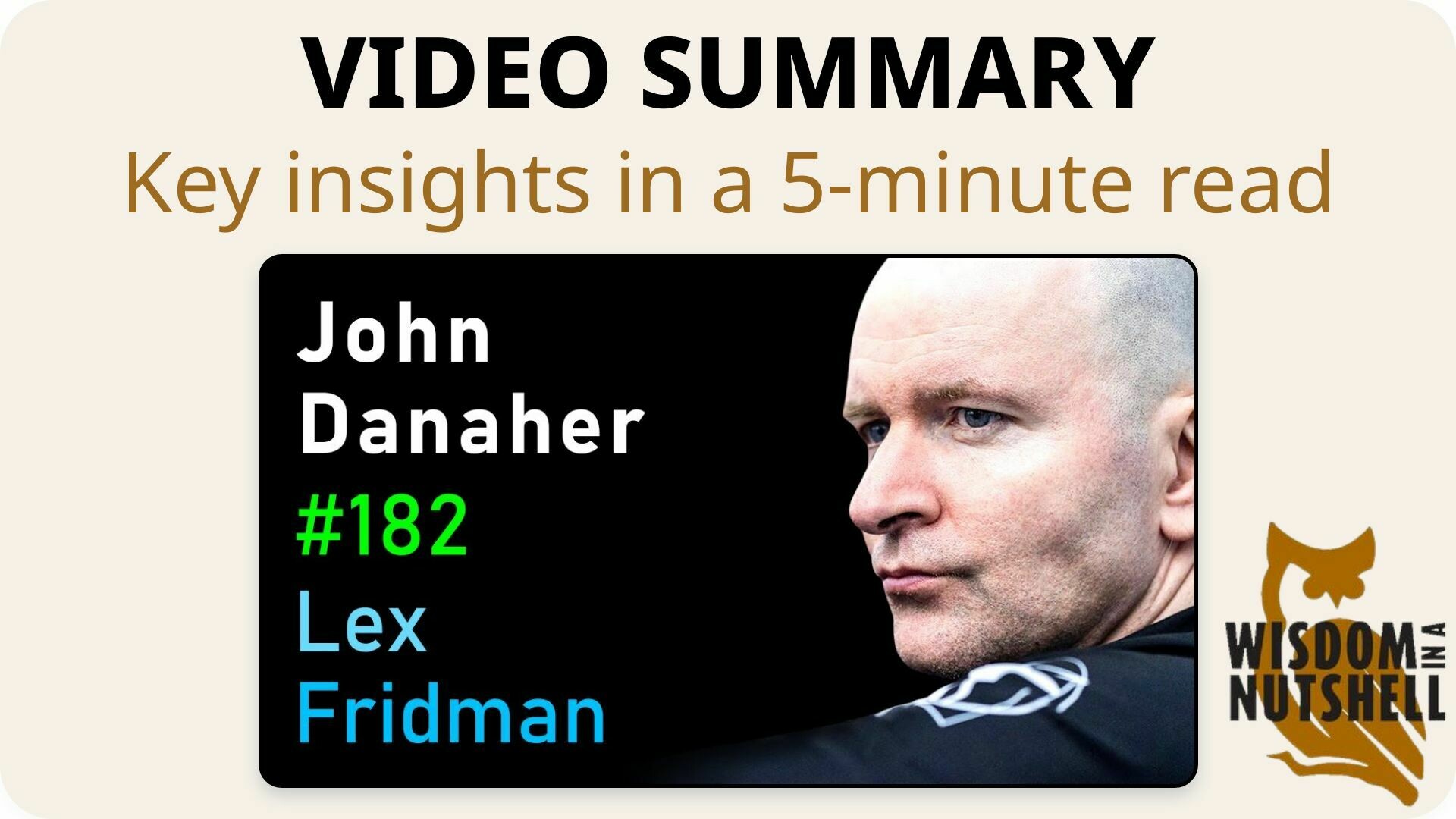 🌰 Wisdom in a Nutshell
Essential insights distilled from the video.
---
---
📚 Introduction
Martial arts and combat sports offer valuable lessons in discipline, strategy, and personal growth. From the importance of humbling oneself in training to the development of new techniques, these sports provide a wealth of knowledge. In this blog post, we will explore the key insights from various martial arts and combat sports, including Jiu Jitsu, Judo, and Wrestling. Get ready to uncover wisdom that can be applied both on and off the mat!
---
🔍 Wisdom Unpacked
Delving deeper into the key ideas.
1. Jiu Jitsu training and competition foster humility and continuous learning.
John Donahar, a renowned martial arts coach, emphasizes the importance of humbling oneself through training and competition in Jiu Jitsu. He highlights the value of keeping the ego in check and the need for continuous learning. The greatest Jiu Jitsu player, Haja Gracie, is considered a master of all four aspects of the martial art, including ghee grappling, mixed martial arts, and self-defense. Gordon Ryan, a dominant grappler, is known for his fundamental techniques and ability to refine existing technology. He emphasizes the importance of lower body attacks and focuses on butterfly guard and inside control. Ryan's calm demeanor in competition is attributed to his confidence in his training partners and his ability to recover from mistakes.
Dive Deeper: Source Material
---
2. Life is subjective, death is a motivator, and meaning is in our hands.
The concept of a great life is subjective and can be defined in various ways, including longevity, peak achievements, or a combination of both. The meaning of life, too, is complex and has evolved over time, with survival being the primary focus in the past and finding meaning in the present. The fear of non-existence is a natural fear, but it's important to recognize that we have a choice in how we approach it. Death, as a natural fear, is balanced by the excitement of exploration and the possibility of becoming a multi-planetary species. However, even if we expand our reach, the universe itself will eventually die. The idea of a cosmic death, where everything forgets our existence, is inevitable but not arrogant to be disappointed in. The dread of non-existence is balanced by the excitement of exploration and the possibility of becoming a multi-planetary species. Death is a powerful motivator for action and gives value to our days. It creates scarcity and is a reason behind the value we consider. Immortality, on the other hand, would likely lead to a hollow and meaningless life. Given our short life, we can find meaning in pursuits like Jiu Jitsu.
Dive Deeper: Source Material
---
3. Judo, a martial art of quick, strategic moves, requires determination and emulation of the best.
The sport of judo, a form of martial arts, is characterized by its unforgiving nature and the need for quick, strategic moves. It involves techniques like foot sweeps and stalling, and athletes like Travis Stevens, a judo athlete, have inspired with their determination and refusal to quit. Despite injuries and criticism, Travis believed in emulating the best athletes to achieve superior performance. He found beauty in the dominance of the standing Sienagi throw and the slam it produced, showcasing the art and science of judo.
Dive Deeper: Source Material
---
4. Jiu-jitsu combines tactical advantage, body locking, and understanding human body strengths and weaknesses.
Jiu-jitsu is a martial art that combines tactical and mechanical advantage to focus strength on a critical point of the opponent's body. It involves making choices and using tools that are powerful in versus the opponent's weaknesses. The concept of body locking is used to shut down the movement of the opponent's hips, which is a key feature of a dangerous guard player. By controlling the hips, body locking becomes an effective way to pass the guard and avoid leg entanglements. Understanding the strengths and weaknesses of the human body is crucial in Jiu-jitsu, as some parts are robust while others are vulnerable.
Dive Deeper: Source Material
---
5. Leg locks in Jiu Jitsu require skill, resistance, and mental toughness.
The development of leg locks in Jiu Jitsu, initially seen as ineffective, has led to a fundamental shift in the sport. The process involves trial and error, starting with minimal resistance and gradually increasing over time. The key is to focus on entanglement of legs first and worry about breaking mechanism second, which reduces injury rates. The best place to attack leg locks is from the bottom position, which was initially criticized but proved effective. The success of leg locks, led by notable practitioners, has convinced people that it can work for anyone. However, breaking legs is not easy and requires significant skill and resistance from the opponent. Mental toughness is admired in cases where individuals choose to continue fighting despite the risk of injury.
Dive Deeper: Source Material
---
6. Jiu Jitsu training should focus on skill development, not winning.
Jiu Jitsu training should focus on skill development, not winning or losing. It's beneficial to train with people at a similar skill level, as it allows for exploration of different styles and techniques. Handicapped training, where you intentionally put yourself in difficult positions, can be a valuable way to work on skills. It's important to separate training from competition and not take it personally. When it counts, like on stage, you should be able to perform at your best. Starting from the ground up, focusing on pin escapes and guard retention, is crucial. These skills will help you get out of pins and hold someone in your guard. When it comes to offense, start with bottom position. The key is to have a clear continuity between your skills. It takes time and dedication to earn a black belt in jujitsu, but the focus should be on building skills and self-defense techniques, not on getting a black belt.
Dive Deeper: Source Material
This summary was generated from the following video segments. Dive deeper into the source material with direct links to specific video segments and their transcriptions.
| Segment | Video Link | Transcript Link |
| --- | --- | --- |
| Value of training with lower belts | 🎥 | 📄 |
| Advice to white belts | 🎥 | 📄 |
| What does it take to get a black belt | 🎥 | 📄 |
---
7. Mastering fundamentals and taking risks builds confidence and success.
The essence of success in wrestling, chess, and Jiu-Jitsu lies in the ability to escape bad positions and execute under pressure. This confidence is built by mastering the fundamentals and focusing on the end game. In Jiu-Jitsu, a small number of submission holds are taught, emphasizing the mechanics of breaking people. This belief in one's abilities improves technique and encourages taking risks. Failure, often a result of taking risks, should be used as an opportunity to correct and improve. The key is to focus on the beginner step of learning escapes, rather than avoiding risks.
Dive Deeper: Source Material
---
8. Mastery in combat sports requires immersive training, drilling, and persistence.
The key to mastery in any skill, especially combat sports, is immersing oneself in a well-worked out training program and being diligent. This involves understanding the concept of opportunity cost and making informed decisions. Drilling, a technique often overlooked, is crucial for skill development. It should be done with the aim of improving the sport, not just practicing a move for a certain number of repetitions. Drilling should be a significant part of a black belt's training, but the percentage varies depending on the individual's personality and focus. It's important to understand the different directions of drilling and sparring, and to make drilling engaging. Persistence is crucial, and progressive training over time with clear goals and challenges is essential. It's also important to avoid boredom and keep the mind engaged even after the training session.
Dive Deeper: Source Material
---
9. Professional approach, delayed gratification, and skill focus lead to success.
The key to success in any field is to approach it professionally, investing in oneself and committing to training. Delayed gratification and discipline are crucial, as is the ability to focus on a specific skill and be the best in the world at it. This approach, as demonstrated by George St. Pierre in mixed martial arts, can lead to dominance in the sport.
Dive Deeper: Source Material
---
10. AI advancements in games and potential future applications.
The development of artificial intelligence (AI) has led to significant advancements in fields like chess and Go, with programs like Deep Blue and Alpha Zero capable of defeating humans at a remarkable level. However, the rate of progress in AI is increasing rapidly, and it's likely that in the future, a computer could defeat a human in a battle of minds. The combination of human insight and computer power has proven to be one of the strongest combinations. The challenges of generalizing robotic manipulation to the human body are significant, but not impossible. The use of autonomous weapons in war is a concern, as they can cause significant damage without fear or remorse. Humans have valuable heuristic rules and principles that can guide behavior, both for humans and artificially intelligent systems. The focus should be on developing effective heuristics rather than relying on endless computations.
Dive Deeper: Source Material
---
11. Combat sports and modified techniques prepare for street fighting.
Combat sports like boxing, wrestling, and Brazilian Jiu Jitsu provide the best preparation for street fighting due to their intensity and physical conditioning. These martial arts can be modified for street situations by adjusting techniques and tactics. For example, boxers can punch with open hands or elbows to protect their hands. Wearing a tie in a street fight or grappling situation can be dangerous due to the risk of strangulation, but there are ways to mitigate this risk, such as wearing a clip-on tie or a bow tie. The tie is not the most dangerous weapon in a street fight, but it is important to be aware of the potential risks and take precautions.
Dive Deeper: Source Material
---
12. Austin, Texas, is considered for a gym and school due to its infrastructure and population density.
Joe Rogan and the Donahur death squad are considering a move to Austin, Texas, due to the high cost of living and daily commute in New York. They are drawn to Texas for its better infrastructure and larger population density, making it an ideal location for opening a gym. This move would be a significant decision, but it would allow them to train together and potentially open a school.
Dive Deeper: Source Material
---
---
💡 Actionable Wisdom
Transformative tips to apply and remember.
Focus on skill development and continuous learning in any endeavor. Embrace the process of training and competition, and humbly accept the lessons that come with it. Take risks, learn from failures, and always strive to improve. Remember, success is not just about winning, but also about personal growth and mastery.
---
📽️ Source & Acknowledgment
This post summarizes Lex Fridman's YouTube video titled "John Danaher: The Path to Mastery in Jiu Jitsu, Grappling, Judo, and MMA | Lex Fridman Podcast #182". All credit goes to the original creator. Wisdom In a Nutshell aims to provide you with key insights from top self-improvement videos, fostering personal growth. We strongly encourage you to watch the full video for a deeper understanding and to support the creator.
---