Lex Fridman
Kate Darling: Social Robotics | Lex Fridman Podcast #98
Exploring the Ethical and Emotional Dimensions of Robotics.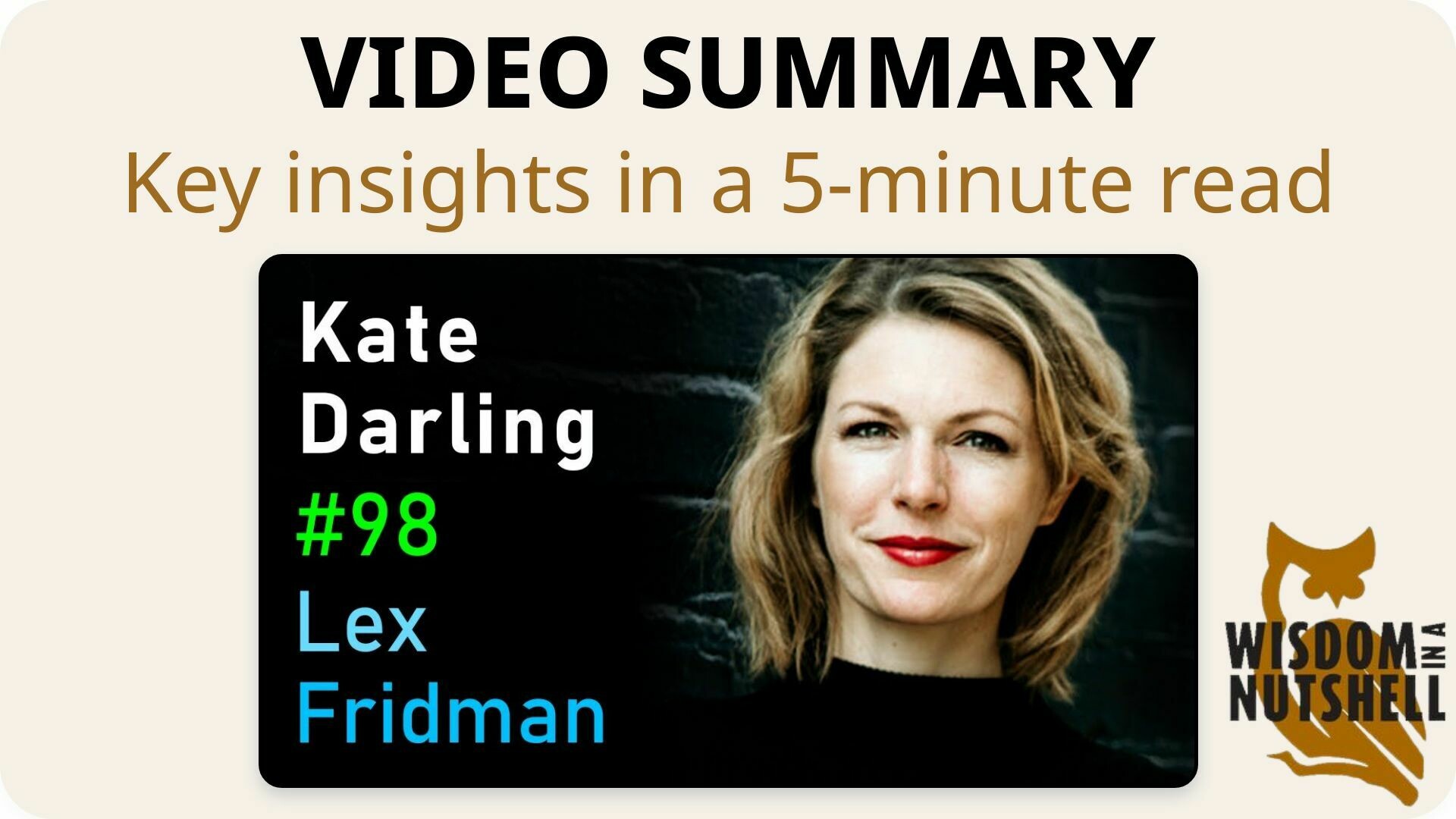 🌰 Wisdom in a Nutshell
Essential insights distilled from the video.
---
---
📚 Introduction
Robots are becoming increasingly integrated into our lives, raising complex ethical and emotional questions. From the treatment of robots to the impact of automation on jobs, and even the potential for emotional connections with robots, there is much to unpack. In this blog post, we will delve into these thought-provoking topics and explore the insights they offer into human nature and societal values.
---
🔍 Wisdom Unpacked
Delving deeper into the key ideas.
1. Robot ethics involve empathy, product treatment, and human nature.
The integration of robots into our lives raises ethical concerns, such as the potential for abuse or mistreatment. This is a reflection of the evil in human nature, which can be addressed by practicing empathy towards robots. The history of animal rights provides insights into how we may interact with robots in the future. The ethical implications of treating robots as tools or products need to be considered. The abuse of robots can reveal the tendencies for empathy in individuals, and encouraging politeness and empathy in interactions with robots is crucial.
Dive Deeper: Source Material
---
2. UBI aims to support job displacement, not replace all jobs.
The concept of Universal Basic Income (UBI) has gained attention as a potential solution to job displacement due to automation. It aims to provide financial support to individuals in case they lose their jobs. However, it's important to note that this concept does not imply that all jobs will be replaced by robots. Instead, robots are seen as supplemental tools that will change the job landscape but not eliminate all jobs in the next 20 years.
Dive Deeper: Source Material
---
3. Robots can fulfill loneliness, but not replace human relationships.
The topic of sex and robots raises questions about the need for connection and companionship, with the potential for robots to fill a hole unfillable by humans. However, creating personal robots that meet expectations is challenging, influenced by shifting expectations and the need for emotional connection. While it's possible to fall in love with a robot, it's not the main use case, as robots can fulfill loneliness in a different way, similar to pets. The concept of mortality in robots can be a powerful design tool, eliciting empathy and engagement. However, the purpose and benefits of using this design tool depend on the desired outcome.
Dive Deeper: Source Material
This summary was generated from the following video segments. Dive deeper into the source material with direct links to specific video segments and their transcriptions.
| Segment | Video Link | Transcript Link |
| --- | --- | --- |
| Intimate connection with robots | 🎥 | 📄 |
| Why is it so hard to build a personal robotics company? | 🎥 | 📄 |
| Is it possible to fall in love with a robot? | 🎥 | 📄 |
| Robots displaying consciousness and mortality | 🎥 | 📄 |
---
4. Ethical decision-making in autonomous vehicles requires careful consideration.
The trolley problem, a thought experiment, highlights the limitations of moral intuition in ethical decision-making. The moral machine project, which crowdsources ethical choices, is valuable but should not be the basis for autonomous vehicle rules. In autonomous vehicles, there is a difficult ethical question of prioritizing the driver's life over others. Our ethical rules are more complicated than we thought, and car manufacturers may avoid the problem or prioritize the driver's safety. When robots are part of ethical decision-making, it can help us understand the fundamentals of decision-making and what is right and wrong under societal standards. However, crowdsourcing may not accurately reflect people's consensus on laws. Virtual reality can provide a different perspective on ethical choices.
Dive Deeper: Source Material
---
5. Anthropomorphism can enhance AI interactions, but exploitation is a concern.
Anthropomorphism, the tendency to project human-like traits onto non-humans, can be engineered to enrich interactions between humans and AI systems. Simple designs like the baby seal robot used with dementia patients can effectively harness this tendency. However, there are concerns about the exploitation of emotional attachment to sell products or services. Animators have discovered how to create characters that are more appealing than real by incorporating elements of the human face. Companies like Amazon are focused on providing services through devices like Alexa, rather than creating a personal connection with the device itself. However, there is potential for future advancements in social robotics to create systems that are even more appealing and create a human-like connection.
Dive Deeper: Source Material
---
6. Advancements in robotics elicit strong visceral responses, but AI expectations are influenced by pop culture.
The advancements in robotics, particularly the PLIO baby dinosaur robot and the Boston Dynamics robots, are impressive feats of engineering. These robots, despite their lack of AI, can elicit a strong visceral response from us. The mix of natural language processing and art experiment with Sofia is also noteworthy. However, it's important to recognize that our expectations of AI are often influenced by science fiction and pop culture, leading to underestimation of the current capabilities of AI.
Dive Deeper: Source Material
---
7. Balancing company interests and societal needs in AI development is crucial.
The use of technology, particularly in the realm of AI, raises concerns about data collection, privacy, and potential manipulation. Companies like Facebook and Twitter collect data, which can be used for advertising and other purposes, leading to questions about privacy and potential misuse by governments. The problem is that the interests of companies and society are not always aligned, leading to an information asymmetry. However, companies can benefit from making decisions that are good for society, as it improves their brand. It is important to have interdisciplinary ethics boards and more systematic thinking in both companies and policy-making to address these complex issues. The algorithms used by companies are mostly secretive, leading to calls for transparency and open sourcing. Intellectual property laws for software are broken and need to be reevaluated. Open sourcing can help get work out there and ensure attribution for the creator.
Dive Deeper: Source Material
This summary was generated from the following video segments. Dive deeper into the source material with direct links to specific video segments and their transcriptions.
| Segment | Video Link | Transcript Link |
| --- | --- | --- |
| Manipulation of emotion by companies | 🎥 | 📄 |
| Intellectual property | 🎥 | 📄 |
| Lessons for robotics from parenthood | 🎥 | 📄 |
---
---
💡 Actionable Wisdom
Transformative tips to apply and remember.
As we navigate the evolving landscape of robotics, it is essential to cultivate empathy and ethical awareness in our interactions with robots. Treat robots with respect and consideration, recognizing their potential to shape our society and impact our lives. Stay informed about the ethical implications of emerging technologies and actively engage in discussions to shape a future that aligns with our values.
---
📽️ Source & Acknowledgment
This post summarizes Lex Fridman's YouTube video titled "Kate Darling: Social Robotics | Lex Fridman Podcast #98". All credit goes to the original creator. Wisdom In a Nutshell aims to provide you with key insights from top self-improvement videos, fostering personal growth. We strongly encourage you to watch the full video for a deeper understanding and to support the creator.
---