Lex Fridman
Katherine de Kleer: Planets, Moons, Asteroids & Life in Our Solar System | Lex Fridman Podcast #184
Exploring the Wonders of the Solar System and Beyond.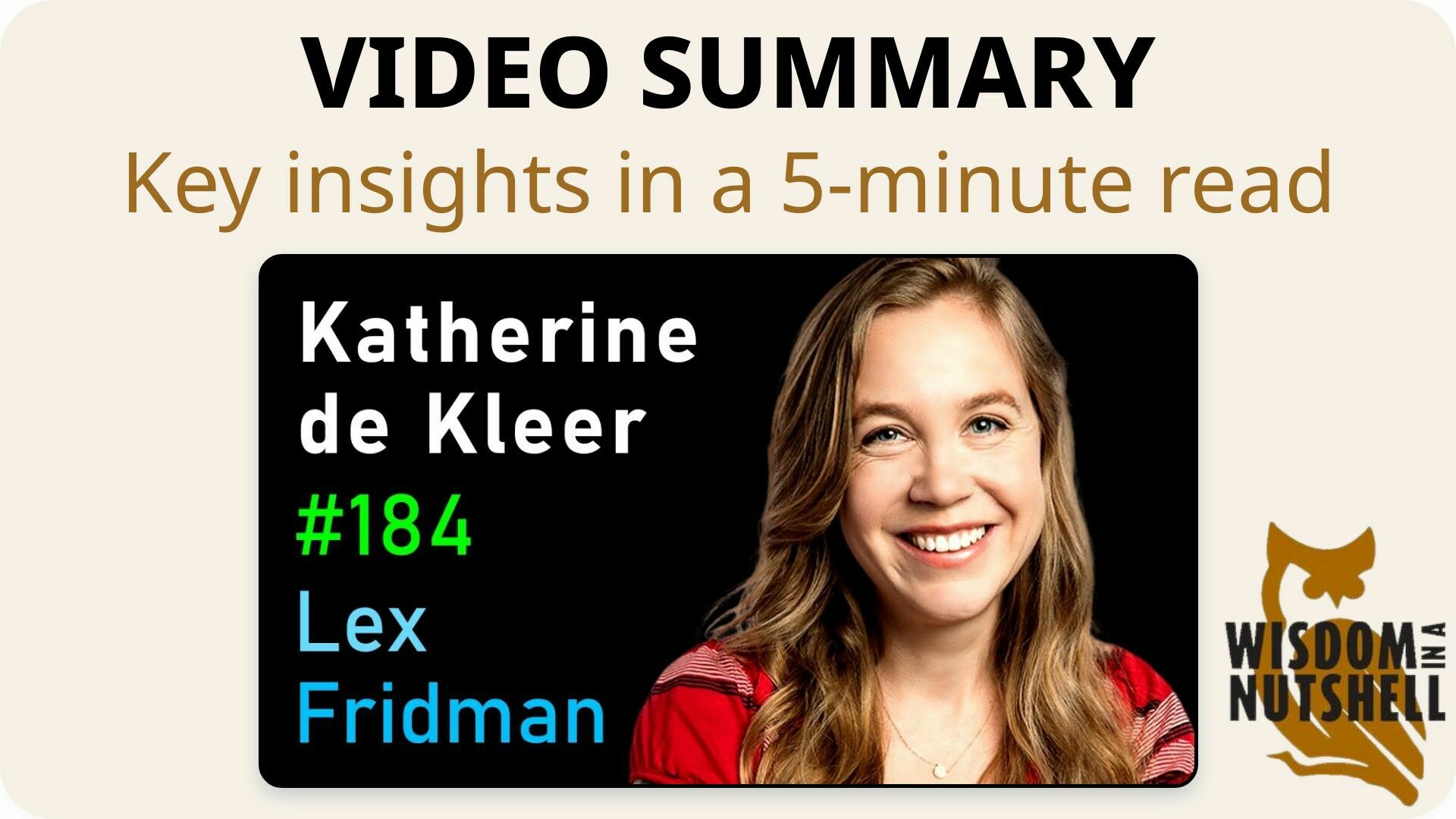 🌰 Wisdom in a Nutshell
Essential insights distilled from the video.
---
---
📚 Introduction
The solar system and beyond are filled with fascinating objects and mysteries waiting to be explored. From the reclassification of Pluto and Ceres to the potential for life on moons and the search for intelligent alien civilizations, there is so much to uncover. In this blog post, we will delve into the various topics related to the exploration of the solar system and beyond, discussing the tools used, the insights gained, and the implications for our understanding of the universe.
---
🔍 Wisdom Unpacked
Delving deeper into the key ideas.
1. Exploring moons in the outer solar system offers insights into our solar system's formation and potential for life.
The reclassification of Pluto and Ceres as dwarf planets highlights the fluidity of categorizing objects in the solar system. The exploration of moons in the outer solar system is seen as the next frontier of solar system exploration, with potential for discovering remnant material from the formation of our solar system, fascinating features like different species of ice on their surface, geological activity, and even the possibility of subsurface oceans. However, we lack the tools to study them in detail, and the New Horizons mission provided valuable insights into Pluto and other objects in the Kuiper Belt. The exploration of these objects is a reminder of the vastness of the universe and the potential for life beyond our planet.
Dive Deeper: Source Material
---
2. Tools for studying planets and moons provide insights into atmospheric conditions.
The study of planets and moons involves various tools, including spacecraft missions and telescopes. These tools provide detailed information about atmospheric conditions, such as volcanoes, storms, and weather patterns. Each planet and moon has unique weather patterns that can provide insights into their composition and circulation. Understanding these patterns can help us better understand atmospheres in general, which are self-regulating and can redistribute heat more effectively than surfaces. The possibility of predicting the weather on other planets and moons is a challenging problem, but could lead to new discoveries.
Dive Deeper: Source Material
---
3. Solar system's volcanic moons offer insights into Earth's history and life.
The solar system's volcanically active moons, such as Io and Enceladus, offer insights into the early history of Earth and the potential for life. Io's unique volcanism, driven by tidal heating, is a glimpse into Earth's past. Enceladus's subsurface ocean and geysers, along with Titan's dense atmosphere and complex organic molecules, make them potential habitats for life. Earth's tectonic plates, unique in the solar system, contribute to its volcanic activity and habitability. The abundance of microorganisms and the variety of species on land make Earth a fascinating destination for alien visitors.
Dive Deeper: Source Material
This summary was generated from the following video segments. Dive deeper into the source material with direct links to specific video segments and their transcriptions.
| Segment | Video Link | Transcript Link |
| --- | --- | --- |
| Volcanoes on Io - moon of Jupiter | 🎥 | 📄 |
| Is there life in the oceans of Europa? | 🎥 | 📄 |
| What is interesting about Earth as a planet? | 🎥 | 📄 |
---
4. Life on Earth and alien civilizations remain mysteries, with Venus' phosphine detection controversial.
The origin of life on Earth and the existence of intelligent alien civilizations remain mysteries, with the Drake equation providing an estimate of the number of alien civilizations. The detection of phosphine in the atmosphere of Venus, a potential indicator of life, is controversial and requires rigorous scientific standards. The concept of thoughts and consciousness as potential alien forms is intriguing. Our current level of knowledge may only represent a small fraction of what we will eventually understand, and we may be too self-centered to recognize aliens. The detection of phosphine in the atmosphere of Venus was reported, but there is skepticism about its authenticity. The connection between the contents of the atmosphere and life is tricky. The detection itself was tenuous and required complex data analysis methods. It may be noise or polluted data.
Dive Deeper: Source Material
---
5. Mars colonization aims for self-sustaining civilizations through insect farming.
The idea of colonizing Mars, despite its harsh environment, is gaining traction due to the potential for self-sustaining civilizations. This involves producing food and air, with insect farming being a possible source of protein. Genetic engineering of insects is being explored to make them radiation-resistant. The appeal of such journeys lies in the appreciation of life and the push for human mind and body limits.
Dive Deeper: Source Material
---
6. Asteroids offer insights into planetary formation and potential threats.
Asteroids, remnants of the early solar system, provide insights into planetary formation and composition. They can be classified into ancient objects and fragments of potential planets. Studying asteroids can help us understand planetary interiors and potential threats. The possibility of an asteroid impacting Earth is a concern, although it's a low probability event. The scientific community and government may not always be transparent about the risks. Landing on asteroid surfaces is challenging, but advancements in robotics and control systems offer opportunities for asteroid exploration and data collection. The recent discovery of objects from outside our solar system raises questions about their origins and potential significance.
Dive Deeper: Source Material
---
7. Balancing scientific rigor with curiosity in exploring new areas.
The discovery of objects from outside our solar system, like Oumuamua, raises questions about their origin. While some speculate that they could be alien space junk, there are alternative explanations. The scientific method is powerful but sometimes crushes outlier evidence. It's important to balance scientific rigor with curiosity and speculation, especially in fields like astronomy and planetary science. However, caution is needed when exploring new areas, as unintended consequences can occur.
Dive Deeper: Source Material
---
8. Balance curiosity and technique in scientific career, find joy in details.
The choice of a scientific career should be based on a balance between the questions you're interested in and the techniques you enjoy using. It's crucial to find joy in the details, repetitive tasks, and menial work, as these are key to a fulfilling scientific career. Reading is a passion that can offer intellectual challenges and slow reveals, with books like 'Pale Fire' and 'The Dream Life of Sukunov' recommended for their profound insights. For young people looking for career advice, following your curiosity and exploring different paths is suggested.
Dive Deeper: Source Material
---
---
💡 Actionable Wisdom
Transformative tips to apply and remember.
Follow your curiosity and explore different paths in your personal and professional life. Just like scientists in the field of astronomy and planetary science, finding joy in the details and embracing repetitive tasks can lead to a fulfilling journey. Cultivate a passion for reading and seek out books that offer intellectual challenges and profound insights. Remember, the pursuit of knowledge is a lifelong adventure.
---
📽️ Source & Acknowledgment
This post summarizes Lex Fridman's YouTube video titled "Katherine de Kleer: Planets, Moons, Asteroids & Life in Our Solar System | Lex Fridman Podcast #184". All credit goes to the original creator. Wisdom In a Nutshell aims to provide you with key insights from top self-improvement videos, fostering personal growth. We strongly encourage you to watch the full video for a deeper understanding and to support the creator.
---