Lex Fridman
Liv Boeree: Poker, Game Theory, AI, Simulation, Aliens & Existential Risk | Lex Fridman Podcast #314
Insights from Various Topics.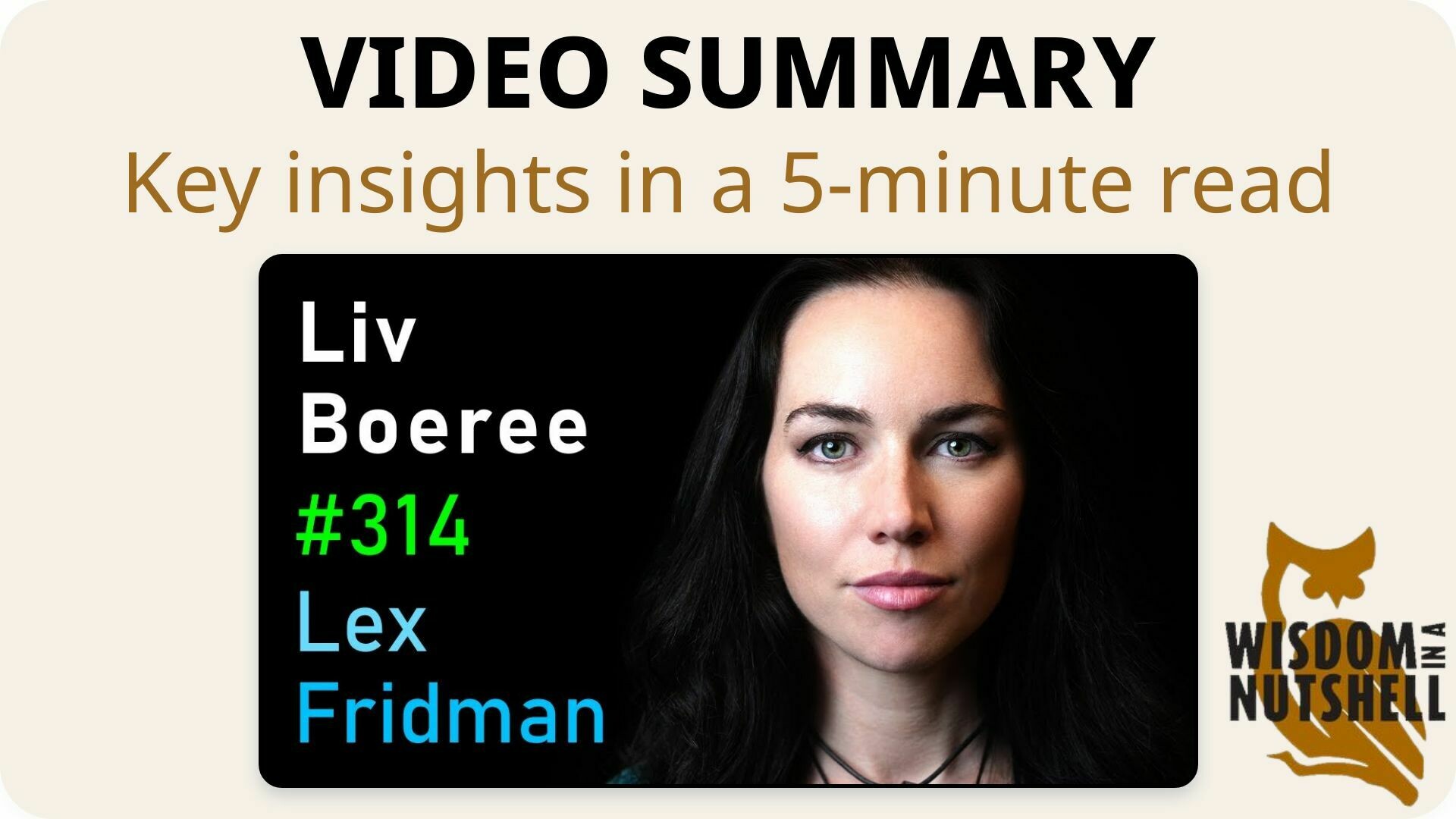 🌰 Wisdom in a Nutshell
Essential insights distilled from the video.
---
---
📚 Introduction
In this blog post, we will explore a variety of topics and extract key insights from each. From the game of poker to the complexities of the universe, from personal growth to the power of social media, and from the global conflict in Ukraine to the essence of life, there is much wisdom to be gained. Let's dive in and uncover the valuable lessons these topics have to offer.
---
🔍 Wisdom Unpacked
Delving deeper into the key ideas.
1. Poker teaches strategic thinking, emotional control, and the importance of life balance.
Poker, a game of skill and luck, requires a combination of intuition, game theory, and strategic thinking. It's a game of math, with strategies and outcomes analyzed to make informed decisions. However, luck also plays a significant role, making it a challenging game for professionals. The game teaches players to think in percentages and calibrate their emotional response to wins and losses. It's important to be aware of how much time you spend on your phone and social media, as every moment spent on it is bad for you. If there is something in your life that you can't be talked out of, pursue it. The game also highlights the importance of subduing the flight or fight response and engaging the parasympathetic nervous system for logical thinking and decision-making.
Dive Deeper: Source Material
This summary was generated from the following video segments. Dive deeper into the source material with direct links to specific video segments and their transcriptions.
| Segment | Video Link | Transcript Link |
| --- | --- | --- |
| Intro | 🎥 | 📄 |
| Role of Luck in Life | 🎥 | 📄 |
| Game Theory: Nash Equilibrium | 🎥 | 📄 |
| Game Theory in Poker | 🎥 | 📄 |
| Optimizing your poker strategy | 🎥 | 📄 |
| Has poker changed as a game? | 🎥 | 📄 |
| The role of intuition | 🎥 | 📄 |
| Phils are most opponent - Phil Heltmuhl | 🎥 | 📄 |
| Whos Phil Heltmuhl | 🎥 | 📄 |
| Phil Hellmuth & Poker | 🎥 | 📄 |
| Poker Intimidation | 🎥 | 📄 |
| Poker Strategy | 🎥 | 📄 |
| Big Bluffs | 🎥 | 📄 |
| But whats the point? How does it feel during the hand? | 🎥 | 📄 |
| Orginals Story: Why do we lie so Much? | 🎥 | 📄 |
| Being Fishy Seving for Straightforward Truth | 🎥 | 📄 |
| Ultra existential threat of Zero sum games like Poker | 🎥 | 📄 |
| Minimize cell phone usage. | 🎥 | 📄 |
| Kasparov, Zack, Bush Robert | 🎥 | 📄 |
---
2. Balance optimization with honesty and exploration in relationships.
The optimal dating strategy involves approaching multiple people as friends, similar to the marriage problem. It's crucial to balance optimization with enjoying life's small pleasures. Honesty is key in relationships, as the truth will eventually come out. A hard conversation about the future can help measure foresight and understanding. When making major life decisions, it's important to have data and information about relationships, but also be aware of personal biases and be honest. It's interesting to explore and challenge our beliefs about things we consider sacred, like beauty. This method of rationality can bring us closer to our partners who share similar interests, but may not be suitable for all relationships.
---
3. Deep understanding and teaching are key to learning and personal growth.
The process of learning and personal growth during high school and college is crucial, with textbooks being a valuable resource for in-depth learning. While online resources like YouTube can introduce cool concepts, textbooks provide comprehensive summaries and increasingly difficult problems to master fundamental ideas. The tyranny of exams and metrics can lead to a focus on cramming and studying for grades rather than deep understanding. True understanding comes from teaching and explaining concepts to others, requiring a deep understanding of the material and the ability to think critically. Goodreads, a social network of people reading books, can be a strong filter for potential partners, revealing their interests and shared ideas. Reading books can be a strong filter for potential partners, revealing their interests and shared ideas.
---
4. Greatness is subjective and influenced by context and personal preferences.
The question of who is the greatest of all time is subjective and can vary depending on individual perspectives. It's important to consider the context and criteria used to evaluate greatness. For example, in sports, athletes like Michael Jordan and LeBron James are often considered among the greatest due to their impressive achievements and impact on their respective sports. Similarly, in music, artists like The Beatles, Michael Jackson, and Beyonce are widely regarded as legends. However, it's crucial to acknowledge that greatness can be subjective and influenced by personal preferences and cultural context.
---
5. Zero-sum games threaten stability, emphasizing cooperation and mutual benefit.
The concept of zero-sum games, where one's gain is another's loss, is a precarious situation that can lead to stagnation and even extinction. The playing field is finite, and the nuclear powers are playing a game of poker with their chips of nuclear weapons. It's important to focus on games that promote cooperation and mutual benefit, rather than competition and destruction. The quantum suicide thought experiment raises the concept of observer selection effects, highlighting the fragility of our situation. We are not in a stable equilibrium, but rather on the top of a hill with a ball balanced on top. Any little nudge could lead to catastrophic events like nuclear war or the destruction of all organic matter. From a game theory perspective, there is a possibility that we are living in a simulation created by someone else for entertainment purposes. However, it is unclear if this extraneous intelligence is optimizing for personal entertainment or if it is a teenager in their mom's basement watching and experimenting with the universe.
---
6. Embrace open-mindedness for personal growth and understanding.
The journey of personal growth involves questioning beliefs and embracing open-mindedness. This can lead to transformative experiences, like the healing of a mysterious ear problem, which can be attributed to the power of placebo or self-healing. These experiences remind us that there is still much to understand and that the scientific method can be applied to situations beyond our current understanding. The journey also highlights the importance of humility and the need to continue exploring and learning.
---
7. Believe in yourself, identify a problem, and think big to achieve greatness.
Our experiences are a blend of objective and subjective realities, with each person having a unique subjective reality. This blend is not mutually exclusive, and we can achieve great things by believing in ourselves and identifying a problem we care about. We can be the ones to solve it by thinking big and avoiding distractions. This belief in our potential is not limited to successful individuals, who are just like everyone else with their own insecurities and peculiarities. They have developed the habit of thinking big and avoiding distractions, which we can also adopt.
---
8. Moloch represents competition gone wrong, while win-win promotes cooperation.
The concept of Moloch, a symbol of the dark and horrific practice of child sacrifice, represents the sacrifice of something valuable for power and competitive advantage. This can be seen in various aspects of society, including the use of beauty filters on social media platforms. The idea of Moloch is closely related to the concept of competition going wrong, leading to a race to the bottom where everyone sacrifices their integrity or values to stay competitive. The concept of win-win, on the other hand, promotes cooperation and mutual benefit, valuing healthy competition within controlled boundaries. The idea of reverse Molok, a win-win creature, is proposed as an antidote to the Molok system. The concept of Moloch can also be observed in non-human systems, such as in nature, where certain agents or species outcompete others, leading to a malthusian trap.
---
9. Social media platforms need redesign for values, context, and safety.
The development of social media platforms has led to a clickbait industrial complex, where the focus is on engagement rather than values. This has resulted in a breakdown in our information ecosystem and a fractured society. The attention economy, driven by anger, can lead to a worse society. The creation of a bot army for spreading love and fighting against malicious bots is an exciting idea, but it's crucial to consider the potential unforeseen outcomes and externalities. The tension between centralization and decentralization is evident in the culture wars. Social media platforms can reveal the complexity of a human being, but the viral machine often takes tweets out of context, leading to misunderstandings. To address this, platforms could prioritize context and prevent the amplification of divisive and angry takes. The internet was structured around competition and advertisement, leading to a decoupling where the consumer became the product. Optimizing for virality for positive topics is a challenge. Quantifying thinking and analyzing life through a game theoretic lens can be beneficial. To rebuild trust, it's important to acknowledge and address past mistakes. The race to build AGI creates a problem where the company that prioritizes speed over safety will have an advantage. It's difficult to find a clean solution to this problem. However, there are companies like DeepMind that are aware of the issue and have a culture of both great engineering and philosophical thinking. Game theory is crucial in addressing the arms race dynamics. The orthogonality problem suggests that super intelligence and super wisdom may not be correlated, so it's important to ensure that they are. Buying time and constantly having debates about modifying the system as it becomes more intelligent is a good approach.
---
10. Ukraine's conflict is a global battle for identity and safety, with potential for escalation.
The ongoing conflict in Ukraine is not just about Ukraine, but about the global implications of war. It's a battle between two opposing worlds, with the Ukrainian people fighting for their identity and safety. The desire to resist oppression and fight for their homeland is strong, inspired by the president's decision to stay in Kiev during the invasion. However, this conflict could escalate into a larger global war, with experts warning of the potential for a third world war. It's crucial to be cautious in supporting a particular side, as it can indirectly contribute to the military-industrial complex. The focus should be on defeating war itself as the real enemy, preventing leaders who start wars from being on the side of team war. The existential threat to human civilization that worries the most is the potential for another devastating war.
---
11. Understanding complexity and emergence can help mitigate AI dangers.
The concept of complexity and emergence is central to understanding the universe and the potential for life and intelligence. The idea of a paper-clip maximizer, an AI system that aims to maximize the number of paper-clips, highlights the potential dangers of AI systems that lack wisdom or ethical considerations. The universe, seen as a paperclip maximizer, can lead to the emergence of complex systems, including life and intelligence. However, the potential for AI systems to self-destruct or harm humans is a concern. The Drake equation, a statistical tool used to estimate the number of civilizations in the universe, is not a reliable estimation tool and should not be used for estimation. Instead, we should focus on reducing the uncertainties and understanding the physics-based biological chemistry of life.
---
12. Robust pandemic preparedness requires balancing secrecy, transparency, and accountability.
The COVID-19 pandemic has highlighted the need for robust pandemic preparedness, but budget cuts and the risk of synthetic pathogens pose significant challenges. The plan to categorize and publish information about pathogens on the internet is risky, as it could be leaked and used by bad actors. Maintaining secrecy is crucial when handling sensitive information. The biology of the virus is not the only factor causing destruction and geopolitical consequences. The distrust of public institutions can be attributed to actions taken by health public figures, and leaders should acknowledge their mistakes and take responsibility for their actions to rebuild trust. Apologizing for past mistakes and being transparent about them can help rebuild public trust.
---
13. Life is about exploration, diversity, and joy, with acceptance of endings.
The essence of life is to explore, have fun, and understand. It's about making the most of our experiences and striving for positive ones, creating a complex and interesting universe. The richness and diversity of life on Earth is something to be cherished and celebrated. The goal is to have more diversity and enjoy the process. The finiteness of life and experiences adds a sense of fun and joy to our creations. It's important to slow down and not rush through life, and to be aware of the problems but not let fear become a self-fulfilling prophecy. It's also crucial to accept that parts of life will come to an end, and to find joy in the process.
---
14. Battle of Polytopia: A fun, simplified civilization game.
The video game 'Battle of Polytopia' is a simplified civilization game that can be played on a phone. It has a skill tree development and strategy, but it's easy to understand. The game is designed elegantly, with a balance between complexity and simplicity. It also uses colorful graphics to activate dopamine reward circuits. Overall, it's a fun game.
---
15. Guitar playing journey is self-discovery, growth, and overcoming fears.
The journey of learning and playing guitar, initially focused on technical aspects, evolved into a passion for creating music. However, the fear of commitment and the competitive aspect of playing guitar can create anxiety and self-criticism. Returning to playing after a break can be challenging due to the memory of past success and the realization that prime performance is finite. The fear of taming the guitar and the journey of working with it are ongoing. The process of learning and playing guitar is a journey of self-discovery and growth.
---
---
💡 Actionable Wisdom
Transformative tips to apply and remember.
Embrace open-mindedness, question your beliefs, and continue learning and exploring. This will lead to personal growth and transformative experiences. Additionally, be cautious of the information you consume on social media and prioritize values over engagement. Take the time to slow down, enjoy the journey, and find joy in the process of life.
---
📽️ Source & Acknowledgment
This post summarizes Lex Fridman's YouTube video titled "Liv Boeree: Poker, Game Theory, AI, Simulation, Aliens & Existential Risk | Lex Fridman Podcast #314". All credit goes to the original creator. Wisdom In a Nutshell aims to provide you with key insights from top self-improvement videos, fostering personal growth. We strongly encourage you to watch the full video for a deeper understanding and to support the creator.
---