Lex Fridman
Manolis Kellis: Origin of Life, Humans, Ideas, Suffering, and Happiness | Lex Fridman Podcast #123
The Journey of Life and the Evolution of Life Forms.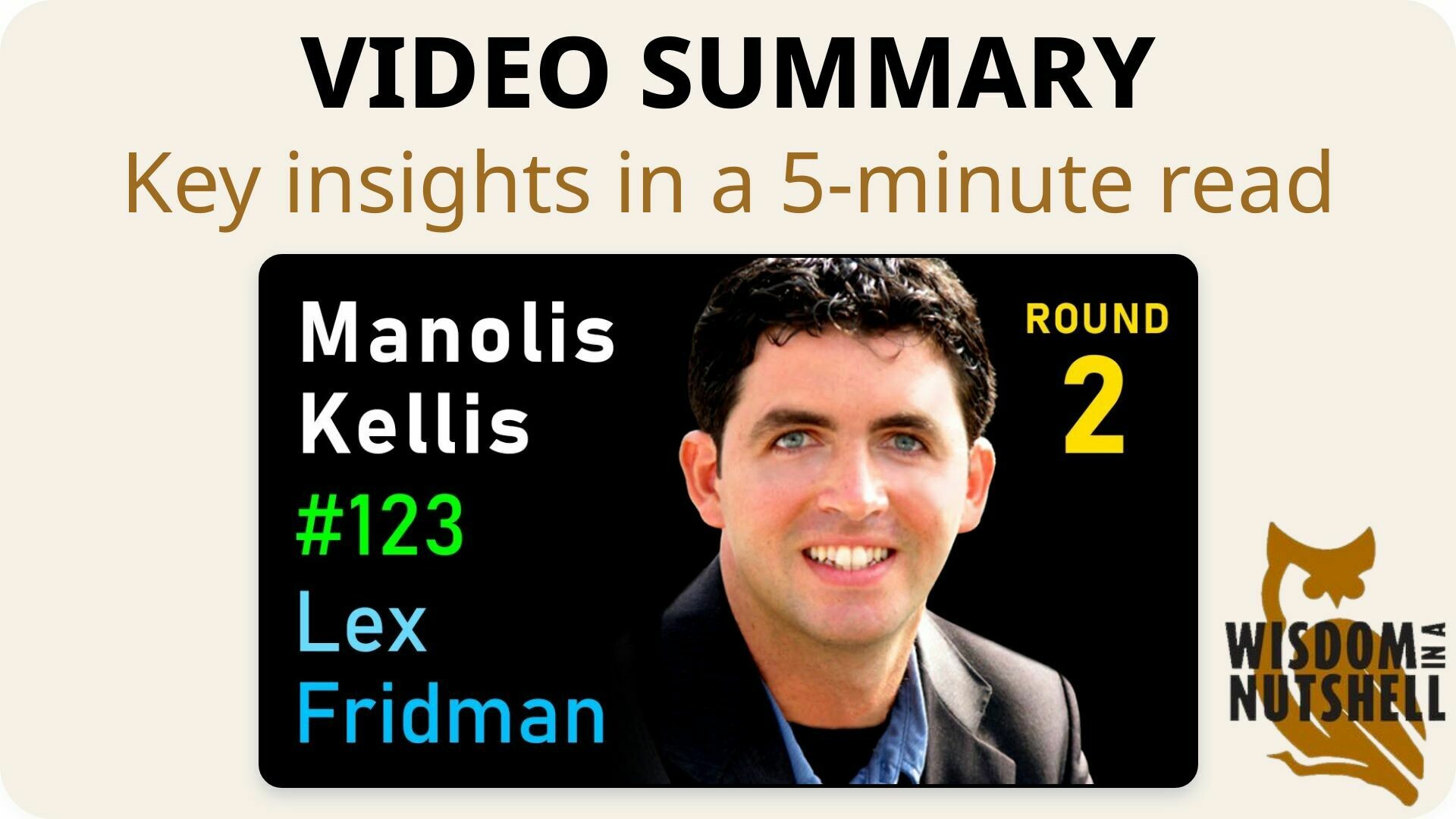 🌰 Wisdom in a Nutshell
Essential insights distilled from the video.
---
---
📚 Introduction
This blog post explores the fascinating journey of life and the evolution of life forms, from the complexity of the human epigenome to the possibility of intelligent species on other planets. It delves into the transformation of life, the development of the brain, and the concept of free will. It also discusses the importance of embracing the full range of emotions, the power of love, and the pursuit of personal growth. Join us as we unravel the mysteries and wonders of life.
---
🔍 Wisdom Unpacked
Delving deeper into the key ideas.
1. Epigenome adapts to environment, controls gene expression, and may enable intergalactic travel.
The human epigenome, a complex system that controls gene expression, is capable of adapting to environmental stimuli in a matter of minutes. This system, which compacts massive amounts of DNA into a nuclei, also controls the activity patterns of thousands of genes, allowing cells to remember their identity. The epigenome is structural and functional, making chemical modifications on the DNA to modify its meaning. Each cell plays a different part in the musical score of the epigenome, coordinating the expression of genes. The concept of intergalactic travel and living forever is discussed, with the possibility of expanding our experience of time through biological engineering. The idea of living forever one day at a time, every year or decade, is also explored.
Dive Deeper: Source Material
---
2. Evolution is a complex process influenced by internal and external factors.
The evolution of life is a complex process that involves selection at different levels, from individual genes to entire ecosystems. This process is influenced by external and internal factors, leading to the development of unique characteristics in different species. For instance, Neanderthals, a branch of human evolution, had genetic differences that made them seem scary and led to their elimination by humans. The existence of intelligent species on other planets is a possibility, but their communication and survival conditions may differ from those on Earth. The genetic code of an alien life form may be similar to ours, but its reliance on specific conditions is unknown.
Dive Deeper: Source Material
---
3. Life, a complex, transformative force, challenges physics and supersedes it.
Life, which evolved from the bottom of the ocean, is characterized by metabolism, compartmentalization, and replication. The early version of life was RNA molecules performing all functions, including replication. The ribosome, a complex RNA machine, translates RNA into protein, and RNA delegates information storage to DNA and actuation to proteins. Life on Europa, a moon with the necessary ingredients for life, is inevitable. Detecting life on Europa would require chemical analysis, as our senses may not be able to detect alien chemicals. Life transforms a planet by creating compartmentalization and pushing things away, challenging physics and superseding it. Life can be seen at different levels, from the basic definition to the F-zine, which involves cooperation, altruism, and specialization. Humans are a more complex form of life, with additional features and innovations.
Dive Deeper: Source Material
---
4. Evolution of life forms and brain development are significant transformations.
The evolution of life forms, from single-celled to multicellular, and the development of a massive brain, are significant transformations. The brain acts as a coordinating agent, making decisions and controlling the body. The concept of free will is also discussed, as even simple organisms have some degree of unpredictability in their actions. The Minoan civilization in ancient Greece transformed human thought by looking for rules in nature and principles, and embraced the concept of understanding the natural world. The brain has the ability to decide not to follow evolution's path, such as not having children or communicating with the outside world, showing that it supersedes life. These transformations are part of a path of humanity's transformation.
Dive Deeper: Source Material
---
5. Embrace life's journey, flaws, and struggles for fulfillment.
Life is a journey, not a destination, and it's crucial to embrace the full range of emotions, including suffering and joy. It's important to accept our flaws and the journey of life, including the struggles and challenges, as they contribute to finding meaning and fulfillment. The struggle is the journey, and the journey is the meaning of life. As we age, our brains change, and we develop new creativity and the ability to make connections. We should live each day as if it's our last and make plans as if we will never die. Parenthood can be a fulfilling experience, allowing us to relive childhood with a new perspective. It's important to let go of the need to prove oneself to others and focus on personal growth. It's also important to recognize that everything we achieve may seem easy and unimpressive to us, but it can still contribute to advancing human knowledge.
Dive Deeper: Source Material
This summary was generated from the following video segments. Dive deeper into the source material with direct links to specific video segments and their transcriptions.
| Segment | Video Link | Transcript Link |
| --- | --- | --- |
| Life is more than a rat race | 🎥 | 📄 |
| Life sucks sometimes and that's okay | 🎥 | 📄 |
| Getting older | 🎥 | 📄 |
| The best of MIT | 🎥 | 📄 |
---
6. Life is a journey of transformation, with art as a reflection.
The poem 'Tied Waters' explores the journey of transformation through life, from the ease of high school to the challenges ahead. It highlights the diversity of individuals and the formation of groups, encouraging the pursuit of goals and warning of the hardships to come. The poem also touches on the idea that life can be seen from different perspectives, like the beauty and wonder of snow or the grayness and loss of love. The quote from Darwin about the highest form of living being art resonates with the idea that life is a journey of transformation and growth, with art being a reflection of this journey.
Dive Deeper: Source Material
---
7. Love is a passionate, vulnerable, and fragile force that defines human life.
Love is a powerful force that defines human life, encompassing our emotional selves and the intangible aspects of life. It's not just a feeling, but a passion that drives us, involving emotional investment and vulnerability. Love is the willingness to give ourselves fully and be open to the possibility of being hurt, a fragility we are willing to share with others.
Dive Deeper: Source Material
---
---
💡 Actionable Wisdom
Transformative tips to apply and remember.
Embrace the journey of life by accepting the full range of emotions, including both the joys and the struggles. Live each day with intention and make plans for the future while appreciating the present moment. Focus on personal growth and let go of the need for external validation. Love wholeheartedly and be open to the vulnerability that comes with it. Remember that every experience and achievement, no matter how small, contributes to the richness of life.
---
📽️ Source & Acknowledgment
This post summarizes Lex Fridman's YouTube video titled "Manolis Kellis: Origin of Life, Humans, Ideas, Suffering, and Happiness | Lex Fridman Podcast #123". All credit goes to the original creator. Wisdom In a Nutshell aims to provide you with key insights from top self-improvement videos, fostering personal growth. We strongly encourage you to watch the full video for a deeper understanding and to support the creator.
---