Lex Fridman
Marcus Hutter: Universal Artificial Intelligence, AIXI, and AGI | Lex Fridman Podcast #75
Exploring Artificial General Intelligence and Information Theory.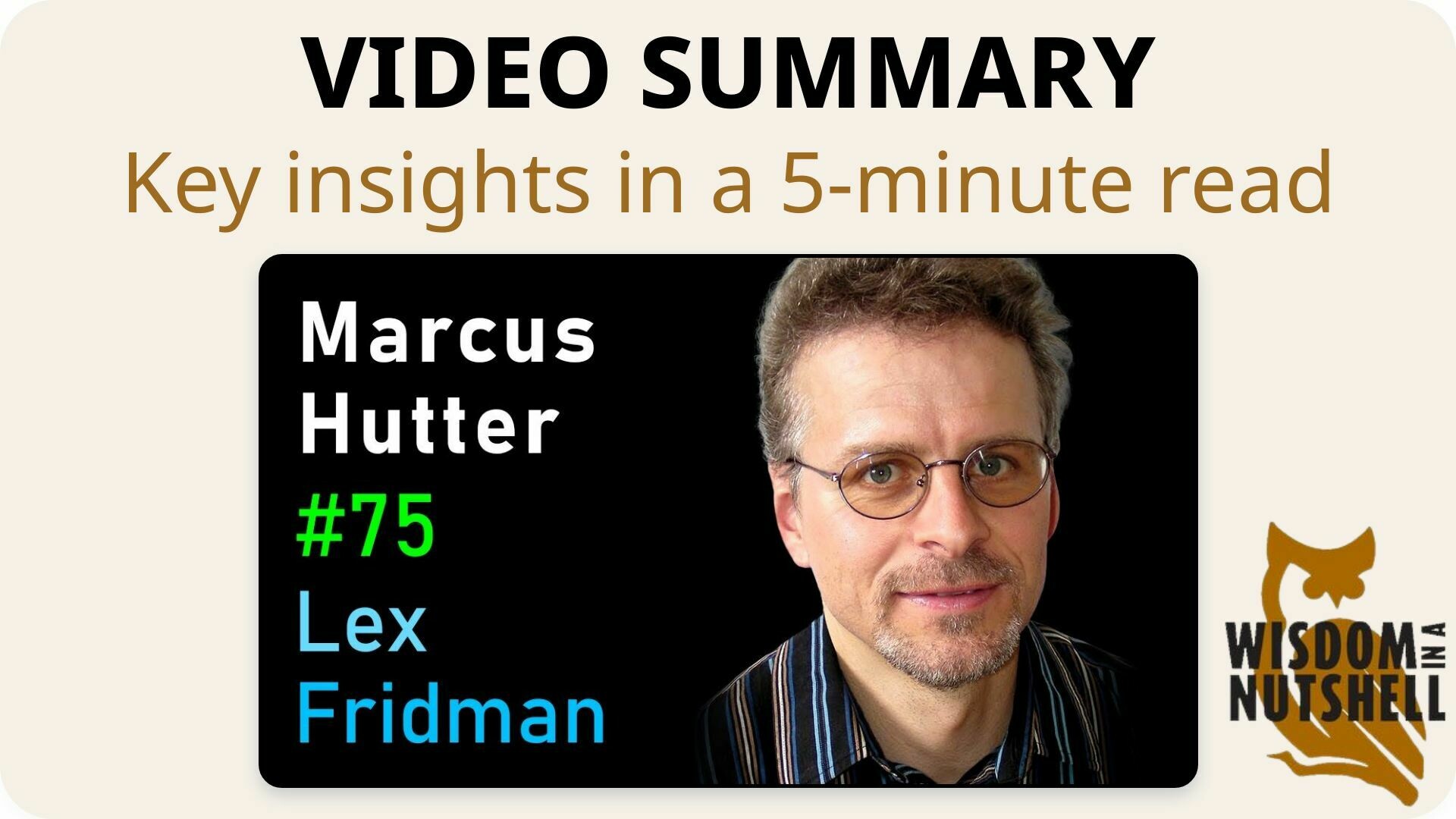 🌰 Wisdom in a Nutshell
Essential insights distilled from the video.
---
---
📚 Introduction
Artificial General Intelligence (AGI) is a fascinating field that aims to develop intelligent machines capable of performing any intellectual task that a human can do. In this blog post, we will delve into the concepts and ideas surrounding AGI, including the development of the AI-XI model, the Hutter Prize for Lossless Compression of Human Knowledge, and the relationship between intelligence and information theory. We will also explore the universe as a computable and simple entity, the power of simple rules in generating complex behavior, and the challenges of understanding intelligence and building intelligent agents. Join us on this journey of unraveling the mysteries of AGI and information theory.
---
🔍 Wisdom Unpacked
Delving deeper into the key ideas.
1. Innovative ideas in AGI include compressing knowledge and developing intelligent compressors.
Marcus Hutter, a senior research scientist at Google DeepMind, has proposed innovative ideas in the field of artificial general intelligence (AGI). He developed the AI-XI model, which incorporates concepts like Kolmogorov complexity, sole induction, and reinforcement learning. Additionally, he launched the Hutter Prize for Lossless Compression of Human Knowledge, aiming to encourage the development of intelligent compressors as a path to AGI. The prize has been increased to 500,000 euros, with better compressors receiving a higher fraction of the prize money. Marcus believes that the ability to compress well is closely related to intelligence. He also emphasizes the importance of benchmarks for developing AI systems. Overall, Marcus' work and the Hutter Prize may contribute to advancing the field of AGI.
Dive Deeper: Source Material
---
2. Simplicity is key to understanding the universe, with noise aiding in free will.
The universe is believed to be computable and inherently simple, with theories like general relativity and quantum field theory describing virtually everything. Occam's razor suggests choosing the simpler explanation for a phenomenon, based on the idea that simple models have predictive power. Solomon of induction is a theory that aims to find simple explanations for data, using formal languages and Bayesian techniques. Comigarov complexity is a measure of simplicity or complexity in data, with the universe believed to be very simple. Noise, while a problem for scientists, is also a feature that allows for the illusion of free will. The complexity of the universe can be described as the standard model plus generativity, but the initial conditions and noise make it difficult to fully understand.
Dive Deeper: Source Material
---
3. Simple rules can generate complex phenomena, inspiring awe.
Cellular automata, like the game of life, can exhibit complex behavior from simple rules, demonstrating the power of simple rules in generating rich phenomena. Understanding these phenomena is challenging, but examples like fractals can provide insights. Reverse engineering the short program that generated fractals is possible, although it may require computational resources. However, finding the shortest program is not guaranteed, as there could be even shorter programs. The challenge of finding simple programs in artificial intelligence is related to the difficulty of detecting underlying patterns in complex data. Despite this challenge, it is awe-inspiring that humans have been able to find simple rules in the universe.
Dive Deeper: Source Material
---
4. Intelligence is an emergent phenomenon, driven by rewards and curiosity.
Intelligence is an emergent phenomenon that includes traits like creativity, memorization, planning, and knowledge. It can be measured by an agent's ability to perform well in a wide range of environments. The definition of intelligence can be replaced with goals, which is a more formalized version. Machines can be made to fulfill the definition of intelligence, with examples like self-driving cars and programs that play chess and go. The objective function, or rewards, play a crucial role in intelligence. In simple tasks, the reward can be straightforward, but in more complex problems, the reward may not be sufficient. For general agents, the human should provide rewards on the fly, similar to how a child learns. However, as the agent becomes more advanced, the reward technique may not work as well. In the case of building a new species of intelligent beings, no rewards may be necessary. One approach is to give the agent a reward based on information gain, where the agent learns as much as possible about the world. This agent would be completely autonomous and would have instrumental goals like survival and exploration. Curiosity can be seen as a form of exploration for its own sake, but it is often tied to learning and improving behavior.
Dive Deeper: Source Material
---
5. Mathematical frameworks for artificial intelligence: I-X-E and ICSI models.
The I-X-E model, a mathematical framework, combines learning and induction with planning, predicting the environment based on actions and choosing actions based on expected reward. It measures performance by maximizing the reward sum over the agent's lifetime. Sequential decision theory, used in artificial intelligence, involves replacing true probability distributions with a universal distribution, learned from data. The universal distribution is weighed by the simplicity of the program and the likelihood. The planning problem involves optimizing for a horizon, which can be infinite or finite. Adjusting the horizon can provide mathematical benefits and improve model performance. The IXI model, with the planning part, has asymptotic results, meaning the agent can perform optimally in the long run. The minimax strategy is used to determine the best action based on the Solomonoff distribution. The framework helps in understanding artificial general intelligence and provides insights into building such systems. The ICSI model, a gold standard for intelligent agents, is completely specified and can be analyzed and approximated. It addresses the challenges of dealing with incomplete information and the importance of long-term planning, highlighting the need for selective memory and data compression for planning and understanding.
Dive Deeper: Source Material
---
6. AGI development is complex, requiring realism and exploration.
The development of AGI, a hypothetical superintelligent AI, is a complex and debated topic. The NIXI framework, which includes bounded rationality and limited resources, is a more realistic approach to creating an AGI system. However, the assumption of infinity creeping up everywhere is a criticism of this framework. The question of whether AGI will emerge with consciousness is uncertain, with some considering it a philosophical problem. The AGI community has been small due to factors such as AI winters and the focus on solving specific problems. Building an AGI system requires a combination of formalizing intelligence and exploring different pathways. Embodiment is not necessary for AGI, but interacting with a simulated 3D world can be important for understanding human-like experiences.
Dive Deeper: Source Material
---
7. Gato Machine enhances performance by finding faster algorithms.
The Gato Machine is a self-improving program that can enhance its own performance by finding faster algorithms. It works by giving the machine a task and allowing it to run a program to solve the task, with the machine improving the program by finding a faster version that still produces the same result. This process continues until the machine finds an optimal version of the program. The Gato Machine can improve the IxC model, which is computationally infeasible, by finding computable approximations. While IxC is optimal in terms of reward collection and learning efficiency, it takes infinite time to produce one action. The Gato Machine can potentially make it go faster.
Dive Deeper: Source Material
---
8. Explore AI through 'Artificial Intelligence', 'The Reinforcement Learning Book', and 'Theory of Knowledge.
The recommended books for understanding artificial intelligence (AI) include 'Artificial Intelligence: A Modern Approach' by Russell and Norbeck, which covers all approaches to AI, and 'The Reinforcement Learning Book' by Satin Bartow, a gentle book that provides a good introduction to RL. For those interested in the information theoretic approach, 'Comogolf Complexity' by Lee and Vitani is suggested. The all-time favorite book is 'Theory of Knowledge' by Nicholas Alchen, which explores philosophical questions about how we acquire knowledge from different perspectives.
Dive Deeper: Source Material
---
---
💡 Actionable Wisdom
Transformative tips to apply and remember.
Embrace the power of simplicity in your daily life. Look for simple solutions and explanations, and strive to find underlying patterns in complex situations. By focusing on simplicity and understanding, you can enhance your problem-solving skills and gain a deeper appreciation for the intelligence that surrounds us.
---
📽️ Source & Acknowledgment
This post summarizes Lex Fridman's YouTube video titled "Marcus Hutter: Universal Artificial Intelligence, AIXI, and AGI | Lex Fridman Podcast #75". All credit goes to the original creator. Wisdom In a Nutshell aims to provide you with key insights from top self-improvement videos, fostering personal growth. We strongly encourage you to watch the full video for a deeper understanding and to support the creator.
---