Lex Fridman
Mark Zuckerberg: Future of AI at Meta, Facebook, Instagram, and WhatsApp | Lex Fridman Podcast #383
Insights from Various Topics.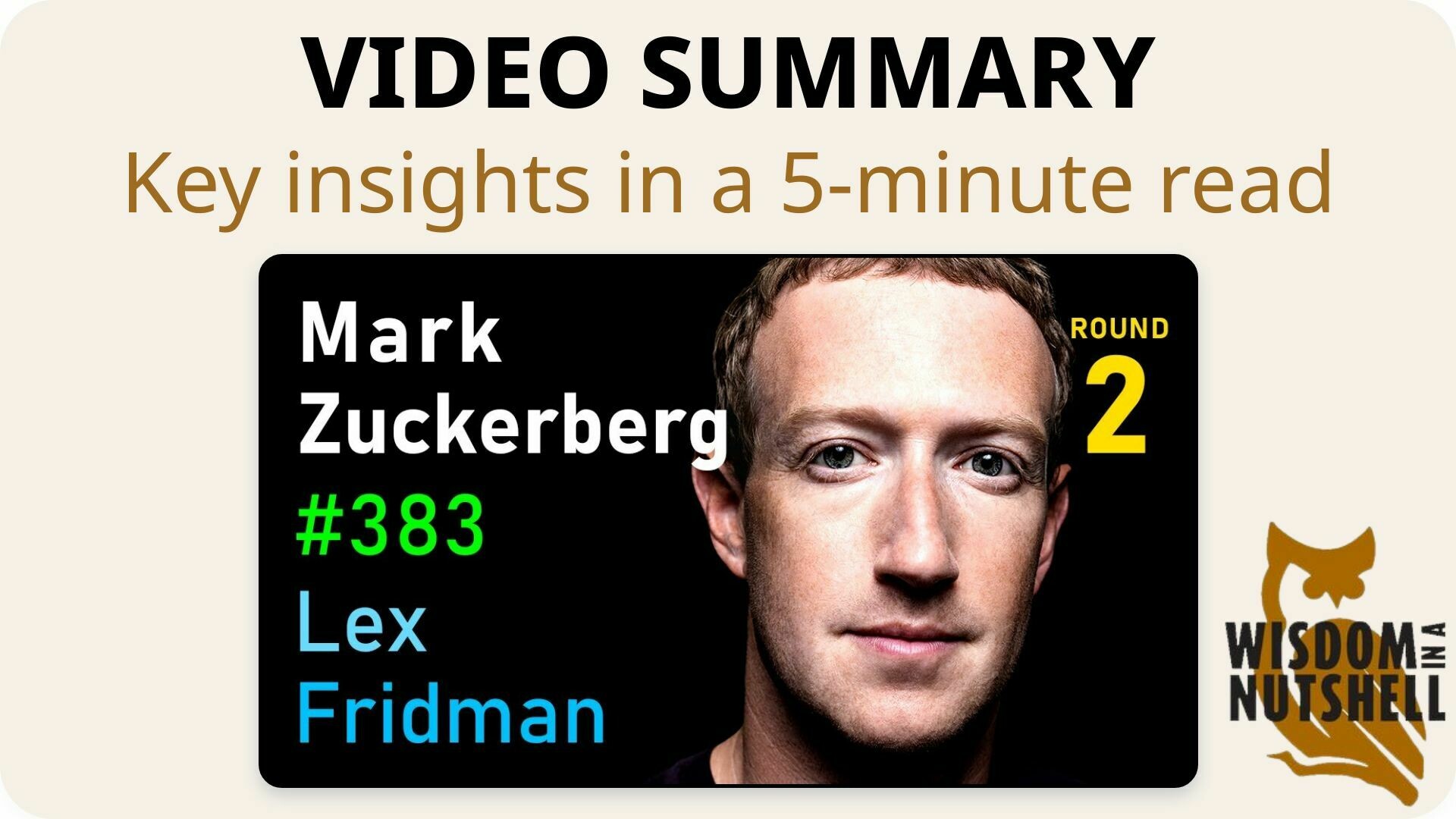 🌰 Wisdom in a Nutshell
Essential insights distilled from the video.
---
---
📚 Introduction
In this blog post, we will explore a variety of topics, including the future of Meta and virtual reality, the importance of personal growth and physical fitness, the open source approach to AI development, the future of AI-powered products and the impact of AI on communication, Meta's approach to social media and freedom of speech, the process of layoffs and hiring, the development of super intelligence and the future of AI, and the value of creating and building. Each topic provides unique insights and perspectives that can inspire and inform our daily lives.
---
🔍 Wisdom Unpacked
Delving deeper into the key ideas.
1. Meta's future lies in AI-enhanced virtual reality, with affordable headsets.
The future of Meta, a company that owns Facebook, Instagram, and WhatsApp, is expected to be shaped by the vision of its CEO, Mark Zuckerberg. The company is exploring the use of AI in our human world. The Quest three headset, priced at $500, offers high resolution mixed reality, allowing users to see the physical world around them and place virtual objects in it. This capability is expected to be the next big advancement in virtual reality. The headset also offers a new capability called 'Windows to the World,' which allows users to see nature and alter their environment. The launch of Apple's headset is seen as a validation for the virtual reality, augmented reality, and mixed reality category, which may increase demand for the overall space, benefiting Quest three as the best affordable option. The metaverse and Kodak avatar are topics that will be discussed in the future.
Dive Deeper: Source Material
---
2. Embrace learning, develop intuition, and apply 'fighting' principles for personal growth.
The essence of personal growth lies in embracing the process of learning and being willing to start as a beginner. This mindset, often referred to as 'no pride,' is crucial for overcoming challenges and developing intuition. The Merf Challenge, a workout consisting of 100 pull-ups, 200 push-ups, 300 squats, and a mile run, is a great way to honor Memorial Day and maintain physical fitness. It's important to have a mix of activities that focus on fighting, cardio conditioning, strength building, and mobility. The concept of 'fighting' can be applied to various aspects of life, including decision-making in business, where it's crucial to have a close-knit group of trusted individuals. The practice of Jiu Jitsu, with its emphasis on pushing through difficult situations and recognizing limits, is a valuable tool for personal growth.
Dive Deeper: Source Material
---
3. Open source AI development fosters collaboration, security, and innovation.
Meta, a leading AI development company, has taken an open source approach to AI development, allowing for collaboration and innovation from a broader community. This approach is believed to be more secure and safer than closed-source models. Meta has released several models as open source, including the Maseline multi-lingual speech model. The future of open source in AI development is uncertain, but for now, the benefits outweigh the risks. Meta is committed to open source work, but not all projects are open sourced. The company focuses on projects that are broadly useful and can be applied to various applications. Meta's language models have expanded to support over 1100 languages and can identify over 4000 spoken languages, breaking down language barriers and connecting the world. The next version of llama is focused on making it more aligned and responsible, with a goal of having a Wikipedia-style collaborative fine-tuning process for the foundation models. The current architecture for LLMs is scalable, but there are concerns about misinformation and aligning the models to generate truth. The use of LLMs in small businesses and customer support will be beneficial. The future of AI is exciting and will unlock innovation and value.
Dive Deeper: Source Material
---
4. AI-powered products promise personalized interactions, companionship, and guidance, but pose challenges in moderation and potential misuse.
The future of AI-powered products involves personalized interactions, AI-assisted creators, and businesses selling products without recommending competitors. Open source and community-oriented approaches are being used to build these products. AI will generate language and perform A/B testing to find the best customer for a product. The metaverse will be created using natural language. Personalization is a fascinating aspect of AI, and it is possible to create a copy of oneself using language models. AI assistants will represent individuals to the public and vice versa. Social networks are a large-scale place to test AI systems. Companionship is a fundamental human need, and AI assistance can help fulfill this need by reminding us of our friends' birthdays, updating us on their lives, and providing personalized suggestions on how to celebrate them. AI can also act as a social assistant, helping us connect with our friends more effectively. There are various other types of personal AI, such as mentors or life coaches, that can provide guidance and support. These technologies have the potential to revolutionize the way we communicate and express ourselves. However, there are concerns about the long-term effects of relying on AI for communication, the potential for AI to be used for harmful purposes, and the need to balance the use of powerful tools with our ability to do basic things.
Dive Deeper: Source Material
---
5. Meta balances freedom of speech with community health, advocates against government pressure, and explores open approaches to social media.
Meta's approach to social media involves balancing freedom of speech with community health, and providing context to controversial content. They also advocate against government pressure on privacy and data access. The company's view on freedom of speech has evolved to include nuanced understanding of complex debates. In the context of AI, the goal is to provide productive answers to questions. The company also believes in open and federated approaches to social media, like Mastodon and blue sky, which can provide accessible ways for people to transmit ideas and have back-and-forth exchanges. However, building a text-based social network with a billion users is challenging, requiring good execution and the ability to spread the service.
Dive Deeper: Source Material
---
6. Compassionate layoffs, strategic hiring, and effective remote work management.
Layoffs, though challenging, are often driven by strategic and financial considerations. To execute them compassionately, the focus is on individual contributors. Managers play a crucial role, but their number may vary depending on the company's growth stage. When hiring, it's important to attract great engineers by working on cool stuff and having a vision. The selection process should focus on finding people who fit the culture and can integrate effectively. Remote work is effective for experienced employees, but in-person interactions are still valuable for new hires and those who need to learn the company culture. Virtual reality and mixed reality technologies hold promise for enhancing remote interactions.
Dive Deeper: Source Material
---
7. Balancing AI development with concerns and individual choice.
The development of super intelligence is a long-term goal, with the potential for significant advancements. However, it's crucial to address concerns about the alignment problem and the possibility of AI getting out of hand. The concepts of intelligence and autonomy are often conflated, but it's possible to develop intelligent systems that are not autonomous. The key is to develop governance on the autonomy given to systems. The timeline for the development of super intelligence is uncertain, but there are already examples of organizations and structures that exhibit greater than human intelligence. The goal is to empower individuals and enhance collective intelligence, making the whole system more intelligent. The development of AI is dependent on human input and feedback, so there is a balance between human and machine learning. The assumption that intelligence should be person-like is challenged by the existence of greater than single human-intelligent organisms like the stock market. However, there may be limits to what a system that is purely an intelligence can understand about the human condition without having the same senses and physical changes. Understanding people requires modeling sensations. While there is value in having intelligence separate from sensations, there is also the possibility of creating AI replicas of ourselves that can persist after we are gone. The question of who gets to make these replicas is a challenge, and it should ultimately be the individual's choice.
Dive Deeper: Source Material
---
8. Creation brings fulfillment, community, and positive change.
The act of creating, whether it's artistic or functional, brings a sense of fulfillment and contributes to a good life. It's valuable to help others and be a positive force in the world. Building and creating new things brings happiness and a sense of continuity. Having kids has made community and values more important. Balancing responsibilities with a belief in something bigger than oneself brings humility. Creating beauty in the world is important, as it can bring positive change. The metaverse, a realm of technology, is an exciting area to explore in the future.
Dive Deeper: Source Material
---
---
💡 Actionable Wisdom
Transformative tips to apply and remember.
Embrace the process of learning and personal growth, maintain physical fitness through diverse workouts, stay informed about the advancements in AI and explore its potential applications, find ways to personalize interactions and utilize AI assistants for support, advocate for a balanced and responsible approach to social media, approach layoffs and hiring with compassion and a focus on cultural fit, consider the ethical implications of AI development and the future of super intelligence, and prioritize creating and building as a means of fulfillment and positive impact.
---
📽️ Source & Acknowledgment
This post summarizes Lex Fridman's YouTube video titled "Mark Zuckerberg: Future of AI at Meta, Facebook, Instagram, and WhatsApp | Lex Fridman Podcast #383". All credit goes to the original creator. Wisdom In a Nutshell aims to provide you with key insights from top self-improvement videos, fostering personal growth. We strongly encourage you to watch the full video for a deeper understanding and to support the creator.
---