Lex Fridman
Peter Singer: Suffering in Humans, Animals, and AI | Lex Fridman Podcast #107
Insights from Various Topics.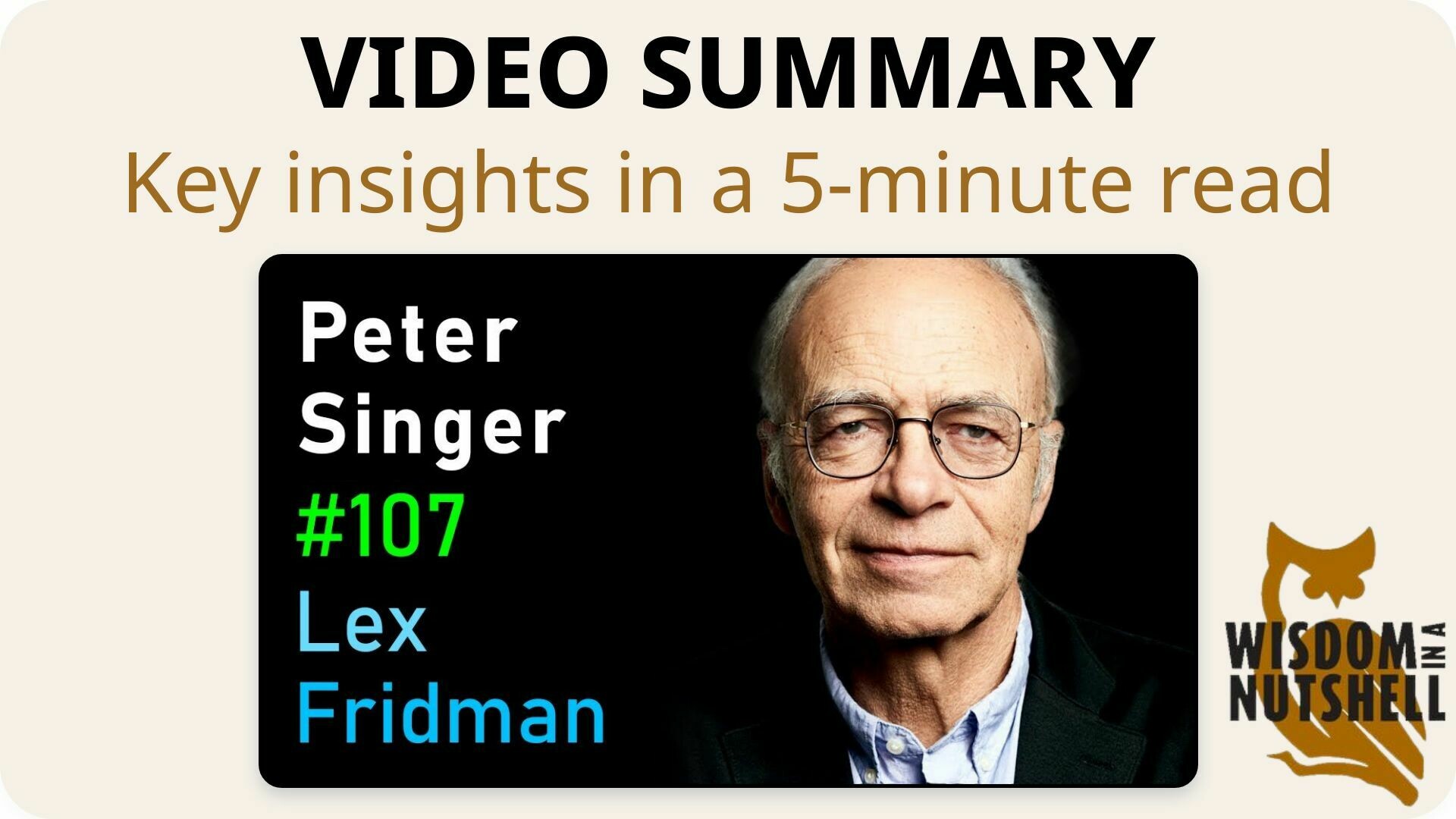 🌰 Wisdom in a Nutshell
Essential insights distilled from the video.
---
---
📚 Introduction
In this blog post, we will explore a variety of topics and uncover insightful perspectives. From the impact of World War II to the concept of effective altruism, each topic offers valuable lessons and thought-provoking ideas. Get ready to expand your knowledge and challenge your beliefs.
---
🔍 Wisdom Unpacked
Delving deeper into the key ideas.
1. War's impact on society and individual potential for good and evil.
The impact of World War II on society is multifaceted, leading to a decrease in overt racism and anti-Semitism in the West. However, the war also had ethical implications and ripple effects, including the cold war. The potential for both good and evil in individuals is influenced by environmental factors. It's crucial to contemplate whether we are willing to do the right thing even when it's inconvenient or risky, as we face similar challenges today. It takes courage to make difficult decisions and stand up for what we believe in, even in a divisive world.
Dive Deeper: Source Material
---
2. Suffering can be a creative force, but the focus is on eliminating absolute suffering.
Suffering is a conscious state that we often try to avoid, but it can have positive consequences like strengthening the spirit. While it's unlikely to completely eradicate suffering, it's worth considering whether eliminating it would also eliminate the highs and positive experiences in life. There's a relative aspect to suffering, where eliminating objective forms may lead to new forms. The focus is on eliminating absolute suffering, such as hunger and lack of shelter. Suffering can also be a creative force, making us more creative and bringing highs and positive experiences. However, the focus is on the absolute goal of eliminating absolute suffering.
Dive Deeper: Source Material
---
3. Consciousness and AI: exploring the relationship and potential expansion.
The concept of consciousness is complex and raises questions about its relationship with the physical body. Some believe that consciousness can exist without a body, while others argue that it is necessary. The idea of transferring certain aspects of the software to another piece of hardware is becoming more possible with advancements in brain-computer interfaces. Companies like Neuralink aim to expand the human mind by allowing computers to communicate with neurons and increasing the bandwidth of brain function. This would enable better access to memory and the ability to search and recall specific events. However, there is also a focus on the control problem and value alignment in AI, ensuring that AI systems align with our own values and ethics.
Dive Deeper: Source Material
---
4. Question speciesism to reassess treatment of animals and robots.
The concept of speciesism, or the bias against considering the interests of non-human beings, is a significant issue. This bias, observed in the past with racism and sexism, is also evident in the way humans view themselves and animals. Humans often see themselves as more important, leading to mistreatment of animals in factory farms and unnecessary research. The significance of pain and suffering does not depend on species, so we should reassess our treatment of animals. Communication with animals or robots requires asking questions to determine if there is consciousness and the capacity to suffer.
Dive Deeper: Source Material
---
5. Effective altruism: prioritize well-being, explore ethical career choices, and give generously.
The concept of effective altruism, a utilitarian ethical view, suggests that the right action is the one that promotes the greatest expected utility, considering consequences and odds of success. It emphasizes the importance of prioritizing the well-being of those who are worse off, even if it means making sacrifices. The book 'Doing Good Better' aims to make people realize that helping those in extreme poverty is not difficult and that there are highly effective organizations doing this. It recommends exploring career choices that align with ethical goals, such as working in finance to donate to effective charities or working for a non-profit organization. It also emphasizes the importance of giving a percentage of income based on income level, with progressive donor scales starting at 1% for modest incomes and rising to 33% for high earners. Giving is seen as both an ethical requirement and a fulfilling and rewarding experience that provides a sense of purpose and satisfaction.
Dive Deeper: Source Material
---
---
💡 Actionable Wisdom
Transformative tips to apply and remember.
Take the time to reflect on these various topics and consider how they relate to your own life. Are there biases or ethical dilemmas that you need to address? Explore ways to make a positive impact, whether through personal choices or career decisions. Embrace the idea of effective altruism and find ways to contribute to the well-being of others. Remember, every action, no matter how small, can make a difference.
---
📽️ Source & Acknowledgment
This post summarizes Lex Fridman's YouTube video titled "Peter Singer: Suffering in Humans, Animals, and AI | Lex Fridman Podcast #107". All credit goes to the original creator. Wisdom In a Nutshell aims to provide you with key insights from top self-improvement videos, fostering personal growth. We strongly encourage you to watch the full video for a deeper understanding and to support the creator.
---