Lex Fridman
Ray Dalio: Money, Power, and the Collapse of Empires | Lex Fridman Podcast #251
Insights from Various Topics.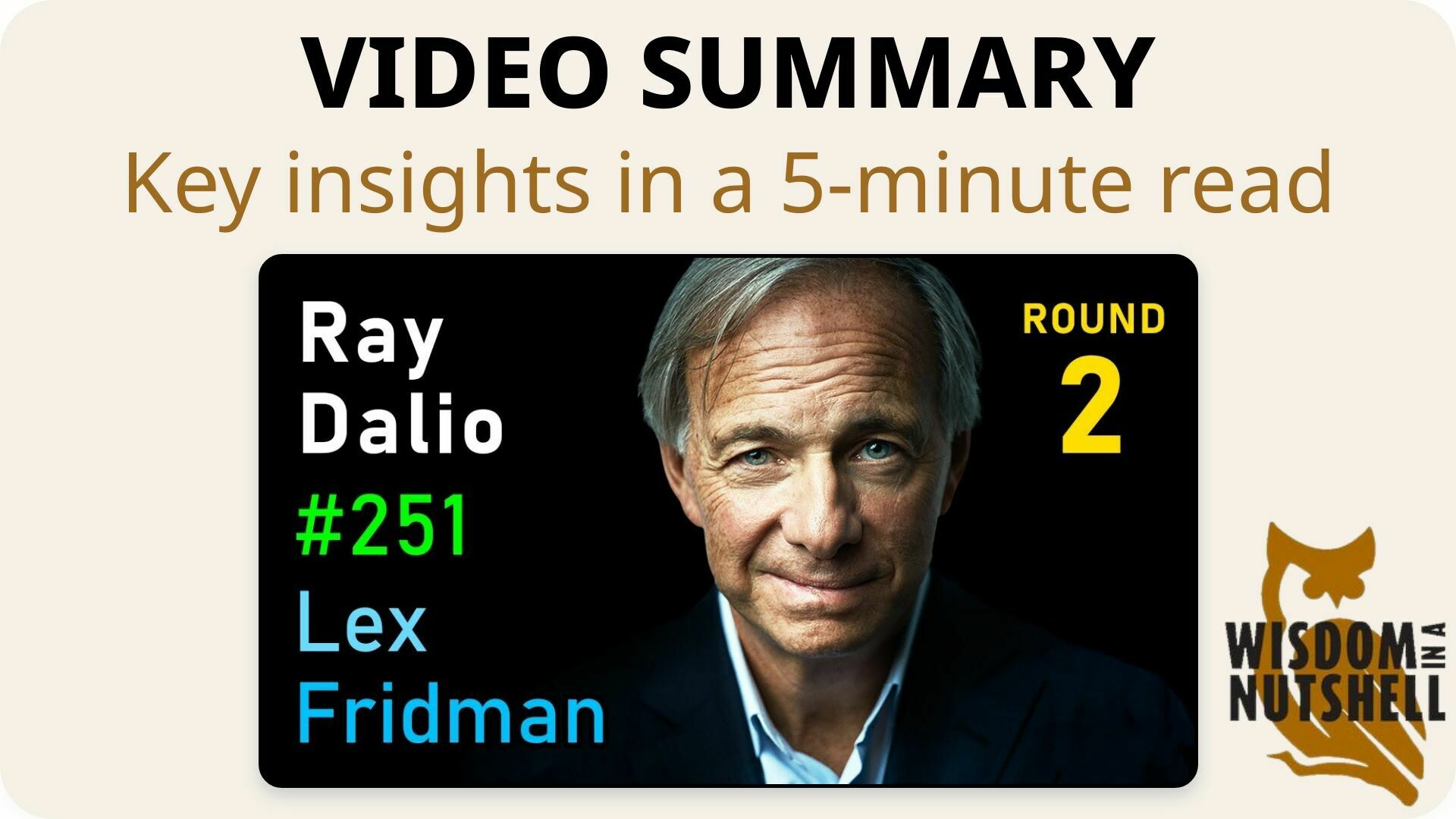 🌰 Wisdom in a Nutshell
Essential insights distilled from the video.
---
---
📚 Introduction
In this blog post, we will explore a variety of topics and extract key insights from each. From the relationship between money and power to the vulnerabilities of democracy and autocracy, from the importance of understanding and respect in geopolitical negotiations to the future of money and the power of ideas, and finally, the essence of personal growth and success. Each topic offers valuable wisdom that can be applied to our daily lives.
---
🔍 Wisdom Unpacked
Delving deeper into the key ideas.
1. Money and power are symbiotically linked, driving the struggle for power.
The relationship between money and power is symbiotic and competitive, with those with money influencing those with political power. This dynamic has been observed throughout history, with the struggle for power centered around valuable assets, particularly productive assets that produce money. The emergence of nation-states after 30 years of war established borders and levels of power within each country, with the coordination of these levels determining how the country is run.
Dive Deeper: Source Material
---
2. China's rise and US challenges: a complex global landscape.
The world is facing a complex set of challenges, including financial instability, internal disorder, and declining educational levels in the United States. China, on the other hand, is rapidly improving in education and technology, with a growing number of educated people. The United States needs strong leaders who can convince the populace of the importance of investing in education and innovation. There are five types of wars that could potentially lead to a war with China, including trade war, technology war, geopolitical influence war, capital war, and military war. China's approach to freedom and entrepreneurship is different from the United States, with a focus on the common good, not individualism. The leadership in China is a collective effort, with jockeying for power and negotiations. The book provides objective measurements of education, economic output, military strength, and other factors to compare the health of countries. It allows people to monitor these factors and determine if policymakers are doing a good job.
Dive Deeper: Source Material
---
3. Vulnerabilities of democracy and autocracy can lead to conflict.
The vulnerabilities of democracy and autocracy are their potential for chaos and the emergence of strong leaders who may lead to conflict. The transition from democracies to autocracies often occurs when one system is not working effectively, leading to a desire for control. This can lead to nationalism and militarism, which can escalate into conflict. Human nature plays a role in this cycle, as individuals who have experienced war tend to be more hesitant to engage in conflict, while younger generations may be more eager to fight. The emergence of a fight-for-right mentality can lead to both internal and external conflicts. It is important to recognize that human nature has not changed over time, and the only things that seem to change are the external factors, such as technology and fashion.
Dive Deeper: Source Material
---
4. Empathy and understanding in geopolitics prevent misunderstandings.
The ability to understand and respect the perspectives of others, especially in geopolitical negotiations, is crucial. This skill, often referred to as 'empathy', allows for meaningful connections and the prevention of misunderstandings. It's important to approach different cultures with mutual understanding and not be afraid to ask questions and seek knowledge. This understanding can be achieved by considering the concerns, hopes, dreams, and fears of others. It's also crucial to follow government guidance and rely on their expertise, especially in situations of conflict. Respecting the rights and basic humanity of others, even in the context of international relations, is a complex issue that requires understanding and respect for different perspectives.
Dive Deeper: Source Material
---
5. Bitcoin, a money alternative, operates in a world of competing monies.
Bitcoin, as an alternative money, operates in a world where fiat money is losing value. It's part of a competition of monies, including central bank crypto monies and NFTs. However, it's uncertain if Bitcoin will surpass gold in value. The value of Bitcoin compared to gold is currently around 20%. Elon Musk's interest in space exploration, symbolized by his desire to put a literal doge coin on the moon and Mars, is seen as cute and symbolic. The focus should be on what's behind the idea and what's next. Humor and heartiness play a role in captivating people with ideas. Taking things too seriously can slow down progress. Writing ideas down is important, as it helps to clarify and solidify them.
Dive Deeper: Source Material
---
6. Understanding oneself, working with others, and adapting to change are keys to personal growth.
The essence of personal growth and success lies in understanding oneself, following one's passion, and working with others who complement one's strengths and weaknesses. This journey involves setting priorities, identifying and understanding problems, designing solutions, and implementing them. The force of evolution, driven by man's capacity to adapt and invent, is constantly improving society, including life expectancy and health. The greatest power of evolution is man's ability to invent and adapt, giving us hope for the future. Effective decision-making is aided by having principles, which serve as a recipe for decision-making, outlining the criteria and criteria for future decisions.
Dive Deeper: Source Material
---
---
💡 Actionable Wisdom
Transformative tips to apply and remember.
Take the time to understand the perspectives of others and practice empathy in your daily interactions. This will not only help prevent misunderstandings but also foster meaningful connections. Additionally, prioritize self-awareness and follow your passion in your personal growth journey. Remember to embrace the power of ideas, even if they are presented in a lighthearted or humorous manner. Write down your ideas and take action to bring them to life.
---
📽️ Source & Acknowledgment
This post summarizes Lex Fridman's YouTube video titled "Ray Dalio: Money, Power, and the Collapse of Empires | Lex Fridman Podcast #251". All credit goes to the original creator. Wisdom In a Nutshell aims to provide you with key insights from top self-improvement videos, fostering personal growth. We strongly encourage you to watch the full video for a deeper understanding and to support the creator.
---