Lex Fridman
Richard Craib: WallStreetBets, Numerai, and the Future of Stock Trading | Lex Fridman Podcast #159
Insights from Various Topics.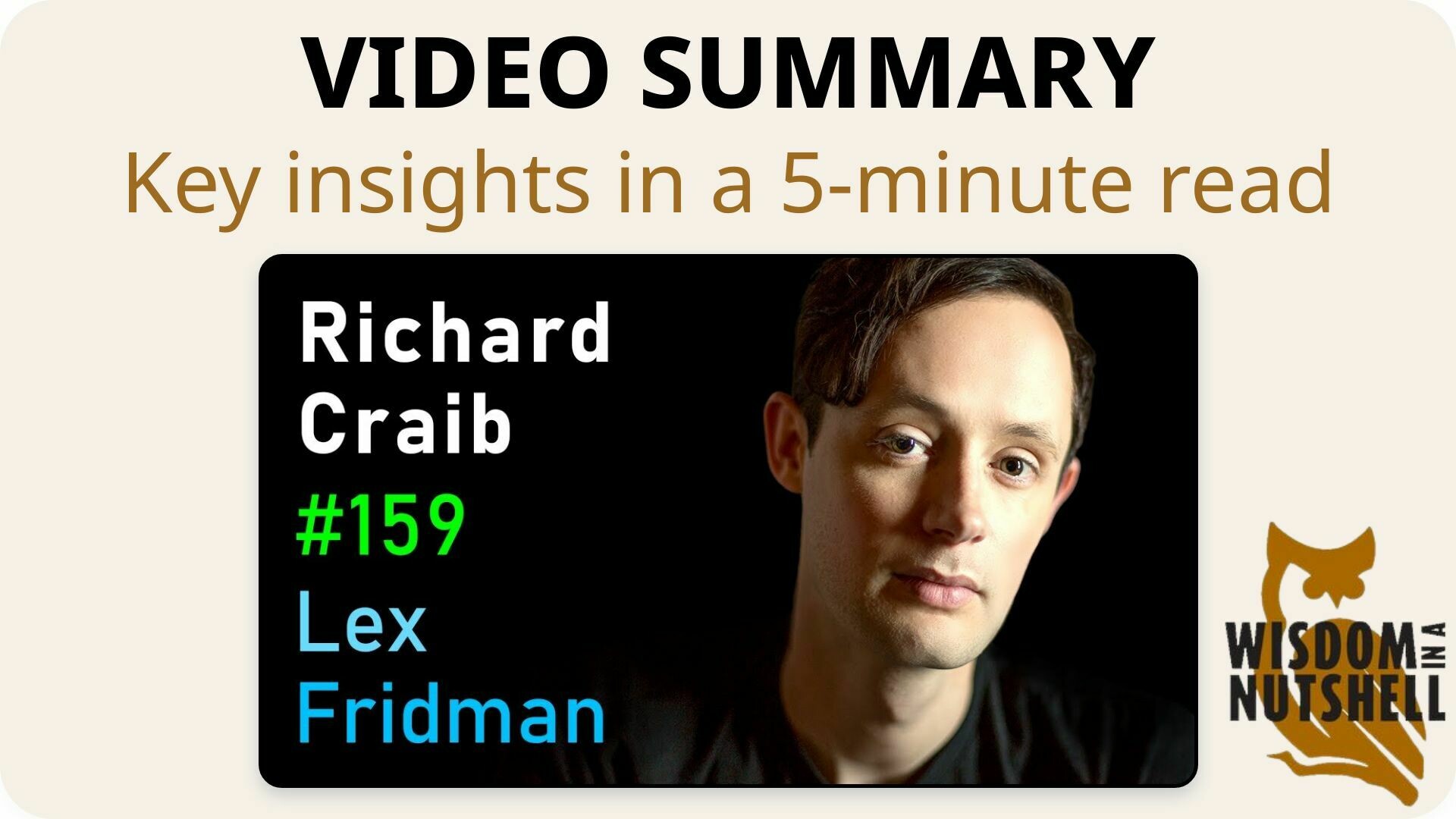 🌰 Wisdom in a Nutshell
Essential insights distilled from the video.
---
---
📚 Introduction
In this blog post, we will explore a variety of topics, ranging from the power of decentralized coordination in the stock market to the meaning of life. Each topic offers unique insights and perspectives that can inspire and educate readers. We will delve into the world of finance, cryptocurrency, startup culture, and personal growth. Get ready to uncover wisdom and actionable tips that can be applied to your daily life.
---
🔍 Wisdom Unpacked
Delving deeper into the key ideas.
1. Decentralized coordination and chill shorting can impact stock markets.
The recent Wall Street Bets subreddit and GameStop saga have highlighted the power of decentralized coordination and collaboration among users. This has led to significant impacts, such as the short-squeezing of hedge funds, which can be seen as a symbol of people coming together to fight against centralized elites. However, it's important to note that there are two types of shorting: evil shorting, which aims to bring a company down, and chill shorting, which balances out long positions and increases exposure to companies believed in. The Robinhood platform's restrictions on certain stocks have also caused controversy, with some questioning the necessity of these restrictions. Overall, these events demonstrate the importance of efficient mechanisms to punish overhyped and overvalued stocks, and the role of hedge funds in providing liquidity in the stock market.
Dive Deeper: Source Material
---
2. Boldness, vision, authenticity, and transparency are key to startup success.
The journey of building a successful startup or company involves boldness, vision, and authenticity. It's crucial to surround yourself with like-minded individuals and not settle for mediocrity. The impact of your company's mission should be considered, and investors can provide support and encouragement. However, it's important to be mindful of the influence of your actions and not manipulate others. When faced with difficult decisions, transparency and honesty are key. It's also essential to embrace risk and be real, rather than constantly minimizing risk and being overly polite.
Dive Deeper: Source Material
---
3. Numeri hedge fund leverages data and community to make algorithmic investment decisions.
Numeri, a hedge fund, provides high-quality data to attract talented traders and make short-term predictions about the stock market. The data is anonymized and given away to attract people to build algorithms and make investing decisions. The ensemble of models is weighted by the users' stake in the cryptocurrency. The competition is a way to invest algorithmically and put skin in the game. Neural networks and tree models like XGBoost work well on this type of data. The vision for the signal side is to manage all the money in the world by having all the data and talent. Signals is a platform that allows people to turn any data into a signal and give it to Numeri. The data provided by signals is focused on shorter-term situations, while Numeri focuses on a 30-day time horizon. The goal is to free up talent currently wasted on multiple hedge funds and have them work on Numeri's mission.
Dive Deeper: Source Material
---
4. Trading stocks involves gambling math, independent bets, and investing in companies.
Trading stocks involves a combination of gambling and investing, with aspects of gambling math and independent bets. The market should reflect the underlying value of companies, and manipulation by hedge funds is not ideal. Derivatives like options and shorting can be seen as games on top of the basic stock market. Some disliked financial instruments from the past, like credit default swaps and collateralized debt obligations, have contributed to market instability. Numeri, a fund, does not use derivatives unless shorting is considered a derivative. They do invest in companies, even if it is in a small way, which can contribute to their success.
Dive Deeper: Source Material
---
5. Cryptocurrency is a new way of thinking about money, enabling innovation and privacy.
Cryptocurrency represents a new way of thinking about money, not just as a store of wealth but as a mechanism of exchanging wealth and a contract between human beings. It enables innovation and empowers risk takers and builders, making the world better. The competition between Bitcoin and Ethereum is ongoing, with Ethereum offering intriguing possibilities like smart contracts. Privacy is a concern in cryptocurrency, but Zcash offers privacy features, allowing for private transactions. It's exciting to speculate about the potential games being played with Zcash.
Dive Deeper: Source Material
---
6. Balancing humor and sincerity is key in internet discourse.
The success of Dogecoin can be attributed to its ability to spread through memes and jokes, making it a powerful force in internet discourse. However, this can also lead to a lack of seriousness and potentially destroy the world. It's crucial to strike a balance between humor and sincerity, as seen in the example of Elon Musk. While investing in Dogecoin is popular, it's important to consider other options as well.
Dive Deeper: Source Material
---
7. Embrace big thinking and navigate life with a clear device.
The book 'Zero to One' by Peter Thiel encourages thinking big and offers peculiar insights. 'The Beginning of Infinity' by David Deutsch provides a hopeful perspective on science and problem-solving. For young people, it's crucial to have a device for navigating life, whether they start a startup or not.
Dive Deeper: Source Material
---
8. Starting a company requires passion, time, and balance.
Starting a company should be a lifelong commitment, not a quick venture. It requires deep passion and significant time investment. Working at a company in your passion space can provide valuable education and lessons while paying you. However, it's crucial to maintain a balance between work and personal life to avoid getting stuck in a routine. Learning about intersections of topics, such as crypto, quant finance, and machine learning, can be beneficial.
Dive Deeper: Source Material
---
9. The meaning of life is a journey, not a definitive answer.
The question of the meaning of life is often asked, but it may not have a definitive answer. However, searching for the meaning can be a useful exercise that helps us appreciate the busy and mundane aspects of our lives. It allows us to zoom out and think about the bigger picture. While it may be impossible for our limited cognitive capacity to fully grasp, it's fun to listen to successful and busy individuals who have pondered this question. Sometimes, experiencing something like COVID can shock us into a new energy and ambition, reminding us of our mortality and motivating us to create something special in this world.
Dive Deeper: Source Material
---
---
💡 Actionable Wisdom
Transformative tips to apply and remember.
Embrace transparency, honesty, and authenticity in your daily life. Surround yourself with like-minded individuals who support your vision and mission. Take calculated risks and think big in your endeavors. Remember to maintain a balance between work and personal life, and always strive to find meaning in the busyness of life. These principles can guide you towards personal growth and success.
---
📽️ Source & Acknowledgment
This post summarizes Lex Fridman's YouTube video titled "Richard Craib: WallStreetBets, Numerai, and the Future of Stock Trading | Lex Fridman Podcast #159". All credit goes to the original creator. Wisdom In a Nutshell aims to provide you with key insights from top self-improvement videos, fostering personal growth. We strongly encourage you to watch the full video for a deeper understanding and to support the creator.
---