Lex Fridman
Robert Langer: Edison of Medicine | Lex Fridman Podcast #105
Insights from Various Topics in Science and Medicine.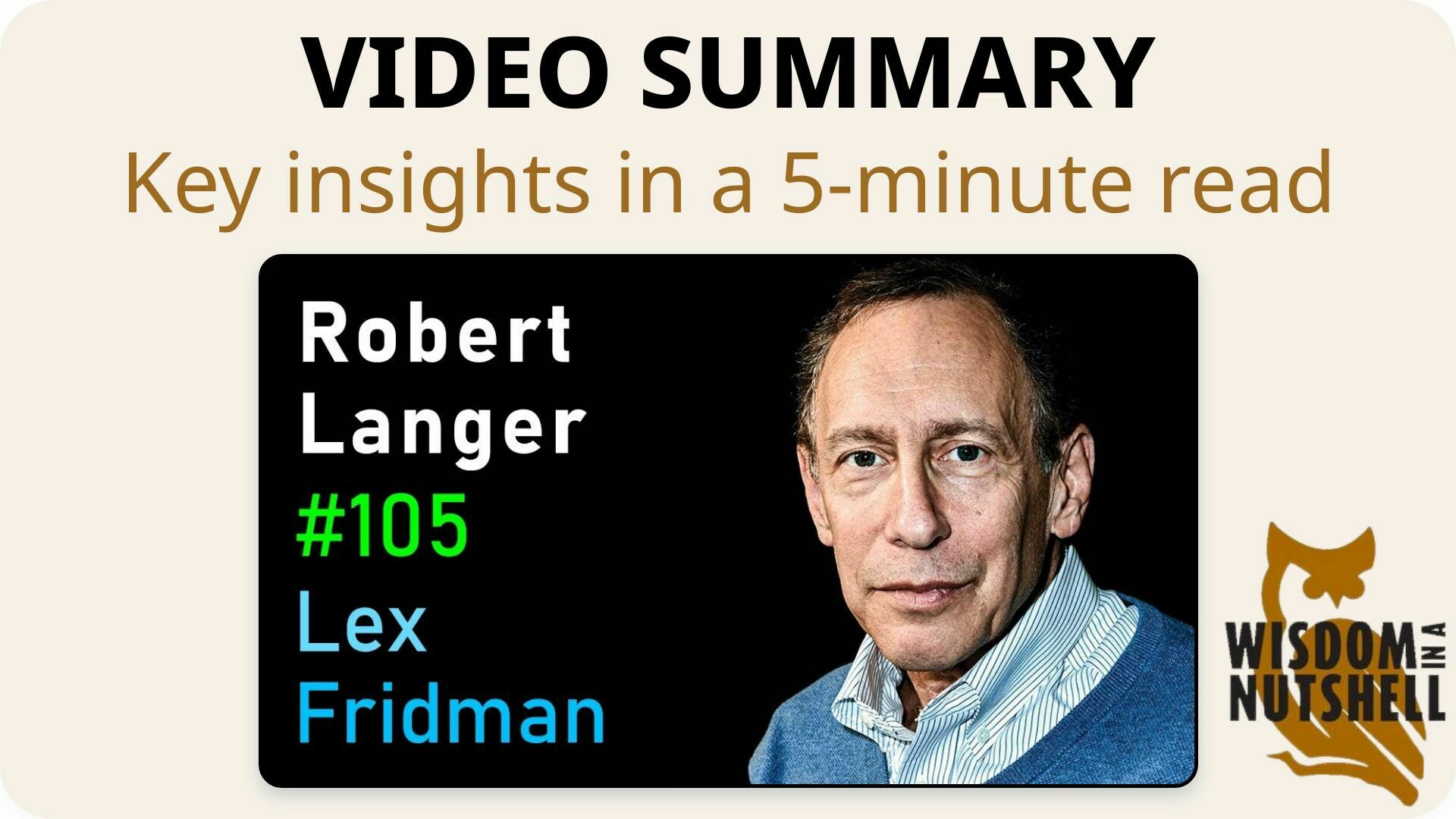 🌰 Wisdom in a Nutshell
Essential insights distilled from the video.
---
---
📚 Introduction
In this blog post, we will explore a variety of topics in science and medicine, including the pursuit of greatness, the connection between magic and science, the intersection of engineering and AI, the process of drug discovery and delivery, tissue engineering and regenerative medicine, the future of science, and the process of building a successful startup in medicine. Each topic provides unique insights and highlights the importance of innovation and collaboration in advancing our understanding and improving human health.
---
🔍 Wisdom Unpacked
Delving deeper into the key ideas.
1. Perseverance, feedback, and engineering-AI intersections can lead to greatness.
The pursuit of greatness often involves failure and setbacks, but perseverance and incorporating feedback can lead to success. The connection between magic and science lies in their ability to surprise and fascinate, with the process of making discoveries being a form of magic. The speaker is proud of their students who have achieved great success in science and engineering, and sees their accomplishments as a positive impact on society. The intersection of engineering and AI can lead to unique creations, like the perfect cookie.
Dive Deeper: Source Material
---
2. Drug discovery and delivery involve a mix of science and serendipity.
The process of drug discovery and delivery is complex, involving a mix of serendipity and systematic science. It involves understanding mechanisms, inventing technologies, and controlling delivery. The journey from initial thought to practical implementation can take time. The process of seeking out ideas is more spontaneous than systematic, and exposure to different people and experiences can help spot potential ideas with broad implications. Understanding something deeply can also lead to new technologies or discoveries. Tissue engineering and regenerative medicine hold promise for regenerating organs and improving human longevity. CRISPR, a fascinating concept, involves understanding how bacteria destroy viruses and using that knowledge to create machinery that can cut and paste genes. While the human body is complex, there are companies and individuals working on this technology. Medicine has historically progressed through stepwise advancements, with big leaps happening every decade or so.
Dive Deeper: Source Material
This summary was generated from the following video segments. Dive deeper into the source material with direct links to specific video segments and their transcriptions.
| Segment | Video Link | Transcript Link |
| --- | --- | --- |
| How to come up with big ideas in science | 🎥 | 📄 |
| How to make a new drug | 🎥 | 📄 |
| Drug delivery | 🎥 | 📄 |
| Tissue engineering | 🎥 | 📄 |
| Beautiful idea in bioengineering | 🎥 | 📄 |
---
3. Successful startup in medicine requires scientific and business acumen.
The process of building a successful startup in the field of medicine involves a combination of scientific and business components. Scientifically, it is crucial to make a discovery that can be used for various applications, such as a drug delivery system, and document it in a top journal. This discovery should be validated in animal models and protected by patents with broad claims. It is also important to have a passionate team member who wants to see their work make a difference in people's lives. From a business perspective, it is essential to be a good judge of people, strategic in choosing the first application, and have a good FDA regulatory clinical trial strategy. Additionally, raising money and managing people effectively are important. There are several criteria to consider when deciding which application to pursue, such as market size, animal models, clinical trial endpoints, competition, reimbursement, and manufacturing issues.
Dive Deeper: Source Material
---
4. Funding, support, and diverse expertise are key to scientific progress.
The future of science is uncertain, with both academia and industry offering benefits. Funding is a major concern, especially for basic research. To inspire researchers, it's important to provide support and guidance, share ideas and progress, and encourage perseverance. The academic system has limitations, and there is a need for people who are brilliant but outside the traditional disciplines. Institutes and labs that have a vision can hire individuals with diverse backgrounds and expertise. Curing cancer is a grand challenge that may take time, but it will require a combination of biology and engineering. Understanding genetic and immunological mechanisms, along with developing targeted delivery systems, will be crucial in finding a cure.
Dive Deeper: Source Material
---
---
💡 Actionable Wisdom
Transformative tips to apply and remember.
Embrace failure and setbacks as opportunities for growth and persevere in your pursuit of greatness. Seek out diverse experiences and perspectives to spark new ideas and innovations. If you have a scientific discovery with potential applications, consider the business aspects and protect your intellectual property. Be strategic in your decision-making and surround yourself with a passionate and talented team. Stay informed about the latest advancements in your field and collaborate with others to tackle grand challenges.
---
📽️ Source & Acknowledgment
This post summarizes Lex Fridman's YouTube video titled "Robert Langer: Edison of Medicine | Lex Fridman Podcast #105". All credit goes to the original creator. Wisdom In a Nutshell aims to provide you with key insights from top self-improvement videos, fostering personal growth. We strongly encourage you to watch the full video for a deeper understanding and to support the creator.
---