Lex Fridman
Russ Tedrake: Underactuated Robotics, Control, Dynamics and Touch | Lex Fridman Podcast #114
Insights from the World of Robotics.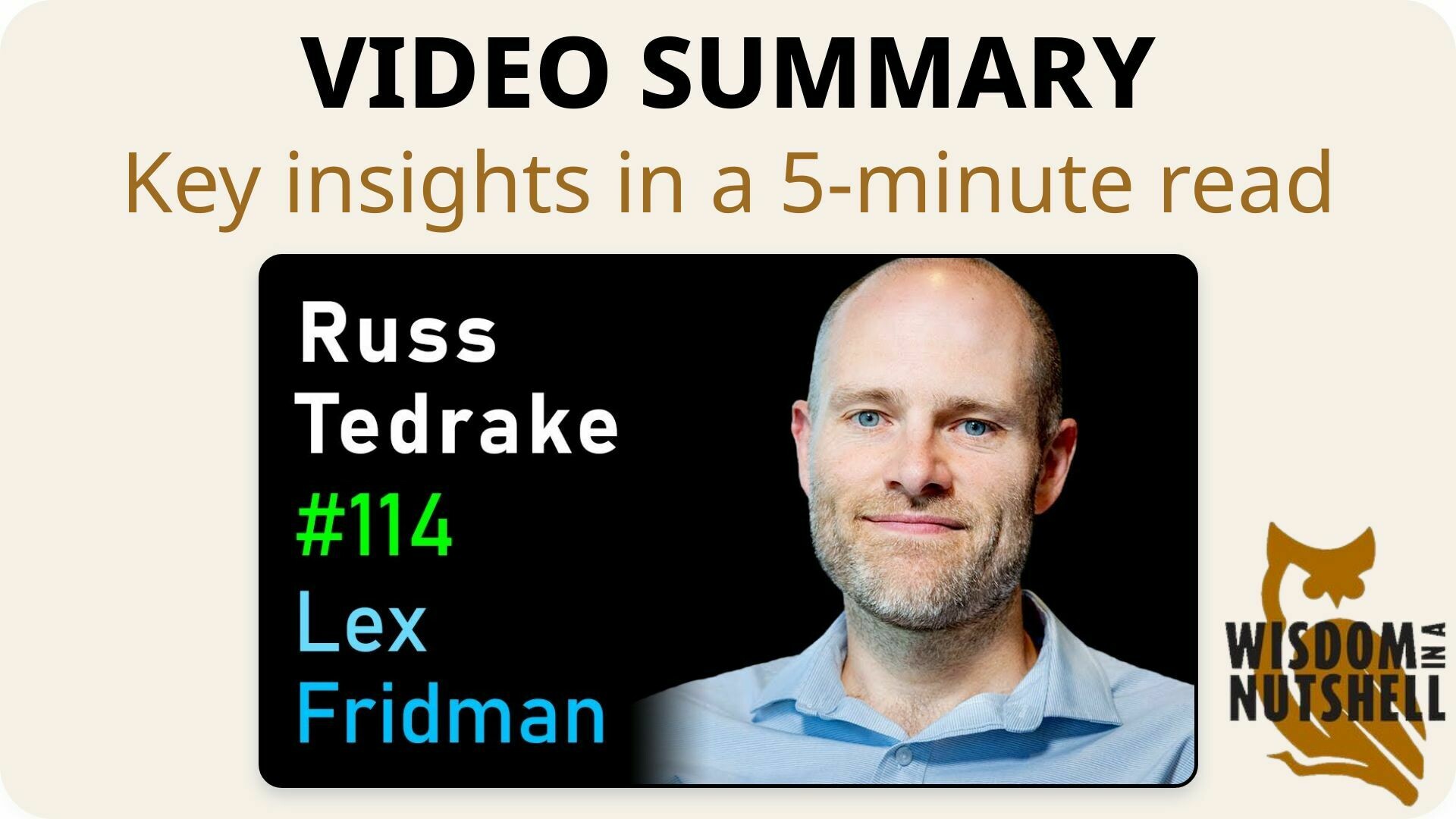 🌰 Wisdom in a Nutshell
Essential insights distilled from the video.
---
---
📚 Introduction
Robots have come a long way in terms of efficiency, aesthetics, and functionality. From passive dynamic walkers to humanoid robots, the field of robotics has seen remarkable advancements. In this blog post, we will explore the fascinating world of robotics and uncover valuable insights about control, mechanics, learning, testing, and the future of robots. Join us on this journey as we delve into the intricacies of robotics and discover the potential it holds for shaping our future.
---
🔍 Wisdom Unpacked
Delving deeper into the key ideas.
1. Passive dynamic robots, powered by gravity, are efficient and aesthetically pleasing.
The most efficient and aesthetically pleasing robots are those that use passive dynamics, powered only by gravity, such as the 3D walking machine built by Steve Collins and Andy Ruina at Cornell. These machines, like the passive dynamic walkers, work by using a rimless wheel with spokes that lose energy when they hit the ground and gain energy when they take a step forward. By adding hinges and arms, they can resemble a human walking. Designing such a robot is a combination of science and art, with finesse and tricks required to make it work. While other robots like Honda's Asimo have been impressive, they are not energy efficient. The passive dynamic walkers show that control doesn't always have to be the focus, and letting physics do most of the work can be more efficient.
Dive Deeper: Source Material
---
2. Evolution of two-footed movement and efficient animal movement.
The evolution of walking on two feet, unique among mammals, allowed for the carrying of resources back to communities. However, making evolutionary arguments can be flawed due to limited information about our ancestors. Running barefoot, with its immediate feedback on technique and protection against long-term injuries, is recommended. Animals have evolved to move efficiently, with examples like rainbow trout surfing between vortices behind rocks. This highlights the efficiency of animal movement and its adaptation to unusual situations. Building robots on two feet can be challenging but also important for working in our current world.
Dive Deeper: Source Material
---
3. Control and mechanics are distinct, evolving in biological systems.
Control and mechanics, often confused, have distinct roles. In a robot, motors provide active work, while springs and dampers contribute to passive dynamics. The controller's job is to send commands to the motor to add new energy. In nature, both dynamics and control are important. Biological systems, including our bodies, have evolving mechanics. For example, when a finger is lost, the body adapts by remodeling the bone to address the new circumstances. It's not just our brain that adapts or evolves.
Dive Deeper: Source Material
---
4. Critical thinking, understanding complex systems, and enjoying learning are keys to success.
The essence of success lies in developing critical thinking skills, understanding complex systems, and enjoying the journey of learning. Starting math early can be a great way to develop these skills. The power of clear thinking in robotics is often underestimated, and it's important to balance the use of deep learning with rigorous thinking. Rigorous thinking involves understanding the fundamentals, mechanics, and physics of a problem. It's also important to stop and think about why things work, as the world can be overwhelming with distractions. Personal experiences and books can provide valuable insights and inspiration. However, the internet can make it difficult to master an idea.
Dive Deeper: Source Material
This summary was generated from the following video segments. Dive deeper into the source material with direct links to specific video segments and their transcriptions.
| Segment | Video Link | Transcript Link |
| --- | --- | --- |
| Think rigorously with machine learning | 🎥 | 📄 |
| Book recommendations | 🎥 | 📄 |
| Advice to young people | 🎥 | 📄 |
| Meaning of life | 🎥 | 📄 |
---
5. DARPA Robotics Challenge taught the importance of testing and robustness in complex systems.
The DARPA Robotics Challenge, a competition for humanoid robots, tested their algorithms and software engineering skills in disaster response scenarios. The challenge required semi-autonomous robots that could operate with a degraded network link. The virtual robotics challenge was particularly challenging, as the simulator had to run at real-time rates. The team had to write a new solver for the optimization problem to make the robot run faster. Despite the challenges, the experience was invigorating and fulfilling. The DARPA challenge taught the importance of testing and the need for robustness in complex systems. Testing involves unit tests, integration tests, and system-level tests. The team encountered challenges with the robot's size and mechanisms to prevent stupid actions by the controller.
Dive Deeper: Source Material
---
6. Robot martial arts competitions face challenges in decision-making and adaptability.
The challenge of robots competing against humans in martial arts lies in their ability to make quick decisions based on models, which is difficult due to the complexity of the learning process. This process involves a combination of intellectual understanding and body learning, which is not easily replicable by deep learning models. The hierarchy of control systems, with reflexes at the bottom layer and a system capable of planning complex outcomes, is crucial. The ability to be flexible with our models and adapt to familiar and unfamiliar territory is also important. Motivations such as fear of injury, ambition, and fear of mortality play a role in the learning process. While there are organizations promoting robotic competitions, it's difficult to say which problem is technically harder or which will be solved first.
Dive Deeper: Source Material
---
7. Robots are not inherently dangerous, but their interaction with humans is crucial for development.
The fear of robots is often fueled by cultural influences and media portrayals, but it's important to recognize that robots are not inherently dangerous. The future of robots in our homes is likely to involve robots with actuators that resemble arms and humanoid-like robots, with a focus on helping people age in place. The interaction between humans and robots is a learning process for both parties. Touch is important for robots to interact safely and meaningfully with humans, making them more approachable and relatable. The emotional connection with robots can be strong, similar to the attachment to a science project. These early days of robotics are filled with failure, but they are crucial for the development of the field in the coming 100 years.
Dive Deeper: Source Material
---
8. Robotics control problems are complex, contact challenging, and require robust solutions.
Robotics, a combination of computation and mechanical work, is often associated with automation and problem-solving. However, control problems in robotics, especially when interacting with the world, are complex and challenging. Contact, a crucial aspect of robotics, is difficult to handle due to discontinuous changes when objects touch or break contact. The rigid body assumption of contact creates paradoxes and makes it difficult to write control laws. Robust control is one approach to handle uncertainty. Simulating contact accurately is a challenge, but the governing equations are known. Creating a simulation environment for difficult control problems requires a team of people and a combination of optimization libraries, system modeling languages, and physics simulations. Active experiment design and rare event simulation are important techniques for exploring and understanding the corner cases of a system. Fleet learning, where multiple robots collectively gather data and improve their processes, is a promising concept.
Dive Deeper: Source Material
---
9. Soft robotics enhances robot performance with distributed load and tactile sensing.
Soft robotics, a field that focuses on changing the mechanics of contact, allows for distributed load and torsional friction, making it easier to handle delicate objects. It also embeds sensors, providing valuable tactile information for manipulation tasks. This information, crucial for tasks like grasping objects, helps overcome the limitations of head-mounted sensors. Soft robotics and tactile sensing go hand in hand, enhancing the performance of robots.
Dive Deeper: Source Material
---
10. Under actuated robotics leverages physics and optimization for control.
Under actuated robotics, a field that involves using fewer actuators than degrees of freedom, aims to leverage physics and optimization techniques for control. This approach is useful in solving complex manipulation tasks like tying shoelaces or buttoning a shirt. Under actuated systems are prevalent and understanding them can help in solving these problems. Perception systems can enhance the control of under actuated robots, but the state representation needs to be more compressed and easier to understand.
Dive Deeper: Source Material
---
---
💡 Actionable Wisdom
Transformative tips to apply and remember.
Embrace the power of clear thinking and rigorous learning in your daily life. Take the time to understand the fundamentals of a problem and question why things work. Balance the use of technology with critical thinking skills. Seek inspiration from personal experiences and books, and be open to the possibility of failure as a stepping stone towards success. Remember, the journey of learning is as important as the destination.
---
📽️ Source & Acknowledgment
This post summarizes Lex Fridman's YouTube video titled "Russ Tedrake: Underactuated Robotics, Control, Dynamics and Touch | Lex Fridman Podcast #114". All credit goes to the original creator. Wisdom In a Nutshell aims to provide you with key insights from top self-improvement videos, fostering personal growth. We strongly encourage you to watch the full video for a deeper understanding and to support the creator.
---