Lex Fridman
RZA: Wu-Tang Clan, Kung Fu, Chess, God, Life, and Death | Lex Fridman Podcast #228
Exploring the Essence of Life and Art.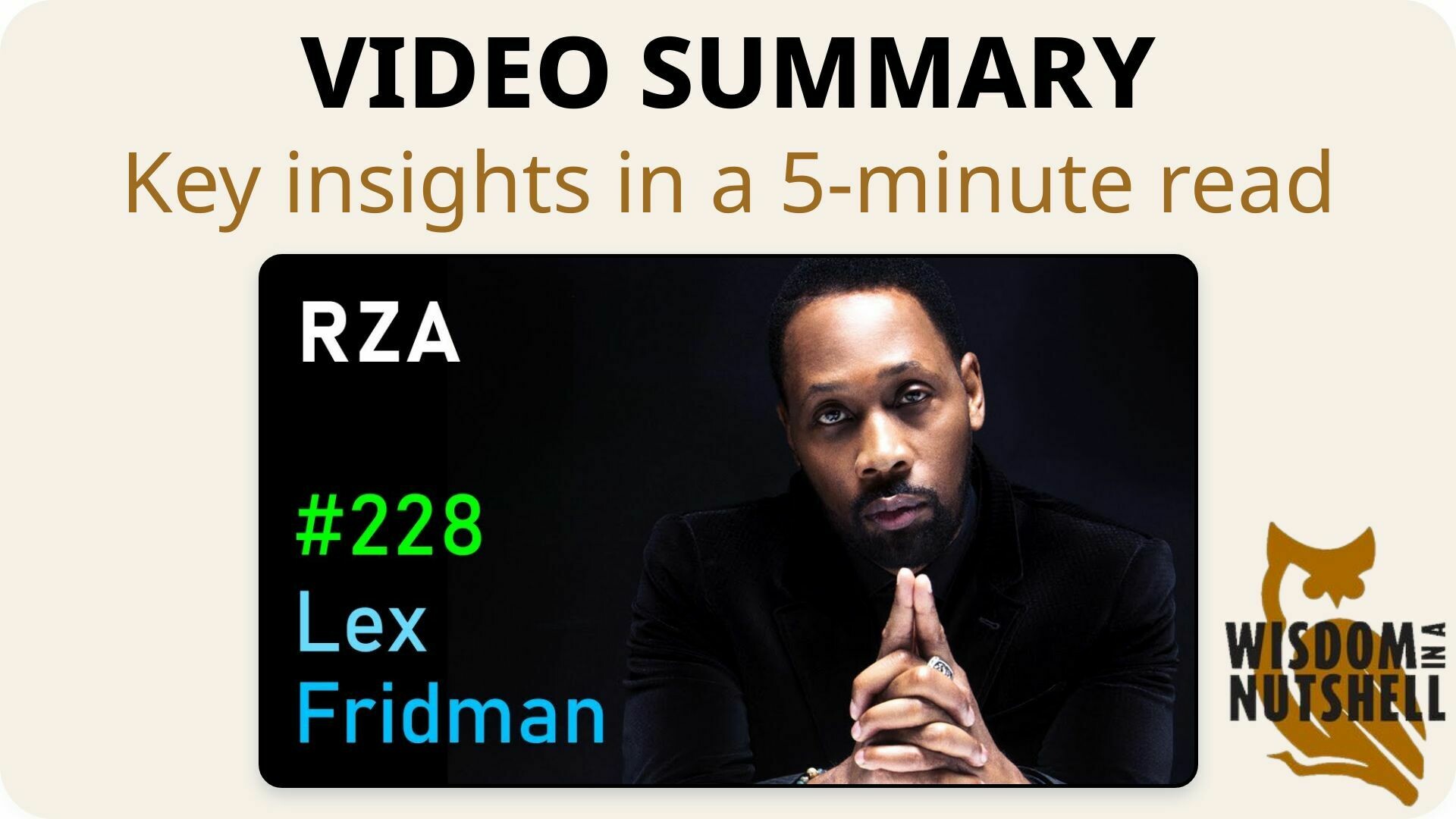 🌰 Wisdom in a Nutshell
Essential insights distilled from the video.
---
---
📚 Introduction
In this blog post, we delve into the profound insights shared in a series of videos that explore the essence of life, creativity, personal growth, and the art of hip-hop. From the power of consciousness and the weight of hate to the wisdom of Kung Fu movies and the impact of influential figures in hip-hop, there is much to learn and reflect upon. Join us on this journey of discovery and inspiration.
---
🔍 Wisdom Unpacked
Delving deeper into the key ideas.
1. Life is about harmony, creativity, and consciousness; death is a reminder of life's value.
The essence of life is about being in harmony with oneself and the world, and about stimulating light and matter. It's about giving life back and making it meaningful. This is reflected in the creative process, where the artist's role is to breathe in and translate inspiration into their work. The origin of creativity is believed to come from life itself. The concept of consciousness is still in its infancy, and we know little about human psychology and biology. The weight of hate can be measured, but we're still in the dark ages of understanding it. Uncertainty is a key aspect of quantum computers and chess, and it adds excitement and challenge to life. The fear of death is natural, but it's not something to be afraid of. The memory of loved ones can be kept alive by celebrating their achievements and keeping their legacy alive.
Dive Deeper: Source Material
---
2. Embrace life, learn from mentors, and cultivate humility for personal growth.
The essence of personal growth lies in embracing life, appreciating the present moment, and learning from mentors. Quincy Jones, a legendary music producer, taught the importance of kindness, generosity, and finding peace at home. Working with Quentin Tarantino, a master filmmaker, provided valuable insights into filmmaking and life. He shared his vast knowledge of cinema, including actors, directors, cinematographers, and costume designers. The speaker also learned the value of humility and the importance of continuous learning, even in areas of expertise.
Dive Deeper: Source Material
---
3. Kung Fu movies offer wisdom, adaptability, and inspiration for life.
Kung Fu movies, like 'Master Killer' and 'Master of the Flying Guillotine', offer wisdom and insights that can be applied to life. They showcase the beauty of art under pressure and the importance of adapting one's mindset in combat. The five animal techniques in Hung Ga, such as the tiger, crane, leopard, snake, and dragon, can be used as a metaphor for adapting one's mindset in combat. Bruce Lee, a minor prophet in martial arts, brought a shift in thinking and philosophy, striving to be the best version of himself. His movies, like 'Fist of Fury' and 'Enter the Dragon', showcase his physicality and surreal movements. The mix of real and surreal elements in martial arts, like in movies, inspires us to create in the real world. Science fiction, like in movies, can lead to real-world innovations. The concept of the flying guillotine in movies challenges us to think about how to overcome it. The question of good versus evil is explored through the characters in these movies.
Dive Deeper: Source Material
---
4. Hip-hop's power lies in its emotional impact and masterful lyrics.
The art of hip-hop is characterized by the unique qualities of influential figures like Tupac and Biggie. Biggie's ability to make a record sound like a record immediately, and his lyrical skills, were exceptional. The power of hip-hop lies in its ability to touch our emotions, arouse the rebel in us, and inspire change. The greatest rappers in hip-hop history include Rakim, Grandmaster Cass, Nas, and Bobby Fisher, known for their mastery of lyrics and their ability to convey deep messages.
Dive Deeper: Source Material
---
5. Songs explore God, emphasizing humility and guidance.
The concept of God is explored in various songs, with a distinction made between the father of the universe and the concept of God. The word Allah is believed to be the proper name of God, connected to the number seven. The Oracle, a source of guidance, is discussed, with the Holy Quran considered a powerful book. It's important to be humble in the face of God's magnitude and omnipotence, recognizing that we can never fully grasp the concept. The lyrics of songs like Sun Shower and Tomorrow provide guidance on character integrity and how to navigate the world, ultimately connecting to God.
Dive Deeper: Source Material
---
6. Wu-Tang's legacy: artistic excellence, technological innovation, and preservation of ideas.
Wu-Tang, a groundbreaking musical group, has left a lasting impact on the world, representing a flourishing period of artistic and philosophical excellence. Their legacy, which includes technological and musical achievements, will continue to evolve alongside technology. The group's wisdom, strength, and beauty are what make them truly great, and their influence will inspire future generations. Their mission is to strive for the preservation and flourishing of ideas, such as freedom, which are embodied in the founding documents of our country.
Dive Deeper: Source Material
---
7. The Godfather's themes reflect family dynamics, while 'American Gangster' highlights filmmaking skills.
The movie 'The Godfather' explores themes of family, justice, and power, reflecting the dynamics of the speaker's own family. It teaches the importance of planning ahead, making tough decisions, and the need for family to expand and spread. The film 'American Gangster' was a meaningful experience for the actor, providing a high-level education in filmmaking. The actor learned about multi-vision, where the director can see multiple aspects of a scene, and the importance of the editing process, where the editor is like a decipher, breaking down the film and telling the story.
Dive Deeper: Source Material
---
---
💡 Actionable Wisdom
Transformative tips to apply and remember.
Embrace the present moment, learn from mentors, and strive to be the best version of yourself. Whether it's in art, personal growth, or navigating life's challenges, continuous learning and self-improvement are key. Take inspiration from the wisdom of Kung Fu movies and the transformative power of hip-hop. Let creativity and passion guide you on your journey.
---
📽️ Source & Acknowledgment
This post summarizes Lex Fridman's YouTube video titled "RZA: Wu-Tang Clan, Kung Fu, Chess, God, Life, and Death | Lex Fridman Podcast #228". All credit goes to the original creator. Wisdom In a Nutshell aims to provide you with key insights from top self-improvement videos, fostering personal growth. We strongly encourage you to watch the full video for a deeper understanding and to support the creator.
---