Lex Fridman
Sam Altman: OpenAI CEO on GPT-4, ChatGPT, and the Future of AI | Lex Fridman Podcast #367
Insights on Artificial General Intelligence and Language Models.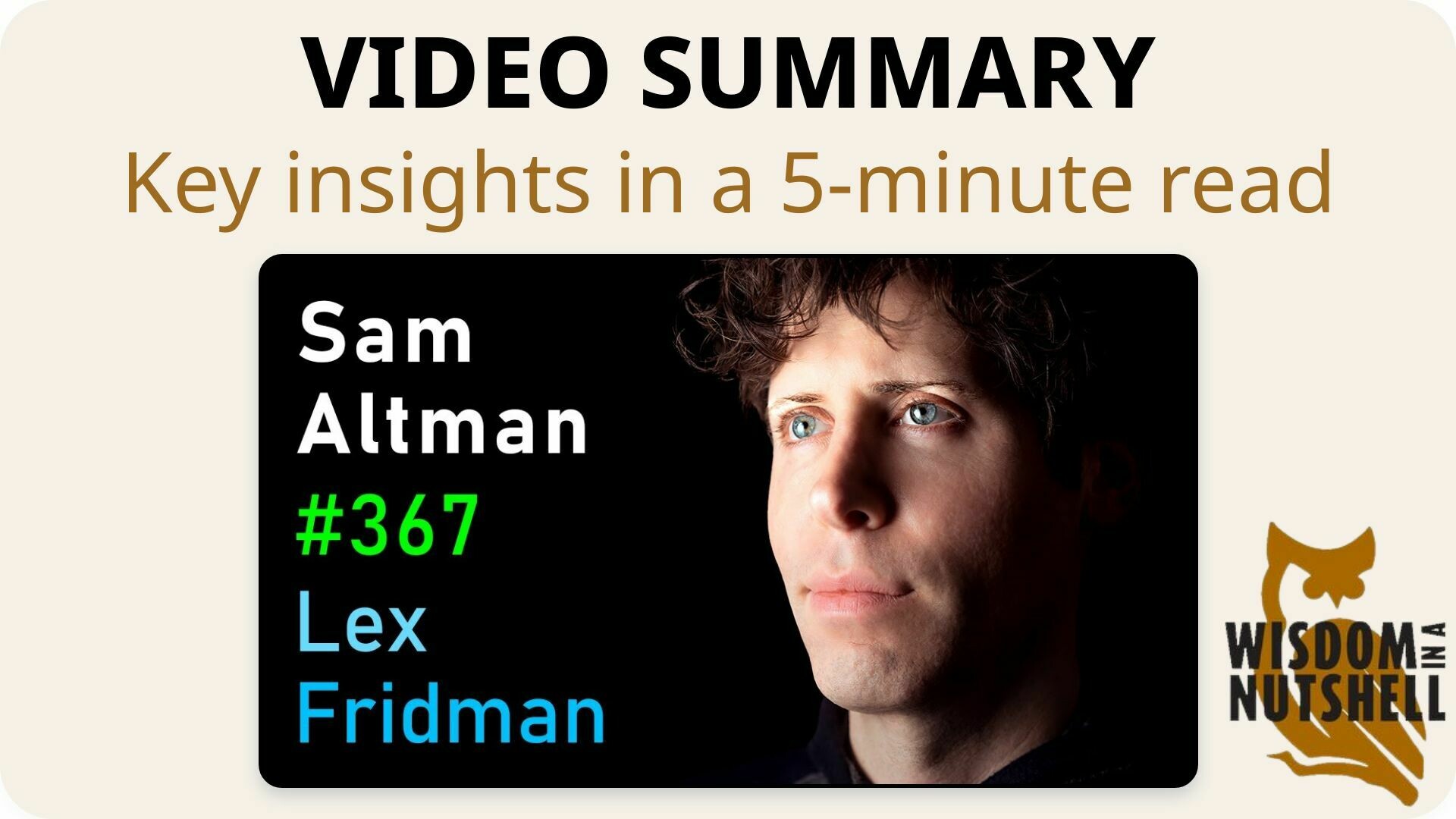 🌰 Wisdom in a Nutshell
Essential insights distilled from the video.
---
---
📚 Introduction
Artificial General Intelligence (AGI) and language models like GPT have the potential to revolutionize the world, but they also come with significant risks. In this blog post, we will explore the development of AGI, the challenges in understanding language models, the importance of AI safety, and the impact of AI on society. We will also discuss the future of AI and the ethical considerations surrounding AI systems. Let's dive in!
---
🔍 Wisdom Unpacked
Delving deeper into the key ideas.
1. AGI development requires transparency, distributed power, and control.
The development of Artificial General Intelligence (AGI) is a collaborative effort, with a few individuals possessing a deep understanding of the technology. It's crucial to ensure that the power of AGI is distributed, not concentrated, and that the technology is transparent and accessible. OpenAI, a pioneer in AGI, has taken steps towards transparency and distributed access. The company's focus is on the technology's potential risks and benefits, rather than PR risks. The fear-mongering and clickbait journalism can be frustrating, but it's important to maintain resolve and continue pushing forward. The need for more control and steerability in the system is emphasized, and the potential for AGI to surpass human intelligence raises both exciting and terrifying possibilities.
Dive Deeper: Source Material
---
2. GPT's nuanced responses highlight AI safety considerations and the need for balance between capability progress and alignment.
The development of GPT, a language model, involves extensive data selection, human supervision, and incorporation of human feedback. It possesses reasoning capabilities and can interact with humans in a way that appears wise. However, it also highlights the challenges in understanding how to generate text of the same length and sequence of prompts. To address this, personalized control and granular options are needed. GPT's nuanced responses bring a breath of fresh air to discussions, but it also highlights the importance of addressing small issues that can aggregate to have a significant impact on the future. When it comes to AI safety considerations, it's important to have a balance between capability progress and alignment. OpenAI is working towards a democratic process where different countries and institutions can have different versions of the system. The size of neural networks, specifically the number of parameters, can impact their performance. OpenAI's approach of prioritizing performance over elegance has led to the development of large language models that can achieve general intelligence. When it comes to deciding what is true, it is important to have a benchmark for factual performance. OpenAI has a responsibility to minimize the harm caused by their tools and maximize the benefits.
Dive Deeper: Source Material
---
3. AGI represents human effort, potential for scientific breakthroughs, and AI safety concerns.
The emergence of AGI like GPT-567 represents a new level of accessibility and conversation with AI. It is a culmination of human effort and the output of all of us, the result of the discovery of the transistor and the work of millions of people. The AGI can potentially explain the physics of the universe and solve remaining mysteries, and guide us on how to detect and communicate with intelligent alien civilizations. However, there is a chance that AI could become super-intelligent and potentially harmful. It is important to acknowledge this possibility and work towards solving it. Iterative learning and testing are crucial for improving AI safety and alignment. The theory of AI safety should be updated regularly based on new technological advancements.
Dive Deeper: Source Material
---
4. Balance excitement with fear in LLM and AGI development.
The development of large language models (LLMs) and artificial general intelligence (AGI) poses significant risks, including disinformation, economic shocks, and geopolitical shifts. It's crucial to balance excitement with fear and take a cautious approach. This involves resisting market pressure, prioritizing safety, and considering multiple AGIs with different focuses. Open AI, for instance, has a unique structure that resists pressure and has been misunderstood in the past.
Dive Deeper: Source Material
---
5. Successful career and life require self-belief, risk-taking, and adaptability.
The recent SVB banking incident highlights the dangers of incentive misalignment and the need for institutions to adapt quickly. The shift towards AGI will bring rapid changes, and starting to deploy these systems early is crucial. To have a successful career and life, it's important to compound yourself, have self-belief, think independently, learn sales and quotes, take risks, focus, work hard, be bold, be willful, be hard to compete with, build a network, and own things. However, it's important to approach advice from others with caution and not blindly follow it. Instead, focus on what brings you happiness, fulfillment, and impact. Consider who you want to spend your time with and what you want to do. This aligns with the concept of free well-being and illusion discussed by Sam Harris.
Dive Deeper: Source Material
---
6. AI's impact on society requires careful consideration and collective intelligence.
The future of AI and its impact on society is a complex and multifaceted topic. As AI language models become more prevalent, there is a need to consider their potential impact on work and society. While AI may create new jobs, it is crucial to ensure that these jobs bring fulfillment and happiness. Universal Basic Income (UBI) can serve as a cushion during the transition and eliminate poverty. The economic and political systems will undergo significant transformations as AI becomes prevalent, potentially leading to a shift towards democratic socialism. The ability to self-determine and not need central planning is important. The collective intelligence and creativity of the world will surpass AI, and the use of AI has revealed the mostly good nature of human civilization. However, it is important to address potential misuse and ensure that AI systems are engineered with uncertainty and humility.
Dive Deeper: Source Material
---
7. AI systems are tools, not creatures, and their use should be transparent and not emotionally relied upon.
The use of pronouns like 'him' or 'her' when interacting with AI systems is a common practice, but it's important to remember that these systems are tools and not creatures. While it's okay to project creatureness onto a tool if it's done transparently, it's dangerous to rely on it emotionally. There are companies offering romantic companionship with AI systems, but personally, I'm not interested in that. However, I understand why others may be drawn to it. As AI systems evolve, there will be interesting possibilities for interactive companions and programming assistants. The style of conversation with these systems will matter, and we will likely want something different from the current GPT for.
Dive Deeper: Source Material
---
---
💡 Actionable Wisdom
Transformative tips to apply and remember.
As we navigate the world of AI, it's important to prioritize transparency, safety, and accessibility. Stay informed about the latest advancements and discussions in the field, and actively participate in shaping the future of AI. When interacting with AI systems, maintain a critical mindset and remember that they are tools, not creatures. Use AI technology to enhance your life and make a positive impact on society. By being conscious of the ethical considerations and potential risks, we can ensure that AI is developed and deployed responsibly.
---
📽️ Source & Acknowledgment
This post summarizes Lex Fridman's YouTube video titled "Sam Altman: OpenAI CEO on GPT-4, ChatGPT, and the Future of AI | Lex Fridman Podcast #367". All credit goes to the original creator. Wisdom In a Nutshell aims to provide you with key insights from top self-improvement videos, fostering personal growth. We strongly encourage you to watch the full video for a deeper understanding and to support the creator.
---