Lex Fridman
Sergey Nazarov: Chainlink, Smart Contracts, and Oracle Networks | Lex Fridman Podcast #181
Insights from Various Topics: Smart Contracts, Digital Worlds, Definitive Truth, DeFi, Transparency, and Cryptocurrencies.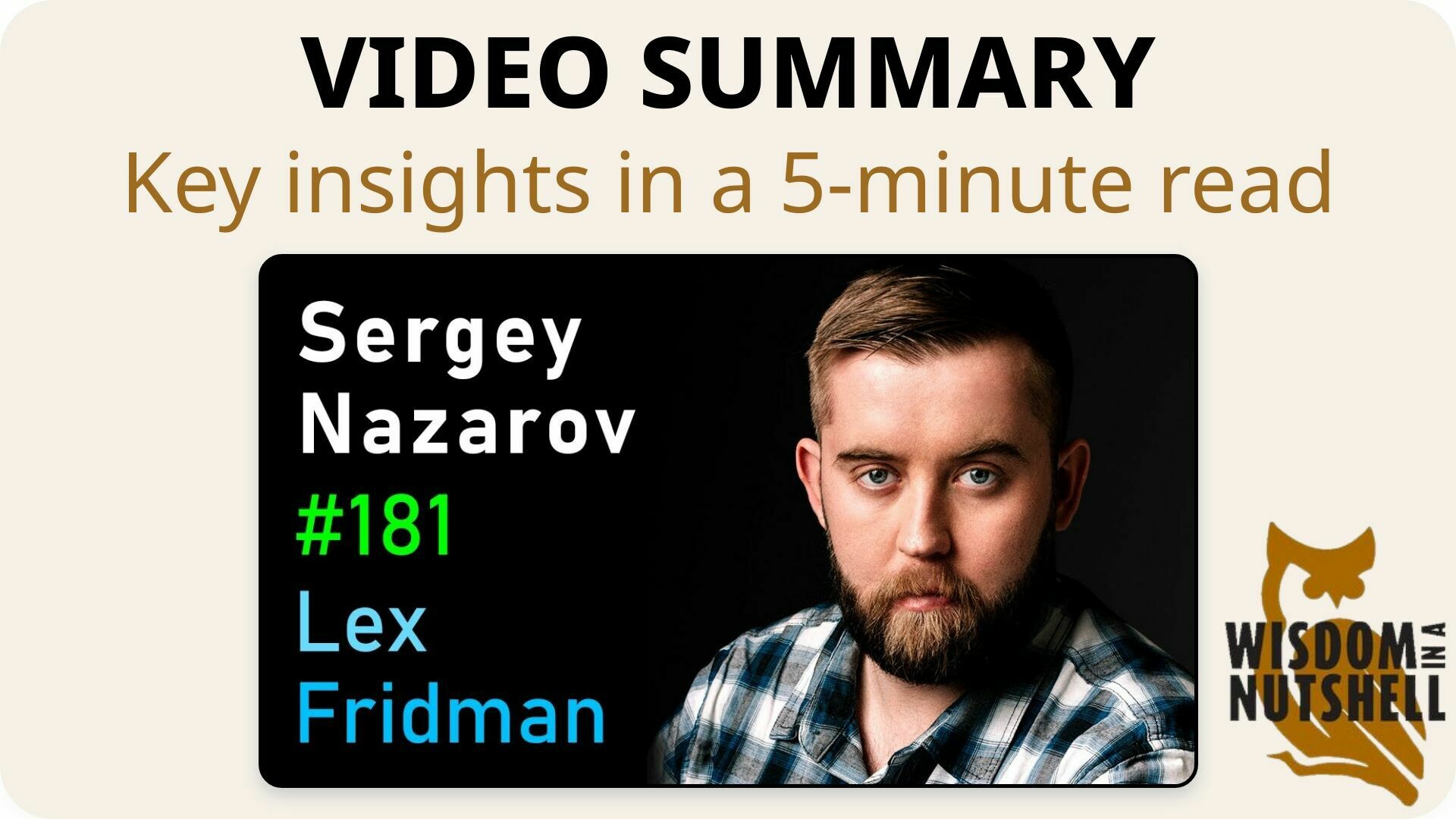 🌰 Wisdom in a Nutshell
Essential insights distilled from the video.
---
---
📚 Introduction
In this blog post, we will explore various topics, including the power of smart contracts and decentralized oracle networks, the concept of a digital world and the importance of time, the pursuit of definitive truth, the potential of decentralized finance (DeFi), the importance of transparency and control, the evolution of smart contracts, and the rise of cryptocurrencies. Each topic offers unique insights and implications for the future of technology and society.
---
🔍 Wisdom Unpacked
Delving deeper into the key ideas.
1. Smart contracts and decentralized data integration enhance decision-making.
Decentralized Oracle networks and smart contracts, like those provided by Chainlink, can significantly enhance decision-making processes by integrating reliable data sources. These technologies, complementary to Ethereum, enable smart contracts to automate menial tasks, freeing up time for meaningful conversations. The future of smart contracts lies in their integration with real-world systems and events, potentially transforming various industries.
Dive Deeper: Source Material
---
2. Prioritize free time, pursue passions, and consider the digital world's ethical implications.
The concept of a digital world, potentially offering immortality, is a fascinating idea that has been explored in philosophy and popular culture. It's a moral and ethical dilemma, as it may involve manipulation and harm on a large scale. The engineering challenge of creating a high-fidelity digital world is a significant one. It's important to prioritize the things we won't have time for in the future, such as education, travel, and creative endeavors, as these opportunities will diminish over time. The pressure to compare ourselves to others will increase with age, so it's crucial to cherish our free time and not waste it on things that don't bring fulfillment or value. Starting a company or pursuing a passion project should be done before responsibilities and dependents arise, as experience is gained by taking action and learning from failures, not by waiting for a certain amount of time or following a specific path.
Dive Deeper: Source Material
---
3. Definitive truth is achieved through consensus and data, enabling tamper-proof guarantees.
Definitive truth, a concept that exists on a spectrum between objective truth and something made up, is achieved when there is an agreement on a set of conditions and a pre-defined method of consensus with a threshold of agreement. This allows for the creation of definitive truth in specific agreements and relationships, providing a better way of moving forward. The increasing availability and accessibility of data enable the formation of more definitive truth proofs, which can be used in blockchain and smart contract systems to provide tamper-proof guarantees. This combination of proof and guarantee creates a powerful tool for contracts and decentralized finance.
Dive Deeper: Source Material
---
4. DeFi offers transparency, control, and superior yield, with potential for global impact.
Decentralized finance (DeFi) is a type of hybrid smart contract that combines on-chain code with off-chain proofs, replicating traditional financial system agreements. It offers transparency, control, and superior yield compared to centralized finance. The decentralized world of DeFi has the potential to expand into a wide range of services, including transparency in markets, reducing systemic financial risk, and providing financial protection to emerging markets. Smart contracts can help farmers in emerging markets manage risk and access financial protection without relying on corrupt governments. They can also enable people in emerging markets to control and manage risk in their economic lives, including having bank accounts, selling goods on the global market, and combating local inflation. Smart contracts can also transform supply chain management and remove bureaucracy, leading to a more efficient and trustworthy world.
Dive Deeper: Source Material
---
5. Transparency and control in systems lead to better outcomes.
The concept of transparency and control is crucial in creating better systems. Transparency leads to accountability and better outcomes, while control over data usage and deletion can foster a more authentic and effective world. Social media lacks transparency and control, making it difficult to delete data. Smart contracts, on the other hand, formalize agreements and provide transparency, leading to a better deal for users. Decentralized power and autonomous code can create a free market dynamic and more competition among social media platforms, ultimately benefiting users.
Dive Deeper: Source Material
---
6. Hybrid smart contracts combining blockchain and decentralized Oracle networks offer endless possibilities.
Smart contracts have evolved from digital agreements to on-chain code on a blockchain, eliminating the need for knowing things about the world and payments. Hybrid smart contracts combine on-chain code with off-chain contracts, providing a higher level of automation and control over valuable assets. To achieve confidentiality in a hybrid smart contract, the private portion can be placed in a centralized Oracle network, which can provide privacy-preserving computation services. The future of smart contracts lies in the composition of decentralized Oracle networks, enabling the creation of hybrid smart contracts that combine the benefits of blockchain and decentralized Oracle networks. This allows for the creation of applications with hybrid smart contracts, which have the potential to revolutionize global finance, insurance, and trade.
Dive Deeper: Source Material
---
7. Smart contracts, powered by blockchain, can revolutionize industries and solve trust issues.
Smart contracts, powered by blockchain technology, can revolutionize various industries by providing a trustworthy and decentralized platform for agreements and transactions. They can help solve trust issues by providing a way to prove something through data without revealing private information. The deterministic and guaranteed nature of smart contracts may be preferable to AI due to the complexity of dealing with the human element of contracts. The process of reducing the need for trust in the system, known as trust minimization, is a crucial aspect of smart contracts. The more smart contracts and Oracle networks are used, the more immutable on-chain data is generated, proving their value and reliability. This data improves the reputation of smart contracts and Oracle networks. Traditional banks and insurance companies can still integrate with smart contracts by creating data feeds on the amount of marble included. However, the shift towards smart contracts is inevitable, and banks and insurance companies will need to adapt.
Dive Deeper: Source Material
---
8. Cryptocurrencies' value is influenced by societal perceptions, and their future is uncertain.
The rise of cryptocurrencies like Bitcoin and Ethereum has sparked interest and speculation, with different conceptions of their value. The future of these cryptocurrencies is uncertain, influenced by societal perceptions and current events. The value of these cryptocurrencies is influenced by societal perceptions and current events. The mysterious creator of Bitcoin, Satoshi Nakamoto, is believed to be a group of individuals who may not be active anymore, and their anonymity is likely a deliberate choice to avoid distractions and maintain the security of the system. Dogecoin, a cryptocurrency, is a fascinating social experiment that leverages social dynamics and technology to spread through fun and memes, and it has the power to excite and inspire people about the possibilities of future technologies.
Dive Deeper: Source Material
---
---
💡 Actionable Wisdom
Transformative tips to apply and remember.
Embrace the power of smart contracts and decentralized technologies in your daily life by exploring decentralized finance platforms, prioritizing transparency and control in your online interactions, and staying informed about the latest developments in the world of cryptocurrencies. Take the time to reflect on the concept of time and make conscious choices about how you spend it. Seek definitive truth in your relationships and agreements by fostering open communication and consensus-building. These actions will not only empower you in the digital age but also contribute to the advancement of a more transparent, decentralized, and equitable world.
---
📽️ Source & Acknowledgment
This post summarizes Lex Fridman's YouTube video titled "Sergey Nazarov: Chainlink, Smart Contracts, and Oracle Networks | Lex Fridman Podcast #181". All credit goes to the original creator. Wisdom In a Nutshell aims to provide you with key insights from top self-improvement videos, fostering personal growth. We strongly encourage you to watch the full video for a deeper understanding and to support the creator.
---