Lex Fridman
Sertac Karaman: Robots That Fly and Robots That Drive | Lex Fridman Podcast #97
The Future of Autonomous Vehicles and Drones.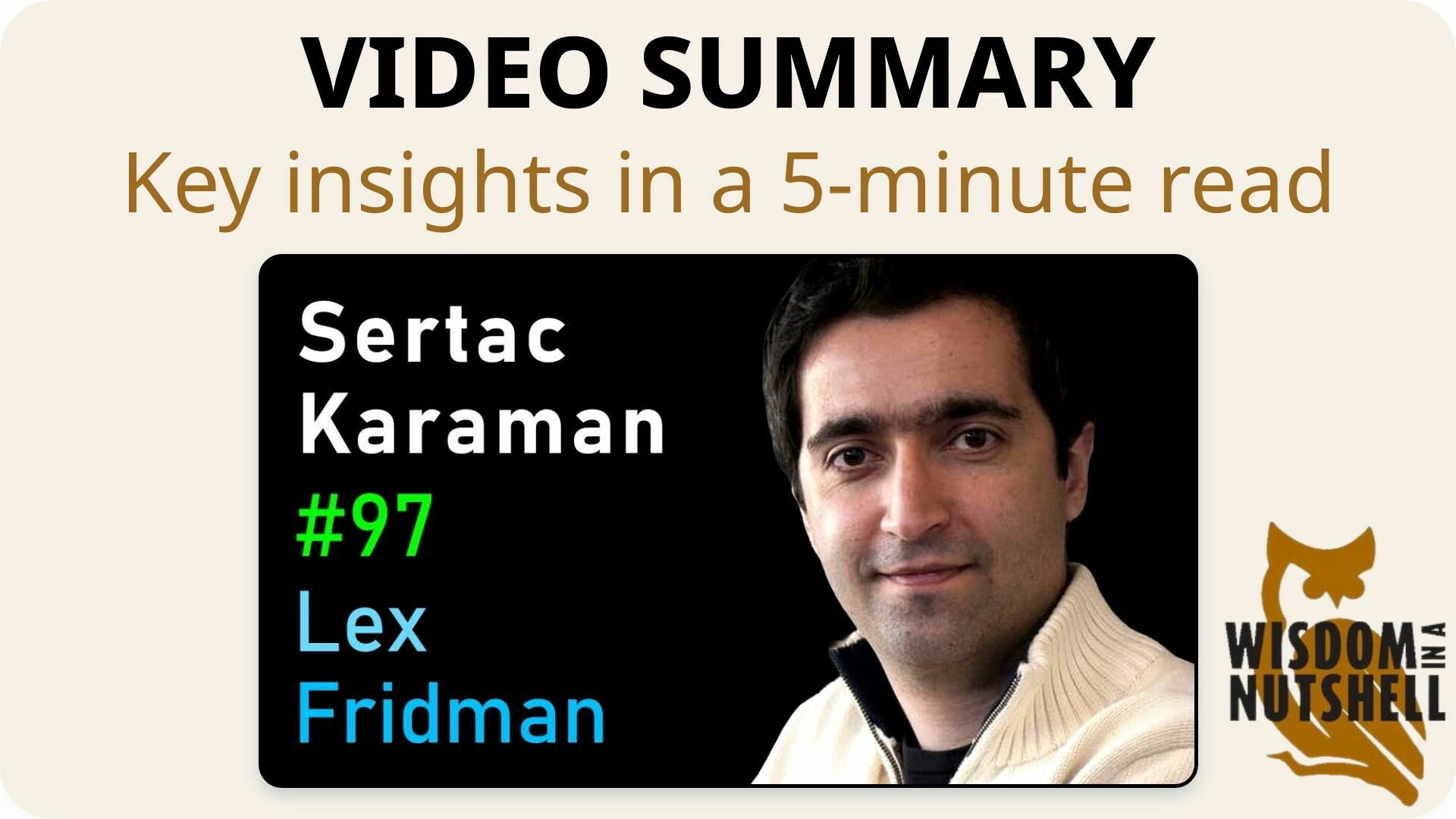 🌰 Wisdom in a Nutshell
Essential insights distilled from the video.
---
---
📚 Introduction
Autonomous vehicles and drones are rapidly advancing technologies that have the potential to revolutionize transportation and logistics. In this blog post, we will explore the current state and future prospects of autonomous vehicles and drones, the challenges they face, and the strategies being employed to overcome these challenges. We will also discuss the importance of simulation environments and the role they play in the development of these technologies. Join us as we delve into the exciting world of autonomous vehicles and drones.
---
🔍 Wisdom Unpacked
Delving deeper into the key ideas.
1. Autonomous flying, challenging but promising, awaits large-scale deployments.
The feasibility of making flying saucers a reality in the next 50 years is uncertain, but there is potential for utilizing underutilized airspace. Building autonomous vehicles that operate in this space requires complex software and hardware, as well as ensuring safety. Machine learning is crucial for delivering safe and intelligent vehicles, especially in the context of flight. Simulations play a significant role in the development of drones. Autonomous flying, such as in consumer drones, is easier than autonomous driving, but the real benefits lie in transportation logistics and large-scale deployments. However, the need for human-robot interaction, planning, architecture, and societal and legal issues make it challenging. Autonomous cars are likely to be the first to achieve this density due to their ground-based nature. While delivery drones are possible, there is also potential for personal transportation, such as traveling from Boston to New York in one and a half hours.
Dive Deeper: Source Material
---
2. Advanced simulation environments are key to improving autonomous vehicle performance.
Simulation environments are crucial for development, especially in the automotive industry, where advancements in hardware and machine learning enable more accurate simulation of cameras and other sensors. However, simulating human behavior is challenging due to the complexity of human behavior and the limited availability of human labeling. Self-driving vehicles require knowledge of their surroundings, including the actions of other drivers. This highlights the importance of developing sophisticated simulation environments to improve the performance of autonomous vehicles.
Dive Deeper: Source Material
---
3. Autonomous vehicles face challenges, require understanding, and can transform transportation.
The future of autonomous vehicles is shaped by how they interact with humans, and understanding social value orientation can help robots navigate these interactions. Autonomous vehicles face challenges in being abused by humans, and sustainability and livability are important considerations in deploying them at scale. The choice between efficiency and sustainability becomes more explicit with autonomous vehicles. Autonomous taxi deployments have different business models, impact on architecture, urban planning, regulations, and ethical considerations. Testing autonomous vehicles in human environments carries a risk tradeoff. As autonomous systems become more ubiquitous, tradeoffs will become more apparent. Starting an autonomous vehicle company requires understanding the challenges and limitations of the industry, and focusing on a specific market can help. Autonomous vehicles have the potential to revolutionize transportation in various environments, and can help transform the way we live by creating more car-friendly environments.
Dive Deeper: Source Material
---
4. Autonomous vehicle development is a complex, iterative process.
The development of autonomous vehicles is a complex process, with different companies adopting varying approaches. Some, like Waymo and Tesla, are focused on solving specific problems and have long-term investments. Others, like OptumSarad, aim to establish mobility in specific environments. The timeline for mass deployment is difficult to predict, as it depends on the capabilities of machine learning approaches, which are often overestimated in the short term and underestimated in the long term. Building autonomous vehicles involves closing technology gaps, which is a challenging task.
Dive Deeper: Source Material
---
5. Iterated learning and communication foster progress in autonomous vehicle technology.
The technology gap in autonomous vehicles can be closed through iterated learning, as demonstrated by companies like Tesla and Optimus Ride. It's crucial to communicate the vision and progress, while also showcasing the technology's capabilities, both good and bad. This approach helps to inspire and motivate others, fostering a positive mindset. It's uncertain when the technology will be fully developed, but the focus on iterated learning and communication is key.
Dive Deeper: Source Material
---
6. Autonomous vehicles' future is in camera-based systems, with Lider technology as a robustifier.
The future of autonomous vehicles is expected to be defined by camera-based systems, with Lider technology serving as a robustifier or for affordability. However, there are fundamental limits to the speed of light that affect scanning the environment, which can be addressed through co-design and parallel processing. The goal is to enable drones to see more frames per second for aggressive flight. The AlphaPilot challenge aims to close the technology gap between autonomous vehicles and human drivers, with iterated learning being crucial. Machines excel in precision and repeatability, while humans excel in strategic thinking. The most beautiful idea in robotics is the potential for machines to excel in strategy and beat humans.
Dive Deeper: Source Material
---
---
💡 Actionable Wisdom
Transformative tips to apply and remember.
Stay informed about the latest advancements in autonomous vehicles and drones. Consider the societal and ethical implications of these technologies and engage in discussions about their deployment. If you are interested in the field, explore opportunities to contribute to the development of simulation environments or other aspects of autonomous vehicle and drone technology.
---
📽️ Source & Acknowledgment
This post summarizes Lex Fridman's YouTube video titled "Sertac Karaman: Robots That Fly and Robots That Drive | Lex Fridman Podcast #97". All credit goes to the original creator. Wisdom In a Nutshell aims to provide you with key insights from top self-improvement videos, fostering personal growth. We strongly encourage you to watch the full video for a deeper understanding and to support the creator.
---