Lex Fridman
Shannon Curry: Johnny Depp & Amber Heard Trial, Marriage, Dating & Love | Lex Fridman Podcast #366
Insights on Love, Relationships, and Personal Growth.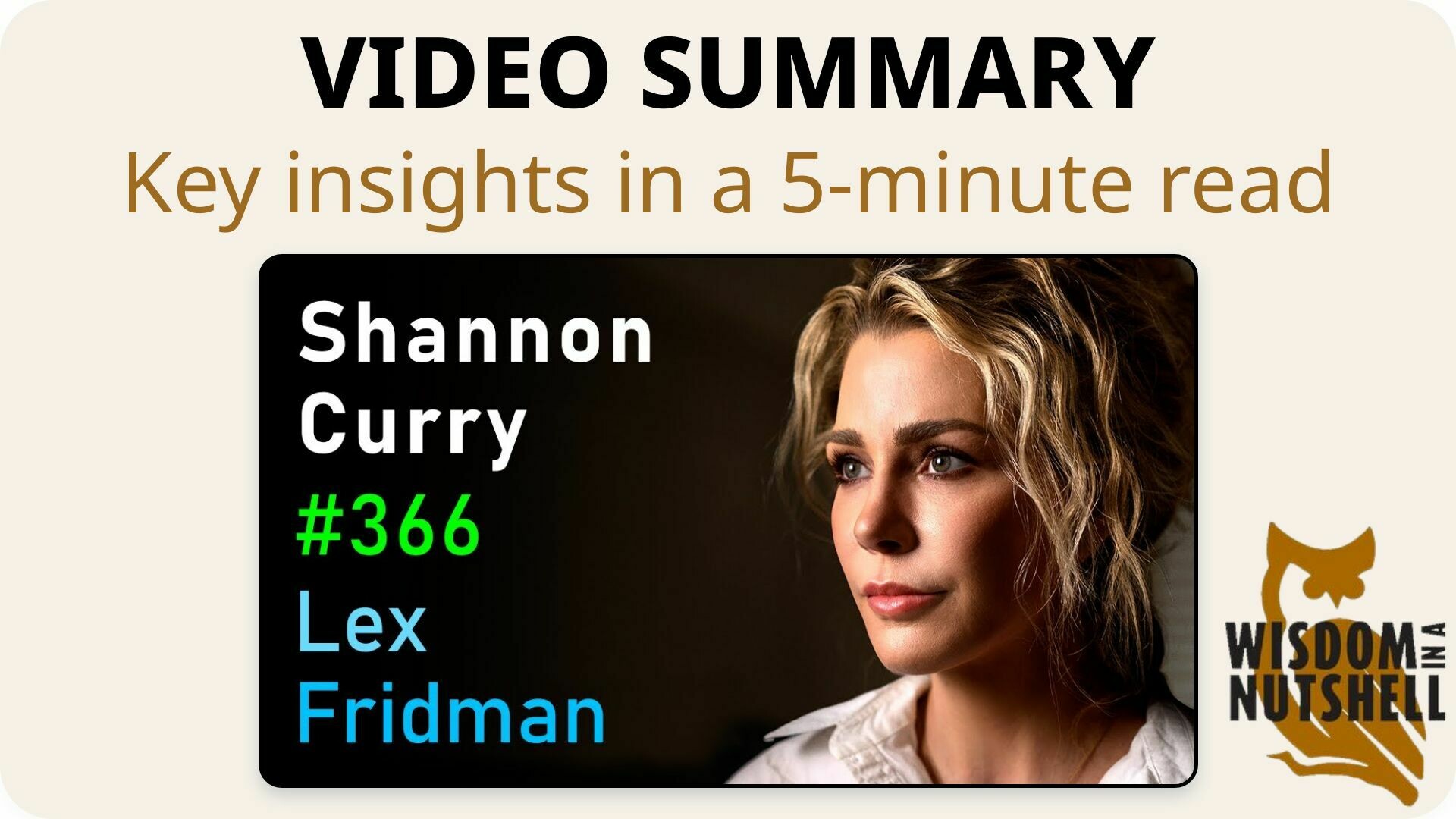 🌰 Wisdom in a Nutshell
Essential insights distilled from the video.
---
---
📚 Introduction
Love, relationships, and personal growth are complex and fascinating aspects of life. In this blog post, we will explore various insights and wisdom on these topics, ranging from the science of love to the importance of positive interactions in relationships, finding the right partner, the role of sex in relationships, navigating infidelity, the journey of becoming a forensic psychologist, and the power of love in overcoming challenges. Let's dive in and uncover the wisdom that can enhance our understanding and experience of love and personal growth.
---
🔍 Wisdom Unpacked
Delving deeper into the key ideas.
1. Avoid contempt in relationships by appreciating partner's beauty and strengths.
The Four Horsemen of the Apocalypse, behaviors highly predictive of a divorce, are criticism, defensiveness, stonewalling, and contempt. Contempt, the biggest predictor of a split, involves criticizing and looking down on our partner, often with mockery or imitation. It's important to be aware of contempt in our relationships and work towards building a healthier and more respectful dynamic. The opposite of contempt is intentionally observing and appreciating our partner's beauty and strengths, recognizing the beauty in our partner and understanding that we are all fundamentally flawed, and relationships are about finding how two flawed individuals can fit together.
Dive Deeper: Source Material
---
2. True love involves commitment, effort, and growth.
Romantic love, initially fueled by high levels of dopamine and endorphins, fades as the novelty wears off. Our bodies dial down these chemicals, making it challenging to sustain the initial intensity. However, this doesn't mean the end of love. In some cultures, arranged marriages based on traits and compatibility have been found to be more satisfying. While feeling can be a foundation for a relationship, it's important to consider other factors like shared values, support, and the ability to navigate life's challenges together. True love involves commitment, effort, and a willingness to grow and evolve together.
Dive Deeper: Source Material
---
3. Understanding and communicating with your partner is key to a successful relationship.
The Gottman Method for Couples Therapy emphasizes the importance of positive interactions in relationships, with a balance of five positive interactions to each negative. It's crucial to understand and communicate with your partner's needs, finding a balance that works for both. Different couples may exhibit different dynamics, with some being more masculine or feminine, while others are more balanced. It's important to act as a referee during conflicts, protecting partners from criticism and contempt. Lesbian couples often show humility and openness, asking thoughtful questions to reignite their connection. A successful relationship is built on strong attunement and loyalty, with partners treating each other with care and appreciation. Conflicts should be processed with emotions validated, leading to a deeper understanding of each other's perspectives.
Dive Deeper: Source Material
---
4. Traits like conscientiousness, low neuroticism, and moderate adventurousness are key to a long-term partner.
To find a long-term partner, look for individuals with three key traits: conscientiousness, low neuroticism, and moderate adventurousness. Conscientiousness refers to being kind, attentive, and motivated. Low neuroticism means being emotionally stable and not prone to emotional instability. Moderate adventurousness involves balancing stability at home with self-motivation. These traits can be found in someone who is reliable, caring, and has a sense of stability. It's important to be self-aware and work on personal growth to develop these traits.
Dive Deeper: Source Material
---
5. Sex is a bonding and stress-reducing tool, not a relationship measure.
Sex plays a crucial role in a successful relationship, not just for pleasure but also for bonding and stress reduction. However, its absence is not necessarily a sign of failure. The frequency of sex is not a measure of success, but rather the level of satisfaction each partner feels. Some couples use sex as a conflict resolution process, which can be effective if both parties are comfortable with it. It's important to note that everyone has different levels of satisfaction with sex, and even a brief hug can have similar benefits to an orgasm.
Dive Deeper: Source Material
---
6. Infidelity and open relationships offer complex beauty and value.
Infidelity is a complex topic with varying perspectives. While some believe honesty is always best, others argue it can be harmful. The decision to disclose prior sexual history is subjective and can be selfish. Infidelity can cause significant emotional trauma, so it's important to consider the impact of disclosure. Open relationships can add complexity to relationship challenges, but they also offer beauty and value. Research shows that couples in open relationships tend to have more satisfaction if they have worked out the kinks and are all in. However, there are challenges in transitioning from a monogamous society to an open relationship, such as jealousy and difficulty in being truthful and direct. Those who are happier in open relationships tend to be more experienced and have it down.
Dive Deeper: Source Material
---
7. Forensic psychology involves understanding human behavior, personality disorders, and trauma, with the MMPI2 test providing valuable insights.
The process of becoming a forensic psychologist involves a combination of personal experiences, academic pursuits, and a passion for the field. It requires a deep understanding of human behavior, personality disorders, and the impact of trauma on individuals. The MMPI2 personality assessment test is a valuable tool in this process, providing insights into a person's approach to life and personal relationships. It can help identify patterns in a person's responses, detect various response styles, and mental illnesses. The test is not definitive but can be used to clarify hypotheses. Personality disorders, such as borderline personality disorder, are influenced by a combination of genetics, upbringing, and life events. The trial process, as in the case of the Johnny Depp Amber Heard trial, can be a nerve-wracking experience, but it can also strengthen one's abilities as a forensic psychologist and make them a better person. PTSD in veterans is a serious mental disorder that can be caused by exposure to traumatic events during combat. It can lead to ongoing anger, guilt, and difficulty reconciling with civilian life. The assessment process for PTSD can be flawed, but there are challenges in providing support to the large veteran population. The process of finding a life's career should be based on personal enjoyment and not solely on job prospects.
Dive Deeper: Source Material
---
8. Love is key to overcoming challenges and fostering hope.
Love is a fundamental aspect of human existence, crucial in overcoming challenges and finding peace. It's essential for self-love and love for others, as it fosters hope and reassurance. However, misinformation and negative comments can hinder our progress towards the truth and harm our collective well-being. Remembering love can bring hope and reassurance that everything will be okay.
Dive Deeper: Source Material
---
---
💡 Actionable Wisdom
Transformative tips to apply and remember.
Take a moment each day to intentionally observe and appreciate your partner's beauty and strengths. Practice open and honest communication, and strive to maintain a balance of positive interactions in your relationship. When seeking a long-term partner, consider their conscientiousness, neuroticism, and adventurousness. Prioritize the emotional connection and satisfaction in your sexual relationship, rather than focusing solely on frequency. Finally, remember that love is a powerful force that can help us overcome challenges and find peace, so nurture it within yourself and share it with others.
---
📽️ Source & Acknowledgment
This post summarizes Lex Fridman's YouTube video titled "Shannon Curry: Johnny Depp & Amber Heard Trial, Marriage, Dating & Love | Lex Fridman Podcast #366". All credit goes to the original creator. Wisdom In a Nutshell aims to provide you with key insights from top self-improvement videos, fostering personal growth. We strongly encourage you to watch the full video for a deeper understanding and to support the creator.
---