Lex Fridman
Silvio Micali: Cryptocurrency, Blockchain, Algorand, Bitcoin & Ethereum | Lex Fridman Podcast #168
Simplifying the Complex World of Blockchain and Cryptocurrency.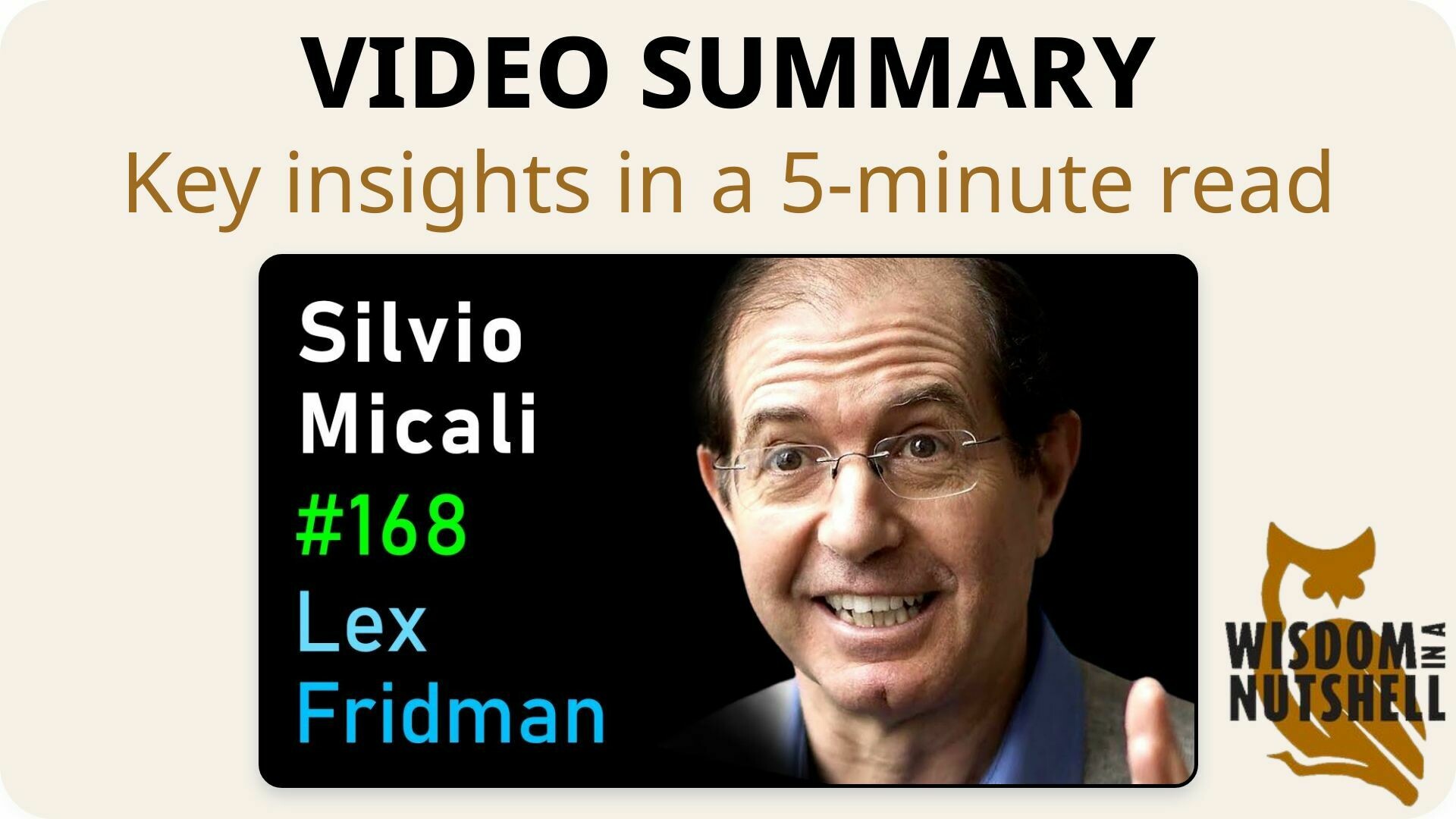 🌰 Wisdom in a Nutshell
Essential insights distilled from the video.
---
---
📚 Introduction
Blockchain and cryptocurrency are complex concepts that have the potential to revolutionize our world. In this blog post, we will explore the fundamental principles of blockchain, the role of money, the future of cryptocurrency, the power of decentralized systems, the rise of NFTs, the importance of leadership, the foundation of cryptography, the debate on free will, and the concept of mechanism design. By breaking down these complex ideas, we aim to provide a simplified understanding of their significance and potential impact on our lives.
---
🔍 Wisdom Unpacked
Delving deeper into the key ideas.
1. Blockchain: a decentralized, secure, and scalable system for transparent transactions.
Blockchain, a decentralized, secure, and scalable system, is a theoretical foundation for a fully decentralized blockchain and algorithm company. It acts as a common database, ensuring transparency and preventing centralization. Cryptocurrency, a currency that operates on a blockchain ledger, allows for transparent and secure transactions. Scalability, the ability to write and read transactions quickly, is crucial for supporting a large number of transactions. Blockchain ideas have the potential to revolutionize various aspects of our world beyond just money, promoting transparency, honesty, and preventing corruption. It is possible to achieve privacy on a blockchain, but it is important for people to understand their system and not rely solely on faith.
Dive Deeper: Source Material
This summary was generated from the following video segments. Dive deeper into the source material with direct links to specific video segments and their transcriptions.
| Segment | Video Link | Transcript Link |
| --- | --- | --- |
| Introduction | 🎥 | 📄 |
| Blockchain | 🎥 | 📄 |
| Cryptocurrency | 🎥 | 📄 |
| Scalability, Security, and Decentralization | 🎥 | 📄 |
| Freedom | 🎥 | 📄 |
| Privacy | 🎥 | 📄 |
---
2. Money is a social construct, scarce and based on shared beliefs.
Money is a social construct that simplifies the exchange of goods and services, based on a shared belief system. It is not directly tied to physical goods like gold, but represents our belief in its value. The scarcity of a particular resource, like Bitcoin, is an important feature of money, ensuring its value and usability as a form of payment. Without scarcity, it would be difficult to determine the value of money and whether it is worth accepting as payment.
Dive Deeper: Source Material
---
3. Decentralized systems ensure blockchain's longevity and adaptability.
The blockchain trilemma of security, decentralization, and scalability can be addressed by decentralized systems like Algrand, which uses tokens with equal power to add to the ledger, ensuring everyone has an equal chance to contribute. Algorithm governance should be decentralized, allowing for evolving code based on needs and ensuring transparency. This ensures the system can adapt and avoid becoming obsolete. The philosophy behind this is that nothing fixed lasts long, and life is about intelligent adaptation.
Dive Deeper: Source Material
---
4. Cryptocurrency, particularly Bitcoin, is a future store of value and exchange, with potential for multiple blockchains.
The concept of cryptocurrency, particularly Bitcoin, has gained significant traction and is likely to become the main method of store value and exchange of value in the future. It allows for peer-to-peer interaction among people who don't know or trust each other. However, it has its limitations, such as slow transaction speed and lack of a great store of value. The future of cryptocurrency is likely to involve multiple blockchain chains, each with its own strengths and weaknesses. It's important to have interoperability between these systems so that assets can be transferred to the best tool for a specific need. The idea of Bitcoin maximalism suggests that the best technology should dominate the medium of exchange, but it's unlikely that one chain will win. People want variety and the ability to transact and interact in different ways. The world should be open and dynamic, allowing for different chains to serve different purposes. Life is about adaptability and evolving, so static systems will eventually lose out.
Dive Deeper: Source Material
---
5. NFTs offer new opportunities for content creators, but decentralization is key.
NFTs (non-fungible tokens) are unique digital representations of creative works, allowing content creators to trade their creations securely and with clear ownership rights. They have the potential to create new opportunities for content creators to be remunerated. However, scalability, security, and decentralization are necessary for NFTs to be applied to larger applications. They can also be used to create social constructs and economies based on creative people and influencers. Decentralization, while challenging, is crucial to prevent power and corruption.
Dive Deeper: Source Material
---
6. Decentralized systems are more stable and resilient, with leaders inspiring and disappearing.
The concept of distributed systems, where power is decentralized, is more stable and resilient, and aligns with the human spirit's desire for resilience. This is evident in the success of projects like Bitcoin and Ethereum, where leaders play a significant role in inspiring and motivating the community. However, there is a tension between decentralization and leadership, and true leadership is when a leader leads in the initial phase and then disappears, allowing the community to take over. Leaders who seek to extend their power beyond their term can lead to the downfall of the system. Leadership should be about igniting and disappearing, not about seeking more power.
Dive Deeper: Source Material
---
7. One-way functions, pseudo randomness, and interactive proofs are cryptography's core.
The concept of a one-way function, which is easy to evaluate but difficult to reverse, is the foundation of cryptography. This idea is also the basis of pseudo random number generators, which expand on secret randomness. Quantum computing, while challenging cryptography, can also be used to defend against these challenges. The existence of the one-way function is essential for life to be meaningful, as it provides abundance and hard problems to solve. Interactive proofs, a modern realization of the concept that truth can be conveyed more efficiently through interactive processes, enlarge the realm of provable statements and provide a more efficient way of verifying assertions. They also differentiate between knowledge and verification, allowing for the verification of a statement without understanding why it is true.
Dive Deeper: Source Material
This summary was generated from the following video segments. Dive deeper into the source material with direct links to specific video segments and their transcriptions.
| Segment | Video Link | Transcript Link |
| --- | --- | --- |
| One-way function | 🎥 | 📄 |
| Pseudorandomness | 🎥 | 📄 |
| Will quantum computers break cryptography? | 🎥 | 📄 |
| Interactive proofs | 🎥 | 📄 |
---
8. Limitations, emotions, and privacy are key to a meaningful life.
The concept of free will is a philosophical debate, with our genetic apparatus influencing our preferences and reactions. The idea of free will, while debated, doesn't really matter in the grand scheme of things. The Divine Comedy, a medieval poem, teaches that limitations can be our strength, allowing for creative solutions. Emotions, including love, are what drive us and make life meaningful. Death serves as a motivator to live a meaningful life, with our legacy divided into our biological and societal impact. Privacy and security are essential for freedom, allowing us to create beautiful things in life.
Dive Deeper: Source Material
---
9. Mechanism design creates games that align with social goals.
Mechanism design is the process of creating games that encourage desired behavior, aligning with social goals. It involves designing games where people play to maximize their self-interest, but the outcome aligns with the desired social goal. However, traditional game theory tools are limited, and the design needs to accommodate a broader range of actions and utilities. The goal is to create games where players don't do stupid things and the desired social outcome arises. This process is also used in blockchain and algorithm design, where scalability, security, and decentralization are key. Incentives are challenging to design as people are complex, but designing systems without incentives can be beneficial.
Dive Deeper: Source Material
---
---
💡 Actionable Wisdom
Transformative tips to apply and remember.
Embrace the potential of blockchain and cryptocurrency by educating yourself on the fundamental principles and staying informed about the latest developments. Explore the world of NFTs and support content creators through their unique digital creations. Recognize the importance of decentralized systems and the role of leadership in inspiring communities. Protect your privacy and security to maintain freedom in the digital age. Engage in meaningful activities that leave a positive legacy and consider the impact of incentives in designing systems for desired outcomes.
---
📽️ Source & Acknowledgment
This post summarizes Lex Fridman's YouTube video titled "Silvio Micali: Cryptocurrency, Blockchain, Algorand, Bitcoin & Ethereum | Lex Fridman Podcast #168". All credit goes to the original creator. Wisdom In a Nutshell aims to provide you with key insights from top self-improvement videos, fostering personal growth. We strongly encourage you to watch the full video for a deeper understanding and to support the creator.
---