Lex Fridman
Simon Sinek: Leadership, Hard Work, Optimism and the Infinite Game | Lex Fridman Podcast #82
The Power of Infinite Games and the Pursuit of a Just Cause.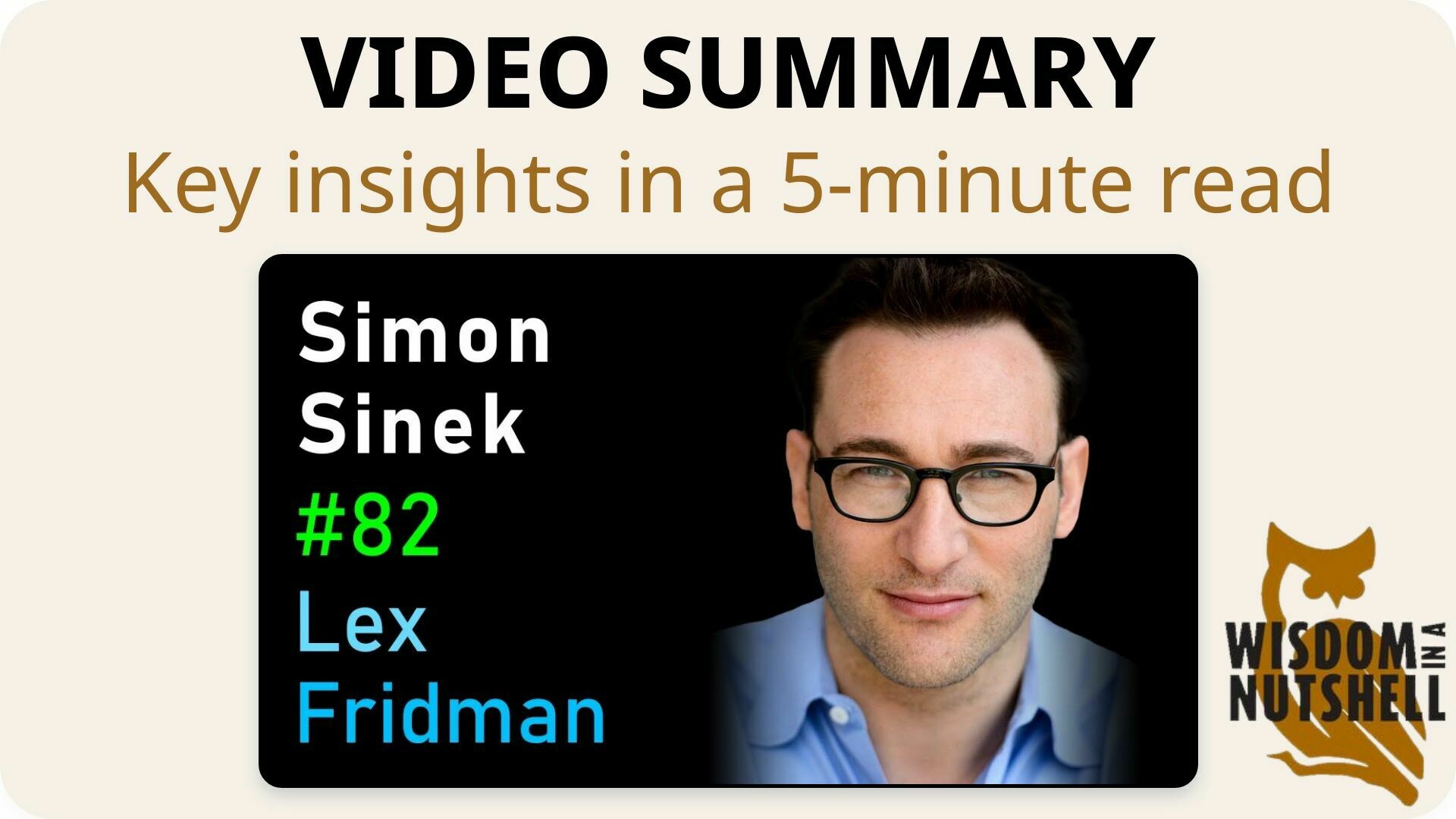 🌰 Wisdom in a Nutshell
Essential insights distilled from the video.
---
---
📚 Introduction
In this blog post, we explore the concept of infinite games and the pursuit of a just cause. We delve into the meaning of life and the importance of leaving a legacy. We also discuss the power of optimism and idealism in driving progress. Additionally, we examine the role of ideas and mortality in shaping our actions. Finally, we highlight the significance of self-care and finding inspiration in organizations and leaders.
---
🔍 Wisdom Unpacked
Delving deeper into the key ideas.
1. Life is an infinite game, a journey of service and contribution.
The concept of finite and infinite games is explored, with finite games having fixed rules, known players, and fixed objectives, while infinite games have changeable rules, unknown players, and the objective is to perpetuate the game. Infinite games lack a finish line, leading to a decline in trust, cooperation, and innovation. The meaning of life is found in the gap between birth and death, and it is what we do with that time that gives our life meaning. Living a life of service, contributing to our communities and organizations, and leaving them in better shape than we found them is the kind of legacy most of us would like to have. The fundamental goals and motivations of an infinite game are to have a just cause, a vision bigger than oneself, and to contribute to something larger than oneself. It is about inspiring others and working towards a vision that is yet to be realized.
Dive Deeper: Source Material
---
2. Optimism is a sustainable force for progress, driven by belief in human goodness.
Optimism is not naivety, but a belief in the inherent goodness of people and the potential for improvement. It requires work and doesn't drain resources like conflict. While human nature is driven by conflict and power, an optimistic view is sustainable and gives meaning to life and work. Idealism, even if unattainable, is a driving force for progress.
Dive Deeper: Source Material
---
3. Value ideas over ego, prioritize mortality and health.
The desire to contribute and inspire others is a driving force behind creating valuable ideas. While the ego may be tied to the recognition that comes with success, it's important to remember that the message is bigger than the messenger. The need to think about mortality and make the time on this earth valuable is crucial. Ideas can provide a sense of immortality and allow you to leave a lasting impact. However, it's also common for people to deny the fact that they are mortal. Taking care of your health, sleep, diet, relaxation, meditation, and vacation is important, but it's also important to recognize that there are larger aspects of life that should be prioritized.
Dive Deeper: Source Material
---
4. Balance work and well-being for sustainable success.
The pursuit of success often involves sacrificing sleep and health, but this is not sustainable. It is crucial to prioritize self-care and maintain a balance between work and well-being. Organizations and leaders also have a responsibility to provide a sense of purpose and inspiration to their employees. The movie 'Whiplash' portrays a toxic relationship, but it is important to approach others with love and responsibility, rather than being hard on them. Both individuals and leaders have a role to play in finding organizations and leaders that inspire them.
Dive Deeper: Source Material
---
---
💡 Actionable Wisdom
Transformative tips to apply and remember.
Prioritize self-care and maintain a balance between work and well-being. Seek out organizations and leaders that inspire you and align with your values. Remember that the message is bigger than the messenger and focus on the impact of your ideas rather than personal recognition. Embrace optimism and idealism as driving forces for progress. Make the most of your time on earth by engaging in meaningful activities and contributing to something larger than yourself.
---
📽️ Source & Acknowledgment
This post summarizes Lex Fridman's YouTube video titled "Simon Sinek: Leadership, Hard Work, Optimism and the Infinite Game | Lex Fridman Podcast #82". All credit goes to the original creator. Wisdom In a Nutshell aims to provide you with key insights from top self-improvement videos, fostering personal growth. We strongly encourage you to watch the full video for a deeper understanding and to support the creator.
---