Lex Fridman
Stephen Schwarzman: Going Big in Business, Investing, and AI | Lex Fridman Podcast #96
Insights on Personal Growth, Philanthropy, and the Power of AI.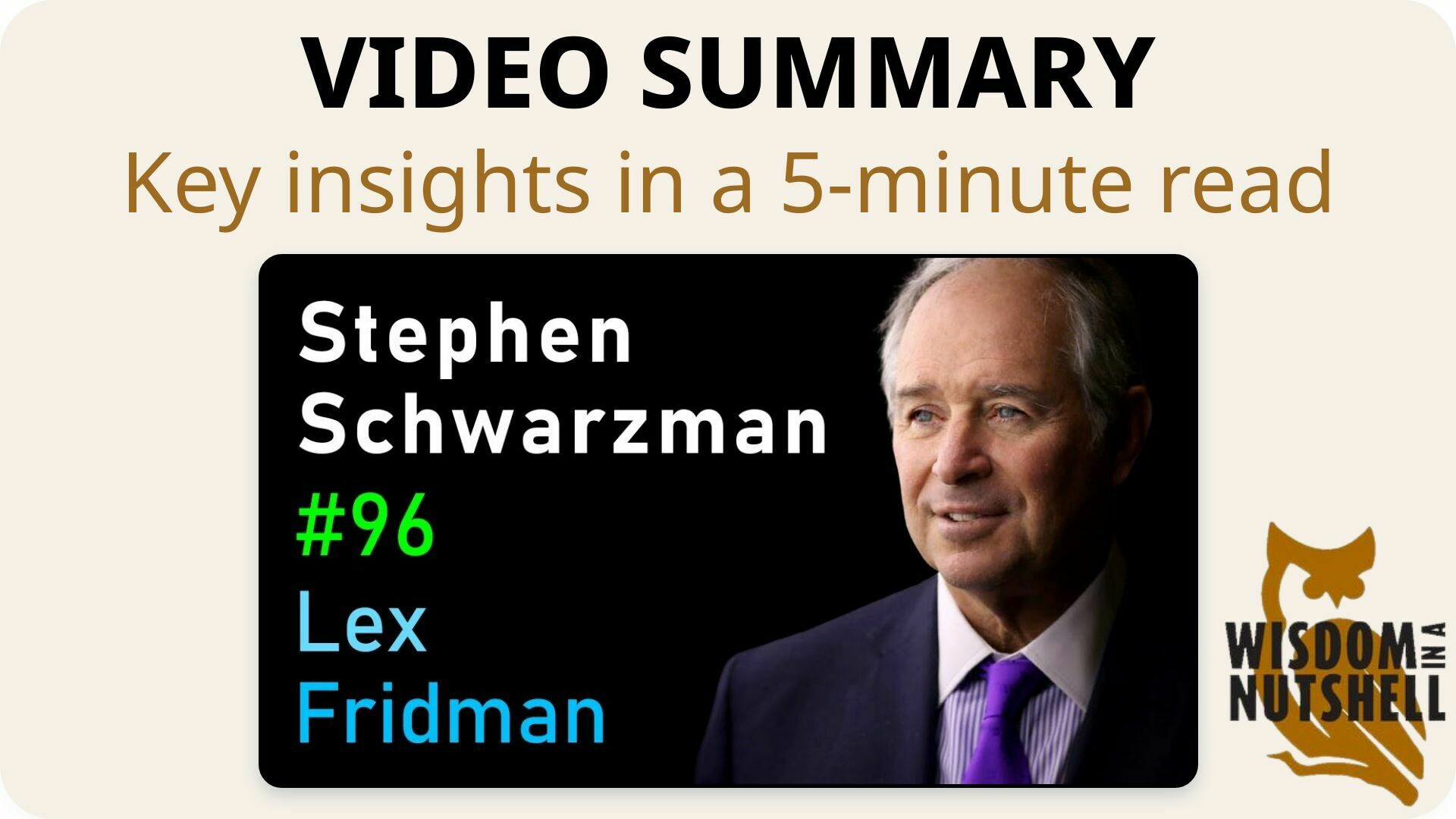 🌰 Wisdom in a Nutshell
Essential insights distilled from the video.
---
---
📚 Introduction
In this blog post, we will explore various topics related to personal growth, philanthropy, and the power of AI. We will discuss the importance of pursuing meaningful endeavors, the role of pattern recognition and communication, the advancement of science and AI, the complexity of Chinese culture, and the journey of starting a business. Each topic provides valuable insights and lessons that can inspire and educate readers on their own personal and professional journeys.
---
🔍 Wisdom Unpacked
Delving deeper into the key ideas.
1. Embark on significant endeavors based on personal objectives and aim for impact.
The decision to embark on a significant endeavor, whether personal or societal, should be based on personal objectives, talent, and what brings joy. It's beneficial to aim for something large and unique, as it allows for a significant impact and attracts like-minded individuals. Philanthropy, similar to business growth, should focus on maximizing impact and addressing important issues. It can involve starting new initiatives, like the MIT College of Computing, to enhance competitiveness and address global challenges like AI and technology disruption. By launching new initiatives, philanthropy can have a significant impact and create positive change.
Dive Deeper: Source Material
---
2. Pattern recognition and humility are key to understanding and solving problems.
The key to understanding the world is through pattern recognition, which involves observing and listening to unusual things people say. This can lead to important insights, but often people disregard them. AI is good at pattern recognition but struggles with outlier detection. Listening intensely allows you to understand what people are saying and what they intend. This knowledge gives you an advantage in communication and allows you to find common ground and solutions to problems. When meeting someone, try to understand their biggest problem and come up with solutions that haven't been discussed. This shows that you're thinking about what's good for them and helps build trust. Being humble is a competitive advantage, staying true to your values and not trying to be someone else. Effective altruism is a topic of recent interest.
Dive Deeper: Source Material
---
3. Overcoming the hostile environment for science advancement requires global collaboration and ethical AI use.
The advancement of science, particularly in AI, is crucial for societal progress, but it's hindered by the hostile environment created by the tyranny of the minorities and the politicization of science. To overcome this, there is a need for a global convener, such as MIT, to bring together research universities, companies, governments, and the media. The media should be knowledgeable and trained to prevent overreactions and hostile regulatory environments. The new college of computing at MIT aims to be a beacon and connector for these ideas. To promote healthy discourse about science, it is important to have factual and exciting discussions that invest in science, especially in the field of artificial intelligence. The use of AI should be ethical and ensure that the technology is a force for good. Americans should be aware of the complexity of Chinese culture and its ideas as a nation.
Dive Deeper: Source Material
This summary was generated from the following video segments. Dive deeper into the source material with direct links to specific video segments and their transcriptions.
| Segment | Video Link | Transcript Link |
| --- | --- | --- |
| Hope for the new College of Computing at MIT | 🎥 | 📄 |
| Unintended consequences of technological innovation | 🎥 | 📄 |
| American AI Initiative | 🎥 | 📄 |
---
4. China's centralized education system could give it an edge over the West.
China's unique culture, with a large population and dynamic relationships, makes change challenging due to the lack of functional laws. This is in contrast to the West, where change is easier based on individual relationships. China's centralized decision-making process in education, such as teaching computer science to every school child, could potentially handicap the United States in the future. The United States, with its complicated education system and over 3,000 school districts, may be at a disadvantage compared to China's centralized approach.
Dive Deeper: Source Material
---
5. Starting a business requires support, balance, and perseverance.
Starting a business can be a challenging and lonely journey, but it's crucial to have a supportive network of experienced individuals. It's important to be psychologically prepared for the inevitable problems and to maintain a balance between self-criticism and seeking support. Prioritizing relationships and making time for love, family, and fun is also essential. Starting a business, whether small or big, requires dedication and perseverance, and it's important to choose a venture with potential for growth and success.
Dive Deeper: Source Material
---
---
💡 Actionable Wisdom
Transformative tips to apply and remember.
Listen intently to others and try to understand their biggest problems. This will not only improve your communication skills but also help you build trust and find innovative solutions. Additionally, when embarking on a new venture, choose something that aligns with your passion and has the potential for growth. Prioritize relationships and make time for personal well-being to maintain a healthy work-life balance.
---
📽️ Source & Acknowledgment
This post summarizes Lex Fridman's YouTube video titled "Stephen Schwarzman: Going Big in Business, Investing, and AI | Lex Fridman Podcast #96". All credit goes to the original creator. Wisdom In a Nutshell aims to provide you with key insights from top self-improvement videos, fostering personal growth. We strongly encourage you to watch the full video for a deeper understanding and to support the creator.
---