Lex Fridman
Steven Pressfield: The War of Art | Lex Fridman Podcast #102
The Power of Discipline and Personal Growth.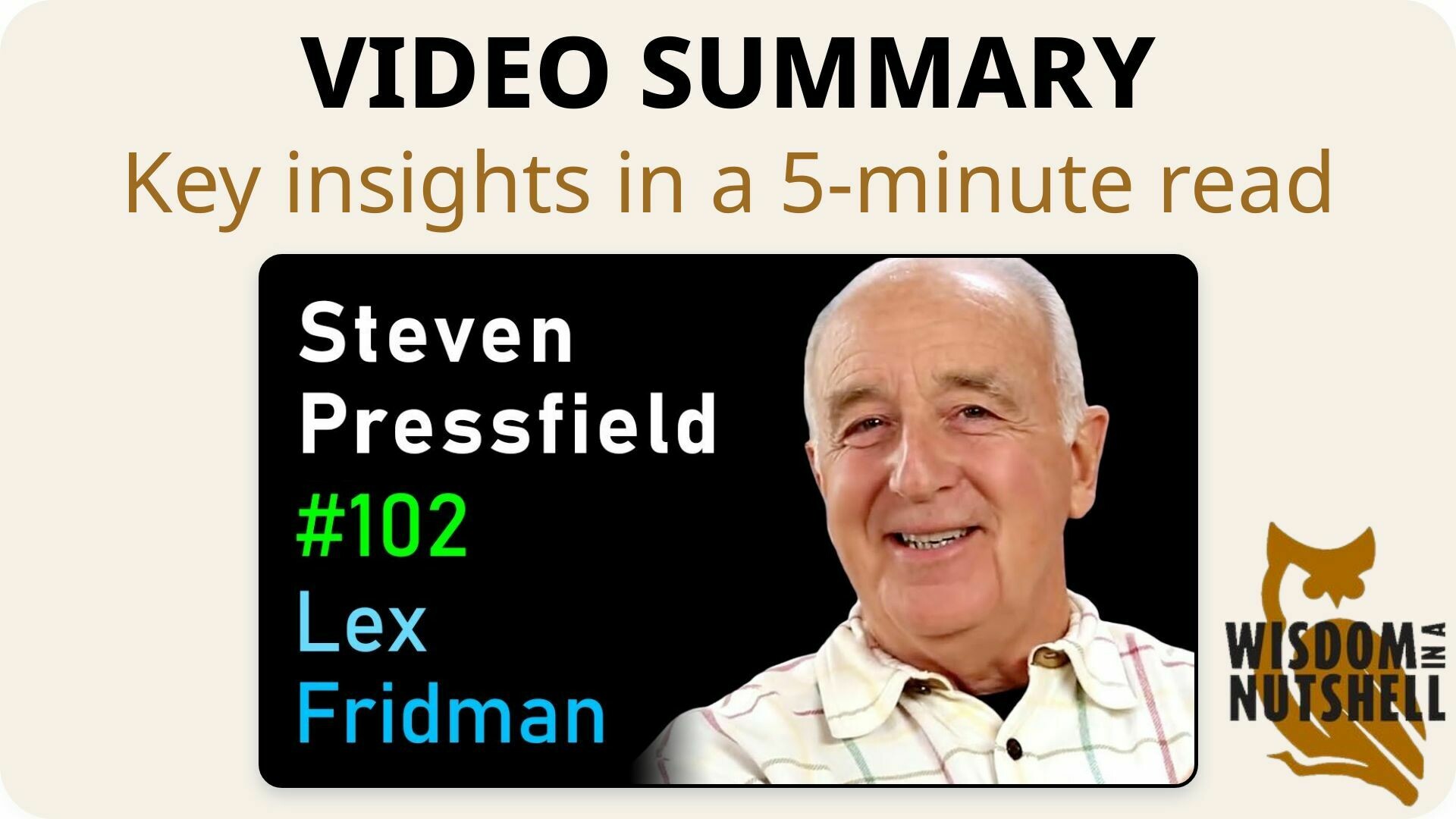 🌰 Wisdom in a Nutshell
Essential insights distilled from the video.
---
---
📚 Introduction
In the pursuit of creativity and personal growth, discipline and perseverance are essential. This blog post explores the insights from various authors and thinkers on the importance of discipline in different aspects of life, including the creative process, the impact of war, the concept of mortality, and the balance between productivity and health. By understanding and applying these principles, we can unlock our full potential and achieve success in our endeavors.
---
🔍 Wisdom Unpacked
Delving deeper into the key ideas.
1. Discipline and deep thinking are key to creating anything.
The process of creating anything, whether it's art, science, business, sport, or more, requires discipline and the ability to push through excuses. This struggle is articulated by authors like Stephen Pressfield, who emphasize the importance of staring at an empty page every day and thinking deeply. This process is supported by tools like the Jordan Harbinger Show and Cash App, which provide resources for personal growth and development.
Dive Deeper: Source Material
---
2. War is a spiritual battle, a metaphor for internal struggle, and a driver of human progress.
War, a natural part of human nature, has shaped civilization throughout history, driven by the urge to compete and conquer. It is a spiritual battle within the physical realm, representing the internal struggle against oneself and one's own negativity. The Six-Day War and Alexander the Great's conquests serve as metaphors for this fight. The Israeli-Palestinian conflict, rooted in religious and racial/ethnic tribal identity, is a prime example of this. The only way for the two sides to come together is through mutual respect and a balance of power. The future of warfare is uncertain, especially with the expansion of the military industrial complex.
Dive Deeper: Source Material
---
3. War's impact on individuals and society is profound, raising concerns about AI and social media.
The impact of war on individuals and society is profound, with the act of killing changing a person forever. This understanding is not limited to warriors but can also affect those who witness the effects of killing. The use of AI in warfare, while potentially reducing the number of casualties, raises concerns about the loss of humanity and the potential for unchecked aggression. The disconnect between online and offline behavior, as seen in the use of video games, is a concern. Social media, while creating empathy across cultures, can also be a platform for hatred. The impact of social media on military conflict is unclear, but it is certain that it has changed the way we perceive and engage in war.
Dive Deeper: Source Material
---
4. Reincarnation, creative process, and soul are interconnected concepts.
The concept of mortality and the interconnectedness of our experiences are explored through the idea of reincarnation, where our personalities and experiences may be influenced by a previous life. The creative process is seen as a partnership between the conscious artist and the unconscious or higher realm, requiring a gradual process of years of trying and eventually giving up the struggle. The idea of the soul or higher consciousness is explored in various ways, including as a communication channel that carries future and potential ideas. The concept of sampling parts of a previous human and incorporating them into a new life is an interesting perspective, raising questions about the nature of existence.
Dive Deeper: Source Material
---
5. Creativity involves overcoming resistance and self-discovery.
The creative process, whether in writing, martial arts, or research, involves overcoming challenges and resisting the ego's fear-based voice. This resistance, often represented as a villain, is a constant battle that never goes away. It's a spiritual battle fought on a practical level, requiring resistance training and fortifying oneself for the day. The biggest resistance comes from deciding on the next idea or project. Despite the fear, there is a belief in one's abilities. The writing process can be lonely, but it's a journey of self-discovery. The process of practice, whether in writing, martial arts, or research, involves drilling technique and overcoming challenges. In writing, it's important to have a good radar for what's good enough after it's written, but it can be difficult to know what's good. Editing is a crucial part of the process, where an editor looks at the overall work and identifies what works and what doesn't. They provide feedback on genre conventions and help the writer improve. Having a great editor is essential for successful writers. It's important to learn from them and teach oneself the rules of writing.
Dive Deeper: Source Material
---
6. Writing is a tough, professional process of self-reflection and creation.
Writing is a process of immersing oneself in the world of characters, understanding their dilemmas, and reflecting deep issues within oneself. It's a tough-minded and professional endeavor, requiring hard work and bravery to create something new. The process is similar to a mother's bravery in saving her child. The characters, though not accidents, are a reflection of the writer's inner world.
Dive Deeper: Source Material
---
7. Balancing productivity and health is key to a fulfilling life.
The balance between productivity and health is crucial, with some prioritizing work over health and others focusing on well-being. A writer's perfect day involves a schedule that allows for both productivity and health, and they use rituals and habits to stay focused. They believe in not worrying about the creative process and letting the muse take care of it. They also visualize their goals for the next day and hope to be open to whatever comes next.
Dive Deeper: Source Material
---
---
💡 Actionable Wisdom
Transformative tips to apply and remember.
Embrace discipline in your daily life to foster personal growth and creativity. Set aside dedicated time for your chosen pursuit, whether it's writing, art, or physical activity, and commit to showing up consistently. Push through the resistance and excuses that may arise, and remember that the process is a journey of self-discovery. Find a balance between productivity and health by prioritizing self-care and incorporating rituals and habits that support your overall well-being. Trust in your abilities and believe in the power of discipline to unlock your full potential.
---
📽️ Source & Acknowledgment
This post summarizes Lex Fridman's YouTube video titled "Steven Pressfield: The War of Art | Lex Fridman Podcast #102". All credit goes to the original creator. Wisdom In a Nutshell aims to provide you with key insights from top self-improvement videos, fostering personal growth. We strongly encourage you to watch the full video for a deeper understanding and to support the creator.
---