Lex Fridman
Susan Cain: The Power of Introverts and Loneliness | Lex Fridman Podcast #298
Insights on the Human Experience and Personal Growth.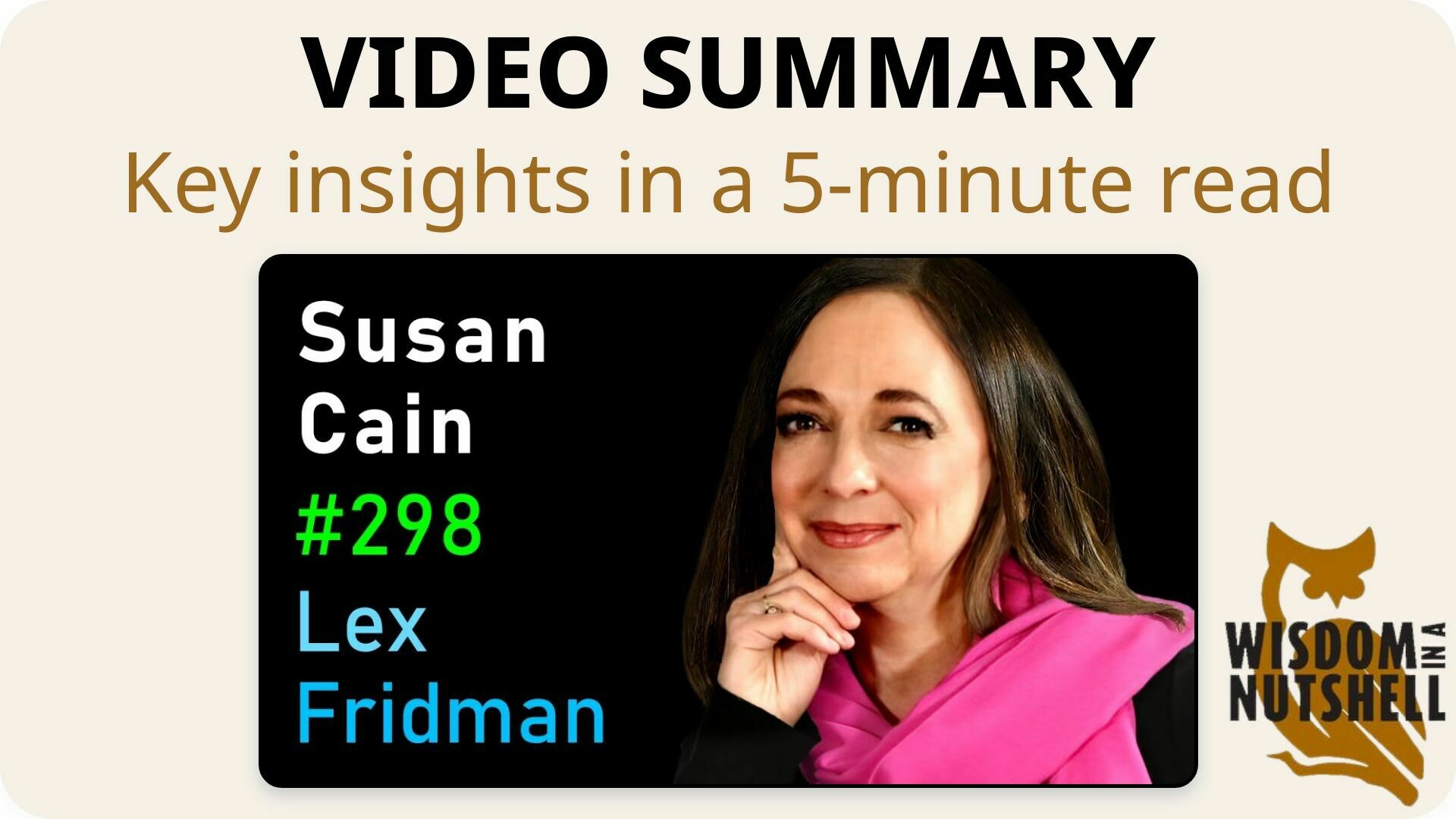 🌰 Wisdom in a Nutshell
Essential insights distilled from the video.
---
---
📚 Introduction
In this blog post, we will explore various insights on the human experience and personal growth. From understanding energy levels and preferences to the longing for perfect love and unity, each topic offers valuable lessons and perspectives. We will also delve into the power of music, the art of public speaking, and the importance of embracing the ups and downs of life. Let's dive in and uncover the wisdom within!
---
🔍 Wisdom Unpacked
Delving deeper into the key ideas.
1. Understanding your energy levels and preferences is key to personal growth.
Understanding your own energy levels and preferences is key to personal growth. Introverts and extroverts have different energy needs and reactions to stimulation. The pandemic has highlighted the importance of social interaction and finding a balance between work and personal life. The third space idea, where you work in a co-working space or cafe, provides a sense of energy and community without the need for direct interaction. Many people prefer deeper conversations, and having a career where you're known for anti-small talk topics can be beneficial. The intensity of parting from someone you've just met can be sad, but it's a reality of life.
Dive Deeper: Source Material
---
2. Longing for perfection shapes our understanding of love and interconnectedness.
The human experience is characterized by a shared longing for something perfect, often evoked by moments of beauty and love. This longing can be seen as a signpost to the direction we truly want to go. The pressure to see ourselves as individual entities can be a barrier to understanding our interconnectedness. Experiencing dark places in the mind, such as grief and loss, can make us better writers, creators, and human beings. These experiences, including complicated relationships, can shape our conception of love for the rest of our lives. Becoming a parent also brings a sense of responsibility and the desire to avoid repeating past issues.
Dive Deeper: Source Material
---
3. Universal longing for unity and love, expressed through music, is influenced by personal experiences.
The longing for a state of perfect love and unity, often expressed through sad music, is a fundamental human desire. This longing, which may be related to the fear of death and the desire for immortality, is not limited to religious beliefs but is a universal human experience. It can manifest in different ways, such as monogamy or polyamory, and is influenced by personal experiences and personality traits. The longer we stay together, the deeper the tie.
Dive Deeper: Source Material
---
4. Creative expression, inspired by life's imperfections, captures beauty and truth.
Leonard Cohen's music and poetry, inspired by Federico Garcia Lorca, capture moments of beauty and truth, often expressing the pain and imperfections of life. His songs, like 'Famous Blue Raincoat', reflect on meaningful and spiritual experiences, and the struggle to find inner peace and calmness after a powerful performance. The importance of everyday life and the joy of connecting with readers through letters is emphasized. The longing for something greater drives us to reach for it, often through creative expression.
Dive Deeper: Source Material
---
5. Public speaking and audio-only experiences can be mastered by introverts.
Public speaking, often associated with extroverts, can be mastered by introverts through desensitization and preparation. It's a process of gradually increasing exposure, building confidence, and internalizing words for authentic emotion. Audio-only experiences, like podcasting, offer a unique connection and intimacy, allowing for deep conversations and the sharing of truths. The primal nature of audio taps into our ancient storytelling tradition, making it a powerful medium for connection and communication.
Dive Deeper: Source Material
---
6. Embrace life's ups and downs, accept death, and leverage sadness for creativity.
The human experience is a mix of ups and downs, and it's crucial to teach children this reality. Death is a natural selection mechanism and a fundamental aspect of life, but it's also important to not neglect the beauty and struggle of our current life on Earth. Sadness can be leveraged for creativity, and it's a universal experience that we can transform into something beautiful. The concept of death can be reframed as something that will eventually happen to us, and it's important to accept this reality and find beauty in it. Understanding why sad music can evoke deep connections and emotions is still a topic of research, and the vagus nerve plays a role in our response to others in distress, which may be an evolutionary design.
Dive Deeper: Source Material
---
7. Balance passion and stability by having a backup plan and understanding risk tolerance.
Pursuing your passion requires a balance between risk and stability. It's crucial to have a backup plan and a way of earning a living to alleviate financial worries and maintain focus. Understanding your personality and risk tolerance can help you make informed decisions. Having a backup plan can also help you stay motivated and committed to your passion. Additionally, setting real or artificial deadlines can aid in staying on track. The key is to do the thing you love, but also set up your life to ensure stability.
Dive Deeper: Source Material
---
8. Life is about embracing experiences and desires, not alleviating suffering.
The essence of life is often felt through experiences that evoke strong emotions, such as beauty or the need to alleviate psychic pain. These experiences can transport us to a state of transcendence, beyond our own self. However, even in moments of peace, there is a desire for something more. This desire is not necessarily a negative thing, but rather a natural part of the human experience. It's important to embrace and live life fully, even as an introvert.
Dive Deeper: Source Material
---
---
💡 Actionable Wisdom
Transformative tips to apply and remember.
Take the time to understand your own energy levels and preferences. Find a balance between work and personal life, and consider exploring the concept of the third space. Embrace the ups and downs of life, and use your experiences, both joyful and challenging, as fuel for personal growth. Pursue your passion while also ensuring stability in your life. Finally, allow yourself to fully experience moments of transcendence and the longing for something more.
---
📽️ Source & Acknowledgment
This post summarizes Lex Fridman's YouTube video titled "Susan Cain: The Power of Introverts and Loneliness | Lex Fridman Podcast #298". All credit goes to the original creator. Wisdom In a Nutshell aims to provide you with key insights from top self-improvement videos, fostering personal growth. We strongly encourage you to watch the full video for a deeper understanding and to support the creator.
---