Lex Fridman
Todd Howard: Skyrim, Elder Scrolls 6, Fallout, and Starfield | Lex Fridman Podcast #342
The Evolution and Impact of Video Games.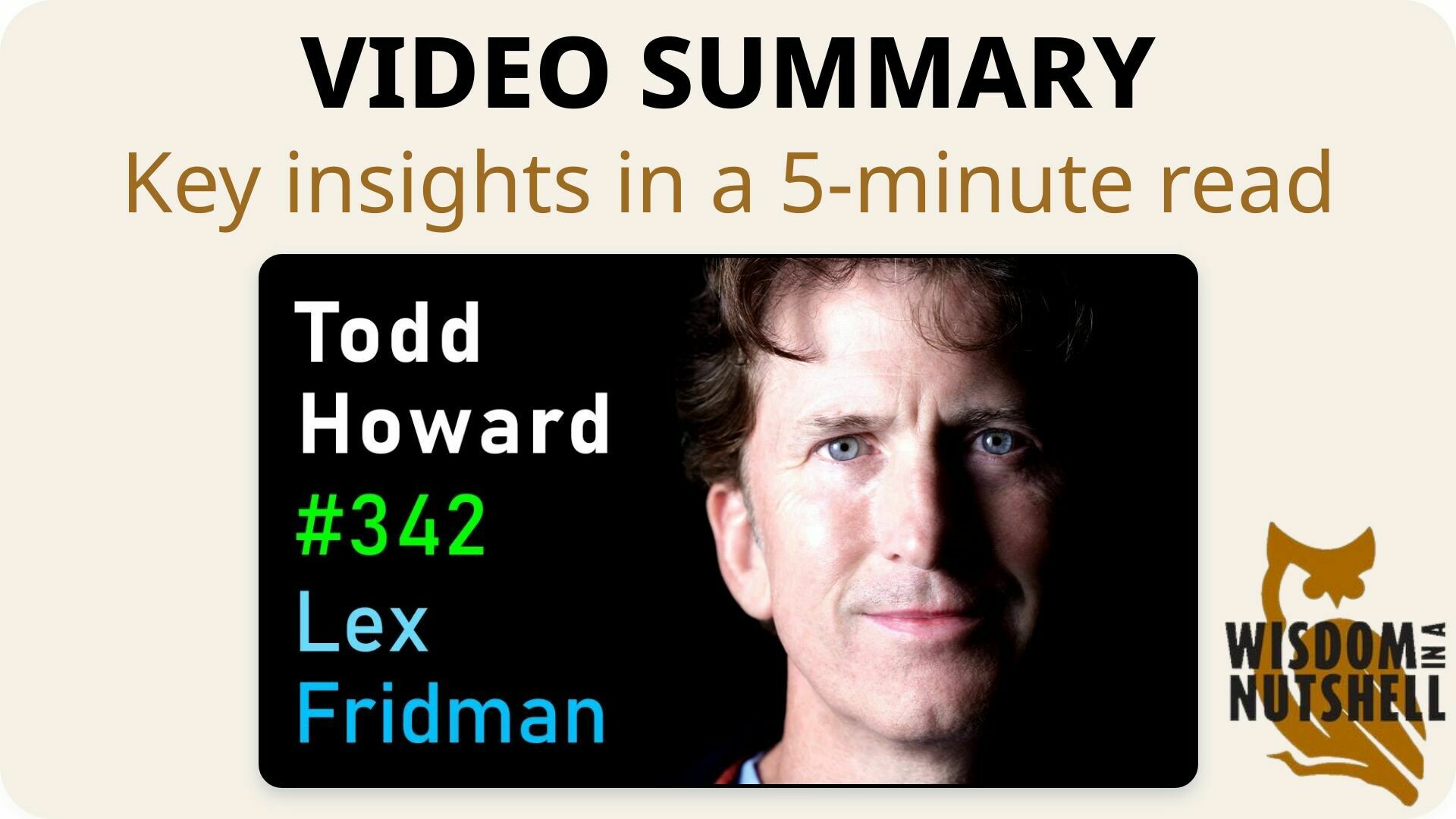 🌰 Wisdom in a Nutshell
Essential insights distilled from the video.
---
---
📚 Introduction
Video games have come a long way since their inception, evolving into immersive and influential experiences. This blog post explores the origins of the Elder Scrolls series, the process of game design, the advancement of technology in gaming, the creation of meaningful games like Starfield, and the importance of moddability and tone in game development. It also delves into the essence of a fulfilling career and the impact of influential games on the gaming industry. Let's dive in and uncover the fascinating world of video games!
---
🔍 Wisdom Unpacked
Delving deeper into the key ideas.
1. Elder Scrolls series originated from love for video games and pushing limits.
The origin of the Elder Scrolls series, a renowned video game franchise, can be traced back to the love for video games and the desire to push the limits of what could be done graphically. The series started with Arena in '94 and Daggerfall in '96, introducing the role-playing game aspect and character development. The failure of Redguard, a game that blended different genres, led to the creation of Morrowind, a large-scale, handcrafted RPG. The series popularized video games and made them mainstream. The creator's love for video games started with playing Space Invaders and Pac-Man in arcades, and they were self-taught programmers who made their own video games. They were part of a group of students who were ahead of the teachers in learning computers. They didn't think making video games was a job, but they pursued it anyway.
Dive Deeper: Source Material
---
2. Balancing open-world exploration, storytelling, and player engagement is key to game design.
Designing video games involves balancing open-world exploration, storytelling, and player engagement. Games should be as open as possible, allowing players to discover hidden paths and items. Quests should offer open-ended solutions and be designed for different platforms, with mobile games catering to short play sessions and younger audiences. The timeline for game development is influenced by deadlines, but quality and fan satisfaction should be prioritized. Rare items and lore add to the game's dynamic, and sharing stories and experiences is a key part of the game experience.
Dive Deeper: Source Material
---
3. Open-world game development involves AI, NPCs, and voice acting.
The development of open-world games involves creating systems that can handle a large amount of data and interactions, including rendering, physics, interactivity, and combat. The AI and NPCs play a crucial role in the game's experience, with NPCs able to pick up and use weapons. The NPCs' interactions with the environment define the player's experience. The AI is constantly being iterated upon to improve reactivity and understanding of their roles in the world. The use of language models and neural networks for open-ended dialogue and chatbots is an exciting development for the future of gaming. Voice actors play a significant role in bringing characters to life and defining the game's tone. The recording process for voice acting starts early and continues throughout the development of the game, helping to shape the characters and tone.
Dive Deeper: Source Material
---
4. Gaming advancements prioritize realism and immersion over graphics.
The advancement of technology in the gaming industry has led to a trade-off between realism and storytelling. While graphics and speed may be sacrificed for player agency and experience, the amount of art time required for creating detailed graphics has increased. Creating a realistic and immersive experience, including the soundscape and the rendering of the sky, is crucial. The tone of a game or story is important, encompassing all aspects of the experience. It's helpful to start with something grounded in reality, considering elements like technology level, magic, and how characters live their lives. The inclusion of dragons in certain games adds to the immersion and visual representation, mirroring the player experience.
Dive Deeper: Source Material
---
5. Games can provide meaningful experiences, inspire curiosity, and spark interest in exploration.
The process of creating a game, like Starfield, involves a deep understanding of human psychology and the desire for connection and meaning. Games can be a meaningful use of time, providing important experiences and emotional connections. They can also inspire curiosity and appreciation for the world around us. The design of games, like Starfield, aims to create a realistic and immersive world, sparking interest in space exploration and engineering. The game's creators hope to find intelligent life on other planets and explore the universe. The impact of games on people's lives and the work of the teams behind them is significant.
Dive Deeper: Source Material
---
6. Game development involves careful character creation, combat, crafting, and world building.
The process of creating a game involves careful consideration of moddability, tone, and direction, with a focus on creating a unique and engaging experience. Character creation is crucial, as it sets the stage for the game and allows players to develop their identity. The game development process involves prototyping, expanding, and refining the game's flow and balance, with a focus on combat and crafting. Combat is a combination of art and science, with a goal of making it feel good in the player's hands. Crafting and cooking are designed to create a simulation where players can use found items to create valuable items. The game's world creation involves innovative techniques and a focus on bringing back favorite elements from previous games. The character generation process allows players to feel like their character, with a sense of their past and a goal to find their father.
Dive Deeper: Source Material
---
7. Passion, resilience, and a player-centric approach are key to game development success.
The essence of a fulfilling career lies in doing something you genuinely enjoy, not for monetary gains or recognition. This mindset, combined with resilience and a passion for problem-solving, can lead to success. In the context of game development, it's about creating a tangible and enjoyable player experience, using data to understand player preferences, and considering the impact of decisions on players. The culture of a company can greatly influence the development process, with Microsoft's acquisition of Bethesda aligning with the company's values and prioritizing player satisfaction. The difference between creating for console and PC lies mainly in the interface, with the series X console being an incredible machine. The best game of all time is subjective, varying for each person.
Dive Deeper: Source Material
---
8. Influential games shape the gaming industry, offering diverse experiences.
The gaming industry is shaped by influential games like Tetris, Super Mario, the Elder Scrolls series, and Ultima 7, which offer unique gameplay experiences. Digital ownership is valued, and collecting games is a way to appreciate their artwork and cover art. Open-world games like Zelda Breath of the Wild and Grand Theft Auto/Red Dead Redemption offer engaging exploration and storytelling. Role-playing games like Hearthstone and NCAA football provide dynamic gameplay and a college football theme. Games like FIFA and Forza require balancing gameplay for single-player and multiplayer experiences, making them highly regarded.
Dive Deeper: Source Material
---
9. Television's freedom in storytelling and the potential of video games.
The advent of television has led to the creation of big budget TV series, like Westworld, which has gained popularity. Unlike movies, TV shows have the freedom to explore different areas of the map and tell unique stories within the same world. This approach allows for character-driven narratives and the opportunity to create a standalone story that complements the games without retelling them. The opening of Raiders is the greatest movie opening ever, and the character and story of Indiana Jones are loved by many. The idea of making an Indiana Jones game has always been on the bucket list, and it was pitched to Lucas and later to Disney. Machine Games, known for the Wolfenstein series, were chosen to develop the game. It is a unique mashup of different elements. Mods are possible in Elder Scrolls 6, but maintaining realism is important. The future holds creating games and enjoying the development process. Life is like a video game, and the meaning of life is to find enjoyment and fulfillment in one's vocation.
Dive Deeper: Source Material
---
---
💡 Actionable Wisdom
Transformative tips to apply and remember.
Find enjoyment and fulfillment in your chosen vocation, just like game developers do. Embrace resilience and problem-solving, and consider the impact of your decisions on others. Take time to appreciate influential games and the artistry behind them. Explore the world of gaming and discover the unique experiences it offers. Remember, life is like a video game, and the meaning lies in finding joy and fulfillment in your journey.
---
📽️ Source & Acknowledgment
This post summarizes Lex Fridman's YouTube video titled "Todd Howard: Skyrim, Elder Scrolls 6, Fallout, and Starfield | Lex Fridman Podcast #342". All credit goes to the original creator. Wisdom In a Nutshell aims to provide you with key insights from top self-improvement videos, fostering personal growth. We strongly encourage you to watch the full video for a deeper understanding and to support the creator.
---