TED
Sleep is your superpower | Matt Walker
The Importance of Sleep for Learning and Memory.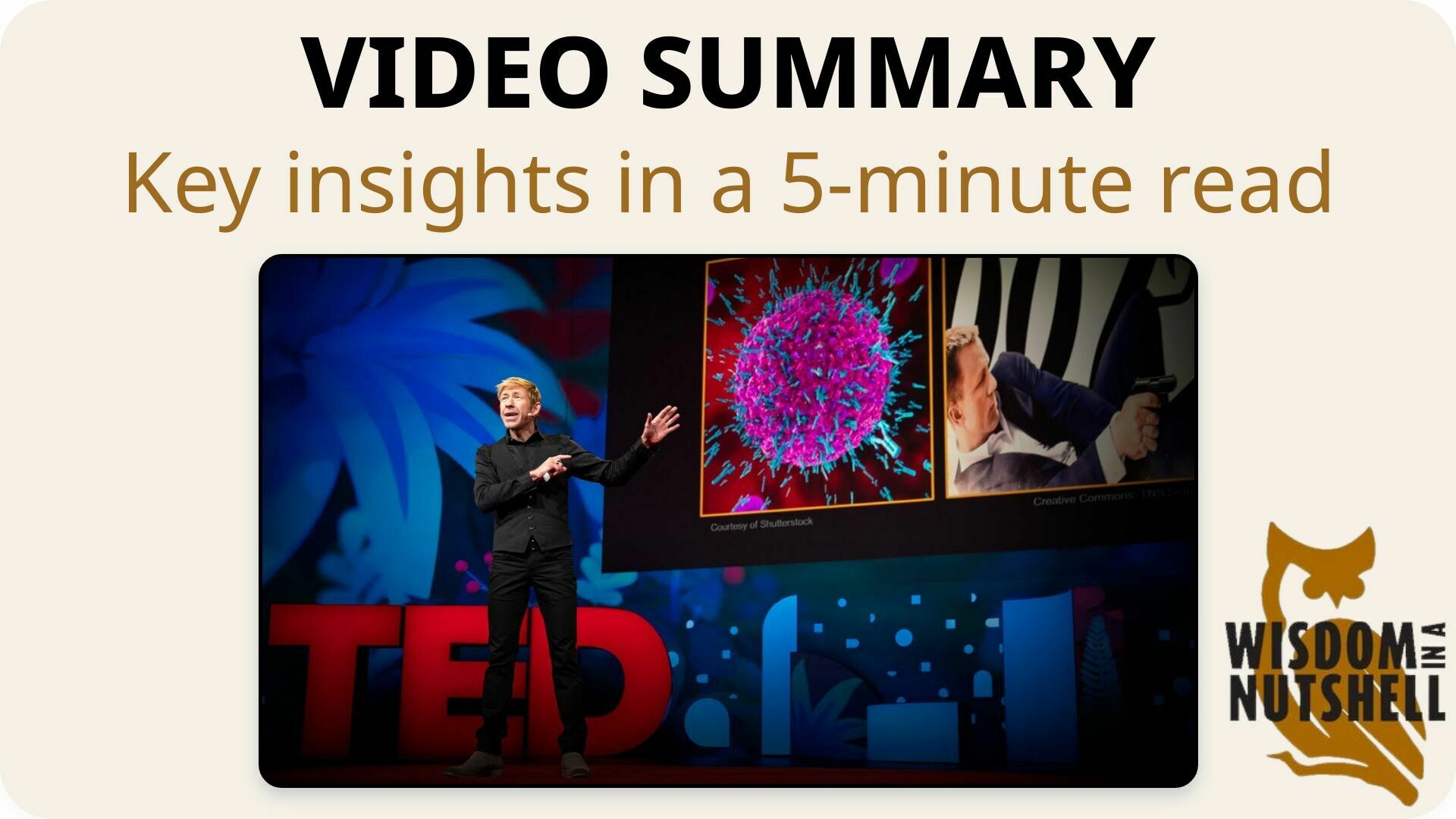 🌰 Wisdom in a Nutshell
Essential insights distilled from the video.
---
---
📚 Introduction
In this blog post, we will explore the crucial role of sleep in learning and memory, the impact of sleep deprivation on memory, and the importance of deep sleep for memory consolidation and protection.
---
🔍 Wisdom Unpacked
Delving deeper into the key ideas.
1. Testicles and sleep are vital for male fertility and overall wellness.
Testicles, often misunderstood, play a crucial role in male fertility and are present in both men and women. They are vulnerable to various health issues. Sleep deprivation can significantly impact testosterone levels and reproductive health in both men and women, aging them by a decade. Prioritizing sleep is crucial for overall wellness and brain functions like learning and memory.
Dive Deeper: Source Material
---
2. Sleep is crucial for learning, memory, and overall health.
Sleep is a crucial factor in learning and memory, with sleep after learning consolidating new memories and sleep before learning preparing the brain for new information. Sleep deprivation significantly impairs the ability to make new memories, affecting the hippocampus, a structure responsible for receiving and holding new memory files. Deep sleep brain waves and sleep spindles during the deepest stages of sleep help transfer memories from short-term to long-term storage, protecting them. Disruption of deep sleep is linked to cognitive decline and memory loss in aging and Alzheimer's disease. Sleep can be treated, with methods like direct current brain stimulation during sleep potentially restoring healthy quality of deep sleep in older adults and those with dementia, potentially salvaging aspects of their learning and memory function. Sleep is also essential for the body, as sleep loss can affect the reproductive system.
Dive Deeper: Source Material
---
3. Sleep deprivation significantly impacts health, affecting immune system and DNA.
Sleep deprivation has significant health consequences, including increased risk of cancer, Alzheimer's disease, and shorter lifespan. It can also affect our DNA, leading to changes in gene activity. Sleep loss can impact our immune system, promote tumors, cause chronic inflammation, and increase stress and cardiovascular disease. To improve sleep, it is important to avoid alcohol and caffeine, avoid naps during the day, and maintain a regular sleep schedule. Keeping the bedroom cool can also enhance sleep quality.
Dive Deeper: Source Material
---
4. Prioritize sleep, break the bedroom-wakefulness association, and relearn sleep.
Sleep is a non-negotiable biological necessity, and its decimation is having a catastrophic impact on our health, wellness, safety, and education. To initiate sleep and stay asleep, your body needs to drop its core temperature by about two to three degrees Fahrenheit. It's easier to fall asleep in a room that's too cold than too hot. Aim for a bedroom temperature of around 65 degrees or 18 degrees Celsius. When we can't catch up on sleep, it's important to prioritize. Sleep deprivation is catastrophic because it affects both the brain and the body. To break the association between the bedroom and wakefulness, get out of bed and do something different in a different room. Only return to bed when you are sleepy. This will help you relearn the association that your bed is the place of sleep.
Dive Deeper: Source Material
---
---
💡 Actionable Wisdom
Transformative tips to apply and remember.
To improve your sleep and enhance your learning and memory, prioritize getting enough sleep each night, maintain a regular sleep schedule, and create a cool and comfortable sleep environment. If you struggle with falling asleep, get out of bed and engage in a relaxing activity in a different room before returning to bed when you feel sleepy.
---
📽️ Source & Acknowledgment
This post summarizes TED's YouTube video titled "Sleep is your superpower | Matt Walker". All credit goes to the original creator. Wisdom In a Nutshell aims to provide you with key insights from top self-improvement videos, fostering personal growth. We strongly encourage you to watch the full video for a deeper understanding and to support the creator.
---