TED
The power of introverts | Susan Cain
The Power of Introversion and Solitude in a Noisy World.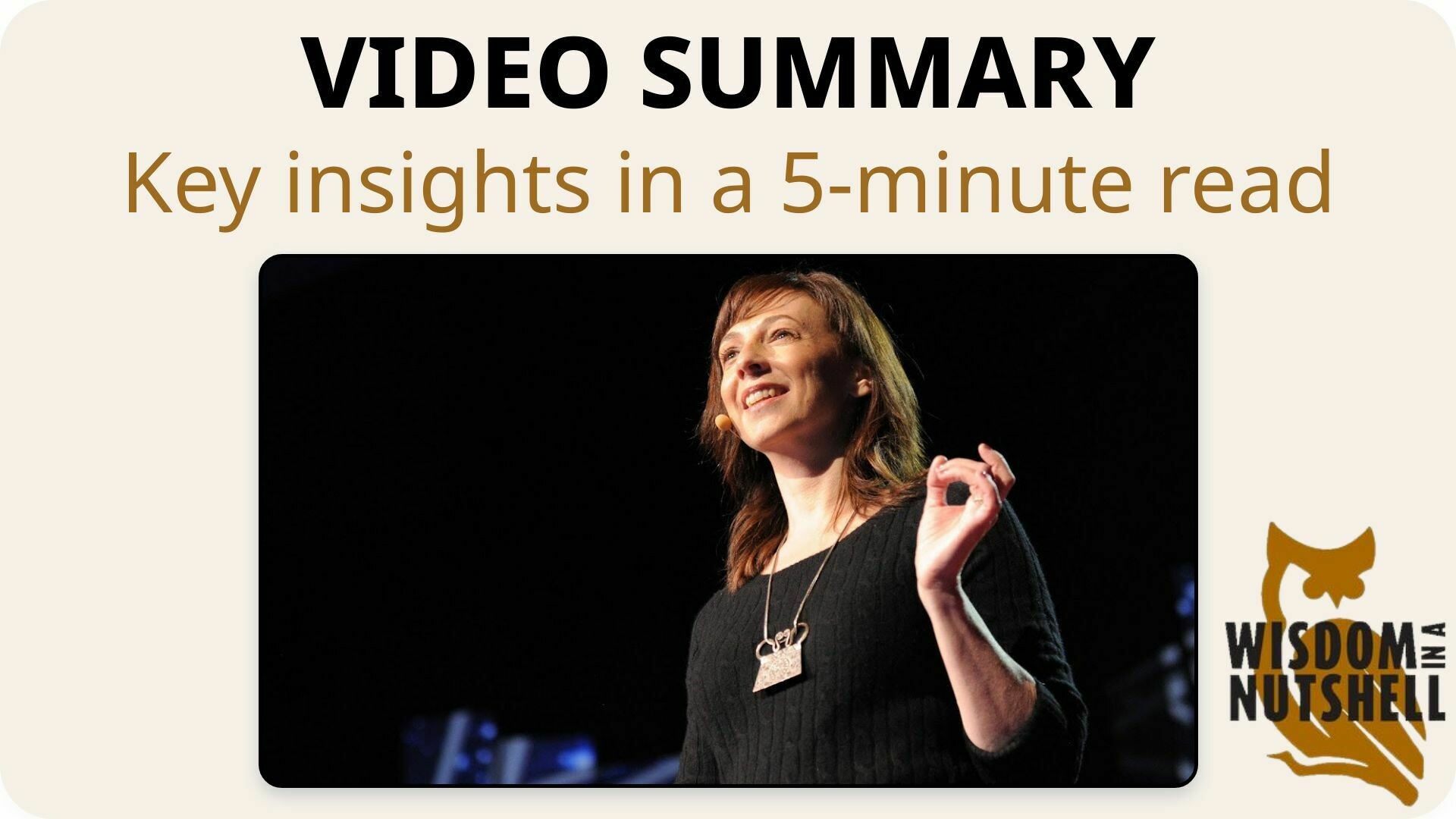 🌰 Wisdom in a Nutshell
Essential insights distilled from the video.
---
---
📚 Introduction
In a world that values extroversion and constant stimulation, introverts often feel overlooked and misunderstood. However, there is a growing recognition of the unique strengths and insights that introverts bring. This blog post explores the power of introversion, the importance of solitude, and the need for a balance between group work and individual reflection.
---
🔍 Wisdom Unpacked
Delving deeper into the key ideas.
1. Introversion is valuable, but often misunderstood and undervalued.
Introversion is a response to stimulation, often leading to self-negating choices to fit in. Our schools and workplaces are designed for extroverts, limiting the talents of introverts. The belief that all creativity and productivity come from group work is prevalent, leading to bias against introverts. However, there is a growing recognition of the value of introversion, with a book on the topic taking seven years to write and now being a blissful experience. The belief in change in our attitudes towards introversion, quietness, and solitude is also gaining traction.
Dive Deeper: Source Material
---
2. Introverts excel in leadership and creativity, often requiring solitude.
Introverts are often overlooked for leadership positions, but research shows that introverted leaders tend to deliver better outcomes. They are more likely to let employees run with their ideas, while extroverted leaders may overshadow others' ideas. Many transformative leaders throughout history have been introverts. Solitude is often crucial for creativity, as many creative individuals have a streak of introversion. Steve Wozniak, co-founder of Apple, credits his introversion for his expertise. Solitude has been recognized for its transcendent power for centuries. Our cultural history has favored action over contemplation, leading to the marginalization of introverts and the guilt they feel for wanting alone time.
Dive Deeper: Source Material
---
3. Self-help books evolve with societal needs, now focusing on charisma and salesmanship.
The evolution of self-help books has mirrored societal changes, from emphasizing character and modesty in the past to focusing on qualities like magnetism and charisma in the 20th century. This shift occurred as people moved from small towns to cities and had to prove themselves in a crowd of strangers. Today, self-help books feature role models like great salesmen, reflecting our cultural inheritance.
Dive Deeper: Source Material
---
4. Introverts bring unique perspectives and insights.
Social skills are crucial, but it's also important to allow introverts to be themselves. Introverts often have unique solutions to complex problems. It's also significant to recognize the value of introverts in society, as they often bring unique perspectives and insights. For instance, a rabbi who was introverted and humble was highly respected and mourned by his congregation when he passed away.
Dive Deeper: Source Material
---
5. Learn from your elders and their wisdom.
The speaker reflects on their grandfather's influence and tries to learn from his example. They aim to emulate his wisdom and approach to life.
Dive Deeper: Source Material
---
6. Foster casual interactions, reflect on experiences, and examine personal motivations.
The constant group work and lack of casual interactions at work and school are detrimental to personal growth and development. It's crucial to encourage casual, chatty interactions and foster a sense of community. Additionally, taking time to reflect on one's own experiences and motivations, such as going to the wilderness for personal revelations, can be transformative. It's also important to examine one's own suitcase and the reasons behind the items inside, as this can reveal valuable insights about oneself.
Dive Deeper: Source Material
---
---
💡 Actionable Wisdom
Transformative tips to apply and remember.
Take time each day to embrace solitude and engage in introspection. This could be through activities like journaling, meditation, or simply going for a walk alone. By allowing yourself moments of quiet and self-reflection, you can tap into your inner wisdom and recharge your energy. Additionally, make an effort to appreciate the strengths and perspectives of introverts in your personal and professional life, creating a more inclusive and balanced environment.
---
📽️ Source & Acknowledgment
This post summarizes TED's YouTube video titled "The power of introverts | Susan Cain". All credit goes to the original creator. Wisdom In a Nutshell aims to provide you with key insights from top self-improvement videos, fostering personal growth. We strongly encourage you to watch the full video for a deeper understanding and to support the creator.
---