Tim Ferriss
Books I've Loved — Alain de Botton | The Tim Ferriss Show
Exploring the True and False Self: Insights from Donald Winnicott and Arthur Schopenhauer.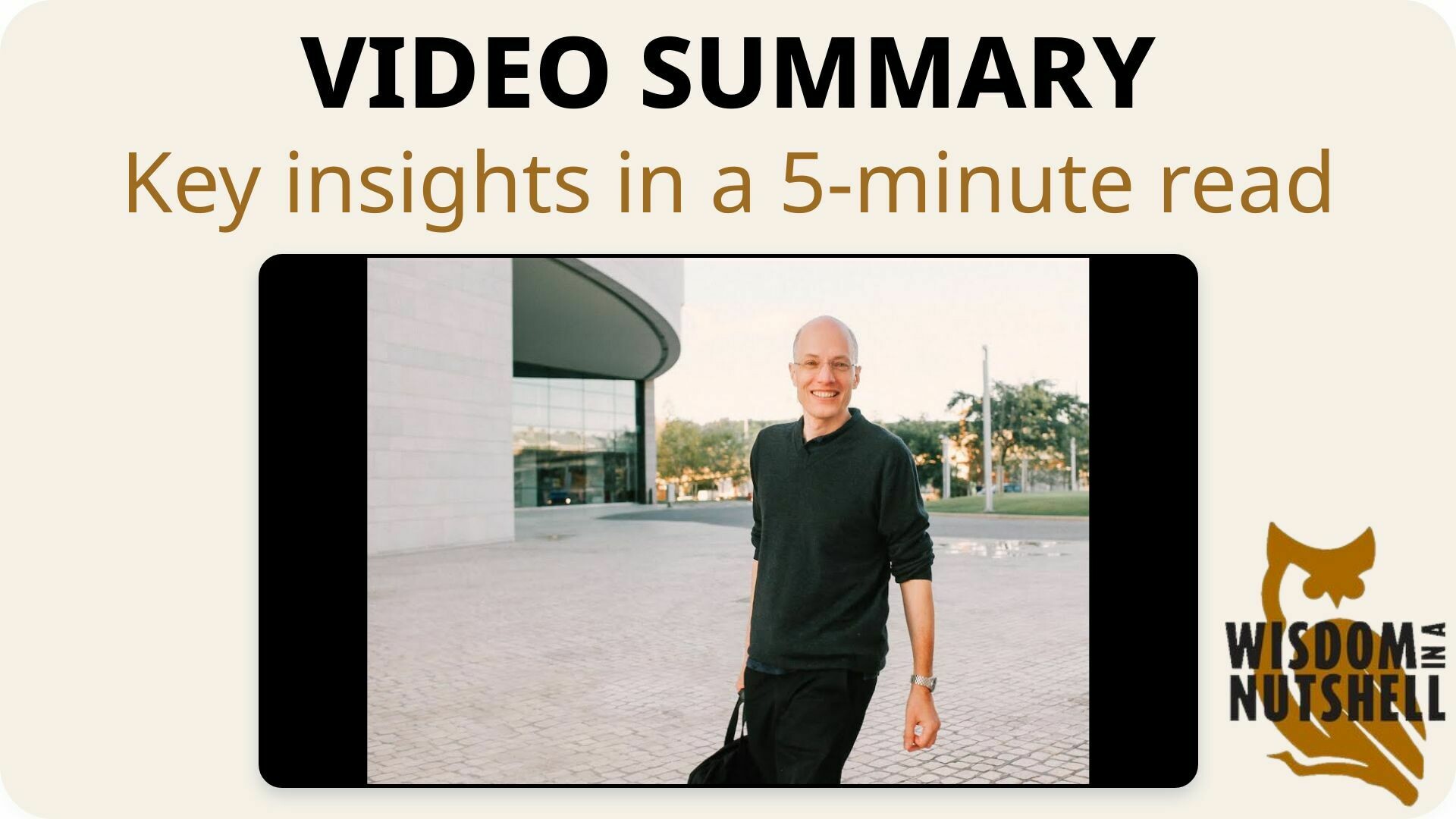 🌰 Wisdom in a Nutshell
Essential insights distilled from the video.
---
---
📚 Introduction
In this blog post, we delve into the concepts of the true and false self, the impact of 'good children' on self-expression, the importance of 'good enough' parents, and the wisdom of embracing despair. We also introduce a weekly email newsletter called Five Bullet Friday that offers a delightful way to start your weekend.
---
🔍 Wisdom Unpacked
Delving deeper into the key ideas.
1. Authenticity is key to expressing our true selves.
The concept of the true and false self is explored in 'Home is Where We Start From' by Donald Winnicott. Babies are born with authenticity, but as we grow, we may develop a false self based on others' expectations. It's crucial to have moments of authenticity, even if it causes discomfort, to express our true selves.
Dive Deeper: Source Material
---
2. Balancing compliance and self-expression is key to personal growth.
The concept of 'good children' can have both positive and negative effects. Over-compliance in early life can lead to difficulties in later life when individuals lose touch with their own needs. On the other hand, excessive compliance can result in internal conflicts. The idea of 'good enough' parents is crucial in this context, as it emphasizes the importance of finding a balance between the true and false self. This balance is essential for individuals to express themselves authentically and avoid suppressing natural behaviors.
Dive Deeper: Source Material
---
3. The concept of "good enough" is reassuring and applicable to various aspects of life.
The concept of 'good enough' is a reassuring idea that no child needs a perfect parent. In fact, a perfect parent can be detrimental as it prevents the child from learning about the imperfections of the world. This idea of 'good enough' applies not only to parenting but also to various aspects of life, such as being good enough workers, friends, and colleagues. It emphasizes that all we need is someone who is 'good enough' to provide us with the necessary support and guidance.
Dive Deeper: Source Material
---
4. Embrace pessimism to accept life's challenges.
The book 'Essays on the Wisdom of Life' by Arthur Schopenhauer offers a pessimistic but comforting perspective on life. It encourages us to embrace despair and laugh defiantly at it, acknowledging that many of our dreams may not come true, love may not work out, and people may disappoint us. This perspective, though dark, helps us accept the challenges of life and reminds us that we are not alone in our despair.
Dive Deeper: Source Material
---
5. Subscribe to Five Bullet Friday for weekly cool discoveries.
Five Bullet Friday is a weekly email newsletter that provides a fun and informative start to your weekend. It includes cool discoveries like new albums, gadgets, and interesting articles. To receive this newsletter, simply sign up with your email on fourhourworkweek.com.
Dive Deeper: Source Material
---
---
💡 Actionable Wisdom
Transformative tips to apply and remember.
Take a moment each day to connect with your true self and express your authentic thoughts and feelings. Embrace the idea of being 'good enough' in various aspects of your life, allowing room for imperfections and growth. When faced with despair, find solace in the shared human experience and use humor as a coping mechanism. Sign up for Five Bullet Friday to discover new and exciting things that can add joy to your weekends.
---
📽️ Source & Acknowledgment
This post summarizes Tim Ferriss's YouTube video titled "Books I've Loved — Alain de Botton | The Tim Ferriss Show". All credit goes to the original creator. Wisdom In a Nutshell aims to provide you with key insights from top self-improvement videos, fostering personal growth. We strongly encourage you to watch the full video for a deeper understanding and to support the creator.
---