Tim Ferriss
Books I've Loved — Cindy Eckert and Alexis Ohanian | The Tim Ferriss Show
Insights from Inspirational Speakers and Informative Books.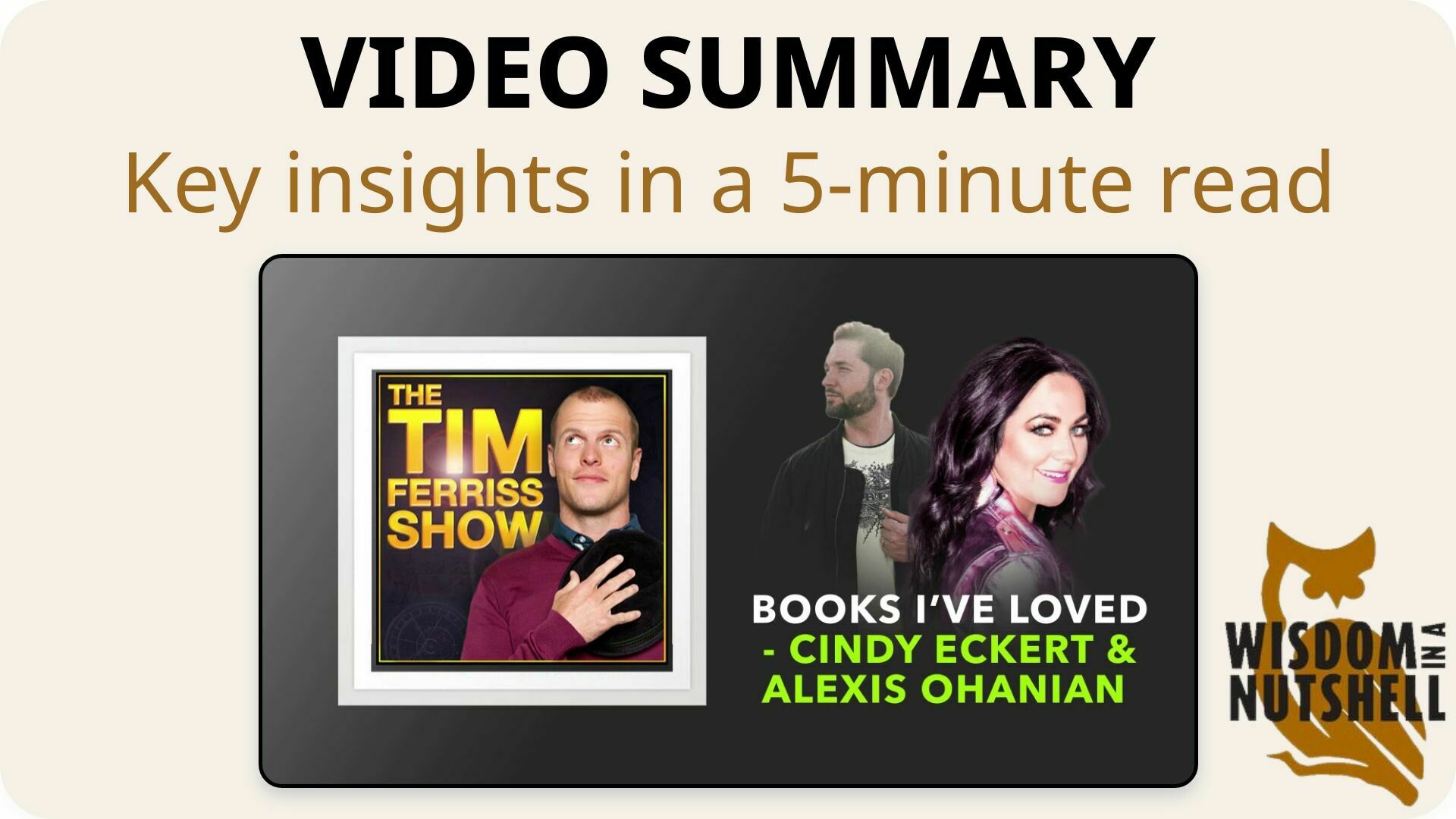 🌰 Wisdom in a Nutshell
Essential insights distilled from the video.
---
---
📚 Introduction
In this blog post, we will explore the wisdom shared by inspirational speakers and the knowledge gained from informative books. From the power of mentors to the importance of sleep, these insights will inspire and educate readers on various aspects of life.
---
🔍 Wisdom Unpacked
Delving deeper into the key ideas.
1. New segment 'Books I've Loved' shares inspiring books and their influence.
The speaker shares their experience of running at high altitude and their new segment, 'Books I've Loved', where they invite guests to share their favorite books and their influence. This segment aims to provide new mentors and inspire listeners to apply the lessons in their own lives.
Dive Deeper: Source Material
---
2. Id Software's story inspires passion and entrepreneurship.
The story of id Software's founding and their creation of the first-person shooter genre with 'Wolfenstein 3D' had a significant impact on the author's life, inspiring them to pursue their passion and start a company. The author recommends a recent read, a book that they highly recommend, especially for gamers.
Dive Deeper: Source Material
---
3. Sleep is crucial for brain health, productivity, and recovery.
The book 'Why We Sleep' by Matthew Walker delves into the significance of sleep and its impact on our lives. It explains how sleep affects our brain and overall health, and why it is crucial for productivity and recovery. The book highlights the dangers of sleep deprivation and the benefits of prioritizing sleep. It also discusses the impact of sleep on child brain development. The book provides valuable insights into the importance of sleep and its long-term effects.
Dive Deeper: Source Material
---
4. Subscribe to Five Bullet Friday for weekly inspiration.
To receive a weekly email with fun and interesting discoveries, visit 4hourworkweek.com and sign up with your email. This email, called Five Bullet Friday, shares cool things like new albums, gizmos, and gadgets, as well as interesting articles. It's a great way to start your weekend with a positive and inspiring note.
Dive Deeper: Source Material
---
---
💡 Actionable Wisdom
Transformative tips to apply and remember.
Prioritize sleep and create a bedtime routine that allows for at least 7-8 hours of quality sleep. This will improve your brain function, overall health, and productivity. Avoid electronic devices before bed and create a calm and comfortable sleep environment.
---
📽️ Source & Acknowledgment
This post summarizes Tim Ferriss's YouTube video titled "Books I've Loved — Cindy Eckert and Alexis Ohanian | The Tim Ferriss Show". All credit goes to the original creator. Wisdom In a Nutshell aims to provide you with key insights from top self-improvement videos, fostering personal growth. We strongly encourage you to watch the full video for a deeper understanding and to support the creator.
---