Tim Ferriss
Dustin Moskovitz, Co Founder of Asana and Facebook | The Tim Ferriss Show
Insights from Various Topics.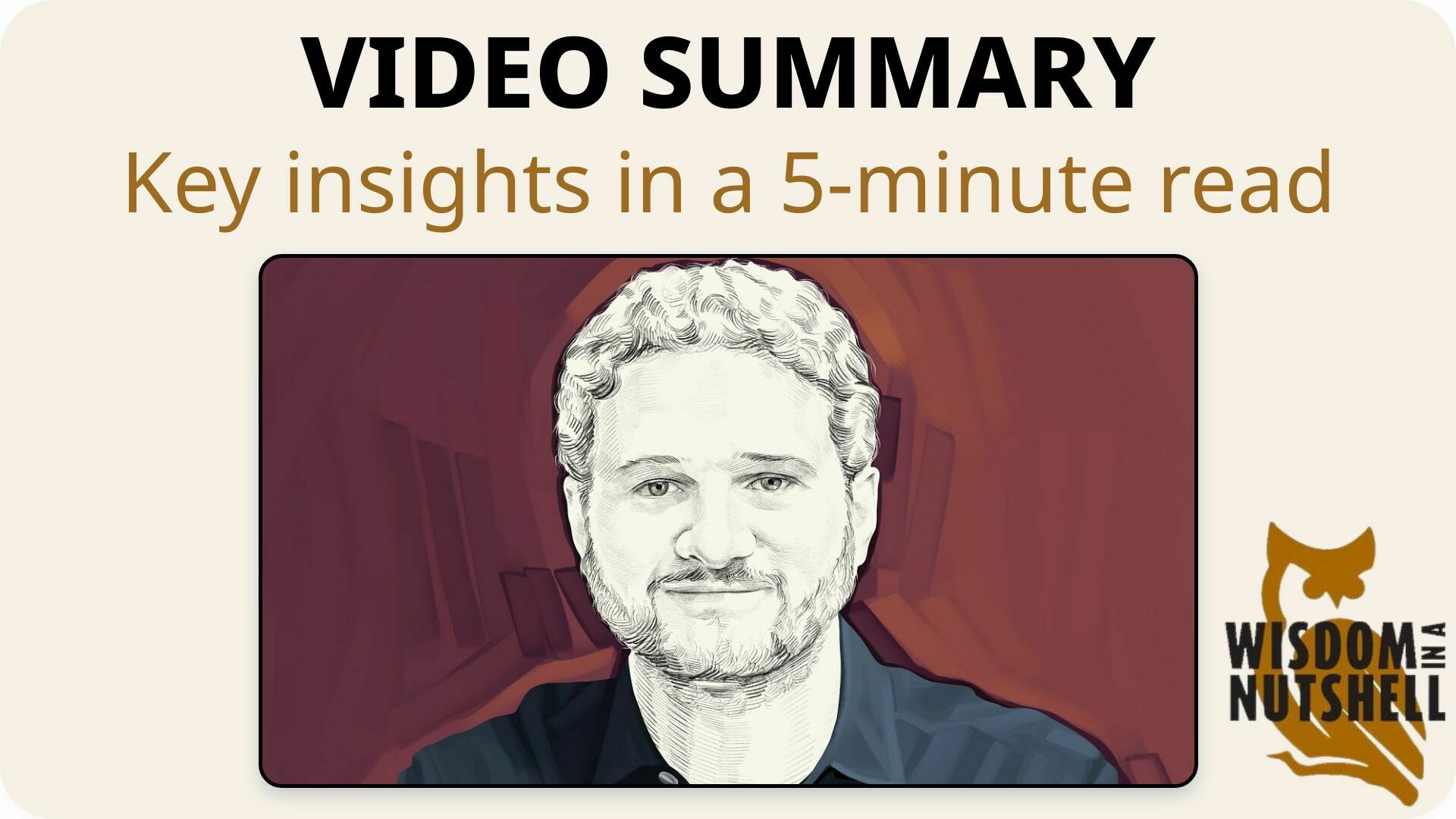 🌰 Wisdom in a Nutshell
Essential insights distilled from the video.
---
---
📚 Introduction
In this blog post, we will explore a variety of topics and uncover key insights that can help improve different aspects of our lives. From managing anger and back pain to optimizing work experiences and finding balance, there is something for everyone. Let's dive in and discover the wisdom these topics have to offer.
---
🔍 Wisdom Unpacked
Delving deeper into the key ideas.
1. Address anger and use tools like Back Buddy Massage Tool and light came patches for back pain.
Anger management is crucial for physical health, as suppressing it can lead to issues like lower back pain. It's important to express and process your feelings in a healthy way, such as writing them down or engaging in physical activities. One tool that can help with back pain is the Back Buddy Massage Tool, a device with knobs and shapes that can be used to massage different areas of the body. It's cheap, indestructible, and very effective. Another hack for back pain is light came patches, topical patches that can be worn for several hours to provide relief without any negative side effects.
Dive Deeper: Source Material
---
2. Remote work challenges require effective communication and understanding.
The pandemic has highlighted the challenges of remote work, particularly in-person meetings. While video calls can be draining and lack the natural flow of dialogue, they are often necessary. However, it's important for managers to understand how to manage their energy and be transparent about their quirks. A guide for success, communication, meetings, personality, motivation, and management style can be helpful in this regard. It's also crucial to recognize that disagreements are often due to differences in input assumptions rather than real conflicts.
Dive Deeper: Source Material
---
3. Effective time management in tech involves prioritizing tasks, delegating, and maintaining balance.
Effective time management is crucial for leaders, especially in the tech industry where burnout is common. This involves prioritizing tasks, delegating effectively, and maintaining a balance of energy. It's important to create a schedule that includes time for personal nourishment, such as sleep, exercise, and personal hobbies. This balance can be achieved by categorizing time into work, home, sleep, and other activities, and by using tools like spreadsheets to manage tasks. It's also important to remind team members of the importance of self-care and to avoid micromanaging.
Dive Deeper: Source Material
This summary was generated from the following video segments. Dive deeper into the source material with direct links to specific video segments and their transcriptions.
| Segment | Video Link | Transcript Link |
| --- | --- | --- |
| Coaching for endurance. | 🎥 | 📄 |
| Difficult but desirable delegation. | 🎥 | 📄 |
| The time-saving spreadsheet. | 🎥 | 📄 |
| Blocking personal time. | 🎥 | 📄 |
---
4. OKRs, regular checkpoints, and consistent weekly architecture simplify productivity.
The concept of Objectives and Key Results (OKRs) is a framework for setting goals and tracking progress. The paradox of choice, referring to the overwhelming number of options, can lead to decision fatigue. Regular checkpoints for reflection are important to ensure strategic and tactical moves are implemented. No meeting Wednesday is a practice where everyone synchronizes their calendars to avoid meetings and have focused blocks of time for productivity. Having a consistent weekly architecture, such as a recording schedule, can simplify communication, planning, and time management. For example, recording podcasts on Monday and Friday at 10 a.m. or 3 p.m. reduces complexity and makes it easier to plan for the long term. Team calls and meetings are scheduled on Tuesday, which defines the weekly cadence. The rest of the week is focused on meetings, individual contributor work, and coaching. Friday is light with a few meetings and work block time.
Dive Deeper: Source Material
---
5. Conscious leadership: understanding perspectives, expressing emotions, and structured communication.
Conscious leadership is a framework that emphasizes understanding different perspectives and holding stories lightly. It involves a set of principles, such as being aware of emotions and expressing them, which can help individuals and organizations navigate challenging situations. This framework can be applied in personal relationships and in the workplace, where it's crucial to create a space for open and clear conversations. A structured approach to communication, such as starting with something inarguable and including a request, can be effective in deescalating emotions and opening conversations. It's also important to acknowledge and feel your emotions, even if it means intentionally pushing yourself to the limit.
Dive Deeper: Source Material
This summary was generated from the following video segments. Dive deeper into the source material with direct links to specific video segments and their transcriptions.
| Segment | Video Link | Transcript Link |
| --- | --- | --- |
| The 15 Commitments to Conscious Leadership. | 🎥 | 📄 |
| Working with Diana Chapman. | 🎥 | 📄 |
| Clearing conversations. | 🎥 | 📄 |
| Nonviolent Communication. | 🎥 | 📄 |
---
6. Effective altruism prioritizes cause areas, emphasizing problem-solving and new solutions.
The concept of effective altruism, a philosophy that aims to maximize the good done, is explored. It involves philanthropic donations, choosing a career aligned with doing the most good, and earning to give. The focus is on cause areas like global health and well-being, animal welfare, and global catastrophic risks. The idea is to prioritize cause areas that are important, hard to do, tractable, and neglected. The book 'The Beginning of Infinity' highlights the power of compounding knowledge and human ingenuity, with examples of crises resolved and alternative solutions found. The concept of status quo bias, where people assume things will remain the same, is also discussed. The book emphasizes the importance of problem-solving and the potential for new solutions.
Dive Deeper: Source Material
---
7. AI development poses risks; regulation, safety incentives, and communication are key.
The development of AI and its potential use in bio weapons poses significant risks. The challenge lies in regulating and safeguarding the use of language models, as they can be used for malicious purposes. The AI risk landscape is concerning due to the number of actors and varying degrees of concern and control. Creating incentives for safety in AI development is a challenging problem, and communication and engagement between labs are crucial. The development of AI can be fast, and there may not be enough time or attention focused on safety issues. The production of powerful AI could be by an antagonistic state or someone who prioritizes commercialization over safety, leading to a chaotic and unpredictable situation with many potential risks.
Dive Deeper: Source Material
This summary was generated from the following video segments. Dive deeper into the source material with direct links to specific video segments and their transcriptions.
| Segment | Video Link | Transcript Link |
| --- | --- | --- |
| Funding future pandemic preparation. | 🎥 | 📄 |
| AI risks and Yuddites. | 🎥 | 📄 |
| Most promising avenues of AI defense. | 🎥 | 📄 |
| Incentivizing AI safety compliance. | 🎥 | 📄 |
| Further AI threats. | 🎥 | 📄 |
---
8. AI can revolutionize work experiences, optimizing schedules, tasks, and goal management.
AI can significantly improve work experiences by optimizing schedules, automating tasks, and serving as a coach and conflict resolver. It can also help with goal management and celebrate accomplishments. Tools like Asana, when integrated with AI, can enhance work organization, prioritization, and goal management. AI can also help with time blocking and energy management, leading to more enjoyable work experiences and better business outcomes.
Dive Deeper: Source Material
---
9. Balance work and life, prioritize rest, and seek guidance from books.
The key to maintaining balance and well-being is to reflect on what activities and practices bring restoration and what causes taxation. It's about finding a cadence that works for you and iterating towards better balance over time. When facing uncertainty or stress, revisiting books can provide a refresher or reminder. For mindfulness books, authors like Jack Cornfield offer many options. For biographies, Churchill's life is extraordinary, and biographers like Turnbull and Carol are highly regarded. When it comes to putting a quote or image on a billboard, prioritizing the quality of both work and life is crucial. Rest and self-care are crucial for performing well in work hours. In the tech industry, especially in your 20s, people often prioritize work over other aspects of life, but it's important to be intentional about finding balance. One book recommended is 'The Road Back to You' by Ian Morgan Cron, which explores the Enneagram. It provides accurate descriptions of the different types, especially for type five. The book is suitable for those with no familiarity with the Enneagram. Another recommendation is 'Scout Mindset' by Julia Gallopf, which challenges your stories and encourages open-mindedness and curiosity.
Dive Deeper: Source Material
---
10. Shopify empowers entrepreneurs to sell anything, anywhere.
Shopify is a platform that empowers entrepreneurs to sell anything, anywhere, providing resources previously reserved for big businesses. It offers a great looking online store, business management tools, and payment integrations. Shopify is a great platform for startups to large companies, providing extensive resources and support. Check out Shopify.com/Tim for a $1 per month trial period.
Dive Deeper: Source Material
---
---
💡 Actionable Wisdom
Transformative tips to apply and remember.
Take the time to reflect on your emotions and find healthy ways to express and process them. This can help improve your physical and mental well-being. Additionally, prioritize self-care and effective time management to avoid burnout and maintain a healthy work-life balance. Remember, it's important to find what activities and practices bring restoration to your life and iterate towards better balance over time.
---
📽️ Source & Acknowledgment
This post summarizes Tim Ferriss's YouTube video titled "Dustin Moskovitz, Co Founder of Asana and Facebook | The Tim Ferriss Show". All credit goes to the original creator. Wisdom In a Nutshell aims to provide you with key insights from top self-improvement videos, fostering personal growth. We strongly encourage you to watch the full video for a deeper understanding and to support the creator.
---