Tim Ferriss
Hamilton Morris and Dr. Mark Plotkin — Exploring the History of Psychoactive Substances and More
Exploring the World of Psychoactive Substances and Their Implications.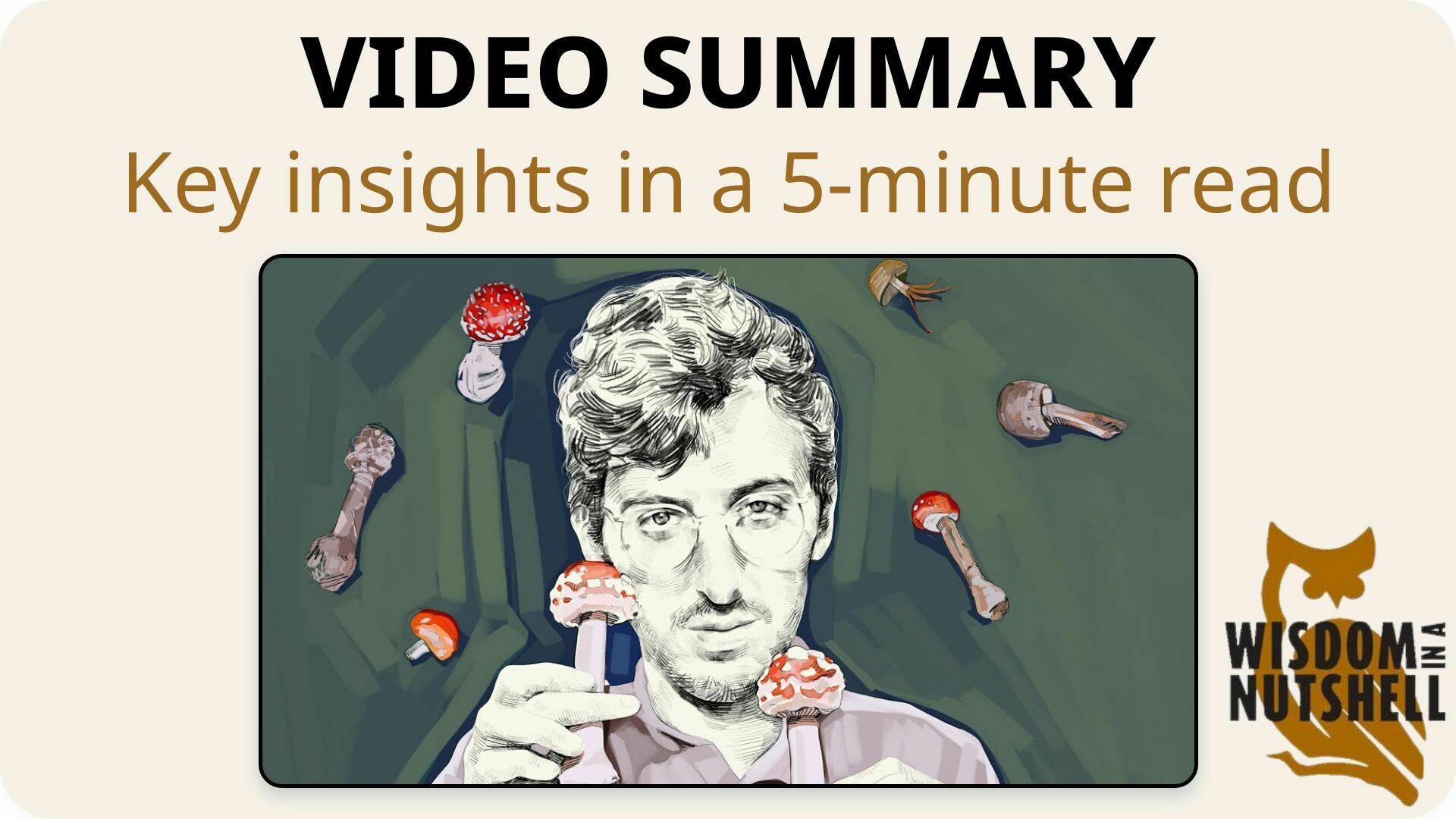 🌰 Wisdom in a Nutshell
Essential insights distilled from the video.
---
---
📚 Introduction
Psychoactive substances have a rich history and diverse effects. From the Sonoran Desert Toad to the use of psychedelics in mental health treatment, there is much to uncover. However, with the potential for misuse and the need for responsible communication, it is important to approach these substances with caution. In this blog post, we will delve into the fascinating world of psychoactive substances and their implications.
---
🔍 Wisdom Unpacked
Delving deeper into the key ideas.
1. Approach psychoactive substances with caution, and protect unique species.
The history of psychoactive substances, such as Bufal various, is fascinating, with their popularity often linked to celebrities. However, it's crucial to approach these substances with caution and reverence, as they can have both positive and negative effects. The Sonoran Desert Toad, for instance, has gained international attention due to its venom, which is being milked and sold. The toad's habitat is expanding due to agricultural expansion, but this raises concerns about the sustainability of the toad's population. Frogs, on the other hand, are incredible chemists, capable of producing complex molecules like epibatidine. However, with climate change and habitat destruction, there is a race to find, utilize, and protect these creatures.
Dive Deeper: Source Material
This summary was generated from the following video segments. Dive deeper into the source material with direct links to specific video segments and their transcriptions.
| Segment | Video Link | Transcript Link |
| --- | --- | --- |
| Placebo effect, expansion of humans through industrial tech | 🎥 | 📄 |
| Mark Plotkin Bio | 🎥 | 📄 |
| History of cannabis | 🎥 | 📄 |
| The shamans frogs or other flora and fauna as scalpels | 🎥 | 📄 |
| Shultis heroism | 🎥 | 📄 |
---
2. Psychedelic substances show promise in treating addiction, but need supportive care.
The use of psychedelic substances, such as Ibogaine and 5-EMEO DMT, is being explored for their potential in treating addiction and other mental health issues. These substances, when synthetically produced, are safer and more accessible than their naturally occurring counterparts. However, the medical model for these substances is different from the approach of giving them to healthy people. There is a lack of aftercare and integration for people who have had transformative experiences with these substances, highlighting the need for guidance and support during the aftermath. The potential for new uses of mind-altering substances, such as microdosing, is still not well understood.
Dive Deeper: Source Material
---
3. Microdosing psychedelics may have therapeutic properties, but definition and application are unclear.
Psychedelics like mushrooms and blotter can have varying doses due to their natural variation and uncertainty about concentration. A microdose is often defined as half of one tab of blotter, but the amount of LSD on that tab can vary. Some people consider microdoses to be low doses, while others define them as subperceptual. Research suggests that low doses of psychedelics may have therapeutic properties, although more research is needed. The work of Chuck Nichols provides evidence of this. However, the therapeutic endpoints of microdosing are not well defined, and people pursue it for various applications. It may work for one person with chronic inflammation, but not for someone else. The lack of precision in defining microdose, psychedelic, and application is a challenge.
Dive Deeper: Source Material
---
4. Technology and cannabis use can have both positive and negative effects.
The use of technology and cannabis can have both beneficial and harmful effects, depending on the circumstances. While technology can be life-changing, it can also have a damaging effect. Similarly, cannabis, despite its potential benefits, can lead to a disorder called cannabis hyperamis disorder, caused by excessive use and chronic hyperstimulation of CB1 receptors. This disorder, characterized by constant vomiting, is not as rare as it may seem, with two known cases. The disorder is insidious due to cannabis' anti-emetic effect, making nausea worse.
Dive Deeper: Source Material
---
5. Understanding the placebo effect and its impact on our experiences.
The placebo effect, a phenomenon where our mind can produce experiences, is a powerful tool. It's crucial to scrutinize our experiences and conduct evidence-based research, as even knowledgeable individuals can be vulnerable to it. The placebo effect is not limited to unknowledgeable individuals, as even knowledgeable people can be vulnerable. It's important to question the difference between natural and synthetic substances, as they may have similar effects. For example, a traditional medicine in Cameroon contained tramadol, a synthetic pharmaceutical opioid, highlighting the complexity of the placebo effect and the need for skepticism and evidence-based research. The experience of using plant-derived or synthetic substances is psychologically mediated, influenced by personal values and associations. Rituals play an important role in emphasizing certain dimensions of an experience, helping to accentuate the importance of independence and endurance. The combination of different traditions and new uses of substances like cannabis is remarkable.
Dive Deeper: Source Material
---
6. Psychedelics' abundance and sustainable use are crucial for exploration and potential medicinal benefits.
The use of psychedelic substances, particularly mushrooms, has become more common and accessible, with some individuals creating their own pseudo-traditional practices. This has led to concerns about safety and the potential for misuse. However, the abundance of these substances and the development of sustainable techniques for their use are crucial. The discovery of psychedelics in various ecosystems highlights the value of all species and the need for continued exploration. The concept of the dose making the poison is important, and substances like strychnine, while dangerous, may have desirable effects at low doses. The discovery of medicinal fungi like salvia divinorum, with its potent and selective agonist for the capoopioid receptor, highlights the potential for still undiscovered medicinal plants and fungi. The use of psychedelics may have played a significant role in ancient religions, but their exact significance is uncertain. It is important to approach these substances with caution and not rely solely on them to explain everything.
Dive Deeper: Source Material
This summary was generated from the following video segments. Dive deeper into the source material with direct links to specific video segments and their transcriptions.
| Segment | Video Link | Transcript Link |
| --- | --- | --- |
| No way, theres both buffale and Senonga | 🎥 | 📄 |
| New mind-altering substances | 🎥 | 📄 |
| Psilocybin mushrooms | 🎥 | 📄 |
| Use in Ugandawith the Psilocybe-bearing Mushrooms | 🎥 | 📄 |
| Salvia divinorum | 🎥 | 📄 |
| The Stone-D章pt Theory & The Drunken Monkey Theory | 🎥 | 📄 |
---
7. Honesty and openness are key to addressing challenges in psychedelics and conservation.
The rapid proliferation of scientific papers and patents on psychedelics, similar to the 1960s, requires careful monitoring. Timothy Leary, often misunderstood, aimed to make psychedelic experiences accessible to all, despite his approach being seen as irresponsible. Honesty and openness, as demonstrated by Leary, are crucial for progress in the long run, whether it's in the context of psychedelics or conservation issues. Responsible communication is key to addressing these challenges.
Dive Deeper: Source Material
---
---
💡 Actionable Wisdom
Transformative tips to apply and remember.
Approach the use of psychoactive substances with caution and reverence, considering both their potential benefits and risks. Seek guidance and support when exploring transformative experiences with these substances. Stay informed about the latest research and developments in the field. Practice responsible communication and honesty in discussions about psychoactive substances. Remember to question and scrutinize your own experiences, keeping an open mind to evidence-based findings.
---
📽️ Source & Acknowledgment
This post summarizes Tim Ferriss's YouTube video titled "Hamilton Morris and Dr. Mark Plotkin — Exploring the History of Psychoactive Substances and More". All credit goes to the original creator. Wisdom In a Nutshell aims to provide you with key insights from top self-improvement videos, fostering personal growth. We strongly encourage you to watch the full video for a deeper understanding and to support the creator.
---