Tim Ferriss
How to say no | The Tim Ferriss Show (Podcast)
The Power of Polite Decline: A Lesson in Rejecting with Respect.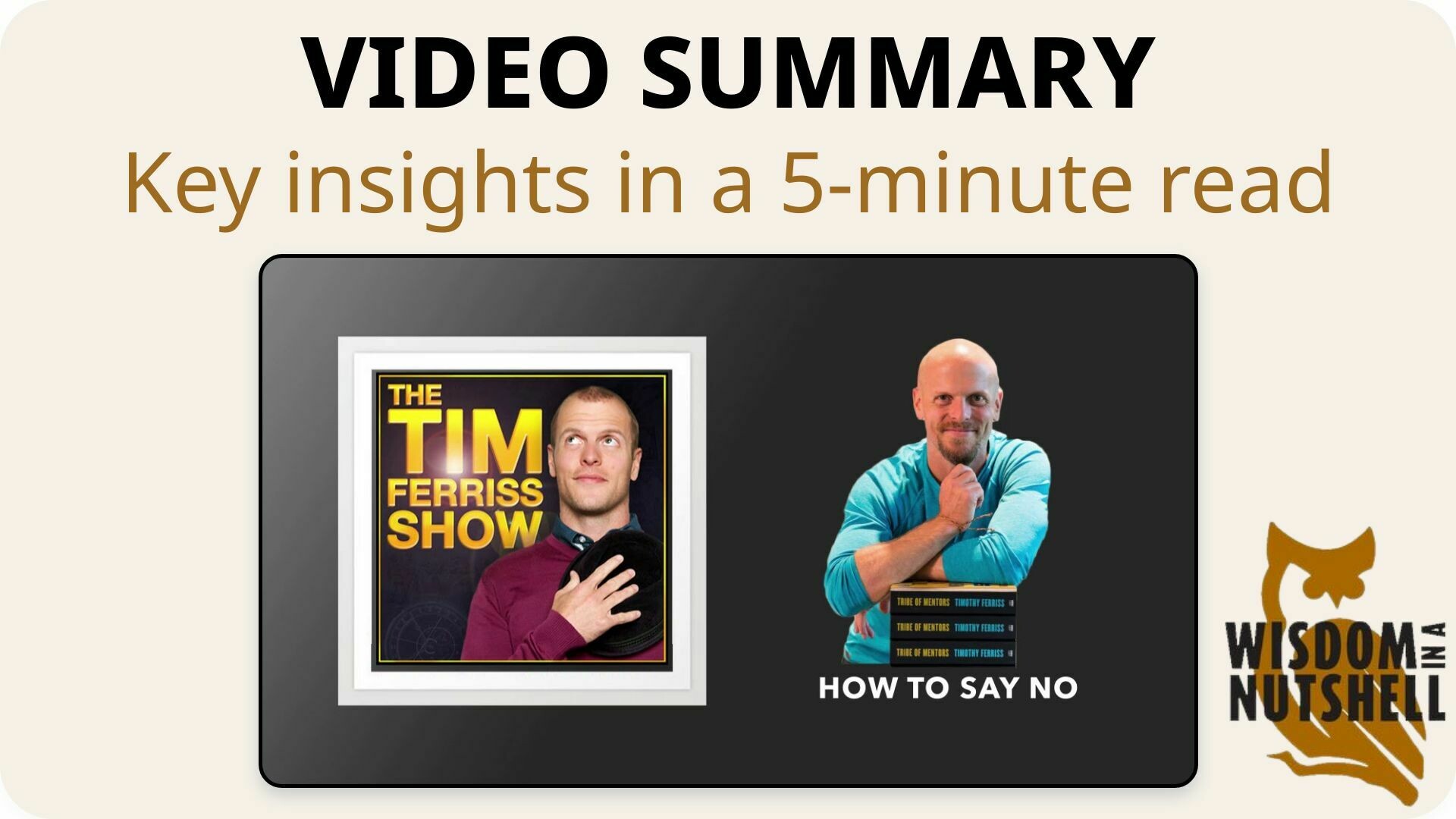 🌰 Wisdom in a Nutshell
Essential insights distilled from the video.
---
---
📚 Introduction
In a world where we are constantly bombarded with invitations and opportunities, the art of politely declining has become a valuable skill. This blog post explores the power of saying no with respect and provides practical tips on how to do it effectively. From rejecting others to managing our own to-do lists, we will uncover the benefits of prioritization and the freedom that comes with setting boundaries.
---
🔍 Wisdom Unpacked
Delving deeper into the key ideas.
1. Separate the trivial from the critical in rejection.
Rejecting others can be challenging, but it's crucial to separate the trivial from the critical. The 'hell yes' or 'no' heuristic can help. When declining, it's important to use specific words and phrases. Some rejection letters can be so good that they're included in books, like 'Tribe of Mentors.
Dive Deeper: Source Material
---
2. Politely declining invitations can increase respect and admiration.
The art of politely declining invitations, as exemplified by Danny Meyer's response to a friend's book project, can increase respect and admiration. It's a skill that can be applied in various aspects of life, including business and personal relationships. The key is to express gratitude and politely decline, without making excuses or being overly apologetic. This approach can lead to a more positive and respectful outcome, as it demonstrates consideration and appreciation for the other person's time and effort.
Dive Deeper: Source Material
---
3. Prioritize commitments by saying no to non-essential tasks.
Neil Stevenson, an author, has started an experiment of not adding anything to his to-do list to avoid it getting longer. He also highlights the importance of being ruthlessly efficient and turning down opportunities. He suggests explaining the context and using phrases like 'no meeting policy' or 'no conference diet' to make the rejection clear. He emphasizes that saying no is not personal and that it is necessary to prioritize one's own commitments.
Dive Deeper: Source Material
---
4. Explore sci-fi, thrillers, and fantasy with Audible's special deal.
The podcast discusses various books and their authors, including 'Ready Player One' by Ernest Cline, 'The Tao of Seneca' by Seneca, and 'The Graveyard Book' by Neil Gaiman. The speaker recommends these books, especially for those interested in sci-fi, thrillers, and fantasy. They also mention that Audible, an audiobook platform, is offering a special deal for new members, allowing them to join for just $4.95 per month for their first three months.
Dive Deeper: Source Material
---
---
💡 Actionable Wisdom
Transformative tips to apply and remember.
Practice the art of polite decline in your daily life. Whether it's saying no to an invitation or turning down a new project, express gratitude and provide a clear reason for your decision. Remember, saying no is not a personal attack, but a way to prioritize your own commitments and maintain balance in your life.
---
📽️ Source & Acknowledgment
This post summarizes Tim Ferriss's YouTube video titled "How to say no | The Tim Ferriss Show (Podcast)". All credit goes to the original creator. Wisdom In a Nutshell aims to provide you with key insights from top self-improvement videos, fostering personal growth. We strongly encourage you to watch the full video for a deeper understanding and to support the creator.
---