Tim Ferriss
Jerry Seinfeld — A Comedy Legend's Systems, Routines, and Methods for Success | The Tim Ferriss Show
Insights on Personal Growth and Success from Various Perspectives.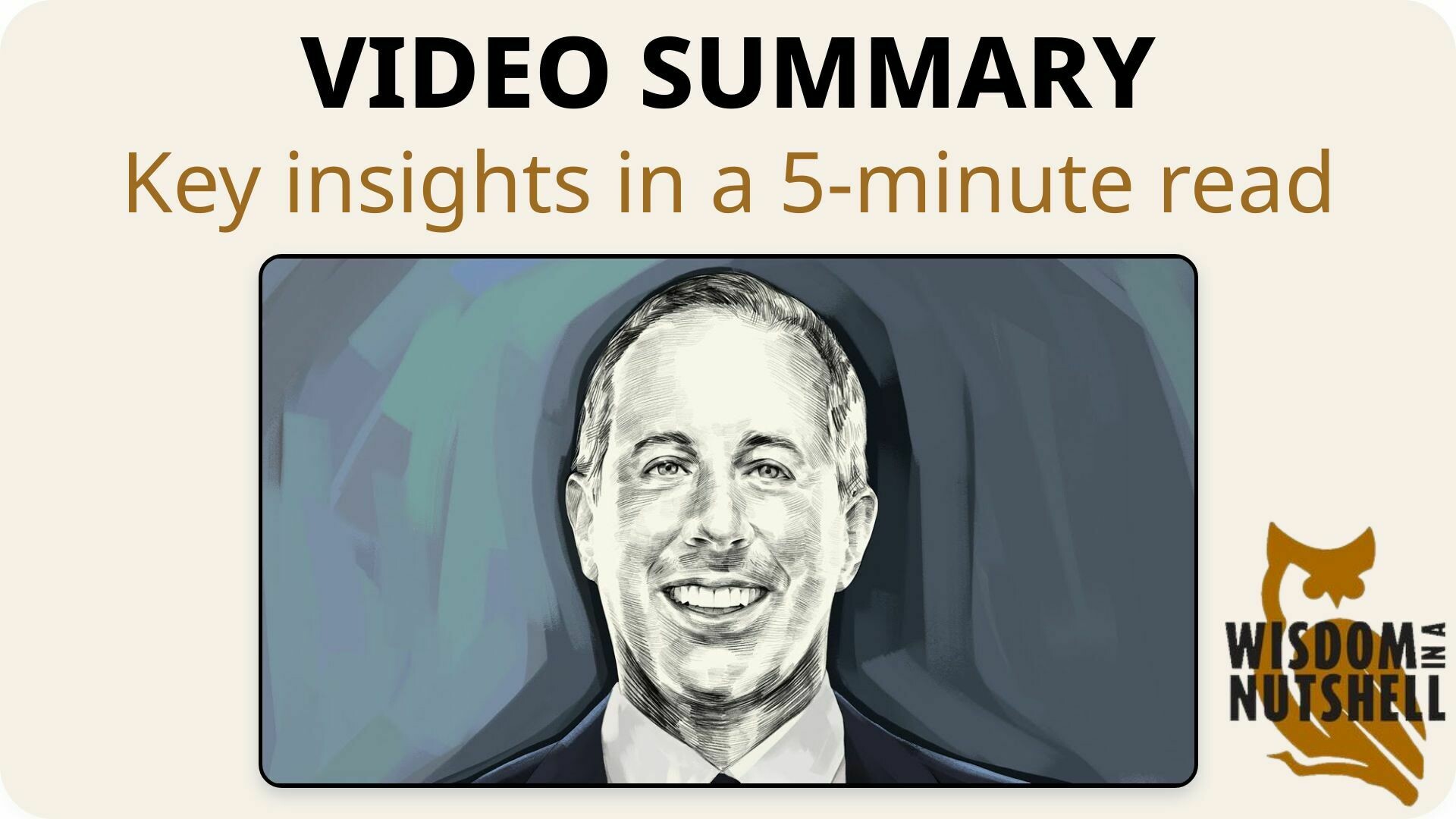 🌰 Wisdom in a Nutshell
Essential insights distilled from the video.
---
---
📚 Introduction
In this blog post, we will explore the journey of personal growth and success through the lens of different individuals. From the world of comedy to the realm of writing and creativity, we will uncover valuable lessons and strategies that can be applied to our own lives. Get ready to be inspired and equipped with actionable wisdom for your own personal growth journey.
---
🔍 Wisdom Unpacked
Delving deeper into the key ideas.
1. Failure and self-sufficiency are valuable lessons in the comedy world.
The book 'The Last Laugh' by Phil Berger, which encourages male boldness and inventiveness, was a valuable source of information for the speaker during their high school years. Failure, such as being given only one spot a week at the Comedy Store in LA, can be a valuable learning experience that sets you up for later success. The comedy world is often dysfunctional, attracting people who can't fit in and have a skill. It's designed to break human beings psychologically, with the comedy store being a toxic environment where the attrition is brutal. The self-sufficiency and desire for self-sufficiency are a sharp contrast to many entertainers, including comics who have codependency.
Dive Deeper: Source Material
This summary was generated from the following video segments. Dive deeper into the source material with direct links to specific video segments and their transcriptions.
| Segment | Video Link | Transcript Link |
| --- | --- | --- |
| Childhood and The Last Laugh by Phil Berger | 🎥 | 📄 |
| Favorite failures | 🎥 | 📄 |
| Mitzi Shore of The Comedy Store | 🎥 | 📄 |
---
2. Writing process involves systemization, self-nurturing, and harsh feedback.
The writing process involves a daily session of free play and creativity, followed by refinement and polishing. It's crucial to establish a system, set specific writing sessions, and provide rewards for completion. The process involves two phases: the creative phase and the polish and construction phase. Feedback is a key aspect, with the desk stage being an important part of the experimental loop. It's also important to treat oneself lovingly while writing and be a harsh critic when reviewing the work. The process is occupying but never boring, and it's all about getting the work done.
Dive Deeper: Source Material
---
3. Irritation and sensitivity can fuel innovation and conflict resolution.
The process of experimentation and observation, fueled by irritation or sensitivity, can lead to innovation. This can be seen in the departure from traditional talk shows, leading to the creation of new formats. Success can dull this irritation, so it's important to find ways to maintain it. This can be achieved by nurturing a cranky nature and finding ways to offset the comforts of success. A heightened sensitivity to the five senses can also be a source of creative material. Conflict resolution is often proactive, with a belief in addressing problems head-on. This is not about avoiding conflict but about actively addressing issues, a principle that can be applied in various aspects of life.
Dive Deeper: Source Material
---
4. Success is a journey of dedication, perseverance, and managing energy.
The journey to success in any field, whether it's comedy or any other profession, requires a systematic approach, dedication, and perseverance. It's about surviving the challenges and obstacles, and maintaining a high level of performance. The key is to manage energy and tonnage, and to navigate the forces of the audience. The definition of success varies, but for many, it's about survival and longevity in their chosen profession. The constant travel, performing, and pressure to constantly deliver can take a toll on mental and physical health. The success of a project, like a TV series, is often attributed to the obsessive attention to detail, but this level of micromanaging can lead to burnout and overwhelm. The decision to end a project is often made to avoid struggling and disappointing the audience.
Dive Deeper: Source Material
This summary was generated from the following video segments. Dive deeper into the source material with direct links to specific video segments and their transcriptions.
| Segment | Video Link | Transcript Link |
| --- | --- | --- |
| Steering Seinfeld for nine seasons | 🎥 | 📄 |
| On self-rewards | 🎥 | 📄 |
| Writing three days a week vs. writing seven | 🎥 | 📄 |
| Survival as the new success | 🎥 | 📄 |
| Jerry's billboard | 🎥 | 📄 |
---
5. Role models and perceived experiences can shape our decisions.
The influence of role models and perceived experiences can shape our decisions. The Beatles, for instance, were together for nine years, and the idea of adding another decade to that felt right. This concept of a decade as a significant time frame is not uncommon, as it has been used in various contexts.
Dive Deeper: Source Material
---
6. Balance energy, manage depression, and build a strong constitution through routine and gamification.
The key to managing energy and producing good results lies in routine, including exercise, weight training, and transcendental meditation. These routines help balance the forces inside humanity and prevent overwhelm. Depression, a common struggle, is often associated with creativity, but it's important to consider other remedies like exercise, as they can be more effective in stabilizing mood. Having a strong constitution, built through weight training, is essential for long-term success. It's important to gamify and make challenges into games to stay motivated, focusing on the process rather than the outcome. Tiredness can be a sign of a happy and properly exerted mind.
Dive Deeper: Source Material
---
7. Personal growth involves facing fears, learning from pain, and nurturing creativity.
The process of personal growth involves breaking oneself and facing one's potential. This can be seen in the metaphor of riding a Black Stallion, where the rider must confront their fears and limitations. Similarly, in parenting, being kind to your creative self and offering positive reinforcement can have a significant impact. It's crucial to be encouraging but also explain the laws of life to avoid pain. Pain is a learning experience, and it can be a painful one. However, it's through this process that we can gain knowledge and grow as individuals.
Dive Deeper: Source Material
---
---
💡 Actionable Wisdom
Transformative tips to apply and remember.
To apply these insights to your daily life, establish a routine that includes dedicated time for creativity and self-reflection. Embrace failure as a learning opportunity and maintain a healthy balance between self-sufficiency and seeking support. Nurture your irritations and sensitivities to fuel innovation, and actively address conflicts in your relationships and work. Prioritize self-care and manage your energy effectively through exercise and mindfulness practices. Finally, embrace the process of breaking yourself to uncover your full potential and offer yourself kindness and positive reinforcement along the way.
---
📽️ Source & Acknowledgment
This post summarizes Tim Ferriss's YouTube video titled "Jerry Seinfeld — A Comedy Legend's Systems, Routines, and Methods for Success | The Tim Ferriss Show". All credit goes to the original creator. Wisdom In a Nutshell aims to provide you with key insights from top self-improvement videos, fostering personal growth. We strongly encourage you to watch the full video for a deeper understanding and to support the creator.
---