Tim Ferriss
Kevin Hart — The Unstoppable Combination of Positivity and Relentless Improvement
Lessons on Success and Personal Growth.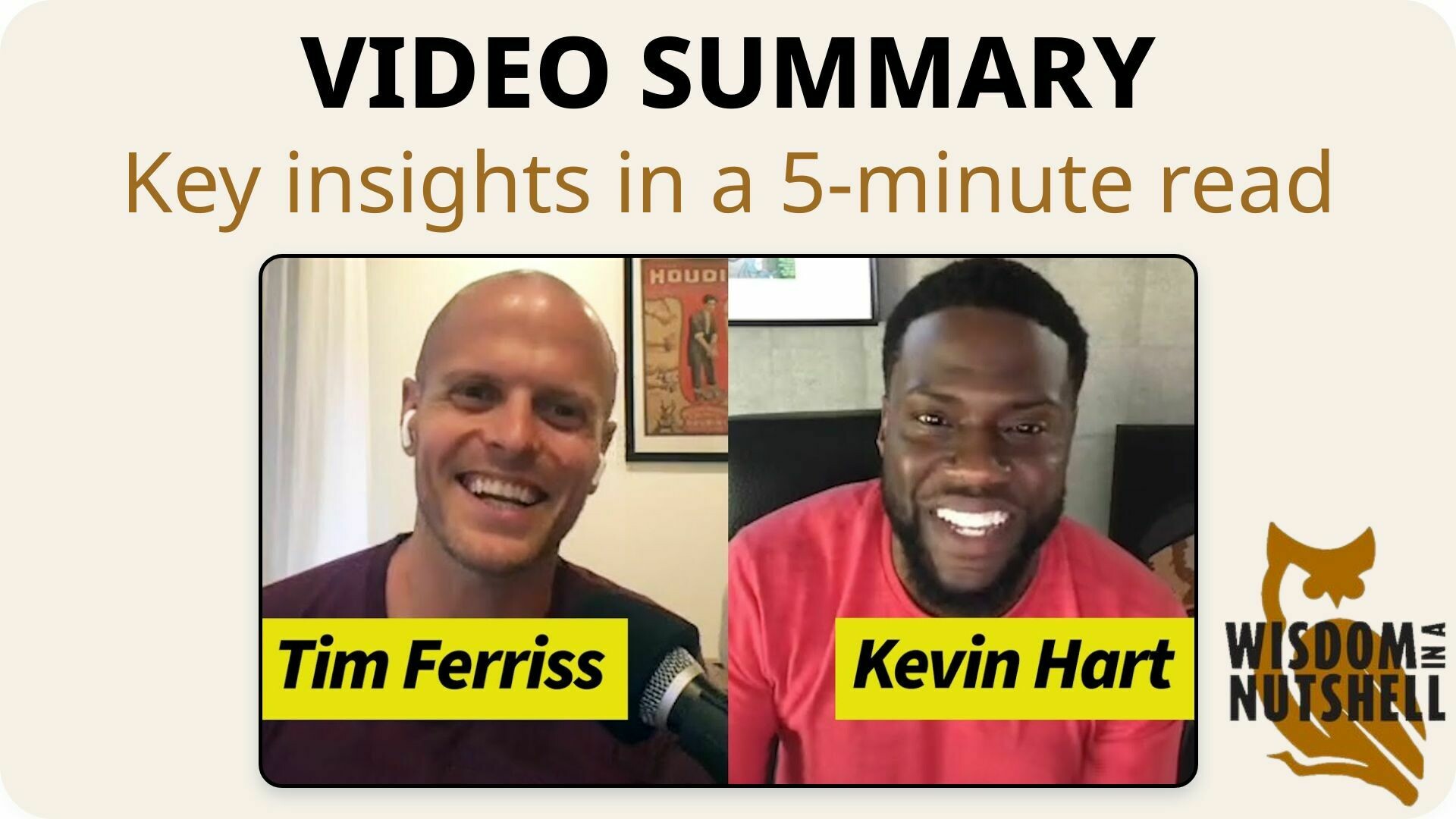 🌰 Wisdom in a Nutshell
Essential insights distilled from the video.
---
---
📚 Introduction
In this blog post, we will explore various insights on success and personal growth. From the importance of determination and resourcefulness to the power of storytelling and overcoming challenges, these lessons will inspire and motivate you to reach your full potential.
---
🔍 Wisdom Unpacked
Delving deeper into the key ideas.
1. Admire and learn from the self-improvement mindset of Kevin's mother.
The speaker's friend, Kevin, is someone they admire and aspire to be like, thanks to his mother's influence. She was a determined and resourceful woman who prioritized her children's well-being and development. Despite not coming from wealth, she invested in their extra-curricular activities and made mistakes, learning from them for her next child. This mindset of continuous improvement and self-reflection is something the speaker values and aims to emulate.
Dive Deeper: Source Material
---
2. Success lies in eight qualities, recognizing control, and focusing on solutions.
The essence of success lies in eight qualities: persistence, patience, class, commitment, learning, passion, centeredness, competitiveness, and positivity. These qualities, when combined, can help navigate life's challenges. It's important to recognize that we are not in control, and to focus on what truly matters, such as our loved ones. Material possessions and external validation lose their significance in the face of life's challenges. It's crucial to have no tolerance for negativity and to focus on finding solutions rather than dwelling on problems.
Dive Deeper: Source Material
---
3. Success lies in constant growth, honesty, and openness to new opportunities.
The key to success lies in never becoming complacent, constantly striving for growth and appreciating what you have. It's important to be honest with yourself and others, prioritize your commitments, and not be afraid to say no to things that don't align with your goals. Use challenges and opportunities as stepping stones to achieve your vision, and be open to new possibilities. Remember, success is not just about personal achievements, but also about the benefits that come from hard work and the impact you leave behind.
Dive Deeper: Source Material
This summary was generated from the following video segments. Dive deeper into the source material with direct links to specific video segments and their transcriptions.
| Segment | Video Link | Transcript Link |
| --- | --- | --- |
| The importance of discomfort and appreciating what you have | 🎥 | 📄 |
| How Kevin found his drive | 🎥 | 📄 |
| Saying no so you can say yes to better opportunities | 🎥 | 📄 |
| How to step up rather than sideways or backwards | 🎥 | 📄 |
---
4. Strategic planning and self-care are key to real estate success.
The key to success in real estate investing is having a plan and executing it strategically. It's crucial to have a team of qualified professionals and to vet opportunities carefully. The first hour or two of the day is also important, as it sets the tone for the rest of the day. This time should be used for self-care and preparation, such as a workout, as it helps maintain energy and focus.
Dive Deeper: Source Material
---
5. Storytelling is a craft, pushups are a core exercise.
Storytelling is a valuable skill that can be honed and worked on, captivating an audience and delivering unexpected payoffs. It's a unique craft, with notable storytellers like Cosby, Eddie Murphy, Dave Schampelle, and Bernie Mac. If you had to choose a few exercises, pushups would be a great option, as they don't require a gym and are a core exercise.
Dive Deeper: Source Material
---
6. Overcoming challenges requires focus on positivity and action.
The book 'Overcoming Today's BS for Tomorrow's Success' offers a prescriptive approach to navigating life's challenges, addressing issues like decision-making, social media, and the impact of negativity. It emphasizes the importance of not getting caught up in negativity and making the decision to focus on positivity. The book also highlights the need to 'cowboy up' and keep moving forward, even in the face of challenges. The author, Kevin Hart, shares his journey and insights on Instagram, Facebook, and Twitter, emphasizing the importance of understanding that tough times will pass and encouraging people to be better than they were before.
Dive Deeper: Source Material
---
---
💡 Actionable Wisdom
Transformative tips to apply and remember.
Take a moment each day to reflect on your goals and priorities. Identify one small step you can take towards personal growth and success, whether it's learning a new skill, saying no to a non-essential commitment, or practicing storytelling. Remember, success is a journey, and every small action adds up to make a big difference.
---
📽️ Source & Acknowledgment
This post summarizes Tim Ferriss's YouTube video titled "Kevin Hart — The Unstoppable Combination of Positivity and Relentless Improvement". All credit goes to the original creator. Wisdom In a Nutshell aims to provide you with key insights from top self-improvement videos, fostering personal growth. We strongly encourage you to watch the full video for a deeper understanding and to support the creator.
---