Tim Ferriss
Optimize Sleep, Enhance Performance, and More | Dr. Andrew Huberman
Insights on Personal Growth and Optimization.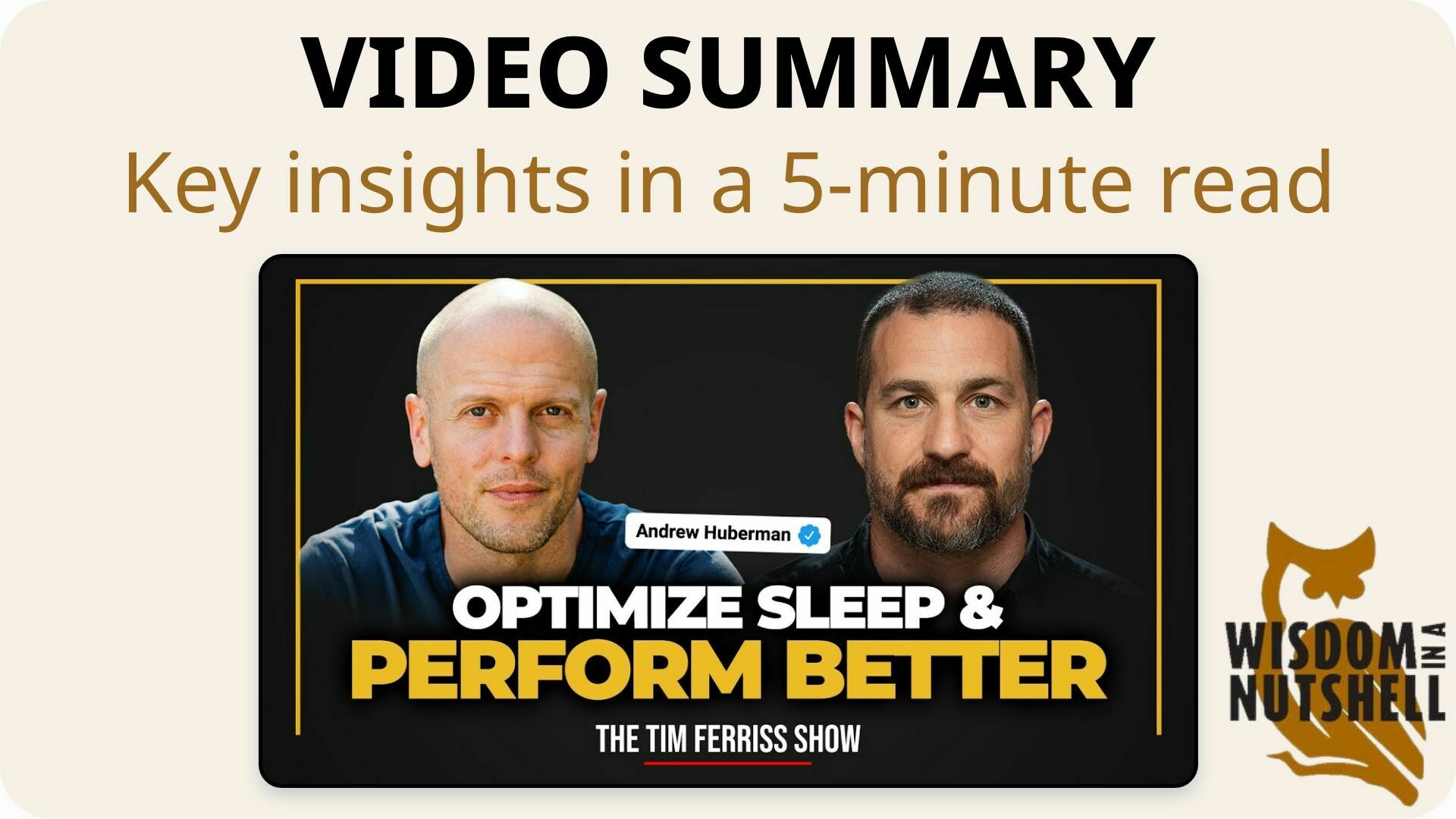 🌰 Wisdom in a Nutshell
Essential insights distilled from the video.
---
---
📚 Introduction
In this blog post, we will explore a variety of topics related to personal growth and optimization. From facing fears and resolving resentments to optimizing sleep and circadian rhythm, there are many valuable insights to uncover. We will also delve into the power of the autonomic nervous system, the importance of stress management, and the benefits of hypnosis. Additionally, we will discuss the role of supplements in enhancing cognitive function and the transformative nature of poetry. Get ready to discover actionable tips and wisdom that can help you on your own personal growth journey.
---
🔍 Wisdom Unpacked
Delving deeper into the key ideas.
1. Resolve fear through transformative practices, education, and physical activities.
The journey of personal growth involves facing and resolving fear, which is often rooted in uncertainty. This can be achieved through transformative practices like the Hoffman process, which focuses on forgiveness and resolving resentments. It's also important to address emotional issues and have a plan for life. Formal education and learning can be valuable tools in personal growth. The power of meditation, running, and other physical activities should not be underestimated. The use of plant medicine and MDMA-assisted psychotherapy can also be beneficial. It's crucial to stay on the adventure and continue to have fun, as novelty and exploration positively reinforce dopamine systems. Working through your fuller biology is incredibly powerful for getting out of your head and resolving issues.
Dive Deeper: Source Material
This summary was generated from the following video segments. Dive deeper into the source material with direct links to specific video segments and their transcriptions.
| Segment | Video Link | Transcript Link |
| --- | --- | --- |
| Start | 🎥 | 📄 |
| Early years and the day that changed Andrew's life | 🎥 | 📄 |
| The Hoffman Process | 🎥 | 📄 |
| On pets and mortality | 🎥 | 📄 |
| Trauma from sharks + recovery | 🎥 | 📄 |
---
2. Regulate the autonomic nervous system and use breathwork for stress reduction.
The autonomic nervous system, which includes the vagus nerve, plays a crucial role in regulating our physiological processes, including heart rate, digestion, and breathing. The visual system, in turn, can influence our state of mind and body, with dilated pupils indicating stress and expanded pupils indicating relaxation. Breathwork, specifically a pattern of double inhales followed by extended exhales, can quickly reduce stress levels. The vagus nerve also plays a role in the gut-brain axis, influencing our desire for certain foods. The use of light-sensitive neurons called Chenorhodopsins can target the nervous system for stimulation. The key to improving oneself lies in 'Know thyself' and 'Use the body to control the mind', with respiration and vision being the best tools to control the mind.
Dive Deeper: Source Material
This summary was generated from the following video segments. Dive deeper into the source material with direct links to specific video segments and their transcriptions.
| Segment | Video Link | Transcript Link |
| --- | --- | --- |
| Secret of survival | 🎥 | 📄 |
| Physiological sighs to reduce stress | 🎥 | 📄 |
| The fascinating vagus nerve | 🎥 | 📄 |
| Andrew's billboard | 🎥 | 📄 |
---
3. Optimize sleep and circadian rhythm with morning light exposure and exercise.
Optimizing sleep and circadian rhythm can be achieved by aligning your biological and mood mechanisms. This can be done by viewing morning light, preferably bright light, for two to 10 minutes upon waking, which triggers the release of cortisol and melatonin. This shift in circadian rhythm can help regulate your mood and alertness throughout the day. It's also recommended to get morning light exposure 14 to 16 hours prior to bedtime to delay your circadian clock and make you want to stay awake later. Exercising and getting light in the morning can also signal to your body when it should be awake and when it should be asleep. Avoiding bright lights in the evening and dimming the lights can promote sleep. Other factors that can help regulate your circadian rhythm include feeding, social cues, and interacting with people or your dog early in the day.
Dive Deeper: Source Material
---
4. Balance vitality and longevity with hormone regulation and cognitive enhancement.
Melatonin, a hormone that regulates sleep, can suppress puberty and affect sex steroid hormones. It's recommended to use magnesium threonate or magnesium by glycinate as sleep aids, as they can be transported across the blood-brain barrier more easily. DHT, a more powerful androgen, is responsible for libido and cognitive effects of testosterone. It's important to maintain appropriate levels of DHT, but taking Nandrolone is not recommended. Taking peptides that promote growth hormone release can have similar effects to taking growth hormone itself, but it's important to balance vitality and longevity. Cognitive enhancement supplements are abundant, but prescription and medical options like nicotine can be effective but come with potential downsides.
Dive Deeper: Source Material
---
5. Manage stress and sleep with ashwagandha and yoga nidra.
Stress, especially long-term, can disrupt sleep and lead to a wired and tired feeling. Compounds like ashwagandha can help blunt cortisol release and minimize stress response. However, it's important to cycle ashwagandha and not take it every day. Yoga nidra, a practice involving a body scan, long exhale breathing, and allowing the mind to enter a pseudo sleep state, can help reduce stress and improve sleep. It's crucial to use both behavioral tools and pharmacology, but long-term cortisol suppression should be avoided unless there's a clinical need.
Dive Deeper: Source Material
---
6. Hypnosis and NSDR can accelerate learning, improve retention, and enhance neuroplasticity.
Hypnosis, a state of calm and high focus, can trigger neuroplasticity and has clinical applications like smoking cessation, anxiety relief, pain management, and trauma treatment. It is distinct from psychedelics, although they share some similarities. Hypnosis can be combined with pharmacological interventions, which can have synergistic effects and accelerate brain change. Regular practice of non-sleep deep rest (NSDR) protocols, such as yoga nidra and hypnosis, can accelerate learning and improve retention of information. These protocols involve self-directing a state of calm through respiration and vision, as well as directing focus to something. They can be found on YouTube and in apps like Reverie.
Dive Deeper: Source Material
---
7. Enhance focus and sleep with supplements, hydration, and caffeine management.
Quality sleep is crucial for cognitive function, and supplements like Alpha GPC can enhance focus without increasing arousal. Hydration is also essential, with recommendations to drink 30 ounces of water every 20 minutes during mental work. Yerba Mate, a caffeine-containing supplement, can provide sustained energy without a crash, but it's recommended to consume it slowly and avoid consuming it too early in the day. Caffeine can be counteracted by increasing glucose or taking theanine, and GABA and glycine can help with sleep. It's important to consult with a physician before using these methods.
Dive Deeper: Source Material
---
8. Gift books that tap into the subconscious, like poetry and 'Longitude.
The speaker recommends gifting books by David White, a poet whose work is best experienced through his own reading, and Wendell Berry, an author focused on farming and the natural world. They also suggest 'Longitude' by Dava Sobol, a book about the discovery of timekeeping at sea, which is accessible and resonates with the speaker. They highlight the unique ability of poetry to tap into the subconscious, defying the structure of sentences and thoughts.
Dive Deeper: Source Material
---
---
💡 Actionable Wisdom
Transformative tips to apply and remember.
Take the time to address your fears and resentments, and consider engaging in transformative practices like the Hoffman process. Prioritize optimizing your sleep and circadian rhythm by getting morning light exposure, exercising, and creating a conducive environment for sleep. Explore the benefits of supplements for cognitive enhancement, but always consult with a healthcare professional before trying new substances. Incorporate stress management techniques like yoga nidra and ashwagandha cycling into your daily routine. Finally, embrace the power of poetry as a tool for self-reflection and growth.
---
📽️ Source & Acknowledgment
This post summarizes Tim Ferriss's YouTube video titled "Optimize Sleep, Enhance Performance, and More | Dr. Andrew Huberman". All credit goes to the original creator. Wisdom In a Nutshell aims to provide you with key insights from top self-improvement videos, fostering personal growth. We strongly encourage you to watch the full video for a deeper understanding and to support the creator.
---