Tim Ferriss
Pavel Tsatsouline Q&A (Full Episode) | The Tim Ferriss Show (Podcast)
Building Muscle and Strength: Key Insights.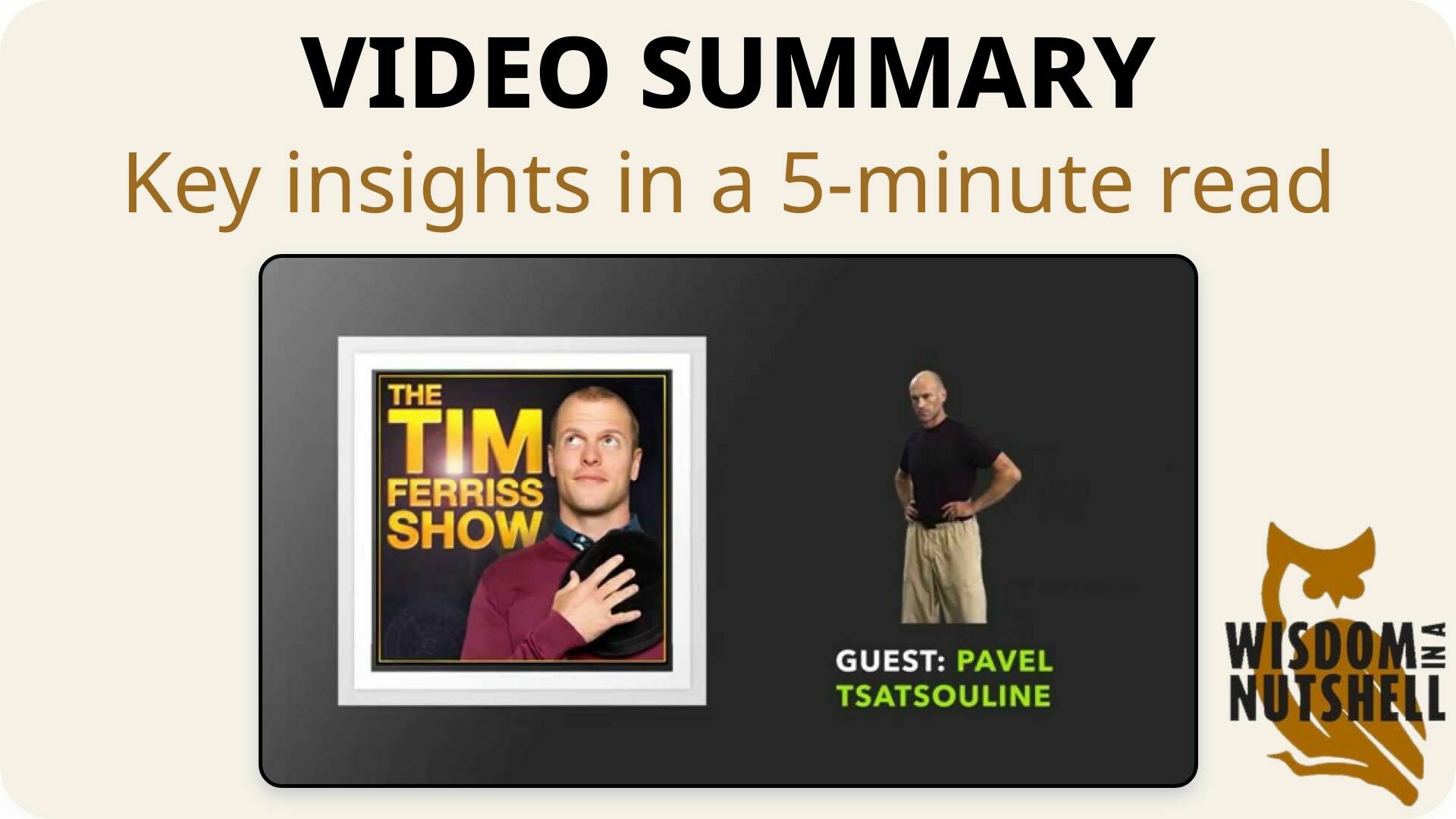 🌰 Wisdom in a Nutshell
Essential insights distilled from the video.
---
---
📚 Introduction
In this blog post, we will explore key insights on building muscle and strength. We will discuss various techniques and methods that can help optimize your training and achieve your fitness goals. From nutrition strategies to effective exercises, we will provide valuable information to enhance your muscle-building journey.
---
🔍 Wisdom Unpacked
Delving deeper into the key ideas.
1. Convince your body of abundant food for muscle growth.
The key to building muscle is to convince your body that there is abundant food available. This can be achieved by adding a midnight feeding, consuming a high protein food or liquid in the middle of the night. This tactic, used by top lifters like Kurt Kawaski, can help overcome sticking points and continue gaining muscle. However, it may not be easy or healthy, and it's important to consider the optimal way to combine strength training and hypertrophy training.
Dive Deeper: Source Material
---
2. Optimize muscle and strength with sets of five and controlled reps.
To optimize muscle and strength, focus on sets of five, which provide the best of both worlds. For pressing strength, a high volume of training, typically 20 to 50 reps per session, three times a week, is recommended. This involves doing low repetitions, such as one to five, but more commonly three to four. It is important to never go to failure and stay within one third to two thirds of your maximum reps. For example, if you can do 10 reps with a certain weight, you should only be doing three to six repetitions. This concept is known as 'to press a lot, you must press a lot.
Dive Deeper: Source Material
---
3. Kettlebell training is a highly effective way to build strength and fitness.
The 80/20 training method, which involves kettlebell training, is a highly effective way to build strength and overall fitness. It allows for the development of all fitness components without compromises. To maximize results, focus on three high-yield exercises: the one arm swing, the get up, and the goblet squat. Before starting strength training, ensure proper alignment and consider seeing a specialized sports doctor or chiropractor. If unable to perform the deadlift, alternative exercises like the kettlebell swing can be used. Building discipline in a client requires a personal trainer to provide structure and support.
Dive Deeper: Source Material
---
4. Improve performance by relaxing, strengthening respiratory muscles, and exerting muscles powerfully.
Improving your ability to turn on and off is crucial for peak performance. This can be achieved through relaxation exercises like shaking your limbs, Jacobson's progressive relaxation training, and being mindful of facial tension. Meditation, breathing exercises, and morning exercises can also help. In addition, strengthening respiratory muscles and improving endurance through regular running and relaxation exercises can increase speed. Techniques like biomechanical breathing match and breathing discipline can also be used to strengthen breathing muscles. Exerting muscles powerfully for short periods and resting actively can build mitochondria in fast-twitch fibers. Switching on and off is important in exercise, sports, and life.
Dive Deeper: Source Material
---
5. Improve muscle strength through neurological training and perfect practice.
To improve muscle strength, you can either add more muscle mass through hypertrophy or optimize the use of the muscles you already have through neurological strength training. Neurological strength training involves learning how to activate your muscles more intensely. This can be achieved by training with lower repetitions, heavier weights, and a focus on perfect practice. It is recommended not to go to failure during strength training.
Dive Deeper: Source Material
---
6. Age-proof strength training involves progressive overload, proper nutrition, and a positive mindset.
As we age, our bodies undergo changes that can affect our ability to perform heavy lifts. It's important to get our joints checked by a doctor and maintain a positive mindset. To determine when to add more weight without reaching failure, use your perceived rate of exertion. For example, if your typical set takes you eight units of effort and you're staying with that weight, but a couple of weeks later, lifting the same weight takes six or seven units of effort, you know you've gotten stronger. To gain strength as you get older, focus on progressive overload and proper nutrition.
Dive Deeper: Source Material
---
7. Strengthen abs with sets and rest intervals, and use ordinary intervals for recovery.
To strengthen your abs, perform three to five sets of three to five reps with three to five minutes in between. Exercises like strict hang leg raises, abdominal wheel, and strict weighted sit-ups can help. There are three types of rest intervals: ordinary, stress, and stimulating. An ordinary interval allows you to recover your performance level within three to five minutes. A stress interval accumulates fatigue, making you more tired with each set. A stimulating interval improves performance in the next set and may take 12 minutes. Unless your training program specifies otherwise, use the ordinary interval of three to five minutes.
Dive Deeper: Source Material
---
---
💡 Actionable Wisdom
Transformative tips to apply and remember.
To apply these insights in your daily life, focus on incorporating a midnight feeding with a high protein source to support muscle growth. Additionally, implement the 80/20 training method by including the one arm swing, the get up, and the goblet squat in your workout routine. Prioritize relaxation exercises and breathing techniques to improve performance and recovery. Finally, maintain a positive mindset, listen to your body, and gradually increase the intensity of your workouts as you age.
---
📽️ Source & Acknowledgment
This post summarizes Tim Ferriss's YouTube video titled "Pavel Tsatsouline Q&A (Full Episode) | The Tim Ferriss Show (Podcast)". All credit goes to the original creator. Wisdom In a Nutshell aims to provide you with key insights from top self-improvement videos, fostering personal growth. We strongly encourage you to watch the full video for a deeper understanding and to support the creator.
---