Tim Ferriss
Tools of Titans with Josh Waitzkin | The Tim Ferriss Show (Podcast)
Insights from Tim Ferriss' Podcast: Learning, Investing, and Personal Growth.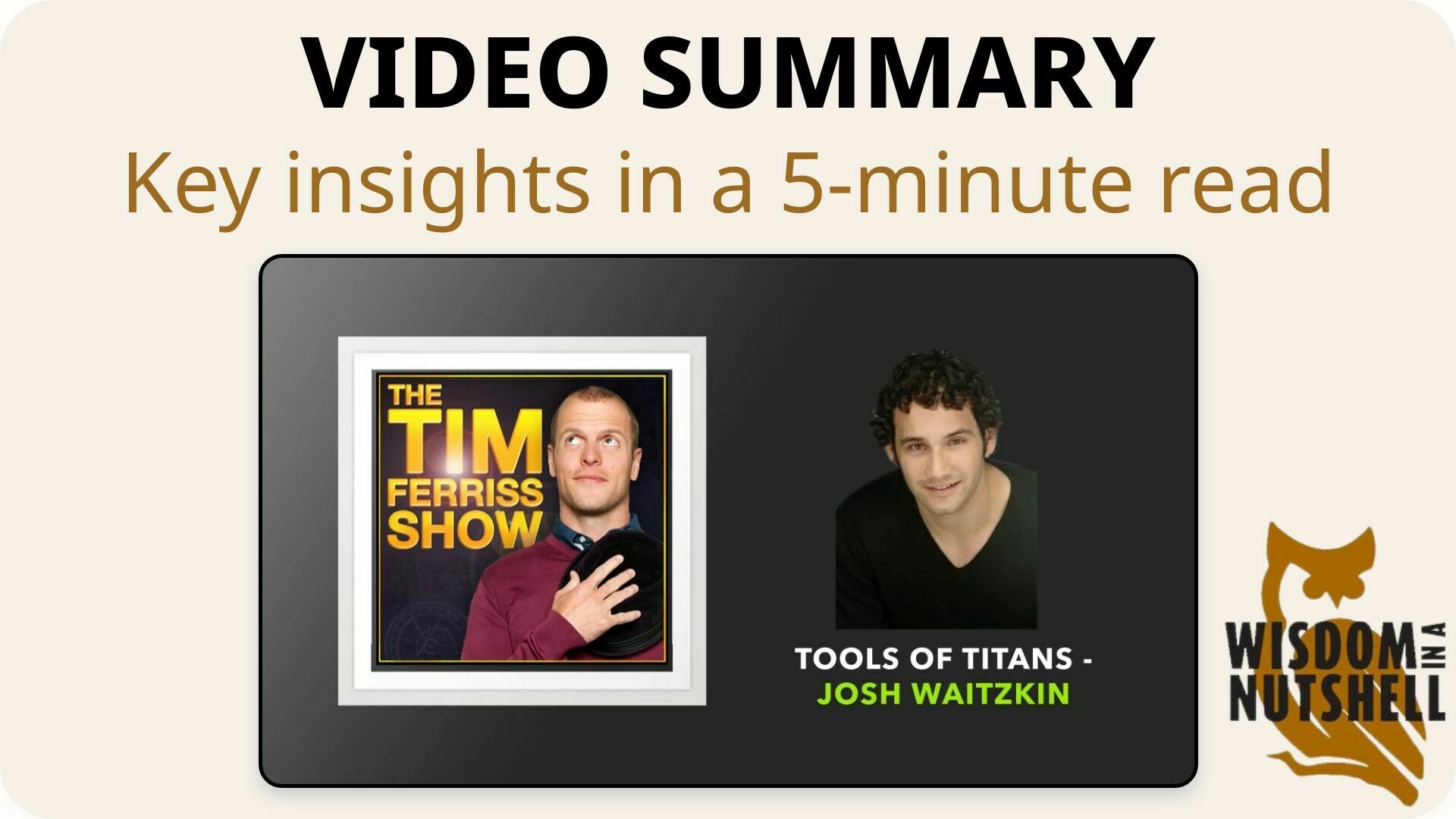 🌰 Wisdom in a Nutshell
Essential insights distilled from the video.
---
---
📚 Introduction
In this blog post, we will explore the key insights from Tim Ferriss' podcast episodes on various topics, including learning strategies, investing, and personal growth. These episodes feature experts in their fields who share valuable wisdom and practical tips that can be applied to improve different aspects of life. From the power of empty space in creativity to the importance of embracing our uniqueness, there are valuable lessons for everyone. Let's dive in and uncover the wisdom that can help us on our journey to success and fulfillment.
---
🔍 Wisdom Unpacked
Delving deeper into the key ideas.
1. Enhance productivity with mushroom coffee and invest in automated strategies.
Running at high altitude can cause hand tremors, but pushing oneself can lead to impressive results. A mushroom coffee made from chaga mushroom and Lion's Mane, considered a nootropic, can enhance productivity. Wealthfront, a popular investing service, offers automated strategies and low costs, making high-end investment services accessible to everyone. They use software instead of retail locations, offering free risk assessment quizzes, automatic tax loss harvesting, rebalancing, and dividend reinvestment. As an investor, I am impressed by their team and company, and listeners can get $15,000 managed for free by filling out their questionnaire at wealthfront.com/tim.
Dive Deeper: Source Material
---
2. Creating space for creativity and focusing on depth are key to personal growth.
The concept of 'Tools of Titans' by Tim Ferriss, a book on learning strategies, is explored. The speaker, Josh Waitskin, is a black belt in Brazilian Jiu Jitsu and a world champion in Tai Chi push hands, and is also a coach to top athletes and investors. He emphasizes the importance of creating empty space for the creative process and focuses on depth over breadth in everything. This approach is applied to various areas, including learning strategies, athletic performance, and personal growth.
Dive Deeper: Source Material
---
3. Learn macro principles by focusing on small, universal concepts.
The principle of 'Learning the Macro from the Micro' involves focusing on something small in a field to internalize powerful macro principles. This can be applied in various domains, such as chess, martial arts, and other areas. Instead of memorizing specifics, it's more valuable to learn high-level concepts like the power of empty space, opposition, and setting up an opponent for 'Zugzwang'. By limiting the pieces, you can learn limitless principles that can be applied against anyone. This approach has been successful in chess, jiu jitsu, and other fields.
Dive Deeper: Source Material
---
4. Sharing training details attracts learners and fosters improvement.
Marcello Garcia, a five-time world champion in Brazilian jiu jitsu, has a unique approach to training. He records and uploads his sparring sessions, allowing his competitors to study his game. This strategy is based on the belief that if you're studying his game, you're entering his game, and he'll be better at it than you. By sharing his training details, he attracts people who are willing to learn and improve. This approach is not a zero-sum game, as it benefits both parties. Marcello's ability to turn on and off his intensity is a result of his training and practice. He emphasizes the importance of quality in all aspects of life, even in the small details.
Dive Deeper: Source Material
---
5. Success lies in cultivating a mindset of turning it on in little moments.
The essence of success lies in the little things, as they reflect our approach to life. It's crucial to cultivate a mindset of turning it on in these moments, as they are more frequent than big moments. This mindset, often referred to as 'go around', involves finding alternative solutions and connecting things. It's a valuable discipline that can be applied in various aspects of life, including business and personal growth.
Dive Deeper: Source Material
---
6. Embrace your funk for creativity and genius.
The concept of 'funk' refers to the unique qualities and eccentricities that make individuals different. It's important to embrace and understand this aspect of oneself, as it can be a source of creativity and genius. World-class individuals often have a strong sense of their funk and build on it, rather than trying to fit into a predetermined mold.
Dive Deeper: Source Material
---
7. Ego drives us to face toughest opponents for personal growth.
The ego often drives us to face the toughest opponents when it feels threatened, as observed in top competitors during sparring sessions. This behavior is a sign of personal growth and a desire to challenge oneself. On the other hand, some individuals may choose easier opponents to take a break, indicating a lack of personal growth.
Dive Deeper: Source Material
---
8. Embrace all weather, teach appreciation, and develop internal control.
The mindset of labeling weather as good or bad can make us reliant on perfect conditions for a good time. This can be detrimental, as it can lead to a lack of appreciation for the beauty of nature and a reliance on external conditions for happiness. Instead, it's important to embrace all types of weather and not let it dictate our plans. By developing a positive language around rainy days, we can teach our children to appreciate the beauty of nature and not be reliant on external conditions. Instead, we can focus on developing an internal locus of control and finding joy in every day, regardless of the weather.
Dive Deeper: Source Material
---
9. Wealthfront offers smart investment strategies at a fraction of the cost.
Wealthfront is an investment service that offers smart software-based investment strategies at a fraction of the cost. They provide a risk assessment quiz and recommend a portfolio based on your risk tolerance. They also offer automated habits like tax loss harvesting and rebalancing. They charge 0.25% per year on assets above the first $15,000, which is managed for free. This service is impressive and has been endorsed by the speaker.
Dive Deeper: Source Material
---
---
💡 Actionable Wisdom
Transformative tips to apply and remember.
Embrace the concept of 'Learning the Macro from the Micro' in your daily life. Instead of getting lost in the details, focus on understanding the high-level principles that can be applied in different situations. By doing so, you will develop a deeper understanding and be able to make more informed decisions. Whether it's in your work, relationships, or personal development, this approach can lead to greater success and fulfillment.
---
📽️ Source & Acknowledgment
This post summarizes Tim Ferriss's YouTube video titled "Tools of Titans with Josh Waitzkin | The Tim Ferriss Show (Podcast)". All credit goes to the original creator. Wisdom In a Nutshell aims to provide you with key insights from top self-improvement videos, fostering personal growth. We strongly encourage you to watch the full video for a deeper understanding and to support the creator.
---