Tom Bilyeu
Hilary Swank on Becoming a Beast Competitor in Work and Life | Impact Theory | Transcription
Transcription for the video titled "Hilary Swank on Becoming a Beast Competitor in Work and Life | Impact Theory".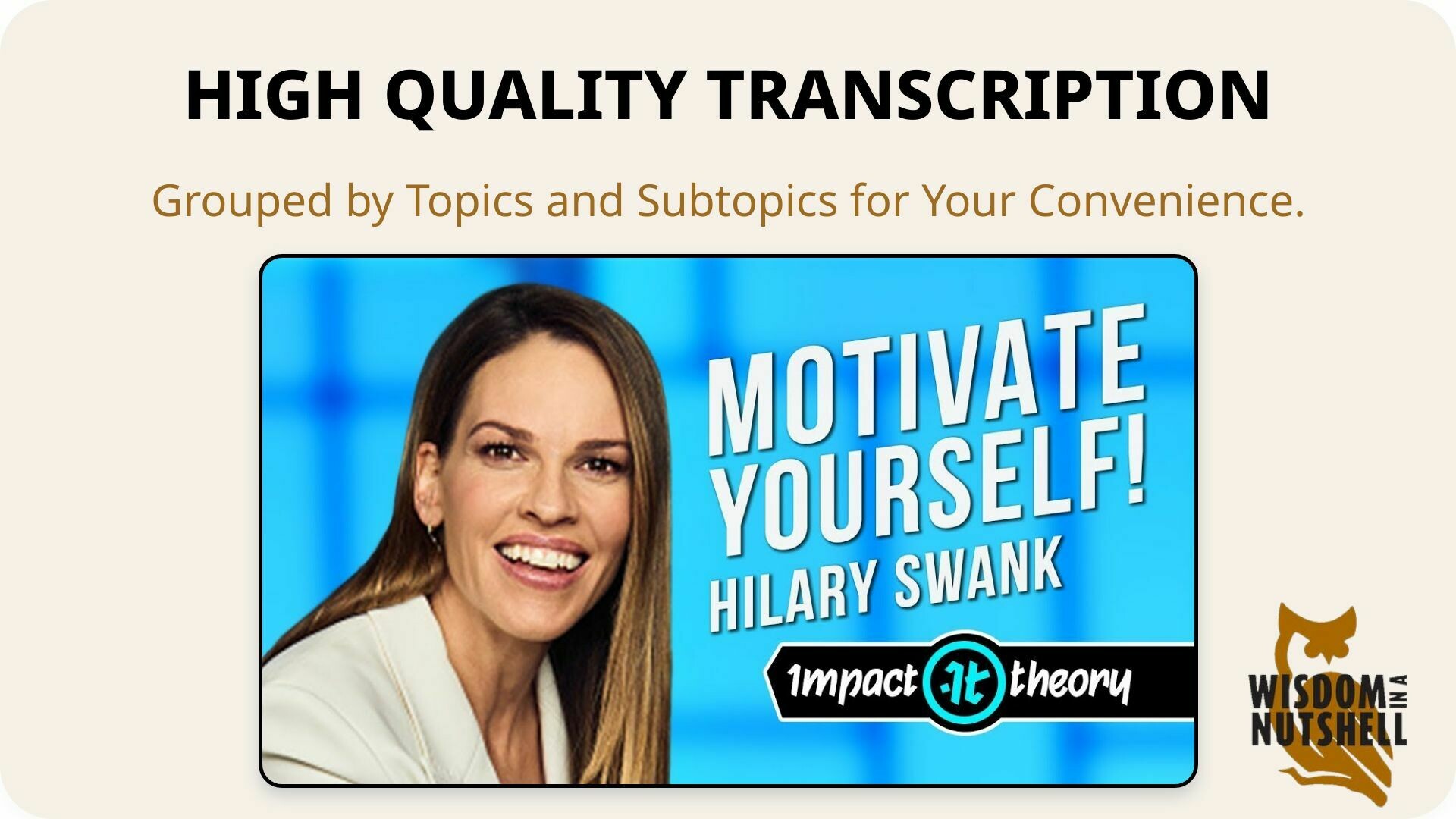 Note: This transcription is split and grouped by topics and subtopics. You can navigate through the Table of Contents on the left. It's interactive. All paragraphs are timed to the original video. Click on the time (e.g., 01:53) to jump to the specific portion of the video.
---
Introduction
- Hey everybody, welcome to another episode of Impact Theory. I am here with the legend two time Academy Award winner, Hillary Swank. Thank you so much for joining me today. - Thanks for having me. We've been talking via Instagram for a while now trying to make this happen, so I'm really happy you were able to. - You and me both, you are such a hardcore badass. As my wife was just here, she was so hyped up to meet you because truly we are both so inspired by your work ethic and what you've accomplished and just how hard you go to make your dreams come true. And so having you on the show is something we are beside ourselves with joy to be doing, so super stoked. - Thank you.
---
Athletics, Competition, And Finding Purpose
1. Why everyone should love sports. (00:47)
- And I'd love to start with that legendary work ethic if we may. When did you develop that? I mean, you were competing quite young at the state level for sure in both swimming and gymnastics if I have all my facts right. So when did you click into that competitiveness and really start taking it seriously? - Well, it's so interesting how something becomes something. I started swimming at the age of three. It was kind of just a convenient babysitter putting me into sports, you know, while my parents both worked and worked long hours. So then after school program going swimming or gymnastics or basketball or whatever sport it was in the season really became, it was my babysitter but then it became my way of life and my great passion for so many reasons. And, you know, it's to me it's like being a part of sports is like the air you breathe or the water you drink. It's, I couldn't live without it. It informed who I am in so many ways. And I love that you started the conversation with this because I feel like sports gives you a type of work ethic that you carry into your life. And especially for your young girls because we're so objectified and trivialized that you realize when you're working in team sports what your body is actually made for. And you have to train your body and you have to work your body hard and you have to mind over matter and get into that part later but also as young girls working together for a common goal and supporting one another in their strengths and picking each other up, you learn how to support other women. And so there are so many things. You learn how to persevere through all types of adversity through pain and through what losses, you know, I've never seen a loss as a negative because it's such an opportunity to grow. And I know this is a very long-winded answer to your question, but without sports as a young person, without the ability to learn myself again physically and mentally, I would definitely be a different person than I am today. - Yeah, that I completely understand when you approach the body to get to the mind, to me that's when like really interesting things happen. I've always told people there's two ways to get to the mind. The mind to me is ultimately the game that we're playing. You can go directly to the mind, which I would say works for very, very few people. Another way to get to the mind is through the body. So whether that's learning that you can get stronger, learning that you can get faster or that you can improve your skill set, it becomes much easier to believe that change is possible, which gives you the energy that you need to push when something gets difficult. It's like, oh, I've seen this with the body. And now if I can believe that the mind works in the same way, then I can tackle a pursuit like you've done with acting, which I have to imagine people would rank as one of the sort of most impossible to get into. It just seems so insurmountable.
---
Teaching ourselves to overcome obstacles (03:58)
The odds of coming from a trailer park in Bellingham, Washington to having a star on the Hollywood Walk of Fame. I mean, it's like, it's the classic story. What I'd love to know is when does your mom begin whispering in your ear this notion that you can become what you want? It's just gonna be really hard. Is that as soon as you started swimming? Was it later, like when does that become a thing? - It was as early as I can remember. I think my mom, first of all, I know the best gifts you can give a child is to tell them they can do anything they want as long as they work hard enough. It gives you that gift of believing in yourself. I don't even remember at what age she told me. It was just kind of a common mantra. And it was really, can't was the bad four letter word in our house. And I love that. And it was also, I remember my gymnastics coach, we had a big sign on our wall in big block letters up on the wall that said, can't means won't and won't means push-ups. And so kind of from all areas from my home life to my sport life, it was the common mantra. And I just tried to carry that into my, I do carry it into my life all the time now. And instead of saying I can't, I try and find a way to persevere. And a lot of the times my biggest competitor is my mind. Our biggest competitor is really ourselves. And I'm competitive because I'm a Leo and I like a challenge. But really, I think overcoming that obstacle of your mind is the number one thing to tackle in pursuing your dreams and your goals. - One thing I'm very curious, I actually don't know how you're gonna answer this. So I've heard that you're very competitive and not just with yourself, with other people.
---
Is it important to compete with others? (06:10)
What do you think about that? Do you think it's important or maybe useful to be competitive with others as well? Or do you think, no, no, no, you should keep it entirely aimed at yourself? - Well, one thing I'd like to say is that I think for a long time, people use the word competitive as a negative, especially when it was, towards a female. It was if men were competitive, was deemed a good attribute and characteristic. And for women, it was kind of a negative. And I was told my whole life, well, you're really competitive. And I took it poorly because clearly it was, I think meant as that. Until I started realizing what a great thing. It means that I'm always trying to improve myself. And even if that's not what that person meant, I feel like when I look back, for instance, when I was swimming, or that one kid in school, or two kids or three kids or 10 kids, that were better at something than you, it's so important to try and work towards pushing yourself. It gave you something to work towards. And so I was constantly observing what they were doing that made them able to be faster, or whatever it was that I was trying to achieve. And that is so important to see it, to respect it, and to work towards it. I always go to that when I was training for Million Dollar Baby, I was thinking of that the runner who finally broke the four minute mile. And I remember thinking that after he was able to do that, how many people did it just shortly after? It's because they saw someone do something that was deemed no longer impossible, and they said, I can do it. And so that is super important to be competitive with other people because they're the ones that pushed us out of our comfort zone that we didn't even know we were living in. - Hilary, I agree with that so aggressively. And yet, I have said things like that in the past, and it gets a pretty controversial response. Like people, they don't like the idea of competing with other people, but like you, I feel exactly the same, that I'm not wishing them bad. I don't think less of myself if I can't win. I wanna play against the best of the best, and see how good this can be, and fall in love with the process of pushing myself. And just how far can I take this? And to me, that exhilaration of allowing yourself to be competitive, to really try to win in an honorable way, in an exciting way, in a way that fills arenas with people that wanna see that level of like human performance. That to me is like the juice of how far you can push the human animal. - Exactly, and if you think about it from that aspect, it's about respect. It's about respecting the person that is doing something that you want to achieve. That's beautiful, and that's what makes the world better. Because if we all stayed in that comfort zone and said, "Oh, let's not compete with each other," to be better at whatever it is, then no one would ever grow. And no one would find vaccines that help save lives, or go to missions to Mars, or whatever it may be. And that to me is the most inspiring about human beings, or the people who are constantly breaking through the status quo. They blow all of our minds. Like you said, they fill arenas. And I think the negative naysayers are really probably just a little bit jealous, and they're not gonna like to hear that. But the fact is, is they might not have it in them to want to have that drive, but they wanna be there. - So to go a little deeper on that story for anybody that hasn't heard it, for all of recorded human history, everybody thinks that the four minute mile is not possible, that the human body is just not capable of doing it. One guy is just crazy enough, and he keeps pushing, pushing, pushing, and pushing, and believes that it can be done. He does it, I think, 44 days after he breaks a record that it stood for all of recorded human history, another person breaks it. And then by the end of the year, three people in a single race break the four minute mile, because they realize that it could be done. It's like that zero to one moment is so incredibly difficult. But when you see that somebody has pulled it off, it gets pretty interesting. Now, the new show that you're in a way on Netflix is I love it so much, you have no idea.
---
From actor to executive producer (10:47)
I'm five episodes in, I'm a total sci-fi junkie. I know you're not a huge fan of sci-fi. I am a psychopath for sci-fi. And part of what I love is these exploration of these zero to one moments of what that would really be like. And I'm curious, you've gone from actor to now, executive producer, as you literally change who you are and how you show up in the world. How do you reinvent yourself like that? How did you have the courage to move to LA and live out of your car? How did you have the courage to take "Boy Zone Cry" which was, I'm sure, you got paid $75 a day or something ridiculous. How do you have this courage to reinvent yourself constantly and why do you keep doing it? - Well, I think that if you look at something and you think, I didn't know that this is where I would be, like 29 years later, that I would be living my dream and having a conversation about impact and being a type of role model. And I think if you think like that, it can be a little overwhelming, especially with a movie like "Boy Zone Cry" when you know that it was the beginning of a conversation that no one was having at the time and it started that conversation it was so important for so many people. I probably might've even like froze under that pressure. But I think if you're just following your life's path and your life's purpose, you're not thinking about anything other than just kind of how do I achieve it? How do I make it happen? And when I drove to California with $75 and a gas car and I was living with my mom out of the car for a little while, to me it was exciting. It didn't feel courageous. It felt like I'm embarking on the beginning of my dream. And there was nothing more exciting. I remember it like it was yesterday and I think that if you really are living your fullest purpose, there are definitely moments where I'm kind of quaking in a type of fear of like, can I do this? And that's wonderful because I don't ever want to rest on my laurels. I don't ever want to just sit back and go, oh, I did it. Now I can just kind of smooth sail. Voices that I continue to make are ones in which keep me up at night. That it's like the night before the first day of school and I can't sleep on my first night of when I'm about to go to set for the first time. And I love that. To me, it's a challenge and sometimes it doesn't work. You know, Clint Eastwood said something that has always stuck with me, which is you always aim for the bull's eye, but you don't always hit it. And that's okay.
---
Why it is ok not to always hit the bull's eye (13:50)
- How do you deal with that? When you fail to hit the bull's eye, what do you do? How do you talk yourself through that? - I just say, did I do my best? Did I work my hardest? Did all the collaborators work their hardest? And where can we improve the next time? Why didn't it work? I think trying to break down and understand why something doesn't work so that you don't do the same thing the next time, but it's hard when you're telling stories because you're anything, you're only as good as your weakest link and we're a collaboration and that's part of the beauty and the magic is in that collaboration. Like I remember I did this movie, The Reaping, which was really about kind of this biblical plagues that happen, which feels very kind of timely right now. And I feel like it just didn't come out at the right time. It had it come out now, people would be like, "Oh my God." So much of it is about time and what's happening, but also sometimes it just doesn't work. I've done movies and I won't mention them and remind everybody, "Well, it just doesn't work." And that's just okay. - One thing that I find so interesting is you had an overnight success nine years in the making, right? So I totally get that story of you work and work and work but just nobody's seeing it, but then you finally have that breakthrough moment and then you've done so many extraordinary things. Not only do you win one Academy Award, you win two Academy Awards, which is insane. I just, I mean, that puts you in such a small pantheon, but what's interesting to me is that you've also launched a clothing line, you've become an executive producer, you're getting involved in like the real nitty gritty of the storytelling and that to me is evolution that I think is gonna keep you relevant and that you're already at a point now where you can be in front of the camera, you can be behind the camera. I wanna read a quote that you said that I think really sums up your attitude and the approach that you have, which I think speaks to why you've had the kind of success and evolution that you've had. This is straight from your mouth. I wrote it down myself. I have this motto, make a choice, make it happen and work every day towards whatever that goal is. Step into the sharp edges, do something that scares you. Don't pull away and don't overthink. And I just thought, man, that is how you really build something that is constantly changing, constantly evolving, that willingness to lean into the sharp edges and do the things that scare you. Is that really something that you keep at the front of your mind as you decide what to do next?
---
Living your purpose. (16:28)
- 100%. My deepest fear used to be that I wouldn't fulfill my purpose, that I wouldn't, it's not just about achieving, it's just that I wouldn't fulfill what I'm here to do. And-- - Do you have a single sentence of what you're here to do? - Well, it's always evolving. And that's why I say make a choice, make it happen. Because we are evolutionary beings and what is right for you at 20 might not be right for you at 40 or 30 and you have to constantly ask yourself, am I still living my purpose? Or was that a purpose at 20 that someone else had for me? Or, you know, often we also get caught up on what success is without asking ourselves, what is my definition of success? Because it might be different from what is always thrown at you from the early age before you even know you're taking stuff and you're seeing commercials and billboards and ideas of what success is because it's a business. So I think really getting in touch with why am I here and what's my purpose? And I was just lucky that eight years old, I knew that I wanted to be an actor. I didn't know when I came alive and I was performing in front of my class that I was, that was my calling. Eventually I figured it out. But, and thankfully it's stayed true and I've taken time away to take care of loved ones and it's only fueled that fire more. I love being a storyteller. There's nothing I think that could bring me that much joy. It's so fulfilling, it's so rewarding. But like you just said, there's other parts of me that I'm exploring, which is I want to encourage women to live their own mission statement, to walk in the shoes that they know they're here to do. And that's why I created this clothing line. It felt like it was a natural extension to that encouragement. You know, my charity that I have, Hilaryu that brings kids who've been given up on and animals who've been abandoned. Seeing these kids come to life when a seed of hope has been planted in them again, when they've been kicked through the curb and told that they don't matter because of the circumstances that they're born into, you see them come alive. It's, you know, that's the thing. To constantly ask ourselves every day, am I making a choice to make it happen? My purpose. And so, I don't know if I answered your question, but the point is, is that it's constantly evolving, who we are, and sometimes, you know, letting go of the idea of what it should be, is just as important because we're missing what's right in front of us, that is something that is bloomed, that might be better than the idea we had it to be. - Yeah, I think that's really, really powerful. Hilaryu sounds amazing. What is it, what's happening there? Is it the connection with a dog that just has unconditional love? Is it the adults that are finally showing them love and care? And the dogs are just sort of accidental? Like, what is the, what's the magic?
---
How did you found Hilarue? (19:58)
- Well, I think it's a little bit of both. So what happens is, first of all, when I was a kid, I'm growing up at very young age. I learned about classism. And it was really unfortunate because I didn't realize that my circumstances in a lower socioeconomic background were not, you know, I didn't know that it was bad or looked upon poorly. I just was living my life. And it's so unfortunate that you learn that at such a young age. But one of the things I was, for my birthday and for Christmas every year, I want a dog. I want a dog because every time I was around a dog, I felt good about myself. I felt like a sentient being saw me for who I really was. And I just felt joy. It gave me a reason to wake up in the morning. It gave me a purpose that was outside of me and like, oh, they don't like me 'cause they live in a trailer park and oh, I don't belong there. And well, where do I belong? Finally, a dog is where, that's where I belonged. And so I thought later in life on my late dog, Karoo, who was this super special dog, passed away, I thought, well, what do I do with this pain? And I thought, oh, hilly, Rue, our names combined. And I'm gonna try and bring back that feeling I had for kids who have been given up on in foster care and in group homes. And again, they see the dogs though that have been kicked to the curb like they feel they have. Dogs that are in shelters, dogs that are gonna be put down. And we pull them out and we pair them. And it is one-on-one counseling too. And these kids, we put like the dogs, we put them through, they have to take a dog through an agility course on the first day. And one of the things we ask at the end of the day is, what do you think your dog felt? And they'll say, well, my dog was overwhelmed, my dog didn't trust me, my dog was confused, my dog didn't know why it was there. And then we say, oh, what did you feel? And they're like, just like my dog. And so it connects them back to their emotions that they've cut off from. And so they start having empathy for this other being outside of them, which again though, they go home and then it gives them or to their group home or to their foster home. And they gives them a reason to wake up the next day. It re instills a responsibility and a meaning in them. And if by far exceeded my expectations of what it would be. - That is really cool.
---
What's your purpose? (22:37)
I asked earlier, but we didn't quite get a quick answer. I know that it changes over time, but I'm curious, as of right now, knowing that it could change and evolve, what do you see your purpose as being? Is it to tell stories that empower? - I got it. Hands down. And I'm sorry I didn't answer it before. The long, this is the short of the long winded is to empower the underdog. It's just, I think that anyone living that feels like they've lost, oop, or they don't belong, or they don't know what they're here for, or they're marginalized, or they're oppressed, or they're told they'll never amount to anything. I wanna tell stories that empower them to say, yes, this is why I was born, this is my meaning, this is my purpose, and you will not stop me. And I didn't know that when I became an actor, that that was the stories I wanted to tell, but those were the stories I was drawn to. And now we can see through the trajectory of the choices that I made, that that's the through line. And it will forever remain, I think, my most passionate thing. When I see people who have given up on this, what, as far as we know, a one short life, it leaves me feeling so sad. And so anything that I can do to say, if one person watches one of my films and says, I get it, I get it, then I've done my job. - I wanna go back to something that you said earlier about your mind is the thing that ultimately gets in your own way, and it's the ability to overcome that. Talk to me about million dollar baby, that I don't know if people understand, five pounds of muscle is transformative, it would change anybody's physique, it would make you almost unrecognizable.
---
Crudging the Million-dollar Baby Way 19 Pounds of Muscle in 90 Days (24:32)
You go from like skinny to Bruce Lee, with five pounds of muscle, and it is gruelingly difficult to put that kind of muscle on. If I gave you six months to do it, it would still be hard. If I have all my math right, in roughly three months, you put on 19 pounds of muscle. The inhuman amount of effort that that would take, how the hell did your mind not scream at you to stop? How'd you pull that off? - My mind screamed at me every day to stop. I was in, my body was in pain all the time, and I was training six days a week, and the beautiful thing that happens when you persevere and change the mindset, and you just go and don't put anything on it, just get there and be present and work really fucking hard. Don't say you can't, don't say this is gonna happen, don't quantify it and say, well, if I show up, this better happens, like don't do any of that. Just show up and put the work in. And then the next thing you know, you're breaking through barriers that you never thought possible. And you're an awe of the, not of yourself, but at the fact that anyone can really do this, if you set your mind to it. Anyone can do it. It's not a secret. It just takes a lot of fucking work, and you have to get out of your own way, because your body will, your mind will constantly tell you, you can't, because it hurts. It hurts to grow even mentally, not just physically, it's just painful. You're breaking out of old ideas and thought patterns and things that are comfortable. The drama in your life becomes your comfort zone. And when you break out of it, whether it's physically or mentally, it's the unknown. And the unknown is scary. Yet you just have to say, okay, I'm gonna sit here, push into the sharp edges, and I'm just gonna sit here. I'm not dying. The floor is still under me. Wow, my shoulder was hurting, but it's still there and it's okay with a little life or whatever it is. If you talk through all the what-ifs that you put on yourself, what if this, oh, what if that? If you sit through them all and you actually go through them, you realize, 99% of the time they're not gonna happen, you know? And you're gonna come out the other side, the person that you stepped into wanting to become. Now, I know with a way that you discovered, I'm sure, less and enjoyably, that you actually have some claustrophobia issues with getting in the spacesuit and all of that. Has your previous mental training did that prepare you for that? Were there new tricks that you had to learn in order to deal with that? Like, how did you get on the other side? 'Cause you spent a lot of time in that suit. Well, after I got over being ashamed of myself, not for having a phobia, before the thoughts that I had about other people who had phobias, I was disappointed in myself. I was always kind of like, whatever, it's a spider. Just try, wait, wait, or whatever it was, it's heights. It's like, well, don't look down. You know, I didn't have very much empathy for those things. And I consider myself a really empathetic person.
---
Confronting Claustrophobia (28:27)
So shame on me, once I got over that and realized, oh my God, it is a physical thing that happens that you don't have control over. I almost passed out. I was sweating, I turned beet red, and I didn't wanna say anything 'cause I hadn't even started filming, and I didn't want them to recast me. But they clearly said something was wrong. When I say I was red, I was red as a tomato, and I was dripping sweat, and I sweat, but my face doesn't sweat a lot. So it was all very uncommon to me, and everyone, there was probably 12 artisans around me, like latching me in and doing tweaks on the suit, and they all saw it, and they just said, "Do you wanna sit down?" And I'm like, "Yeah, no, I'm okay." Until I was about to pass out. And so I realized I needed to reach out to people who knew how to help you. That's the other thing. It's really important when you don't have the answers, to not try and power on all by yourself. If you, it's okay to ask for help, and that's one really important thing that I learned also early on, is that, well, it took, it was some hard knocks to get there, 'cause I always took everything on my own shoulders, but it's important. So I reached out to people who I knew worked with, sports people to help them through negative thinking, essentially just to have breakthroughs, and to not get caught up in the mind game. And I asked them if they could help me, and they gave me ideas of really relaxation, which is something we do with acting. You can't force anything in life. And so it was also a good analogy for life. It was a good analogy for my art to go back into relaxation. Because what is happening is everything's speeding up, and that takes over, and you can't get out of the cycle of the speed up. And so if you start at a really low kind of heart rate, deep breathing, quiet place, and you go into it, and you just try and keep yourself there. I just didn't know how I was gonna act while I was also trying to concentrate in that zone. When I was acting all worked up in some of the episodes where I was doing these flight things, and where I was supposed to be worked up. I didn't know how to work the acting into the relaxation, and that was an interesting lesson. But I also reached out to acupunctureists, and they gave me herbs and things, whether that was placebo, but I would take these drops of these homeopathic stuff 20 minutes before, and I was like, "This is gonna help me." And so all in, it all kind of worked. But I also had the patience of the filmmakers and the producers who end my fellow actors, 'cause they would all be in these spacesuits, and we'd be about to take off. And then they'd have the chairs shaking, and you'd be acting like you're taking off, and then I would have a freak out, and I'd have to pull everything off, and they would all patience, and yeah, it was a process. And again, just being patient with yourself. - And are you at the point now where you can be in the suit normally, or is it still like we have to do the drops and the meditation and the calm breathing and all that? - I tried it as we got towards the end without the drops, just to see if it was placebo, or... And I think what started to happen is, I didn't take them. I got much better, but I also, and this is another analogy for life, I was able to trust the people around me. I had two people at all my, the costume person and the prop person, and when they lock in, 'cause you lock gloves on, and you lock, and you can't get out of it by yourself. But once I could trust that if I had a safe sign, that they would run in and take it off, I could relax into it. And again, that's just such a good analogy for life.
---
How does an Actor Prep for a Role (32:34)
If you trust that you're doing, if you've done the work, if you're living in the right mindset, if you're making a choice to make it happen, that the universe is working on your behalf, and you just have to trust and let go. And essentially, that's kind of what getting over this claustrophobia or working through it was. - I wanna talk about your preparation, which is, old for hardcore, what is it that you do for prep, to prep for a role, and what do you think it sort of secret sauces? - You're so complimentary, thank you. The secret sauce to me is having the time to explore a character like it's a human being. I think everything in life is about the specificity. I think if you look at the specifics of anything that you're doing, that's where the beauty lies. It's never in the surface, it's always in the depth. And so, the time, at least four weeks, to break down a character and to understand them, this is what I love about acting, and is that I get this opportunity to see how every human being has a similar quality, but then they have this thing that makes them different. We all have our unique story, right? We all wanna give and receive love. We all wanna live our fullest purpose. We all have fears, we all have hopes. But the color of that is that it's not exactly the same, what those things are. I mean, the through line is the same, but who we love, and what our purpose is, they're all different. And so, everyone has a unique story. So with the character, I always try and find their unique story. What scares them? So when you're in the middle of the scene and you're thinking of what the scene is, it's not just the lines, it's the between stuff, it's the in-between stuff. It's like, you know, when anything you can think of in life, we all know what our triggers are. We all know what scares us, we all know what our hopes are. And so finding those nuances in a character is what I love, and doing that preparation. And I think one of the key things and fun things for me is finding my character's shoes and walking in those shoes, because everybody, and just take a look around, everyone watching this, and if you look around, everyone walks differently. Not one person walks the same, and finding where a person walks from. I have always walked, like, impactfully. And it made it hard to do zero gravity, because I'm an impactful person. Like, I like high impact sports and stuff, I'm not graceful. So being in zero G and trying to be graceful was hard. But just like, I walk kind of chest forward, like heart forward, and some people walk with their head forward, and some people walk with their pelvis forward, and some people kind of walk, you know, with their heart back, and just look around, it's interesting, and I love that. I love observing that, and diving into that, and understanding all of that. - When you think about moving forward with your career, where are the areas that you want to go next? What are the sharp edges?
---
Moving Forward with Acting (36:07)
What are the things that scare you that you want to move into now? - Well, I really, I started my career in comedy, which is a great joy of mine, I love it. And I'm clearly not seen as that, especially after a lot of the choices I've made, my mom always says, can you please live to see the credits? But I, you know, doing PS I love you, albeit, you know, not a total comedy, but there was, you know, it was considered a kind of romantic comedy. I love it, I love exploring that side. I'd also like to do more action. I know people think of me as physical, but I'd like to do like, I don't understand why there's not mission impossible with a female lead, or there's not like a James Jane Bond or something, you know, where there's not like, a female in these roles. I feel like women, I heard make up a bigger population of the viewers, and I would think they would love to see a badass in an action piece like that. - There's definitely space for that. As somebody that thinks a lot about demographics, you've talked a lot about there's a dearth of exciting projects for women. How do you go about solving that? Like what is the answer? Are you collecting talented writers and directors? Like how do you, if you were given all the money in the world, how would you solve that problem? - That's a really good question.
---
Resilience, Purpose, And Personal Values In Career
Telling a vulnerable story that resonates with people even 1 year in the future (37:48)
The thing about the business is, I think, very challenging and makes it kind of a lottery, is that it takes so long for a project to find it's, to be its finished piece. So it's, you know, a year on the normal side. Clint Eastwood can get something out in six months, which is rare and fat, yeah. But what is relevant right now might not be in a year. So you're trying, if you're trying to like play the popular game of, oh, this is, this is what's cool right now, you might be missing it. I think the most important thing is to really just tell a story that speaks to your soul, and then hope that it makes it, because at least you didn't hurt your integrity and trying to be hot and cool. And a year later having a bomb, because then you have nothing else to hold on to, except you're trying to reach something. I don't think, like I didn't become an actor to win an Academy Award. It wasn't my goal. My goal was to be, to tell stories and to find characters that made me feel less alone in my life, that made me feel more connected to humankind. That was my goal. And so if you're just, again, it goes back to, if you're in touch with what it is, that blights you on fire, at least you're winning in one way, because no one knows what the outcome's gonna be. But if you had fun doing it, if you were challenged doing it, if it helped you grow as an artist and as a human being, you've already won. It's great when you can get your financiers their money back, 'cause I feel that responsibility. But, again, it just doesn't always work. And I don't think that you can always go by statistics. And there are people who have proven themselves in one movie, and then the next movie that they try and simulate that, it doesn't work. So it's just, who knows? And that's kind of the, I guess, excitement, but also the scare of this business. - You know, one thing that I think you've talked really profoundly on is identity.
---
Finding purpose in your role that goes beyond your career (39:59)
And you say, you know, we always lead with what we do. And so much of who we see ourselves as is tied up in what we do. I'm curious to know, when you won the Academy Award, did it change how you felt about yourself? Did it strike you? Is it something you've taken on as part of your identity? Or do you know, I shouldn't invest in that part of it. It was a moment, it was beautiful, but I'm not gonna let it define a part of who I am. - I love that question, and I really hope that really, especially young people hear this, because the most defining moment for me is when I took three years off of my career. Because of what you just said, so often, we're defined by what we do. And I realize, and as most people, when you say, "Oh, tell me about you." I usually first say, "Well, I'm an actor, or I'm a storyteller, or, oh, it is what I do, but it's not who I am." And there's so much more to me than that. And when you let one thing be the leader, I think you're not as well-rounded as you're meant to be in this life. And so I think, and also, if you put everything in that one box, which I have, I'm an actor, I'm a storyteller, and I've now have a 29-year career, and if it was taken away, I would be devastated. But when I took time off to care for my dad, who got a lung transplant. So there were people who said, "Are you worried about not being relevant, and what if you can't find your way back in?" And it wasn't a question I asked myself. What I asked myself is where am I needed right now in life? And where I was needed was where I chose to go. And I really think it's important that we don't look back and have regrets. Had I not been there, and for my dad, and done the thing that was calling me at that time, and said, "Oh, I can't wait to do another movie." And it's not because it's the right thing to do. It might not have been right for somebody else. But for me, it was right because that is what felt right in my heart. So at that time, I realized I'd never gone a year without being in some type of movie or show or doing something creative. And in walking away from it, I realized that's when I created my clothing line. That's when mission statement was born. Because even though I wasn't able to be creative in the way that I had been in the past, it didn't keep me from being creative in the hospital room. As I sat by my dad's bedside, I could still think of other things that I wanted to do in life, and how it could be impactful for me and other people. And I think that, again, goes back to what I was saying, is that we can be so myopic and like, this is my goal right here. And then if that's taken away, then you're not seeing this wide thing of all these other things that could be in front of you. And so I realized that's when I was able to help kind of push hilleroo in a bigger way. And so instead of going, "Oh, we can't be creative," I thought, "Okay, what can I do? How can I be creative in this environment that I'm in right now where I'm needed?" And so it just made me, like I said, it made me see that I'm more than just an actor. - No, that's incredible.
---
The importance of forming and sticking to personal values. (43:39)
I think that's so important. Like you said, I hope the young people were listening to that. Were you and your dad already close? - We became close, kind of in my mid 20s. So yeah, not so close when I was younger, but we had been building a relationship and obviously after this came a lot, we're really close. And my dad lives with us. So now we're really close.
---
How Hilary got back into acting after a break from it. (44:09)
- That's incredible. It's incredible for a couple reasons. One, I think everybody should have a code that they live by, which is gonna help them in those moments where it's like, I know what I should be doing based on how I wanna feel about myself and I'm by myself, like you said, not having regrets, and running the scenarios and saying, "Okay, let's say that I don't help my dad, "and any other struggles or passes away. "Will I say, hey, but at least I made this movie "and this was my third Academy Award "and I really think this movie was an important body of work "and I'm so glad it's out there." Or would you say, "Hey, that role that I know "that I was up for went on to win somebody else "in Academy Award and become this important thing, "but I was at home with my dad, and that really matters to me." And when you have that kind of clarity, life just gets easier and it gets more beautiful because you know what matters to you, which you've chosen. I mean, you've decided to have something matter, but once you decide to have something matter and then you live in accordance with it, I mean, it's literally the motto that you live by, as I say it, which I did not intend, but putting those two things together of saying, "You know, this matters and now I'm gonna go make it happen." And I think that's really, really extraordinary and you don't seem to, and look, I obviously don't know behind the scenes, but it doesn't seem like you missed a beat in getting back in. You're back to doing extraordinarily high quality work. You're at Netflix for God's sake, which these days is like the tip top of the pyramid, executive producing a story that's really pretty extraordinary. What was, how did you get back in? Was that just like, look, you know, I'm gonna deliver quality work. I'm 100% back now and ready to go. What did that journey back look like? - The journey back was, I think there was a lot of also things, time that I had to reflect on the people that I had around me and I had, you know, so interesting how I think this is also important, especially for young people, but I had one person in my life who would say to me, you know, I would say, "Oh, we got to go for this "and I wanna go for that." And I kind of feel like I'm in my second act in life. I'm now firmly in my 40s and it's my second act and there's so much that I still wanna achieve and it's so, and grow, especially as an actor. And I would say, "Let's do this and let's do that." And I like to really plan and figure out, like, how do we go after that? Because I don't wanna just wait for things to come to me. There's thinking to be things that people don't see me for and I still, I wanna go after things and I wanna, I don't, you know, I guess you call it ahead of the curve instead of just kind of waiting. And I had someone in my life who would say, "Oh, Hillary, that's so naive." And I was like, "Wow, you sound like my teacher "in school who told me, 'When are you gonna give up "your hobby?' "When I went to California to pursue acting?" Like, if I had that attitude, I would not be a working actor right now. And so I quickly learned that the people who have, who think like that, that's fine for their life and they might not wanna, you know, work that hard to get to that next level. But I have, you have to make those difficult decisions and say, "Okay, well, I don't know, "I don't think this is the right partnership anymore." And you have to be able to, you know, kinda let your feelings get out of the way and say it's nothing personal, but we're not in line. And if we're not in line, this is a part of your career, but this is my life. And so that's another thing you have to, I think, constantly ask yourself every day. Am I in line with the people that I'm collaborating with to help on this journey for one another? And that was just really indicative. That was, I think, a really good example of that. And that downtime gave me a sort of look around my house and say, "This is for the next goal "and where I wanna go." And this really isn't. And there's a season for that. You know, there's a season for everything.
---
Conclusion And Final Thoughts On Film
Final thoughts about film and the Wrap-UP. (48:25)
- Hillary, this was amazing. Thank you so much for taking the time. Away is out right now on Netflix. It is amazing. Your success should not surprise anybody, your diligence, perseverance, work ethic, skill, preparation, man. It is all on point and it is such a joy to watch somebody who takes their craft seriously, pushes themselves to be the best and delivers just consistency. Time and time again, I thank you for showing up and doing the work. As a fellow storyteller, I see you in an avatar way. I see you, homie. And I am super impressed and think that you are such a worthy role model. And I don't know if that's something you are, you know, welcome is a part of the life that you lead or not, but certainly you are. And I think it's extraordinary. Other than watching away, how else can people connect with you and just drink deeply of your world? - First of all, thank you so much. Coming from you, it means a lot. You know, I've been a great admirer of yours for a long time. I repost your Instagram posts that are just, are such an inspiration and a reminder to persevere. I don't know, I like to, my can with my followers. My followers are just so deep and supportive, which I'm so grateful for. And really the ones that keep your dream going, 'cause they're the ones that are tuning in to your projects. So that's a way to kind of reach out. - And so, and it had just the very beginning of that cutout. So that's Instagram, is that the best place? - Yeah, it's my, yeah, Instagram. That's really, I don't, it was hard to kind of get up on that, 'cause I'm not a very computer oriented person. I don't really understand that world, but I like the idea of telling a story through photos. As they say, a photo tells a thousand words. So I was into that. - Nice, well, anybody that likes dogs or workouts will find themselves right at home on your Instagram feed. So I highly recommend it. Guys, no BS, I'm gonna earn my reputation over time as to what projects I recommend. I'm telling you, away is fantastic. I love it, I'm a sci-fi junkie. It's just a great story, character driven is fantastic. Highly encourage it on Netflix, check it out. And if you haven't already, be sure to subscribe. And until next time, my friends, be legendary. Take care. - I think there's a part of God in each one of us. And when I say there's a moment of grace, I think it's when we really listen to us, each other, like you and I are doing right now. That's what I love about this show, about you. It's not a show. This is a connection that you make with people.
---