Tom Bilyeu
How To Hack Your Brain for Greater Success and Performance | Transcription
Transcription for the video titled "How To Hack Your Brain for Greater Success and Performance".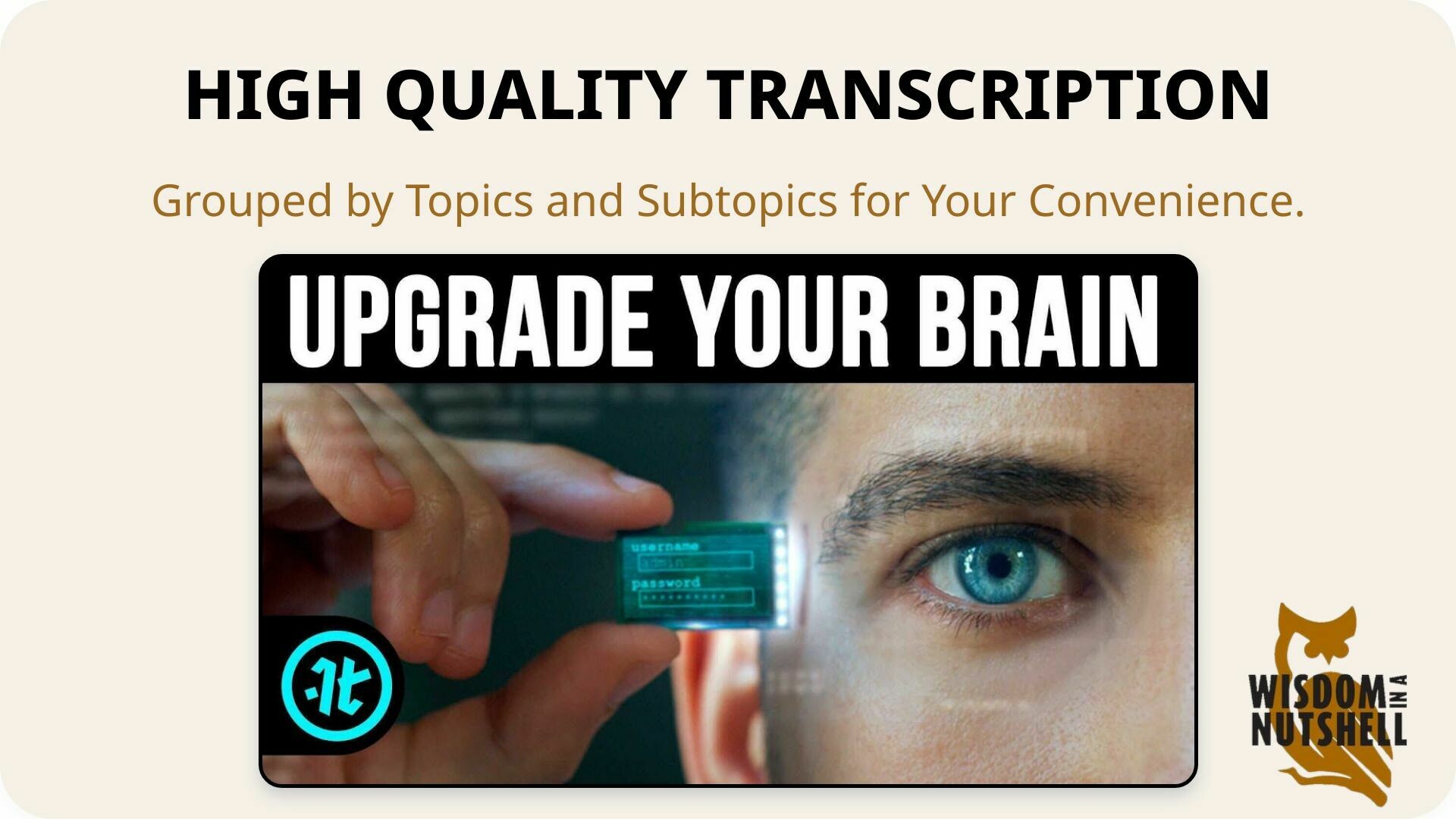 Note: This transcription is split and grouped by topics and subtopics. You can navigate through the Table of Contents on the left. It's interactive. All paragraphs are timed to the original video. Click on the time (e.g., 01:53) to jump to the specific portion of the video.
---
Introduction
Can't really think about the brain as hardware, and you can't think about it as software. It's this weird other thing that I call live wear, which is that it's constantly reconfiguring its own circuitry. So everything that you learn, every little thing changes the pattern of circuitry in your brain. If you ask you, saying, "Bol, how do I get stronger legs run?" It's intuitive. But the flesh in our skulls, it's meant to think and feel. That is the most important thing for people as they get older, is to seek new experiences, and that's the thing that often doesn't happen, especially when somebody is retired. So the conclusion is, anything difficult where you have to think is good for your brain.
---
Brain Development And Behavior Modification
hard Things Are Good For Your Brain! (00:44)
You can actually boost visual processing speed by 20%. Even if you're young and healthy. So I mean, these are young and healthy people that are already considered to be at the peak of their cognitive prowess. So that's proof that food changes mind. Lessons about dieting, learn through controlling epilepsy and seizures in kids, in areas where there's no medicine. We put a lecture on people's brains, and we look at their brains while things happen to them, and we actually see them in action. We see how the brain changes when people communicate. Excess connections across the brain creates a greater propensity to link seemingly unrelated ideas and concepts, and that's the basis of metaphor and creativity. My whole belief about the meaning of life, it's not the exact right word, but, is to find out how many skills I can acquire that have utility, then put that utility to the test in service of something bigger than myself. So that's like my mission in life, right?
---
We Are That Which We Do Repeatedly (02:06)
So what are things that I should understand about the brain that would allow me to acquire more skills, acquire them faster, put them to use more effectively? Like what are either realizations about the brain or training techniques that I should know about? Yeah, I mean a big part of this has to do with the fact that we live our lives mostly on autopilot, unless we put a lot of effort into not doing that. And so...
---
Define Autopilot (02:34)
So just by getting off autopilot, but wouldn't that, so that's ultimately just sort of making new connections. So examples that you give, oftentimes drive home a new way, brush your teeth with your left hand. And I certainly do feel the impact of that. Like from a stave off neuro-generative decline, that seems to make a lot of sense. And you've talked about the nuns who donated the brains to science, why I don't know, but that's incredible. And all of them had like early stage dementia, but they showed no science. Not all of them, but a much bigger percentage than anyone thought, about a third of them. Wow. Had Alzheimer's, but it wasn't clear when they were alive because they were so cognitively active because they were doing stuff. First of all, they were embedded in a social network 'cause they were living in the condense. And so they had responsibilities and conversations and so on. And that made it so that even though the brain was falling apart with Alzheimer's, nobody knew it. They didn't have the cognitive effects there. And is this at the center of your upcoming book LiveWire? Yeah, the theme of that book is that you can't really think about the brain as hardware and you can't think about it as software. It's this weird other thing that I call LiveWear, which is that it's constantly reconfiguring its own circuitry. So everything that you learn, every little thing changes the pattern of circuitry in your brain. So when you first learned that my name was David, that's underpinned by a physical change in the structure of your brain, which is wild. It's amazing.
---
The Walking" Experiment (04:01)
I mean, every single thing that you learn. Watching this right now and they're thinking, okay, wait, do I make better decisions when I'm hungry or full, night, day, what are you looking for and what can they look for at home? So I would say what we do with a lot of people who are kind of senior positions in companies that wanna actually make decisions better, we have a protocol that's a little bit tedious, so it's not easy to do it, but I'll tell you what it is and then you can think of ways to maybe try it yourself. So we have them basically walk for a week with a diary and make choices and just write them down. So tell us, okay, you know, I had this fish or the steak for lunch and I chose this and this, I chose and they also write whether they were happy or not with the choice. Now this is done the way they would normally but we also had one more thing. We put EEG cap on their head all day for more than 24 hours. So they walk with something that measures their brain activity and there's moments where we have to replace the batteries, there's a lot of like gaps there, but altogether we have them walk through life with both living life the way they do and they reflect on the soil choices but also have us look at their brain. And what we do at the end of the three days, one week, as long as they would do that, it's kind of uncomfortable and embarrassing sometimes. We ask them to kind of look at all the choices and tell us which ones were good, which ones were bred and then we look at their brains and we see what was their brain looking like, what did it look like when they made choices that they were happy with. And we sometimes see that there are things in their brain that are kind of repeated. So maybe they make choices more using this part of the brain that I'm trying to simplify it but looking at part of the brain that are more emotional rather than rational. We see that they activate more part of the brain that are buried deep inside it has to do with reflection rather than like thinking. So we kind of, and we tell them, you know here's what we learned about you. You are better in this and that state. So that's one thing. It's kind of not easy to apply because you still have to have this thing on your head.
---
How To Elevate Your Brain (05:46)
So not everyone can do that but at least people in senior positions who feel that the choices are critical come to us and they say, okay help me, I want to know where I'm better. - And are there any things that somebody with normal cognitive function can do to elevate? Like how do we start pushing the mind a bit? - Yeah. - I want to do some cool stuff. - Yeah, the general story, yeah, the general story about that is that it's about seeking novelty because with the brain, it very quickly gets into when you're repeating something, the brain puts less and less effort into it and you're not forming new connections and so on. But when people push themselves and do novel things all the time, that forces new connectivity. And so the best thing that people can do, I mean, we don't really have to worry about it at our age but once we get to a certain point, when you get to 200, the thing you have to worry about at some point is the issue of your world shrinking and doing the same little things and not sort of expanding and seeking new things. So. - Isn't there a name for this? Like the default, when you go into autopilot? - Oh, I mean, I talk about this as the unconscious brain which is essentially almost everything that you do. So everything about the way we shift on the seat as our blood needs it and talking and so on, this is all generated unconsciously. But when you enter into a complete novel situation where you really don't know what you're doing, that's when the conscious mind has to sort of be a part of what's going on.
---
Seek New Experiences; Shrink Your World" (07:11)
And that's when you form new connections and make new pathways. So that it turns out is, I mean, this is a very general statement but that is the most important thing for people as they get older is to seek new experiences and that's the thing that often doesn't happen, especially when somebody has retired. - Now dopamine is a very misunderstood molecule. It's often talked about only in the context of reward. Like, I'm gonna work to this goal, I'm gonna build my company, I'm gonna get 10 years of press, whatever it is and you reach it and you get this dopamine reward. And indeed that's true. But what's often not discussed is that dopamine is secreted en route to rewards while you pursue rewards. Now, the ability to tap into that system, to subjectively amplify that pathway of reward in pursuit of goals is an absolute game changer when it comes to things like anything challenging that of long duration or uncertainty or getting through this COVID pandemic situation. But the amazing thing is, remember, the brain only does five things and we get to decide which of those sensations and perceptions have relevance and which ones don't and which ones are attached to a goal and which ones aren't.
---
Dopamine: The Brake to Adrenaline (08:14)
So growth mindset in its purest form is the attachment of these reward systems to the effort process, to the friction process and not just to obtaining a reward. And just as a kind of final point to that, there's a very well-known body of literature and neuroscience, at least among neuroscientists that talks about something called reward prediction error. And it says, if you can dose the dopamine subjectively as you go through the pursuit of something and then have a lot of dopamine when you reach that thing, it's very likely that you're gonna reinforce that circuit. There will be neural plasticity and that circuit will become stronger. So the next time you will revisit those sets of behaviors, the opposite can happen too, where you're in real anticipation of something, this is gonna be great, this is gonna be great, this is gonna be great. And then you reach that goal and it's kind of underwhelming. And that generally triggers this circuit that I referred to earlier, this kind of disappointment or pro-depressive circuit. So dopamine is involved in reward, but it's also involved in the pursuit of rewards. And so as you reach a milestone, or as you tell yourself, I'm on the right track, this friction I'm feeling, this late night, this early morning, this hard conversation with somebody that doesn't feel good, I'm gonna tell myself, this is for a larger purpose, that's that subjective insertion, that abstraction that we were talking about earlier. And when you start releasing dopamine to those kinds of things, there's essentially no limit on the number of things you can do or the energy to do them. So just as a last point about dopamine, when we're in an effort, we're always secreting adrenaline, we're always in pursuit and it's draining, it's tiring. Dopamine has this beautiful capacity to buffer adrenaline. And you know this, you've experienced this before, because if you've ever been working really, really hard, maybe your team has depleted, everything's just a mess and somebody cracks a joke. And all of a sudden, in an instant, it's like everything's reframed. That couldn't have been hormonal, hormones work on the schedule of hours to days to weeks. It had to be neurochemical. It absolutely had to be neurochemical and that neurochemical is dopamine. - Now what about the study you did where you've got the cyclist on the bike, they're going hard, hard, hard, hard, hard, hard. And you watch for certain brain states where you know, okay, they're gonna quit. And then you use that information over time to get them to delay quitting farther and farther. - So behind that lies the idea that the brain is kind of like a muscle. And specifically, there's a part of the brain that we really care about. It's the part that's doing self-control. So if you think about it in simple way to do it, is that you start running, you go running. The first mile, your legs say, let's run and the brain controls themselves, let's run. And the other part, we then says no problem at all. After one mile, your legs say, it's a little bit painful, but the parts of the other brain controls them say, keep going. After 10 miles, the legs say, I wanna quit. And the other part say, no, keep going. There's like a battle there. And at some point you're gonna break. Now, when you're gonna break, it depends on a lot of things, your muscles. But it also depends on this kind of control coming from the front of your brain that overrides your experience, your pain. And if we can see this moment where you break, the moment where you stop despite the fact that you can do a little more, we can come back to you tomorrow and say, let's do the same thing you did yesterday. Have you run? Only this time when you get to the moment when we see that you're about to break, we're gonna play a sound. We're gonna tell you that we can see that you're about to break. And we ask you to just continue for one more minute at this moment that is beyond the way you did yesterday. - What in that moment, how do you appeal to them? Is it like, come on motherfucker, you got this? - That's basically it's right. There's a question in sports for a while. Why is it that people do better when they play home game versus outside game? Like what is it about your mum being in the audience that makes you win the game? Like in theory, they shouldn't matter. Like throwing the basketball should be the same. But somehow we know that if your friends are there, if you're feeling better, we know that people do better when they're all at the kind of winning. There's a lot of things that affect our brain and what we try to understand right now is why is it in their brain? What is this part of a brain that gets better when your emotions are highlighted? More heightened. - Incidentally, or not so incidentally, I should say, when you look at communities of very high performers and I'm fortunate enough to do some consulting with some people from special forces communities and so forth, they're very good, as are you, at attaching a reward to specific behaviors in subjective ways. So growth mindset and these dopamine rewards that we subjectively apply are not about saying, oh, I had a terrible day, I performed poorly, but you know what, it's great, I just feel great anyway. It's not about that. It's not about attaching your sense of reward to the ultimate goal. It's about attaching your sense of reward to the fact that you're making action steps that are generally in the right direction. The more you can reward the effort process, the better off you are at building these kinds of neural circuits and these kind of tendencies to be able to lean into anything challenging over essentially any duration. So how does this work? Like how would somebody do this, right? Well, keeping in mind that adrenaline and epinephrine are all great for getting us into action. This is Mother Nature's way of chemically making us feel kind of agitated. Remember, stress was designed to agitate us to move us away from things and toward things. But realizing that that's a limited resource that eventually that same chemical is what makes you have a negative mindset, it feels painful, it's the burn in your body, it's uncomfortable. And realizing that dopamine can push back on that neurochemically, it can suppress those sensations of wanting to quit. You say, well then, how do I get this dopamine to work for me before I hit a goal? Because not every day is going to be a real win. There are some days, I mean, I know from my science career there were days that were really hard, experiments didn't work, papers got rejected and yet I've spent two decades or more just drilling on and drilling on and it's been a sheer pleasure at times. But there's been some pain points along the way. So what is this process really about and how would somebody implement these dopamine and epinephrine type neurochemical events in their own life? Well, we all know the example of like, okay, you're going to run a marathon and I've never run a marathon but that'd be a nice goal to have.
---
The Problem with Setting Goals (14:45)
Let's say tomorrow morning I set my shoes near the door. Now a lot of people have talked about this, day one you set your shoes near the door, day two you go out the door, day three you run around the block, day four, but the key thing is not just to go through the actions but when you hit each one of those self-designated milestones, the milestones that you're setting out for yourself, you have to pause for a moment and tell yourself, I'm heading in the right direction. I haven't run the marathon yet but this is the foundation upon which I'm going to lay another foundation upon which I'm going to lay another foundation and those little pulses of dopamine allow you to get that action step without the depletion that it would normally bring. Otherwise it's like you're spending money.
---
How to rewire your brain with dopamine all day (15:31)
This is like replenishing this bank account that you have and it's a neural bank account. And so dopamine is the thing that you can control the dosing of and so if you say, today it's my shoes at the door, but tomorrow it's around the block and that's it. But that's in the direction I want to go. What you do is you now get those two events plus the next day, the mile long runner and so forth without it depleting you. It actually builds this capacity to build more reward. And this is what you've done. This is what people from Elite Special Forces can do. They know how to make small, simple physical steps in the real world that allow them to build on these reward circuitries, but they don't get delusional about how they're doing. They know they keep the end in mind, but they get very micro. They move the horizon in very close. And so if you can move the horizon to something you know you can complete and you reward that, you essentially are where you were before. You're just as strong, if not stronger, but you're heading in the direction you need to go. You're not depleting, you're not spending out anything. And it feels a little weird because none of us like to reward things that aren't external, but the ability to control these internal reward schedules is everything. So the question is repetition. And I agree, it's not thinking about the mountaintop. You can, by the way you breathe, you can change the electricity in your mind. We've seen that with the people we put grids on. Like we have actual measurements now. But that's the, you know, what's the structure where you get the most out of repetition? What is the perfect spot where meditative breathing hits that sweet spot for people? And they'll increase it if it continues to benefit them. But the food, the breathing, sleep is a hard one. But to me, food, what we eat, and meditative breathing, I think are the most graspable and measurable. The creativity stuff, the sleep stuff, the exercise stuff is harder for people. But the exercise stuff is, in its own way, the most important, if we could get back to that. - Ooh, why? - Keeps your brain arteries open, releases all these neurotrophic factors inside your brain. So not just the plumbing that irrigates the flesh of the brain. - Tell me about the ENF. - Yeah, they're nerve growth factors. They're all neurotrophic factors. And whatever the, for the, in this case, to be abbreviations, GDNF, BDNF, NGF, it doesn't matter the end with GF and growth factors. So it really is, I've heard your word, miracle growth, but getting back to the garden analogy, to keep the flesh, we're gonna get, electricity is one thing, to keep the flesh healthy, you have to irrigate it. And that has to do with your brain arteries.
---
Nerve Growth Factor (NGF): the miracle grow of the brain (18:16)
And since we already said it's not a ball, it's these jellyfish and they're moving and they're throbbing and they're pulsating and their tentacles are reaching out. There's a lot of space in between and that extracellular space outside of the actual cells, outside of the neurons, outside of the jellyfish, if you will, it's not just water. There's chemicals floating around in there. Now, dopamine might be just from tentacle to tentacle, you know, serotonin might be this way. But what's it, what's in all this stuff around all those billions and billions of neurons? They're growth factors and minerals and chemicals that the brain naturally has. But there's also a soup that these billions and billions of neurons are floating in. BDNF is a key component of that soup that helps regulate the health of each of those jellyfish or neurons. - And we can trigger more of that exercise. - Yeah, you exercise. - It releases it, it showers itself. It's not like the thighs, thigh muscles sense it up to the brain. The brain says, "Hey, I'm feeling good. "This is good, I like this. "I'm gonna create a new rut. "I'm gonna remind you, you feel good when you run." The brain will shower itself with growth factors. There are growth factors. The brain says, "Hey, the electrochemical balance "is better with those." So I think that's where you get the runners high. It's not just adrenaline, it's not dopamine, it's a happy chemical. I'm jacked up, I'm on adrenaline. It's just such a complex ecosystem. And rather than feeling intimidated by that, to me, I just see opportunities on how people can improve their lives. So motivation is a word, right? It's a label that we put sort of events in our brain. What you actually want is the outcome of that. You want to do things that when it's hard. So I think that there are a few kind of things that we know work. One is evidence of past successes. If I see video and I go back to your memories and I reframe them as successes, suddenly the current event that's the same is a success. So I think that one thing is having success toys and identification stories. As in you find there's a lot of people out there. There was a person that is like you, that had similar experience and chose the thing that you want to choose. Find this person or these people and it's going to rub into you. So I get asked by my students often, how do I become funnier? How do I become a smaller? And my one tip that I give them all the time is surround yourself with people that you want to be like.
---
surround Yourself with Funny, Etc. (20:54)
You want to be funny, just sit next to comedians, just go to the same room they are and just sit next to them. It's going to rub onto you by your smoothness because it's just, it's the environment that is around us that really changes everything. And other people said it before, but I'll tell you the neuroscience behind that. We know now that trains interact with each other through language in a way that synchronizes the brains. So when I talk to you right now, if you're engaged with what I say, it means that if we scan our brain right now, our brains are going to look alike. More than yours and someone on the street that isn't here. So two people in the same room, as soon as they kind of interact, their brains literally start to kind of, if you want pulsing in the same way, parts of the brain light up in the same way, parts shut down. So we actually are, this is how we affect each other. This is how communication made humans who they are. This is the one thing that makes us better than all the animals because we are able to communicate using language, affect each other brain and create narratives that don't exist together. We both believe in things that we've never seen before, like God or ideas that's like democracy or money. Like those things we invented and we can communicate them and create this image in people's brains and they all share this thing. So in the same way, if you surround yourself by people that you wanna be like, you hear them communicate, they change your brain and it's gonna rub onto you. You will actually become funnier. If you sit and listen to funny people, next you actually become more motivated if you're next to people that are motivated. The next version of that, if you cannot find them, if you're sitting right now in a rural part of Alaska and you can't just find yourself in Los Angeles with the people you wanna be with is to actually just look at them on videos, on books. And that's the way our brain basically gets content and change. So changing brains happens many, many ways, but the easiest one that everyone can try is to say what kind of world I wanna be in and bring this world to you in the form of movies, stories, TV shows or people. That's the ways to kind of get things that you want next to you. So this is not to lose weight. It's what nutrients to put inside you where if you have a thousand people here and you have a thousand people here and for 20 years they eat differently. What are the numbers of people with dementia? All of the things being equal. It essentially says, it doesn't have to be Mediterranean. It just has to be plants, like as I might tell my kids, plants which is fruit or salad. It doesn't have to be just salad. You know yogurt, nuts, lean meats, like chicken and salmon. What is it that salmon has? Omega threes. It's the only thing in our literature that we know is a nutritional component in food that is good for brain health. And the Omega threes are unique type of fat that the brain is an extremely fatty organ. And so it needs to have those fats. So Omega threes are the only things nutritionally that I would say is you could supplement or actually add salmon in a couple times a week. So that's the mind-dye twist on the heart-dye by adding a little bit more emphasis on salmon. What you can't have is a lot of fried processed food. If you have a cheat day or whatever you have a burger, it doesn't negate what you've done. I think that's the hardest thing about dieting for people.
---
Small Shits to Your Diet (24:14)
They feel like the shift has to be complete and religious. And to me, it's more glacial because the benefits will also take decades to accrue. That's my, those are the nutrients that are best for the brain. - So, you know, opt for foods that are nutrient dense. One of the easiest things that I recommend that people can do every single day is to consume what I call a large fatty salad. I think it's one of the best ways to really check off so many of your nutritional boxes to get an abundance of dietary fiber that the microbes that live in your large intestine love to consume. And when I say fatty, I don't mean, you know, throwing on tortilla strips and cheese and ranch dressing, I mean, you know, taking a bowl of dark leafy greens, kale, spinach, which are, you know, top sources of magnesium, which 50% of people do not consume adequate amounts of, folate, arugula. Arugula is a top source of nitrates, dietary nitrate. Really important in terms of increasing blood flow into the brain, one single high nitrate meal might actually improve cognitive functions, that powerful. Dowsing those dark leafy greens with extra virgin olive oil, which research has shown out of Barcelona, Spain, a pretty med study, you can consume about a liter a week to better cognitive function, cognitive health, cardiovascular health, and it might even help you lose weight because it's so anti-inflammatory. Actually, there's a compound in extra virgin olive oil that is as anti-inflammatory as low dose, advil, but without any of the potential for negative side effects. And importantly, you need to have fat in that salad because fat allows many of the most important nutrients in the salad to become bioavailable. So I talk a lot about in this book, which I think is bringing, you know, especially, you know, there's a lot, I think actually that there's a lot of new information that I bring to the conversation, but I talk particularly about carotenoids and how research has shown out of University of Georgia that by eating lutein and ziazzanthan by supplementing with these carotenoids, you can actually boost visual processing speed by 20%, even if you're young and healthy. So I mean, these are young and healthy people that are already considered to be at the peak of their cognitive prowess. Visual processing speed is so important. I mean, think about in terms of responding to visual stimuli, you know, driving, athletic performance, sports performance, things like that. - Video games. - Video games. - Yeah. - Absolutely. So dark leafy greens are abundant in these two carotenoids and they're only absorbed through the digestive tract when in the presence of fat. You don't absorb any of them unless you're consuming them with fat. So like that fat-free dressing, throw that in the trash. Extra virgin olive oil, you know, is super key. Eating a large fatty salad, I think it's just really key. People tend to think about salads in terms of like weight loss. I wanna lose weight, I'm gonna eat more salad. But really in terms of the brain, it's powerful. You also get the benefit of, I mentioned dietary fiber. We now know that you have microbes that live in your large intestine and that when you consume fermentable, soluble prebiotic fiber, which is found in abundance in that bowl of greens, the microbes churn out a compound called butyrate, which is profoundly anti-inflammatory. It is really, you know, beneficial in terms of the gut ecosystem. It's been shown to boost levels of growth factors in the brain which promote neuroplasticity, which is your brain's ability to change over time. Very important stuff.
---
Exploration Of Free Will
Intermittent fasting (27:40)
- It's about intermittent fasting in the book. What do you think about that? What is its impact on the mind, longevity? What's its place? - So if you wanna kick the mind diet into next year and you're thinking, I don't wanna just stave off brain degeneration, right? Like what if you wanted to work on focus and cognition? These things are harder to test but when you go into the big neuroscience journals, they speak about intermittent fasting. And the best way I can explain it is your brain's a hybrid vehicle. It grew, it evolved through thousands and thousands and thousands of years of lots of food scarcity. You didn't eat all the time. And so it's got a backup mechanism called ketones. So after 16 hours, if you don't put glucose in and the liver's done releasing the glucose it's held onto through glycogen reserves, then it'll start burning fat. It'll clip off those oxygens and hydrogens and they'll make ketones out of it. Intermittent fasting can also help you lose weight. I think that's why most people are interested in it but it's the way the brain prefers to get its fuel source. And it's based on a diet, lessons about dieting, learn through controlling epilepsy and seizures in kids in areas where there's no medicine. So I was in Ukraine and when they don't have medicine or a type of seizure, seizure, the abnormal electrical activity of the brain, just like an arrhythmia would be an abnormal electrical activity of the heart, they would just feed them all fat diet. You could smell it in the hospitals. So something about an all fat diet forcing you into just using ketones. Now intermittent fasting is back and forth, glucose and then ketones, glucose and then ketones. But for kids, if you just get them almost nearly all ketone as the source that goes up to the brain through an all fat diet, their seizure rates go down. So that's proof that food changes mind because the mind is the electricity sparking through that flesh. Food will change the electricity, detectable, measurable electricity in your brain. Food affects mind, food affects brain. With that premise, we can talk about, okay, mind diet will hold off dementia and intermittent fasting might make you feel like you've had a cup of coffee once you get into rhythm on. It's not gonna make you smarter, but it'll bring you to your most focus, to bring you to your most attentive. It's not, oh, I'm intermittent fasting and now I can do physics. It's not like that. It's your personal best. And then the habits you demonstrate to your family by trying to be at your personal best. And then your kids see that and your friends see that. And I think that's how you impact generation change is to have capable people demonstrate, hey, it's not hard and this is the best we can do for ourselves. So I think that in a way, there's an application to free will, right?
---
We live life thinking, we make decisions all the time and are responsible for our decisions and also kind of determined and defined by those. So if I ask you what do you wanna have for lunch and I offer you five different things and you make a choice, then your choice is somehow your identity. This is like what you care about. And if I told you right now that I could predict what you're gonna choose an hour before you made a choice a day, 20 years before, it kind of takes away some of our identity in a way, but also kind of gives us meaning because it says, okay, there is actually a narrative that we carry with us throughout life. And now the choice has become really something that defines who we are, not just the moment of, but as a person in the world. So I always care about like free will, understanding it, predicting it and also using it to change things. So if you think that, okay, all my choices are kind of determined, do I have any meaning to my life? The answer is they're not determined. We do have control over them and that's what makes us kind of human. - So you believe that we do have free will or you believe that it's totally different than how we're thinking of it and we have to totally reimagine it.
---
- So there's like two kind of moments that need to be addressed. One is whether we do actually have this moment of spark that happens when the choice is totally arbitrary and we have like a choice. I do believe that we have that free will. Kind of a toss of a coin where something gets determined. But what's interesting is the moment where we become a well of the free will choice. As in, I ask you, you're sitting in a restaurant and I ask you do you want to fish or the steak? There's this moment, like you have two options and now you're about to make a choice. What do you want? - Steak. - Steak. - For sure. - You had a second now where you had kind of to look at all the options. I gave you only two and make a decision. So now at some point if I asked you when did you make a choice you would say, well, maybe as soon as I finished the sentence, maybe I would, maybe you would say a fraction of a second afterwards. The question is, hey, how far before did we know the answer to that? Also, was there anything I could have said differently that would have made you say the fish? And most importantly, what's the gap between the moment you would tell me that's the moment I chose and the moment that you actually chose? And apparently there is a gap. And this gap is what we call the illusion of free will. The moment where you say, that's the moment. T this is T zero. This is when it happened. And I can look at your brand and say, no, what? Actually, here we already knew that you're going to choose. Or even, like even if you want to take it one first time or whatever, we can actually stimulate your brain and make you choose this thing.
---
How to Measure the Illusion of Free Will (33:04)
And I would tell you and then say, wait, the choice. And you say, I definitely make the choice myself. This was my decision. And I say, well, you know what? Here's me zapping your brain before making you say fish. In one of the episodes of the brain on PBS, such a cool one, I know this one really got my wife's attention where you show the puppets playing. And one puppet's like trying to open the box and the other puppet's like trying to help it. And then there's a third puppet. And he comes and like, crushes the box down and like is mean to the other puppet. Then you give kids, babies, young babies. The opportunity to play with either the nice puppet or the mean puppet. And they choose. - They choose the nice puppet. This was an experiment done by Paul Bloom at Yale. And then I recreated this experiment for the show. And yeah, what this demonstrates is that we come to the table with a lot of intuitions and instincts about things, including because we're extremely social animals, we are very good at judging right away whether, for example, this person is helpful or that person is mean. And we associate ourselves with the helpful people instead of the bullies. You know, there's this debate for many decades about nature versus nurture, but the answer, that question is dead because it's not either of those.
---
Nature vs. Nurture (34:07)
It's both of those together. - Yeah, the only demo that I saw was one person basically having a little box and they have buttons and have to choose whether you wanna press the left or the right. And people sit there and they press left, right, right, left, left, left for like 10 minutes. And then someone asks them, was it your choice, which button to press at any point? And they say, of course. And then you zoom out and you see a person sitting with a TMS, like this machine that looks at the brain and basically playing like a papa tail, left, right, right. - Can't you talk out of here? - That's real. - That's real. And what's interesting isn't that you can do that. This is not surprising. We know that we can actually zap your brain and make you move your head. What's surprising is that you would tell me it was my choice. Like you would believe that it was your decision. You wouldn't question the fact that what you did was your decision. And this to me is the interesting part that we kind of have this way with our brain to always defend it. And always say, whatever I did, I wanted to do. If I knew this thing, it wasn't your choice. And now we know that it wasn't necessarily your choice. The things affected you, the things made you do what you did. And you will always claim that it was your decision. So we can actually show you that you're not really full. - How do people respond when you show on? - Funny. They mostly try to defend free will. So they try to argue with me. And you know, I showed them the video of me changing things. And they say, no, no, no, we have this experiment where we bring it to the lab. And we just tell them things. We say, okay, what do you want to eat after the experiment? Or do you want to sit here or there? We ask them to make decisions and we don't really tell them anything. Just say, take the decisions. Like sit here or there.
---
Manipulating Free Will (35:35)
Do you want this pen or that pen? Do you want the light on or off? And then we ask them after the experiment, how many choices you made? The people who experienced us toying with their free will think that they made hundreds of choices. They made about 14. But they really feel that, okay, I had too many choices. I controlled everything. This was my decision. They cannot try to grasp into the idea of free will and say, I had a lot of choices in my life and I made them. They become a little more religious. They become a little bit more ethical. A lot of things happen to you when you feel that what's in question is your identity.
---
Racial Narratives And The Science Of Connection
Is free will an illusion? (36:01)
One of the stories that was my favorite was, there's heaven and there's hell. And in heaven, they use the same information to reward and excite that hell uses to punish and condemn, which is the knowledge that free will is nonexistent. Walk people through like, how was that great for some people and so heartbreaking for others? Well, it's just a matter of whether you believe in, whether you feel like it's too strange to imagine that we are these giant vast creatures. I mean, think of the fact that you're made up of 30 trillion, trillion cells. And you're this huge giant creature that's driven around by this three pound mission control center that's sort of controlling all this and through these cables that come out, moves it all around and so on. It's very weird to think about, maybe that's it about what's going on. Just like you said, you were freaked out when I mentioned the thing about vision before. It's really freaky to think about not having any free will and that fundamentally were these very complex robots. For me, free will, because I feel like I'm in control, it doesn't seem to matter, right? So where it might get weird is if you actually could break down like exactly what algorithm is firing that. But then even that, so let's pretend you can identify the algorithm. Here's the algorithm that makes you feel that way or do this thing. And then here's the algorithm that makes you, Tom, not care. That would get a little weird, but then it's so like recursive back to, well, there's something that's feeding into how I feel about that exact moment. So since I feel like I'm in control, it doesn't really check. - And this, by the way, is related to that same story from some where it's this issue of, if I were to get out a whiteboard, we can't do this yet in neuroscience, but imagine that I were to say, here's exactly why strawberry ice cream tastes the way it does to you and why it's so delicious to you. And blah, blah, blah. I could explain that and show the pathways and the genes. And it wouldn't affect your enjoyment of it at all. It wouldn't change anything about your experience of it. And so there's this funny disconnect between what we're able to do in science and what it is like to be a human. And there's this gap there in the explanatory framework.
---
Is self-narrative tied to free will? (38:30)
- So help me understand how you know that you can manipulate the brain and yet you still believe in free will, but it sounds like you believe in free will in the way that it's tied to your own self-narrative. - So here's the idea. I feel that there's a lot of things that affect our decisions. The temperature in the room, the height of the chair, the weight of the book, we're holding a lot of things. And this is studied by a lot of people in many, many ways that show time and again that you can actually change a person's behavior. And we can list those things. So someone can take them and now have a kind of, list of things that they can apply if they wanna have better interactions with people, what temperature should the room be, what they should do. So we know that, we know that thing. And at the same time, we still live life as if it's our decision entirely. So we know that I can trick you by, you know, making the price of the food 6.99 rather than seven and you would think that it's six, not seven. That's like the simplest one in the book. And all of us know it and it still works. Taking that to a larger scale, we know that there's hundreds of thousands of biases that affect our brain. And even if I tell you what they are, you will still work the same way. So free will is becoming interesting to me when we learn all of those things and we say, okay, then who am I? What's in charge? Who's the puppeteer in this example? And the reality is that what we learn is that there are more than one puppeteer in our brain. There's many, many. And every day one other guy wakes up. And so one day we're this guy, one day we're this guy. And they're kind of vying for dominance. They fight and they compete. They kind of make a decision together. They vote. And ultimately we protect the person who spoke last and we say, this is who I am. And to me what's interesting is that we can now actually show all the characters. We can show them fighting. We can tell you that there are more people in your brain. And in doing so, we can actually allow you to really manifest different sides of yours. So you know maybe that you're making better choices in the morning and I make that just in the evening. You might know that you're making better decisions when you're hungry and I'm when I'm full. When you're talking to your friends, when you're alone. So we can now profile your brain. >> The other element is brain training. It doesn't have to be some weird game that's not intuitive. I think brain training just means learning as a habit. One step past where you're comfortable. If you're reading it, you know it. Your brain's an idle. If it's too hard, it's not even engaged. I'm not even going to win this race. I'm not going to kick it in the second year. So just like video games, just good enough to get to the next level, right? They don't hit you with the fifth level, the tilt level up front. It's level one to level two, level two to level three. That's what learning is. So despite your knowledge and intellect, it's just that level right beyond you that is brain training. So you don't have to buy an app. You just have to challenge yourself and think.
---
Knew lines for racism (41:26)
>> And do you think when you're doing that, that it's you're getting into a repetitive brain firing pattern that ultimately wires, you actually change your brain. So we didn't mention that there's science behind it much like in terms of what we do, but we put a lot of intense people's brains. And we look at their brains while things happen to them. And we actually see it in action. We see how the brain changes when people communicate. We see how the brain looks when you watch a movie, we see how your brain aligns with the movie. And when you tell someone else the story of the movie, their brain aligns with your brain, but aligns also with the brain of the director of the movie. So communication is this mechanism by which information flows between brains and changes the brains. And actually, if you wanna take it one step above, this is also how we change ourselves because we talk to ourselves all the time. You drive your car, you walk to work, and you're just alone with yourself and you communicate. You also change your brain. You kind of solidify the things that you wanna be more like, and you suppress the ones in the one. So we always talk. And those voices, those are basically the other characters in our brain that talk each other. You kind of choose which ones to give more weight to. So this is how you become the better person you wanna be. So we actually now play with things that change behavior during the night when you're sleeping in the following way. - As somebody who's not a synesteed, are there ways to train my brain to draw more of these connections?
---
Science of connection (42:41)
- It's a fascinating question. And we haven't quite got there yet, but we're getting there, I think. Synesthesia, so there's this gene that causes excess connections because they're what are called transcription factors, which allow the gene to be expressed selectively in one region. If it's expressed selectively in the fusiform gyrus where the number area and color area, they get cross-wired and you get a number of colors in the synesthesia and that's no big deal. And it helps them to remember phone numbers. Unlike us, they see a spectrum of colors in front. - Never useful these days with self-friendly. But it turns out if the gene is expressed diffusely, which can happen, then you get more cross-wiring throughout the brain. Now that I claim is the basis of creativity and metaphor. But when the bar takes place, it is the East and Juliet is the Sun. You don't go Juliet is the Sun, does that mean? She was a radiant fireball. Actually, as not a bad metaphor. He meant she was radiant, she was nurturing, she was warm. She rises in bed like the Sun rises in the East and we can make any number of connections you want. She's the center of my solar system, like the Sun is the center of the solar system. And she was the master of doing this. I bet she actually might have been a synesthesia, I'm not sure, but it could have been a synesthesia. The synesthesia's are more connections throughout the brain and therefore if concepts and ideas like Sun and Juliet are enshrined in different neural architecture in different parts of the brain, even far-flung greenness of the brain, ideas and concepts, the excess connections across the brain creates a greater propensity to link seemingly unrelated ideas and concepts. And that's the basis of metaphor and creativity. So now you can get to the molecular basis. You can clone the gene, look at the brain connections, molecular basis, neural basis, esoteric abilities like creativity for the first time in history of neuroscience and brain research. This is not how you can tap into it. Now that's a big question to get to you. - No, no, no, please jump in. - Well, I was gonna say, there we're still, we just scratch the surface. You don't know quite how to harness it in disability, a sort of genetic engineering or something. - Hey.
---
Neural Basis For Creative Expression
Poetry humor and neural bases for creativity (44:45)
- But I would say in schools, and in fact, in your own life, poetry has a tremendous role. I think if you should all try to become poets. - Wow, that's interesting. - Yeah, because poetry and laughter and humor, because humor involves unusual juxtapositions of ideas. So as a lot of common sense of creativity and not surprisingly many very creative people have a great sense of humor. I mean, only exception will be Germans. - Any Germans in the house? - We're exceptionally creative as you know. So, telling this sounds frivolous, but having courses on humor and laughter. - So the conclusion is, anything difficult where you have to think is good for your brain. If you ask you, same bowl, how do I get stronger legs to run? It's intuitive, but the flesh in our skulls, it's meant to think and feel. And that is the power of self growth. And it's a thinking machine. It's a thinking flesh that you actually have to use or to protect itself, 'cause it's energy hog, right? It's three pounds, but you use it 20%. If you're not using parts of it, it'll program itself to let those parts of the garden wither. So the diversity of thinking and the depth of thinking, just one level past what you're used to, is the way to keep the whole garden flourishing. And it is a garden in there. There's chemicals, there are things moving, there are different types of brain cells. It's not just neurons. So I would try to give that metaphor analogy, if you will, that it's a garden and you have to irrigate it and stimulate and tend to all the corners, particularly the ones you're starting to neglect, maybe it's your left hand. Getting out of the box and engaging the recesses of your mind is the most important thing. And then you have the, then the creative things happen. You're gonna just sit down and have them happen. You gotta work and dream and go hard. And on top of that, something creative can happen. - Everybody, thank you so much for watching. If you haven't already, be sure to smash that subscribe button and hit the bell notification so you never miss a thing. 'Til next time my friends, be legendary. Take care.
---