Y Combinator
An AI Primer with Wojciech Zaremba
Insights on Automation, AI, and Robotics.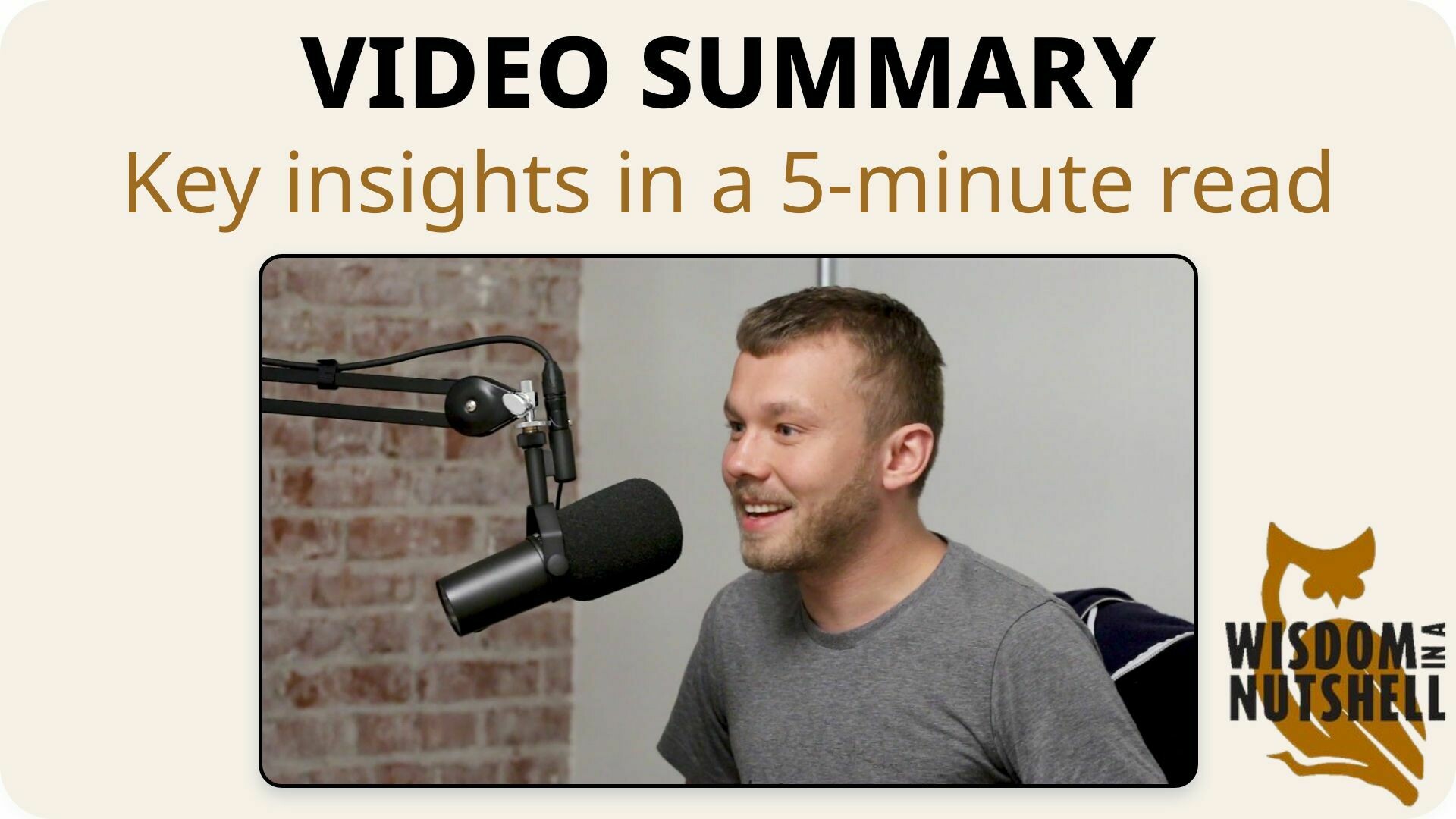 🌰 Wisdom in a Nutshell
Essential insights distilled from the video.
---
---
📚 Introduction
Automation, artificial intelligence (AI), and robotics are rapidly advancing fields that have the potential to revolutionize society. In this blog post, we will explore the future of automation and AI, the challenges and advancements in robotics, the power of neural networks, and the current state of AI. We will also discuss the impact of AI and automation on jobs and provide resources for learning more about AI.
---
🔍 Wisdom Unpacked
Delving deeper into the key ideas.
1. Addressing automation challenges and AI's impact on society is crucial.
The future of automation and AI is likely to have a significant impact on society, potentially leading to a world where people can simply enjoy their lives. However, it's crucial to address the challenges of automation, such as providing basic income to those who may struggle to reinvent themselves. The development of general artificial intelligence is a collaborative effort aimed at benefiting humanity as a whole. The movie 'Ex Machina' offers a thought-provoking exploration of the impact of AI on society.
Dive Deeper: Source Material
This summary was generated from the following video segments. Dive deeper into the source material with direct links to specific video segments and their transcriptions.
| Segment | Video Link | Transcript Link |
| --- | --- | --- |
| Intro | 🎥 | 📄 |
| What is AI? | 🎥 | 📄 |
| The Economic Future of Human Jobs in Robotics | 🎥 | 📄 |
| Jacques Iss | 🎥 | 📄 |
| Movies, Media, Books, and Inspiration | 🎥 | 📄 |
---
2. Advancements in AI and robotics are optimizing tasks through reinforcement learning.
Robotics, a field that involves manipulation, locomotion, and perception, is currently facing challenges in grasping arbitrary objects. This is due to the complexity of the environment and the need for hand-coded solutions. However, advancements in reinforcement learning and deep reinforcement learning have shown promising results in tasks like playing computer games. The goal in robotics is to optimize a system to perform specific tasks, but the challenges include defining rewards and resetting the system to the same place. Artificial intelligence, a broad domain, includes any software that solves problems through intelligence. Machine learning, a subpart of AI, involves generating a program from data. Deep learning, a popular paradigm in machine learning, allows for more complex computations and decision-making.
Dive Deeper: Source Material
---
3. Neural networks, especially CNNs and RNNs, have revolutionized AI.
Neural networks, particularly convolutional neural networks (CNNs) and recurrent neural networks (RNNs), have revolutionized various fields, including image and text processing. These networks, which share parameters in space and consume input sequentially, have been successful in solving complex problems. However, they are computationally expensive and require careful initialization of weights. The use of deep neural networks, which were initially doubted, has been crucial in achieving better performance. The sequence-to-sequence model, which consumes word-by-word sentences and generates translations word-by-word, is another significant advancement. The concept of narrow AI, which solves a single problem, and general AI, which can solve a vast number of problems, is also discussed. The hypothetical super intelligence, which is more intelligent than humans, is also mentioned.
Dive Deeper: Source Material
This summary was generated from the following video segments. Dive deeper into the source material with direct links to specific video segments and their transcriptions.
| Segment | Video Link | Transcript Link |
| --- | --- | --- |
| Single Step Problems | 🎥 | 📄 |
| Obstructions | 🎥 | 📄 |
| Neural Networks | 🎥 | 📄 |
| ImageNet | 🎥 | 📄 |
| Use cases for Neural Machine Translation | 🎥 | 📄 |
---
4. Adjusting initial weights in neural networks enhances performance in computer vision tasks.
The performance of neural networks in computer vision tasks, particularly with the ImageNet data set, has been significantly impacted by the adjustment of initial weights. This has led to a dramatic drop in error rates, with some teams achieving a 3% error rate, considered superhuman performance. The same architectures used in computer vision were found to be effective in other tasks like speech recognition and translation. The key is to avoid extreme increases or decreases in magnitude, as this can lead to values that constantly increase in magnitude.
Dive Deeper: Source Material
---
5. AI is ready for business applications, but other fields require more work.
The current state of AI is that supervised learning is the most effective paradigm, ready for business applications. Other paradigms like unsupervised learning and reinforcement learning require further work. The field of AI is both underhyped and overhyped, with current systems achieving superhuman performance in business applications. However, in other fields, it's unclear how long it will take to achieve similar results. For example, recommendation systems can be trained using millions of user examples, while tasks like Apple picking robots require more complex data. To get involved in AI and learn more, a good starting point is Coursera. There are many TensorFlow tutorials and resources available to learn about training neural networks. Andre Carpati's class at Stanford is highly accessible and can be found on YouTube. In terms of exercises, TensorFlow tutorials often provide problems to solve. You can also try classifying images of digits or assigning tags to pictures. In the future, AI and automation will likely impact low-level blue collar jobs.
Dive Deeper: Source Material
---
---
💡 Actionable Wisdom
Transformative tips to apply and remember.
To stay informed and prepared for the future of automation and AI, dedicate time to learn about the advancements in these fields. Take online courses, such as Andre Carpati's class at Stanford, and explore resources like TensorFlow tutorials. Engage in practical exercises, such as classifying images or solving AI-related problems, to enhance your understanding. Additionally, stay updated on the societal implications of AI and automation to adapt and thrive in a changing job market.
---
📽️ Source & Acknowledgment
This post summarizes Y Combinator's YouTube video titled "An AI Primer with Wojciech Zaremba". All credit goes to the original creator. Wisdom In a Nutshell aims to provide you with key insights from top self-improvement videos, fostering personal growth. We strongly encourage you to watch the full video for a deeper understanding and to support the creator.
---