Y Combinator
Baidu's AI Lab Director on Advancing Speech Recognition and Simulation
Baidu Research's AI Lab: From Research to Impact.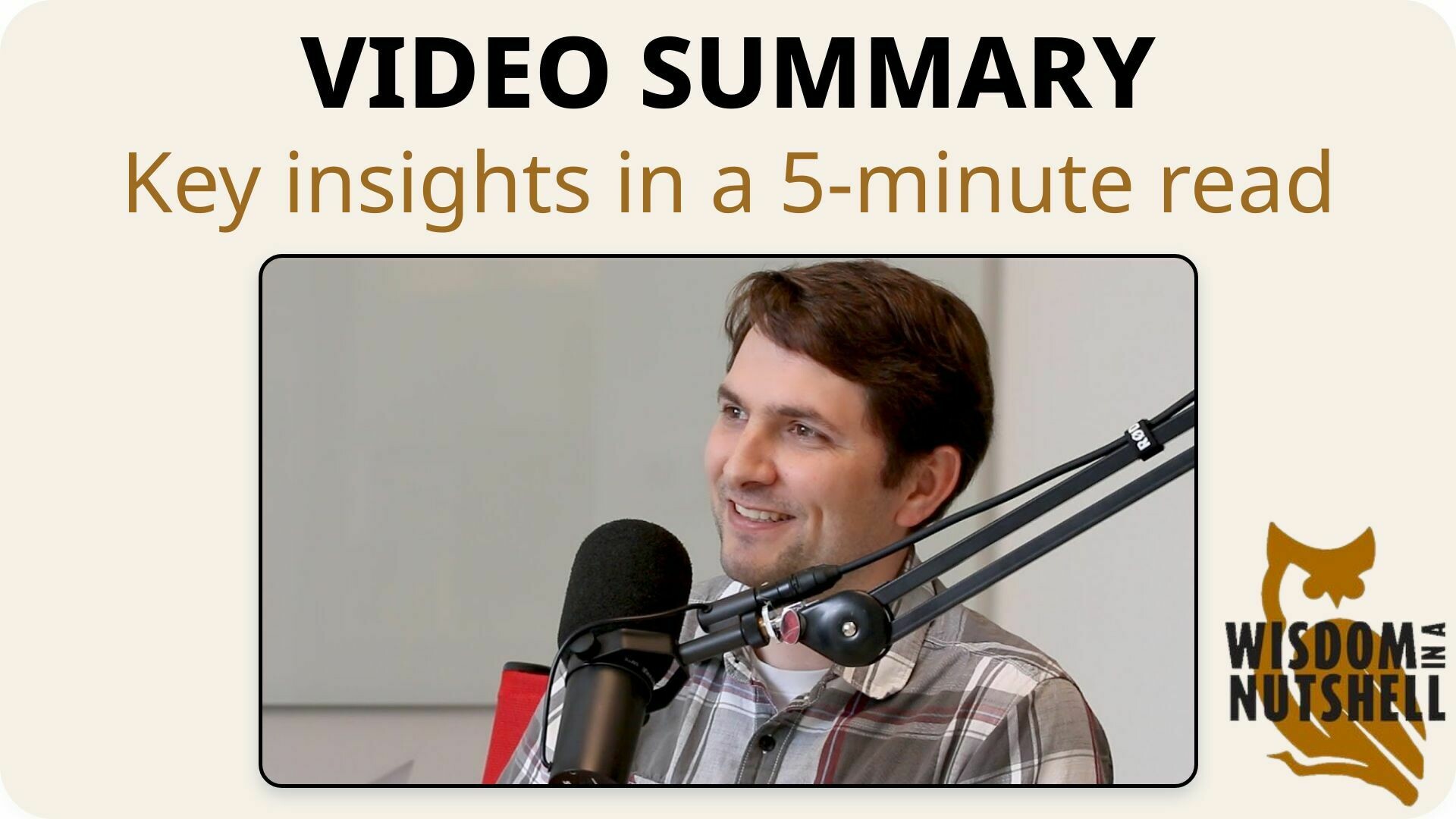 🌰 Wisdom in a Nutshell
Essential insights distilled from the video.
---
---
📚 Introduction
Baidu Research's AI Lab, led by Adam Coats, is dedicated to applying AI research in practical ways to benefit millions of people. They focus on speech recognition, machine learning, and the future of user interfaces. In this blog post, we will explore the groundbreaking work of Baidu Research's AI Lab and the potential impact of AI on jobs and learning.
---
🔍 Wisdom Unpacked
Delving deeper into the key ideas.
1. Baidu Research's AI Lab bridges AI research and product impact.
Baidu Research's AI Lab, directed by Adam Coats, was established to bridge the gap between AI research and its practical application in products. The lab's mission is to create AI technologies that can significantly impact at least 100 million people. They focus on both basic research and implementing AI in products. One example is their speech recognition system called Deep Speech, which started as a basic research project. By scaling up the ideas and investing in computational solutions, they were able to create a superhuman speech recognition model that can handle different accents and thick accents. The system can even outperform native speakers in certain cases. To train the system, they use a large amount of data from various languages.
Dive Deeper: Source Material
---
2. Machine learning systems aim for human performance with less data.
The development of machine learning systems aims to achieve human performance with less data. This is achieved by sharing data across multiple applications, such as text-to-speech, and using unsupervised learning. The process involves collecting audio clips, having human annotators or a system provide the correct transcript, and training a deep learning algorithm to predict the text transcript from the audio clip. This approach has proven to be effective in building speech systems. Recent research is focused on making these systems end-to-end data-driven, with the goal of creating immersive and integrated AI products, such as voice assistants on phones.
Dive Deeper: Source Material
---
3. Advancing speech recognition technology for seamless user interfaces.
Advancements in technology, particularly in speech recognition, are expected to revolutionize user interfaces. The goal is to move away from close talking voice search and enable users to talk to their devices seamlessly. While there are still challenges to overcome, such as handling cross talk, background noise, and long-form transcription, research is being conducted to address these issues. The focus is on improving speech and text-to-speech technology for next-generation AI products. The response to AI technologies is often influenced by our expectations based on human interactions. Latency is a crucial aspect of the user experience, and reducing latency can significantly improve it. To make AI run faster, researchers and product teams work together to develop neural network models that can provide high accuracy responses without requiring extensive context. This allows for faster feedback and a more seamless user experience. People have adapted their communication style to better interact with machines, such as structuring sentences for Siri to understand. The goal is to achieve human-level communication with machines, and there is no significant barrier to achieving this for high-valued applications.
Dive Deeper: Source Material
---
4. AI's impact on jobs is uncertain, requiring continuous learning and specialized skills.
The impact of AI on jobs is uncertain, with a high job turnover rate and the need for continuous learning. The field of AI is moving quickly, requiring specialized skills and a flexible mindset. The emergence of the full stack machine learning engineer, who can handle both technical and research aspects, is crucial. To create unicorns, we need to create them ourselves, focusing on self-directed individuals who are willing to learn and take on challenges. Learning is a significant part of work, and it's important to be aware of what we don't know and focus on learning as quickly as possible.
Dive Deeper: Source Material
This summary was generated from the following video segments. Dive deeper into the source material with direct links to specific video segments and their transcriptions.
| Segment | Video Link | Transcript Link |
| --- | --- | --- |
| AI and work | 🎥 | 📄 |
| Great engineers are changing too | 🎥 | 📄 |
| Future Chameleon | 🎥 | 📄 |
| Creating self-directed innovators | 🎥 | 📄 |
| Prizing Character | 🎥 | 📄 |
| Special recommendations | 🎥 | 📄 |
| Shortcutting learning in your career. | 🎥 | 📄 |
---
---
💡 Actionable Wisdom
Transformative tips to apply and remember.
Embrace continuous learning and adaptability in the rapidly evolving field of AI. Develop a growth mindset and be open to taking on new challenges. Seek opportunities to apply AI research in practical ways that can benefit a large number of people. Focus on self-directed learning and acquiring specialized skills to stay ahead in the AI industry.
---
📽️ Source & Acknowledgment
This post summarizes Y Combinator's YouTube video titled "Baidu's AI Lab Director on Advancing Speech Recognition and Simulation". All credit goes to the original creator. Wisdom In a Nutshell aims to provide you with key insights from top self-improvement videos, fostering personal growth. We strongly encourage you to watch the full video for a deeper understanding and to support the creator.
---